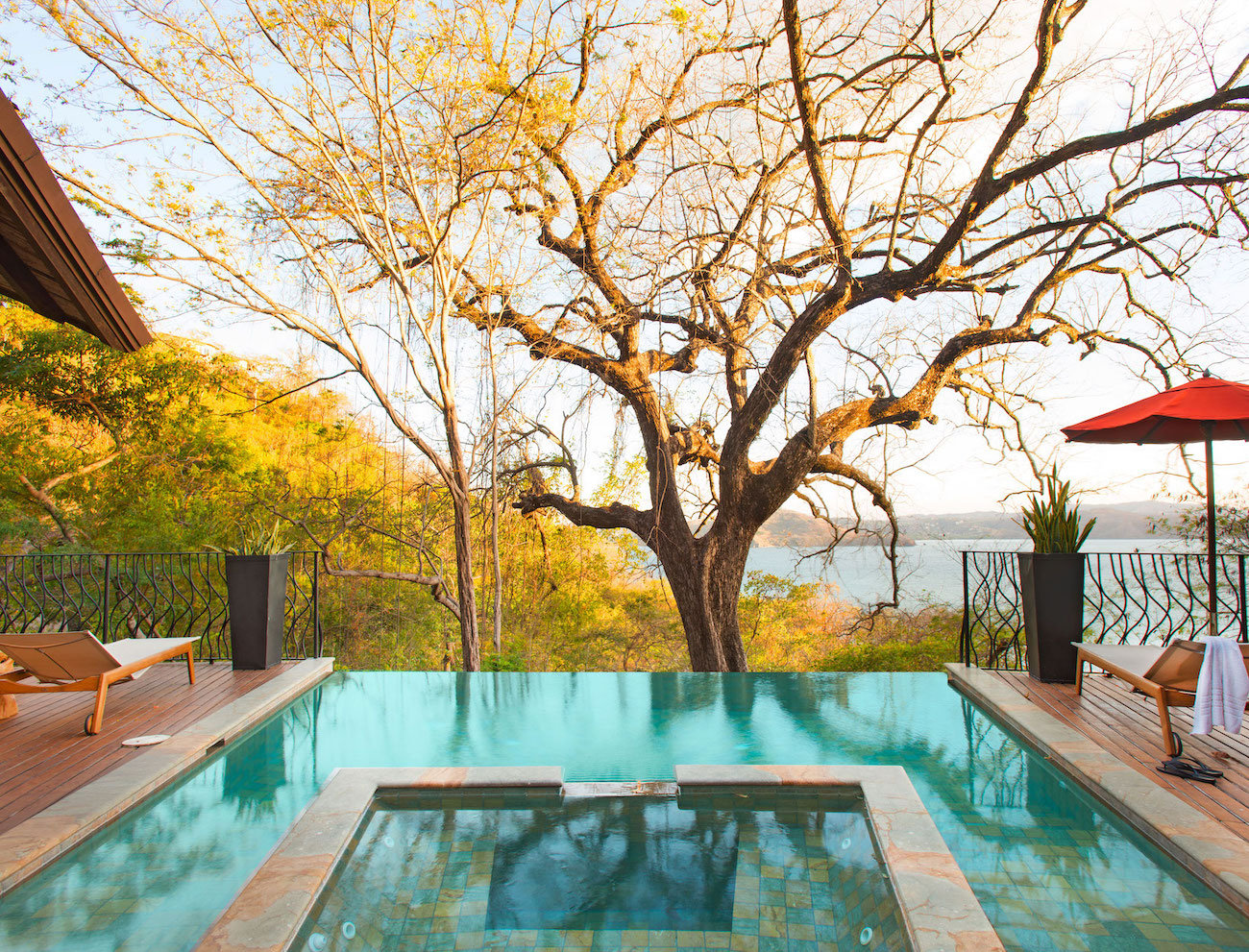 Exclusive Resorts
9 Kid-Friendly Vacations Grown-Ups Can Enjoy, Too
9 Kid-Friendly Vacations Grown-Ups Can Enjoy, Too
In partnership with our friends at Exclusive Resorts
The wide-eyed awe of a child's first glimpse of the rain forest, their wonder at sighting elephants trumpeting in the wild, their glee when cannonballing into a majestic body of water—all are experiences that make every gelato stain and "Mom, are we there yet?" worth it. Now, where to go: We've spotlighted nine incredible destinations that both bigs and littles will remember forever, whether you're a family of intrepid adventurers, food lovers, or spend-the-day-at-the-museum-ers.
For Great-Outdoors Obsessives

A year-round favorite, Deer Valley is a stunner rain, snow, or shine—especially for families. Exclusive Resorts—a members-only travel club with private residences in over seventy-five destinations—has a roster of the most jaw-dropping Deer Valley residences we've seen yet, with firepits, plush amenities, plenty of bedrooms, and views for days. Summertime hiking and biking or winter skiing sounds like a winner for a fuss-free family trip that feels escapist without flying internationally. But the best part of filling a mountain retreat with kids, friends, and more kids is wrapping up the day with hearty meals in the well-equipped kitchen (airport transfers aside, one of our favorite Exclusive Resorts perks is the prestocked pantry) and a movie in the media room. Therein lies the beauty of a private home stay: You can do whatever you want without the constraints of hotel rooms and restaurant reservations.

The serene fjords that slice and splice into the Sunnmøre region in western Norway are, in a word: otherworldly. For a thorough exploration of these starkly beautiful waterways by boat or air (may we suggest trying both?)—plus sumptuously comfortable, bursting-with-personality accommodations—62°NORD delivers. Industrialist Knut Flakk felt that this region was radically undervisited and built a full-service travel-experience company. There are hotels, helicopters, boats, and then some to showcase the area's natural beauty. Adults and kids alike will love Hotel Brosundet as a home base for days of whale-spotting and heli-trips over the mountains. The adventuring continues at your next destination: the Storfjord hotel. This cozy cabin-style property is deep in the fjords and, particularly in the winter months, feels like a private, luxuriously isolated retreat.

Image courtesy of @ingallsphoto.

A safari is, for most, a once-in-a-lifetime experience, and there are few places more untouched, more pristine, and more spellbinding than Botswana's Okavango Delta. Every year, water from the Angolan highlands rushes over the border and swells Botswana's northern floodplains. The result: a proliferation of elephants, lions, hippo-packed waterways, and so much more of Mother Nature's best work. Wilderness Safaris operates several of the most gorgeous and strategically located lodges in this vast area, each one offering a different landscape. This trip—early morning and afternoon game drives, story-swapping around the fire, and fabulous food galore—is a magical one for kids ages eight and up. Ideally, one trip would involve stops at two or three camps in different areas of the delta (you'll zip among them in a Cessna). Better still, the lodges (Qorokwe and King's Pool are favorites) are both stunning and beyond innovative when it comes to sustainable, conservation-first practices like clean energy, zero plastic, and low- to no-carbon footprint.

Image courtesy of Letsogile Kamogelo.

For Culture Critics

The Scottish Highlands are every bit as moody, misty, and layered with history as the many TV series shot here would suggest. We love checking in to the art-filled Fife Arms to explore the wider Braemar area (which includes the Queen's Scottish residence, Balmoral). Owned by international gallerists Iwan and Manuela Wirth, this extraordinary small former inn is brimming with works by Picasso, Louise Bourgeois, Man Ray, and Lucien Freud. For budding creatives old enough to sleep on their own—or with a sibling—the Artist's Studio room is the hideaway of dreams for imaginative kids, filled with easels, paint, and sketches. (You can take an expert-led art tour of the 16,000 pieces that dot the property.) In the surrounding area, aside from rivers, dense forests, and whisky distilleries, you'll find the cottage where Robert Louis Stevenson began writing Treasure Island, as well as Braemar Castle and, of course, the aforementioned Balmoral Castle. (We strongly recommend booking one of the Fife Arms' knowledgeable drivers to get a local perspective on this steeped-in-history area.)

For families back-and-forth-ing on where to vacation, Costa Rica is the ultimate catchall destination. (Take advantage of Exclusive Resorts' COVID-Navigator service to handle the logistics.) Think incredible, biodiverse landscapes; a culture-laden capital; the freshest food; and beaches galore. In particular, the Papagayo Peninsula has all the wild beauty of your castaway fantasies, plus creature comforts and adrenaline-junkie pursuits for every age group. Exclusive Resorts' flagship enclave features seventeen expansive villas perched high on the cliffs complete with a members-only clubhouse, infinity pool, private beach, and scrumptious restaurant. Spend easy mornings in your private residence (Exclusive Resorts can arrange breakfast spreads or expert chefs to handle the cooking), splashing around in the pool, or spotting monkeys jostling through the trees. Afternoons could involve sailing from the nearby marina, a family zip-lining session through the rain forest, paddling among the sea tortoises in the surrounding caves, or an adults-only round of golf. As we said, Costa Rica is a catchall.

Of all the great European cities, Amsterdam tops our list for an artsy vacation with kiddos. Why? Because by foot or by bike, it's incredibly easy to navigate, refreshingly child-friendly, and full of outstanding museums, parks, and other public spaces. And then there's the food. It's excellent and also of the child-friendly variety (pancakes, mini pancakes, all the pancakes!). Check in to the sleek Dylan Hotel in the polished Jordaan neighborhood. The boutique property is an easy springboard into the city. And it's a lovely, welcoming spot to return to in the evening for a glass of wine by the fire or a late-night supper for the adults in the bar. Start with a boat tour of the canals to get your bearings and ogle the houseboats. From there, hop on the hotel bikes and peddle to the Vondelpark—a vast green space full of restaurants, playgrounds, and artwork. It's the perfect spot for kids to get confident on their bikes before venturing to other sites, like the Rembrandt House Museum, Nemo Science Museum, and Anne Frank House (make reservations for all way ahead of time).

For Food Fanatics

A Private Patagonian Island
Argentina

You know that Chef's Table episode where a beret-capped Francis Mallmann fire-roasts vegetables in the snow and sautés fish on his private Patagonian island? Turns out you can join him. Mallmann regularly hosts guests for a week at a time for more than just dinner. The chef and his team are masters at creating a magical environment for the whole fam: Forts in the trees, picnic lunches on the river, fireside suppers at scenic points around the island—we could go on and on. The point is that this experience is so much more than seven nights of exquisite meals. It's an immersion into the way of life on the island. And before you go thinking it's all camping and outdoor dinners, the island's family lodge feels like the private home of a comfort-obsessed Argentinian.

Copenhagen is synonymous with noma, and vice versa. But this Danish city is a food lover's paradise far beyond the experimental, hyperseasonal dishes served at its most famous restaurant—especially for those who are pescatarian or vegan. Check in to quirky, comfy Hotel Sanders (owned by a former dancer at the Royal Danish Ballet); reserve bikes for the whole family; and start pedaling—and simultaneously nibbling—through this remarkably flat city. Harborside vegan burgers at Popl, around-the-world bites at Reffen market, tacos at Sanchez, and tasty smørrebrød pretty much everywhere are just a start. Aside from mandatories like an excursion to the Louisiana Museum of Modern Art and a boat trip through the canals (organize through the hotel), try packing a lunch of Torvehallerne market goodies, bike over to the Christiania neighborhood, and jump into the water before tucking in. (You can swim in any of the harbors around Copenhagen—all the locals do.)

The Allen family—widely considered the inventors of modern Irish cuisine—are the stuff of local lore. Their storied Ballymaloe cookery school and country hotel (the former Allen family home) is nestled into the countryside, hugged by Ballycotton Bay, and world-renowned. And it's tremendous fun at any age. Check in to the Georgian-era property (expect fresh wildflower arrangements, museum-quality artwork, proper afternoon tea with scones and clotted cream, and roaring fires) for an agenda of walks, swims, foraging, and cooking classes. Sitting on 300 acres of agricultural fields and exquisitely landscaped gardens, the hotel is just right for kids to roam, pulling vegetables from the ground and fruit off the trees as they go. There are few spots more serene and quintessentially elegant than Ballymaloe, still run by the Allens—if you can get there, go.