A Spa Getaway in the Douro Valley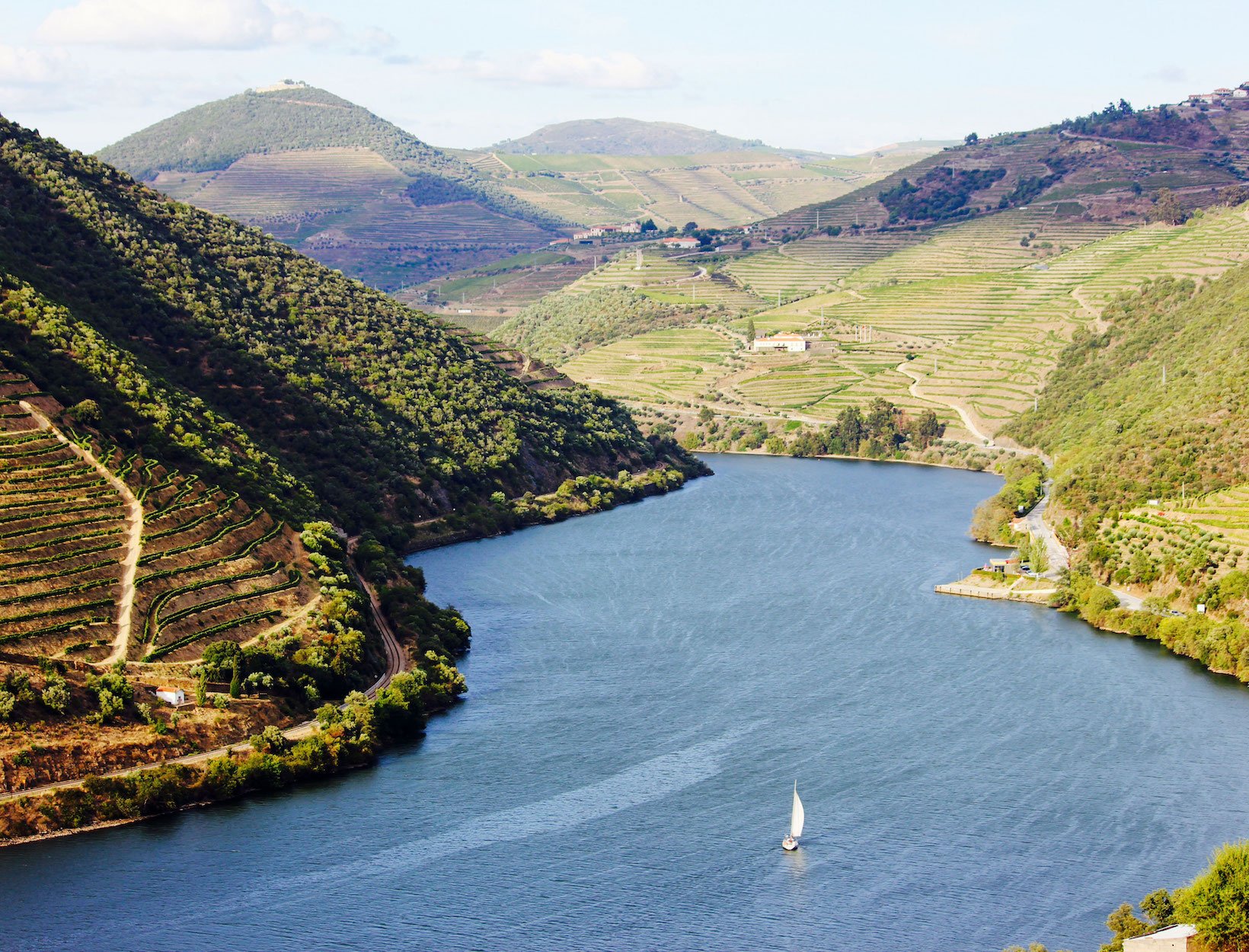 The flight from New York to Porto is one of the shortest from the US to mainland Europe—under seven hours—which is great, in theory, but it does mean you're unlikely to get much sleep. Before we drove out to the Douro Valley, we took a beat to recover in Porto, a very walkable (or, more accurately, climbable) city with a lot you can see in just a day.
The Torel Palace is an old family mansion that's been reimagined into a book-themed boutique hotel: Each room is named for a different Portuguese author, stacks of books are artfully arranged throughout, and—most creatively—open-leaved books are suspended from the ceilings in the reception area and lobby bar. It's an ideal starting point for a day's walking tour of some of the city's highlights.
We walked first over to the Ponte de Dom Luís I: From the upper deck of the bridge, you have a sweeping view over the Douro and the city itself, which was a nice way to orient ourselves. From there, we walked to São Bento—easily one of the most beautiful railway stations I've ever set foot in. The main lobby is covered in over 20,000 blue-and-white azulejo tiles portraying scenes from Portuguese history. Painted by Jorge Colaço, the work took 11 years to complete, and it's breathtaking—you'll want to linger and marvel over the tilework for as long as you can handle the crowds.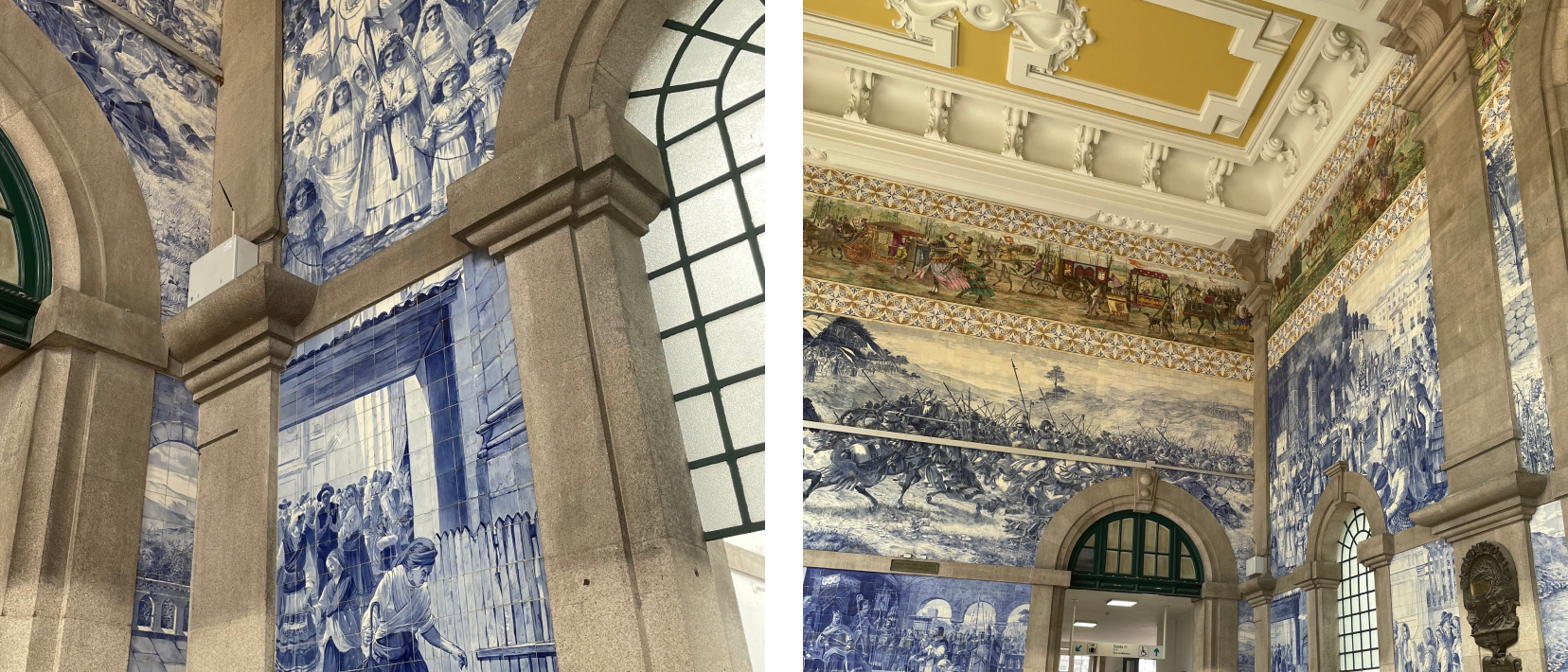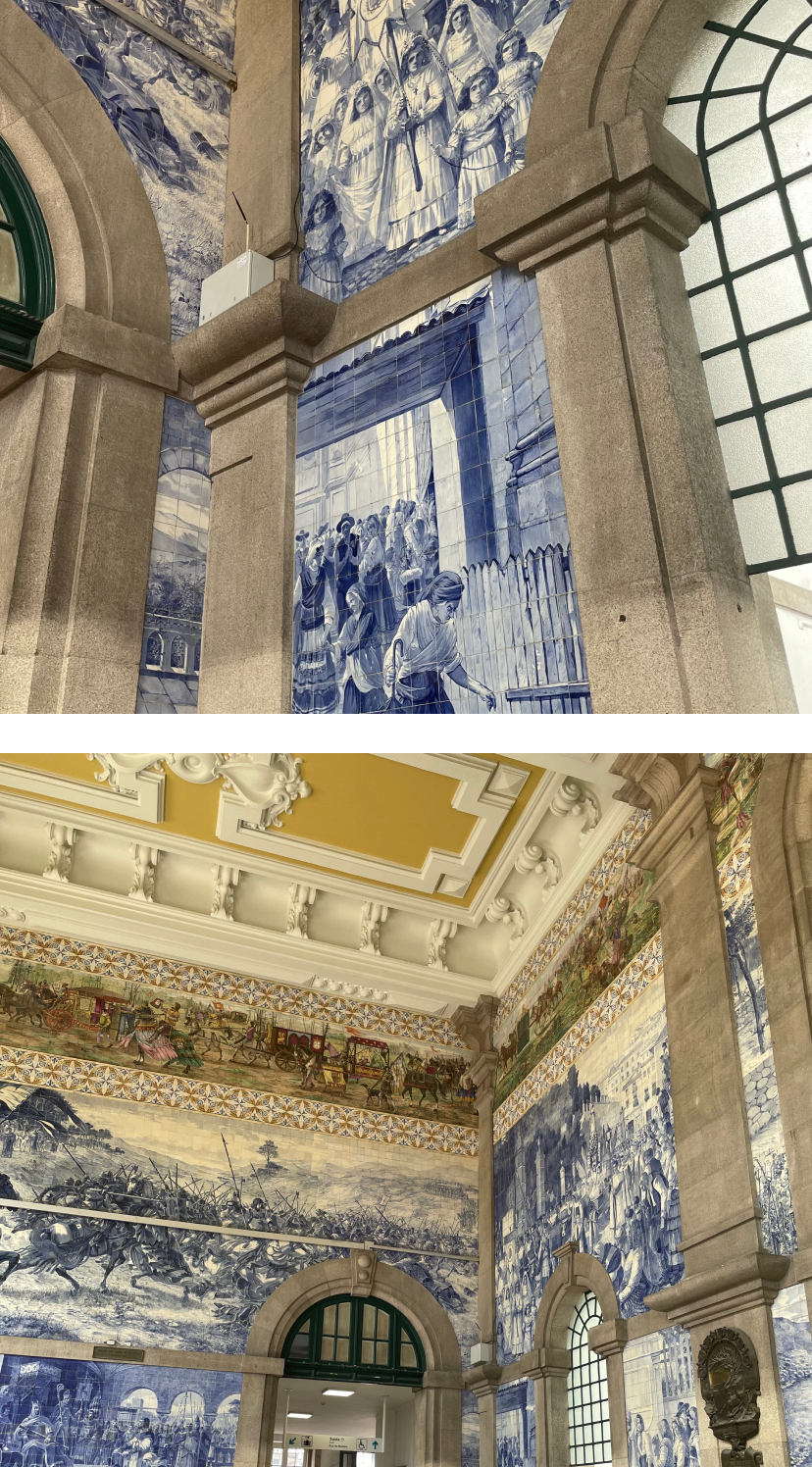 We wandered down Rua das Flores, window-shopping (and, yes, actually shopping). There was a lot of construction throughout the parts of the city we spent time in, quaint older buildings giving way to newer ones. But there's still a lot of beauty to be found, even in the smallest (colorfully tiled) corners.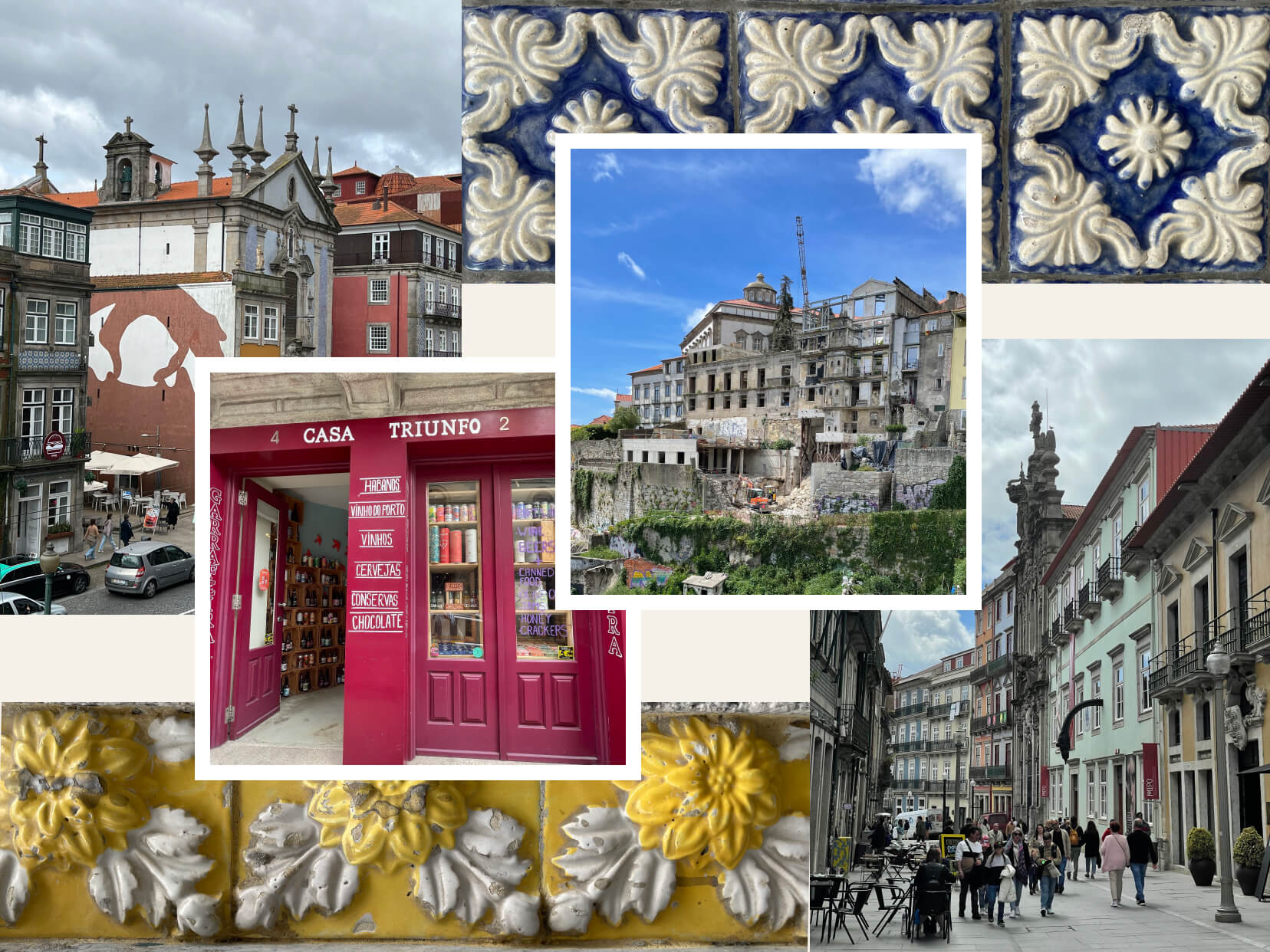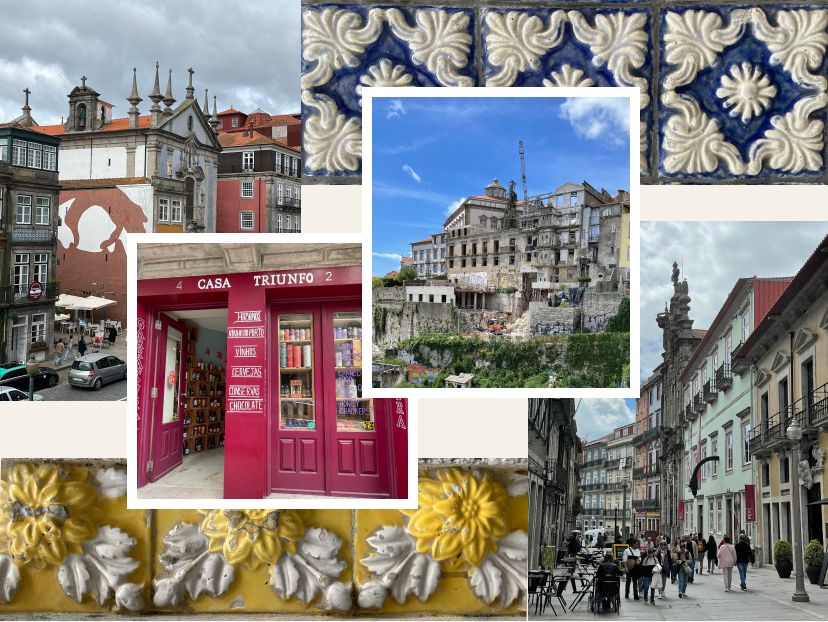 Our next stop was the Igreja de São Francisco. The Gothic church—grey, grim, and imposing on the outside—is like an ornate jewel box inside. Seemingly every millimeter of the chapel is covered in intricate carvings finished in gold leaf. The effect is overwhelming, especially with slim shafts of light streaming through from the high windows and lighting up the gold. Downstairs, the catacombs are surprisingly non-eerie: The coffins lining the walls, whitewashed and labeled with clean black lettering, are neat and orderly. You can also peer down into the ossuary, if you'd like.
After exploring some of the needle-thin cobbled streets of the Ribeira—the city's medieval district and a UNESCO World Heritage Site—we eventually ended up at the river. The street along it is vibrant, with open-air market stalls, an abundance of restaurants and bars with outdoor seating, and buskers playing to small groups.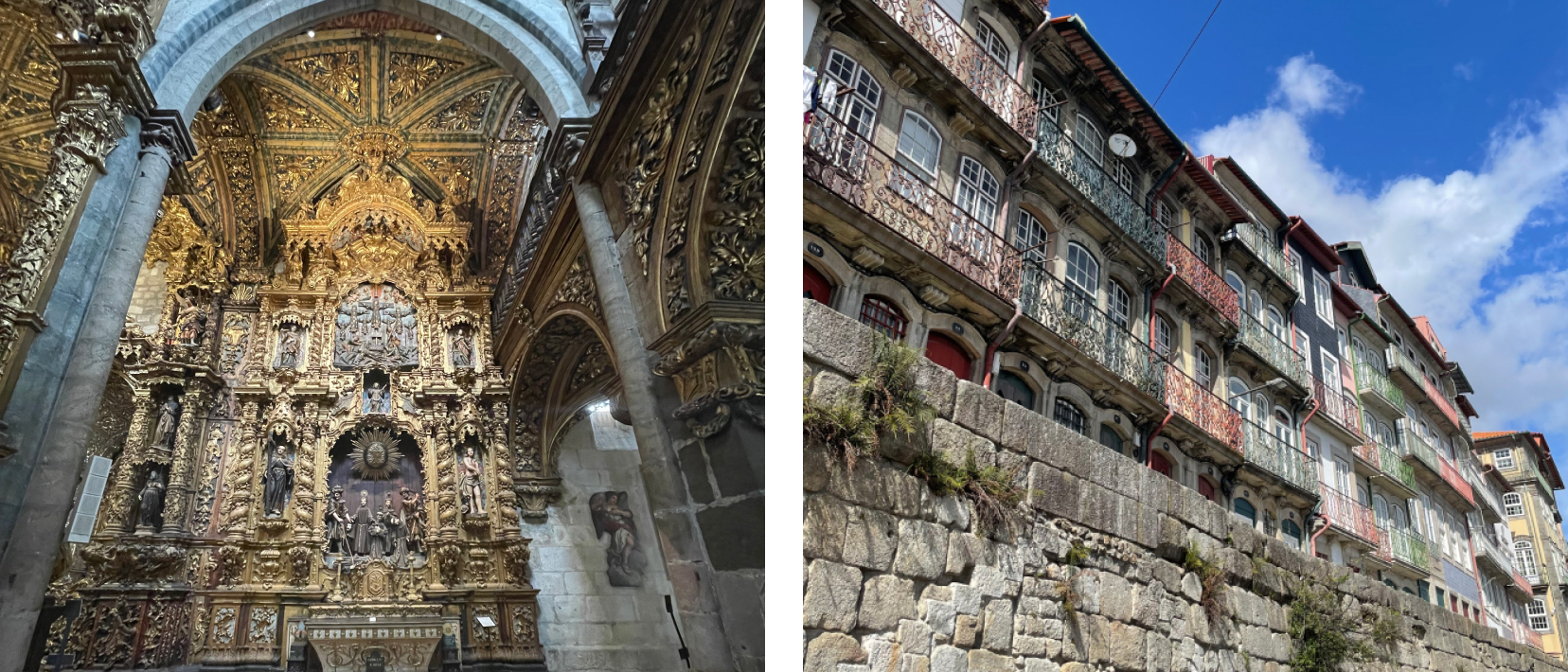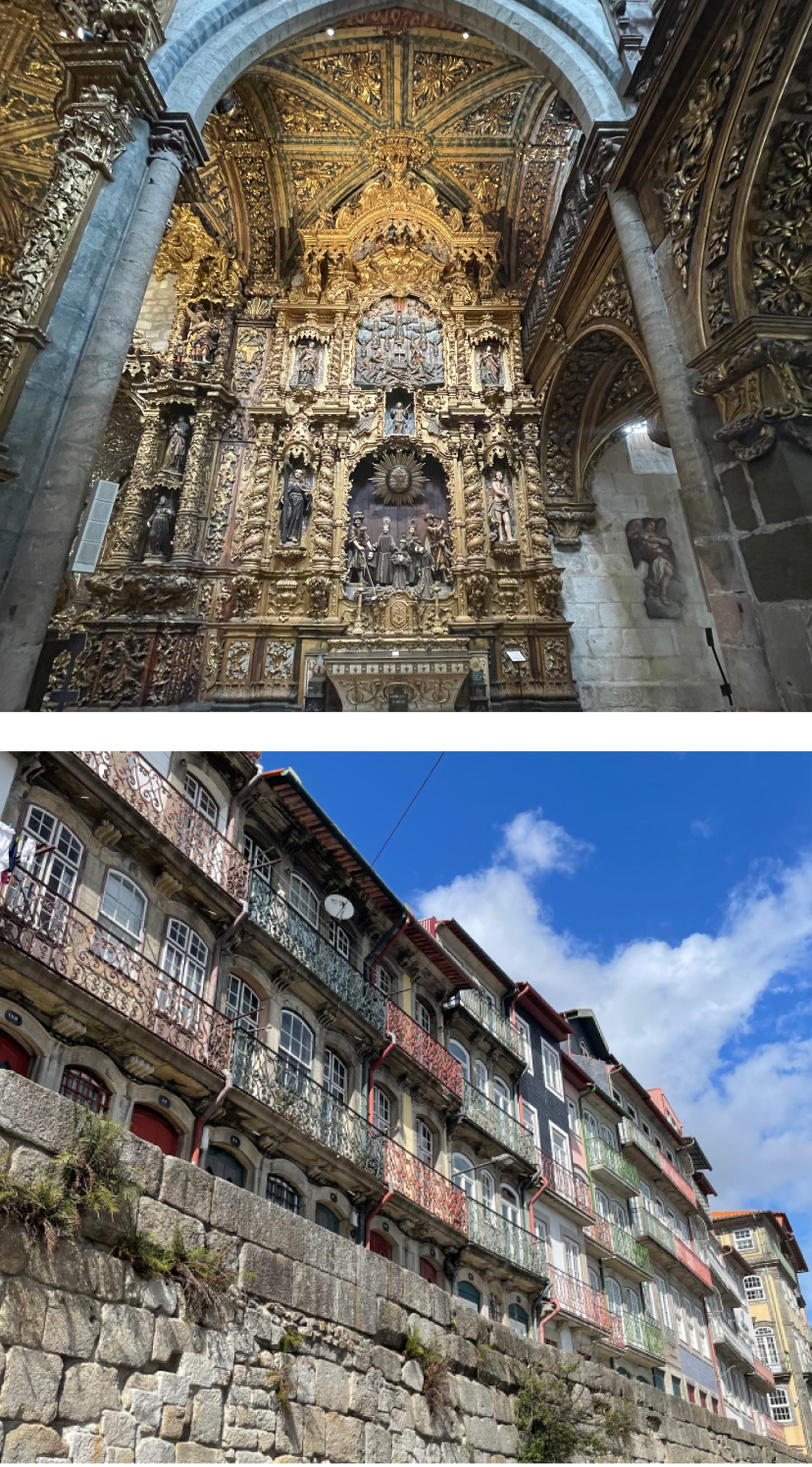 We had dinner at Casario—a tiny gem one floor up overlooking the river and the scene below. Standouts from our meal were a pan-seared sea bass in the smoothest yellow pepper sauce and a truffled potato mash topped with green asparagus, Azorean cheese, and a runny egg. The restaurant has an extensive cellar, with offerings from its own vineyards in the Douro Valley.
To get back to the hotel from the riverside, you have two choices. There's a funicular. And then there's the Escadas do Codeçal, 496 steps that brought us back up to the height of the top deck of the Ponte de Dom Luís I. On the way we passed more narrow alleys, construction sites, colorful graffiti, and laundry lines fluttering in the breeze. (Across the river, there are also port-tasting caves, a must-do that we did not have the stamina for after our red-eye.)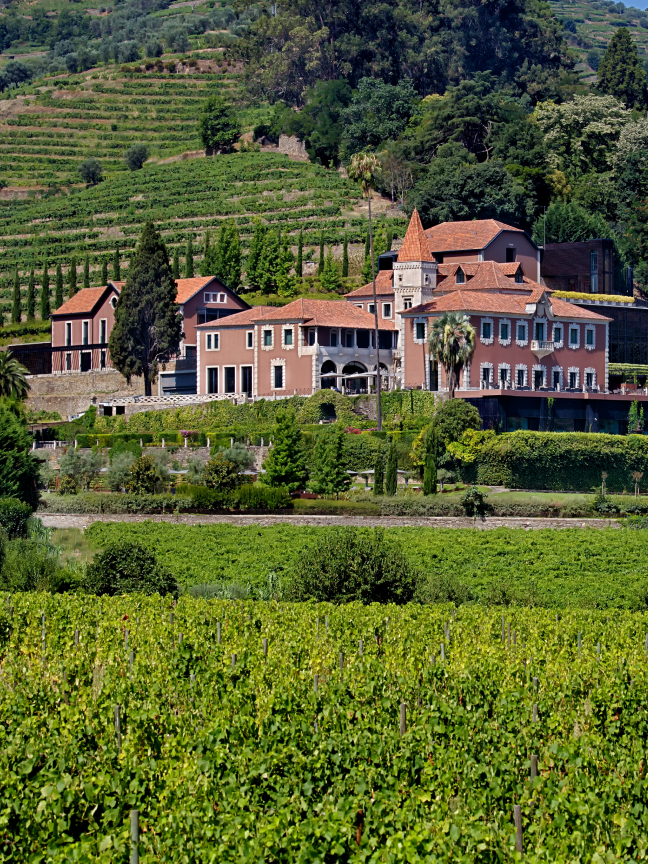 Navigating out of Porto onto the motorway the next morning was fairly easy, though it did involve a lot of very narrow streets. The drive to Six Senses Douro Valley—our home for the next four days—was about an hour and a half, but we'd picked out a couple of stops to make along the way, most memorably in Amarante, which is every bit as pretty as its name sounds. On the list for a return visit, for sure.
The hotel is a rosy-terra-cotta-hued quinta nestled amid vineyards overlooking a scenic bend of the Douro River. You approach down a long tree-lined drive, and your first impression is of a stately historic pile. The surprise, once inside, is how seamlessly the design marries modern, minimalist interiors with the 19th-century facade. The materials are local and organic, with nods to the surroundings—a wall of repurposed wine crates and a cork ceiling there, a grey limestone floor there.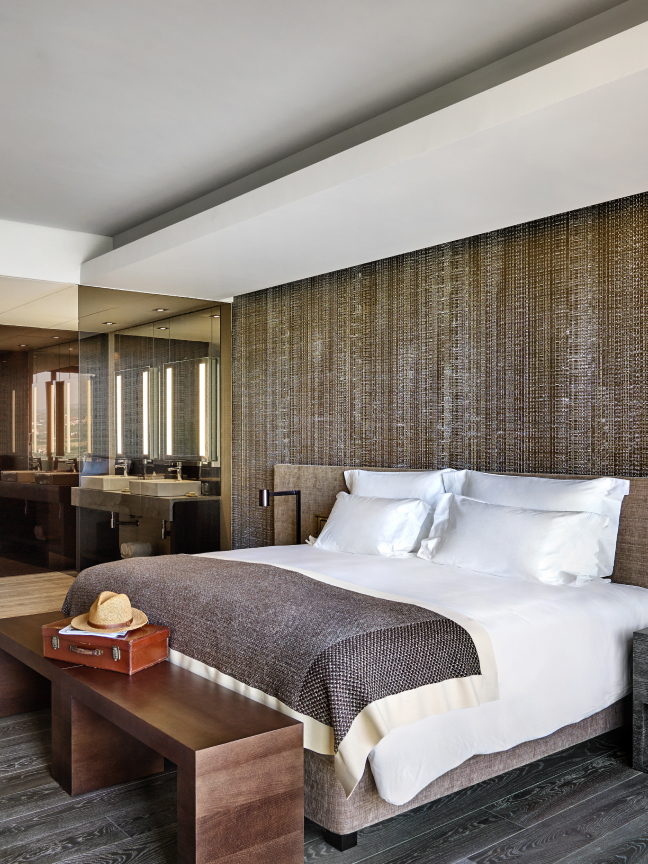 I had signed up to do a sleep assessment that night, so my first order of business was to collect my Sleep ring—I was interested to see how its data would stack up against my Oura ring's (spoiler: They were aligned). I was also given various sleep-enhancing accessories: an essential oil diffuser; a calming body scrub, pulse-point tincture, and moisturizing body balm; and an herbal tisane.
However, we had also booked dinner at the Wine Library, and I'd been wearing my Oura long enough to know that the combination of a red-eye two nights prior and a latish dinner with wine pairings was unlikely to result in my best night's sleep.
Which brings me to the meals. There are three restaurants on the property: The Vale de Abraão, with its large open kitchen, azulejo-tiled walls, and enormous stone fireplace, is the showstopper. Breakfast is served here, and while all our meals were excellent, the breakfasts were my favorite. There's a spread of fruits, nuts, granola, yogurts, breads, honey, nut butters, and jams—most of it grown and made on-site. And then an à la carte menu with breakfast bowls, porridges, eggs, and daily specials from the wood-fired oven. My favorite was an open-face sandwich with local mushrooms, red cabbage kimchi, artisan cheese, and a runny fried egg (I'm a sucker for anything that's topped with a runny egg).
For your nonbreakfast meals, the Quinta Bar serves a selection of shareable small plates and sandwiches (try the mushroom flatbread); you can sit out on the wide stone terrace in the evening, warmed by the firepits. The Vale de Abraão is also open for dinner (delicious) and for a four-course weekend brunch (we could have skipped this—the dishes were inventive, but it was a substantial culinary commitment for midday on a Saturday). And the Wine Library is open for dinner two nights a week (the sweet-and-sour mushrooms and the steak were memorable). The Wine Library is also home to a self-serve wine dispenser—available all day every day—and it's where the team does wine tastings.
We went to a tasting of local wines with a sommelier who used to work at Buckingham Palace, and while the wines were wonderful, his stories were even better.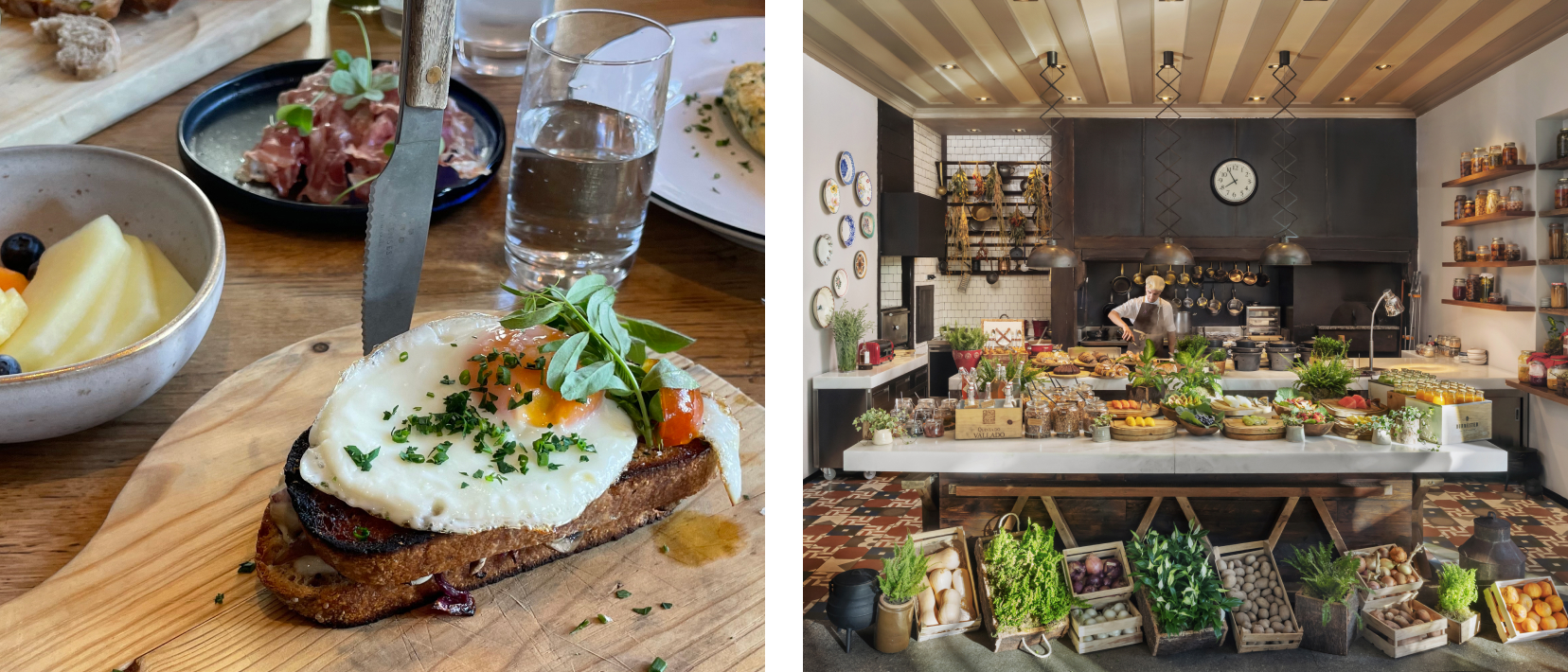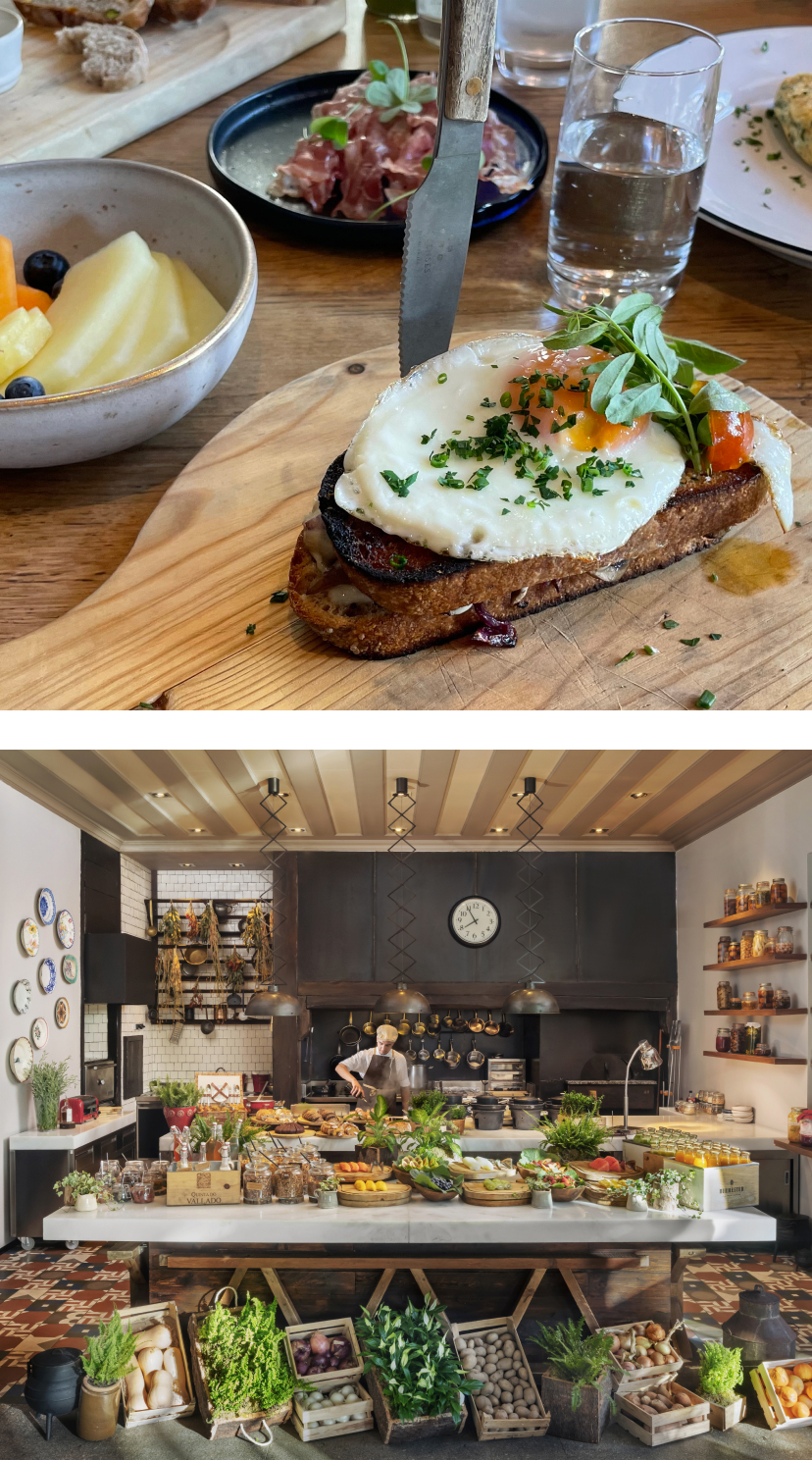 "Make sure you set aside time to hang in the spa," a friend told me. "I wished I'd had more time in the pools after my massage." Sure, I thought. Time in the spa. But I'll be in Portugal! In wine country! How much time will I really want to spend inside, in the spa? But then I saw the spa.
There's a gym, a yoga studio (surrounded by floor-to-ceiling windows looking out into the forest), and a series of aquatherapy pools: a saltwater hot tub, a cold plunge, four massage-jet stations, and a larger pool with underwater sound and color therapy (it's transportive). The Vitality Suite comprises a Finnish sauna (like the yoga studio, it's perched in the forest with windows on three sides), a Clearlight infrared sauna, a steam room, a salt room, and an herbal steam room; similar to the aquatherapy pools, they are designed to be used in a circuit, with a cold shower and an ice bath to reset between heated sessions (though of course you can freestyle if you'd like).
And then: the treatments. Many use Seed to Skin products; others use scrubs and salves that are made on-site in the Alchemy Bar from botanicals grown on the property (you can book a session to make your own, which is such a cool experience). The Golden Aura Facial was plumping and glowifying, and the massages were restorative and muscle soothing, but the standout was the signature Warming Schist Vinotherapy: a full-body scrub (with a concoction of grape seeds, oils, and port) followed by a mini facial and a full-body hot stone massage using local schist. (You can also upgrade several of the spa services with a Theragun add-on.)
Another surprising favorite was the biohacking session. I was outfitted with full-leg compression boots and a vibrating heated belt, then laid out on a chair under infrared light and an oxygen diffuser and given an eye mask and a meditation to listen to through noise-canceling headphones. It was a 30-minute session, and I was surprised by how invigorated I felt afterward.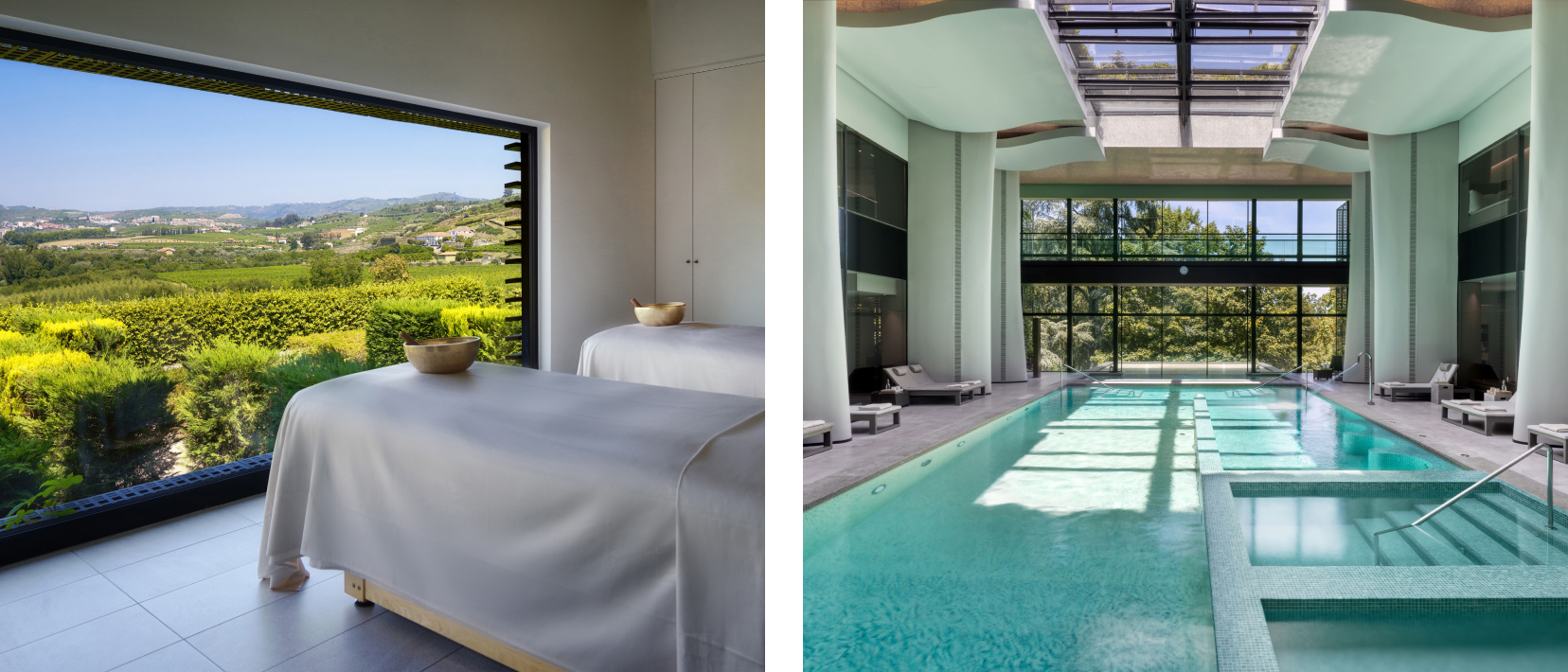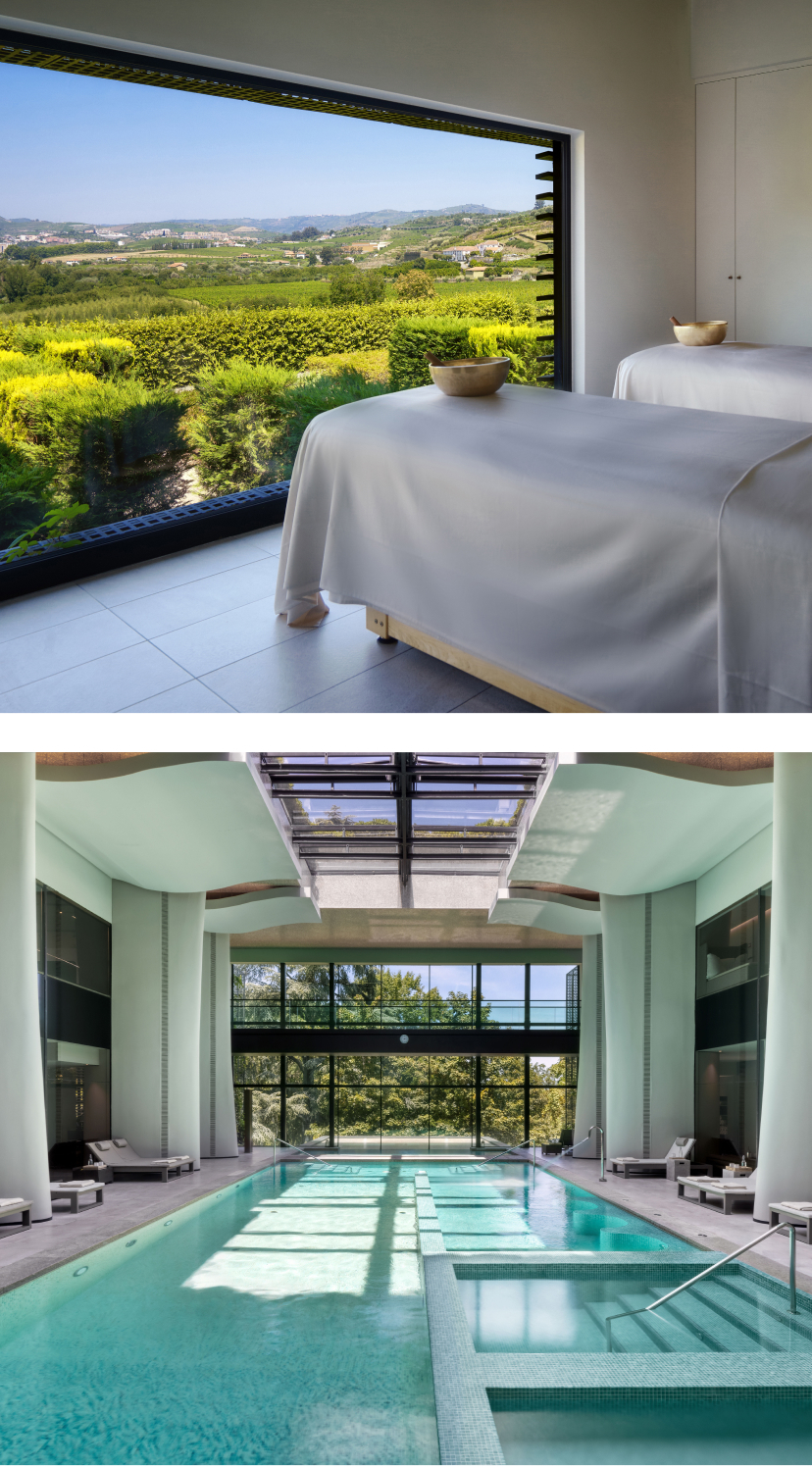 The spa also offers—I'm not kidding—treatments for dogs and even a couples massage option for you and a four-legged friend. I left my pup at home, but I did meet a Maltipoo from LA at dinner who'd gotten a pampering session earlier in the day; she did not seem disappointed. There's also a room service menu for dogs, featuring beef tartare, of course. (There are two resident dogs, Foxy and Aqua, but they're outdoorsy types, more likely to be found in the gardens or vineyards than the spa.)
When you are not spa-ing, lounging by the outdoor pool, or relaxing with a book in one of the property's many dreamy little corners, there's a roster of activities to choose from: tile-painting workshops (not, as it turns out, in my skill set), kayaking excursions on the river, tree climbing, wall climbing, vineyard walks and picnics, a forest trail (more of a forest-bathing walk than a proper hike, but heavenly), cooking workshops. You can also book a yogurt- or shrub-making lesson in the Earth Lab, where you'll learn more about the hotel's commitment to sustainability. And if you're there on a Monday morning, swing by the lab around 11 a.m. when the harvest from the organic gardens is brought up to be processed—it's a small piece of the larger endeavor but impressive to see.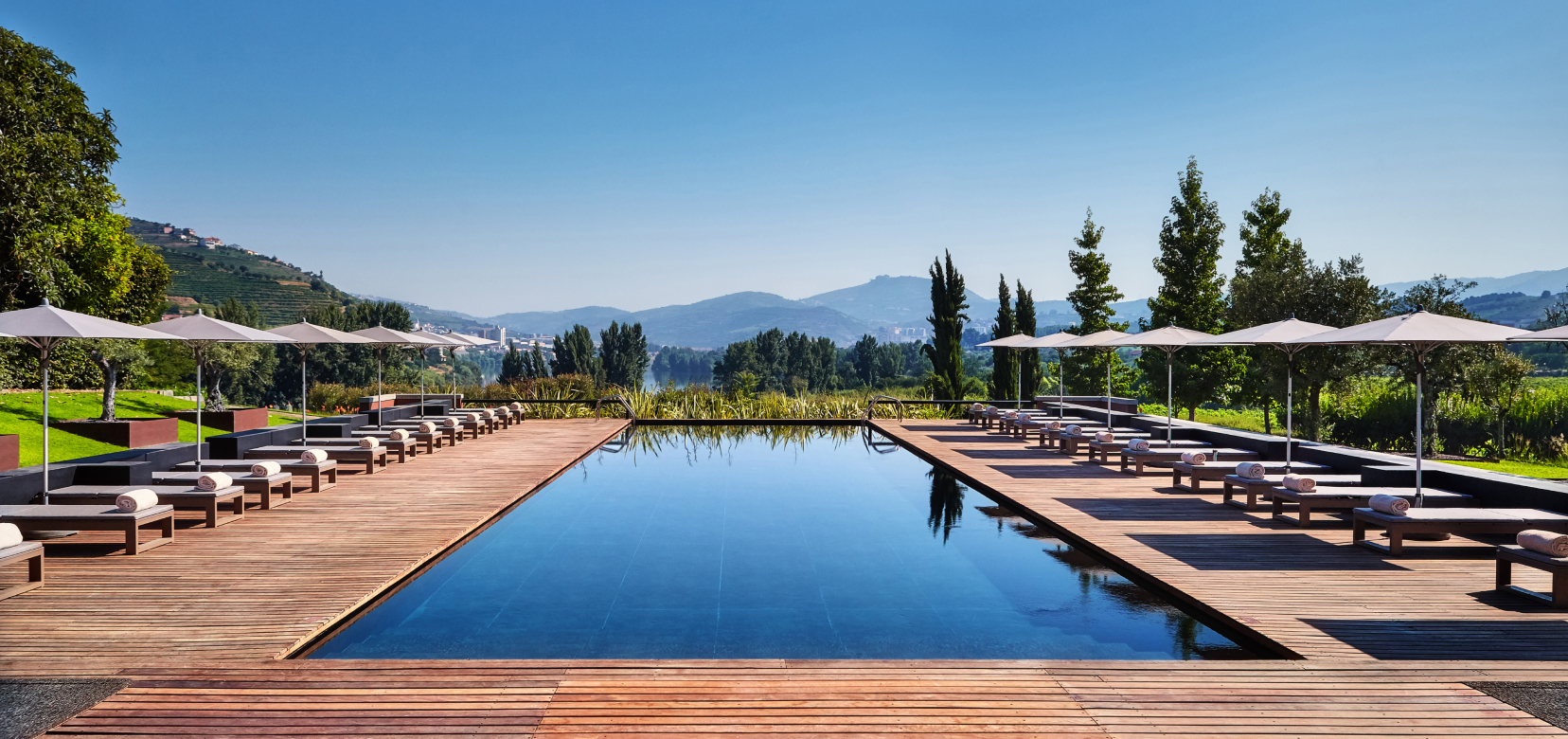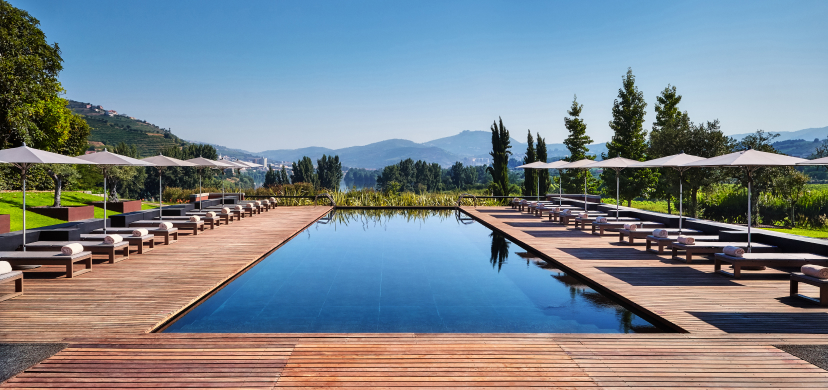 The Spa-at-Home Toolkit
Seed to Skin

The Balancegoop, $77

SHOP NOW

Therabody

Theragun Mini 2.0goop, $199

SHOP NOW

HigherDOSE

Infrared Sauna Blanket V4goop, $699

SHOP NOW

Seed to Skin

The Serenity Time Defying Dry Body Oilgoop, $162

SHOP NOW