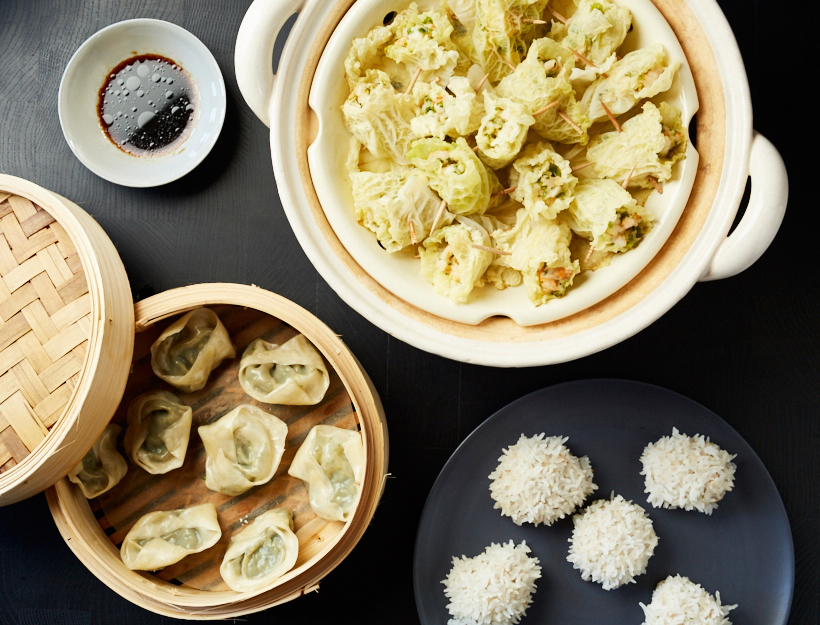 Dim Sum for Dummies—Plus, Our Favorite Spots Around the World
Carolyn Phillips—a food writer and artist who worked for decades as a Mandarin translator and interpreter in both Taiwan and California—knows Chinese food. So when her first books, The Dim Sum Field Guide and All Under Heaven, were released at the end of August, we quickly devoured them cover to cover.
As dumpling enthusiasts, we were particularly captured by the pint-sized field guide—a portable cheat-sheet that not only lists every item available at a Chinese teahouse, but also offers helpful illustrations, origins of the dish, and even nesting habits (how they're served) and recommended sauces or dips. Eager to test out our new dim sum knowledge, we asked Carolyn to share her favorite under-the-radar spots in the Bay Area and got to work compiling our own short-list for six of the cities we know best: New York, Paris, London, Hong Kong, Los Angeles, and Seattle. For those who want to create a dim sum experience at home, we designed some seriously delicious (and slightly cleaned up) recipes, and stocked the goop Home Shop with all of the accessories you'll need to execute them, from steamers to an excellent rice cooker.
Carolyn's tips on how to dim sum like a pro:
Order from the menu, rather than the carts. This slows you down and also ensures that your food arrives piping hot.

Get just two or three things at a time. Don't rush this meal, as it's designed to be a time for relaxing and lingering. Call the waitperson over when you're about finished with one round so you can request a couple more items. Repeat until you're full, but leave at least a little room for dessert.

Aim for variety every time. Have a steamer basket, a small plate of roast meats, and maybe something from the fryer. If one is shrimp, one is pork, and one is taro, for example, you will end up with a nice range of textures and flavors.

Ask to have the larger pieces cut in half, for your waitperson often has a pair of shears at the ready just for this purpose. This way you can enjoy small nibbles of a number of dishes, rather than fill up quickly on one or two things.

Start with lighter foods like har gow (steamed shrimp dumplings) to tease your palate and appetite, and then work your way up toward the heavier items.

Finish with a round or two of sweets. These too can be cut in half, making dessert just a tad less sinful.

Always drink hot tea with dim sum. Your server will offer you a variety to choose from and will refill the pot throughout the meal.
Dim Sum Recipes from the goop KitchenThe Best Dim Sum in Our Favorite CitiesBay AreaSeattleLos AngelesNew YorkHong KongParisLondon