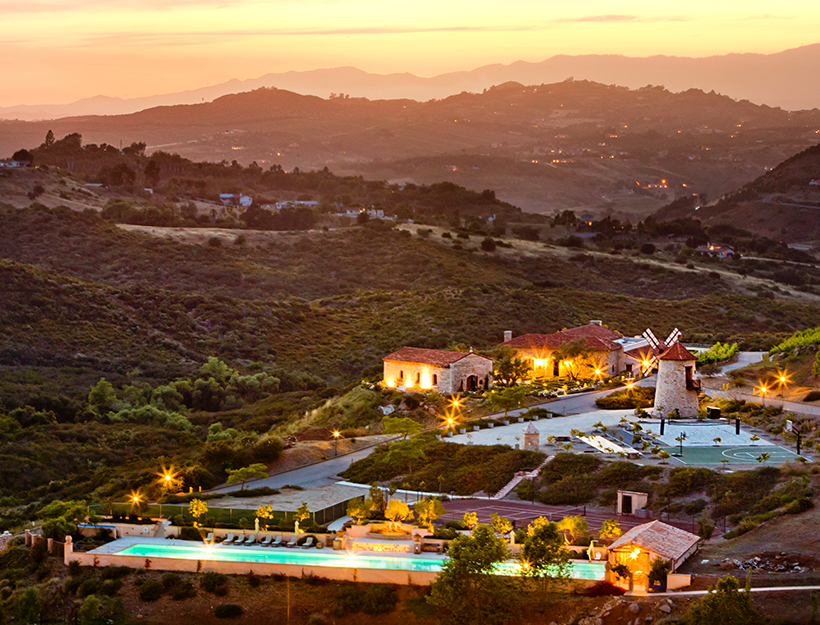 Cal-a-Vie: The Perfect Gateway Getaway for Getting Healthy
Detoxes can be intimidating for the uninitiated—likewise, the idea of shipping off for a week to get healthy can sound unappealing to those who may be really out-of-shape. But Cal-a-Vie is the sort of place that makes it both palatable and attainable.
Nestled in the hills forty-five miles from San Diego, there's nothing austere about the two-hundred-acre Cal-a-Vie. As its name suggests, it takes a bow to the French countryside—the owners, Terri and John Havens, are prodigious collectors of rare antiques, which means that even the gym is laced with 18th century chandeliers and lined with priceless tapestries (there's a small shop on-site where they sell some of the spoils). The rooms are furnished in kind, so lovely in fact that you won't even notice that there are no TVs (admittedly, you'll also be so tired at the end of the day that you probably won't care).
Days at Cal-a-Vie are packed: You will be furnished with your own daily schedule based on interests and desired exertion level, including everything from Spin and TRX, to yoga, meditation, water aerobics, and personal training sessions. (There's also golf and tennis.) Most guests kick off the morning with either a hike (they get increasingly grueling as the week progresses), or a long walk, which is why Cal-a-Vie can easily accommodate multi-generational family reunions and both triathletes and those who have never set foot in a gym. And then there's the excellent spa, where they knead out the daily exertions and make everything okay again. (Don't miss the strangely wonderful scalp treatment.)
Really, the only place that Cal-a-Vie holds back is in portion-control, as you will be put on a 1,200- or 1,600-calorie plan—it's actually pretty fascinating to see how far the chef, Curtis Cooke, can stretch this budget, turning out multiple courses of really gorgeous and delicious food that is somehow not calorie-dense. (If you're starving, there are bowls of apples everywhere, and the kitchen will happily sneak you healthy snacks, like almond butter and smoothies.)
Ultimately, it's a bit like fancy, grown-up sleep-away camp—when we were last there, there were a smattering of couples, some mother-daughter duos, one all-female family reunion, and many people who were there alone. Though communal dinners, optional lectures, and group classes mean that you end up making new friends by the end of the first day. It's not really the sort of place where you can fully keep to yourself, which ends up being a nice added bonus even if that was your intent (in fact, several singles who had been before had coordinated with friends they had met at Cal-a-Vie to return at the same time—the return rate was actually startlingly high, with many in attendance making a yearly pilgrimage).
There are more aggressive, and certainly more austere wellness and detox retreats around—and there are spots that are more advanced and cutting edge when it comes to what's next in wellness—but if you're looking for something that has wide appeal, and that doles out a lot of comfort with its calorie deprivation, then Cal-a-Vie is a great place to start.