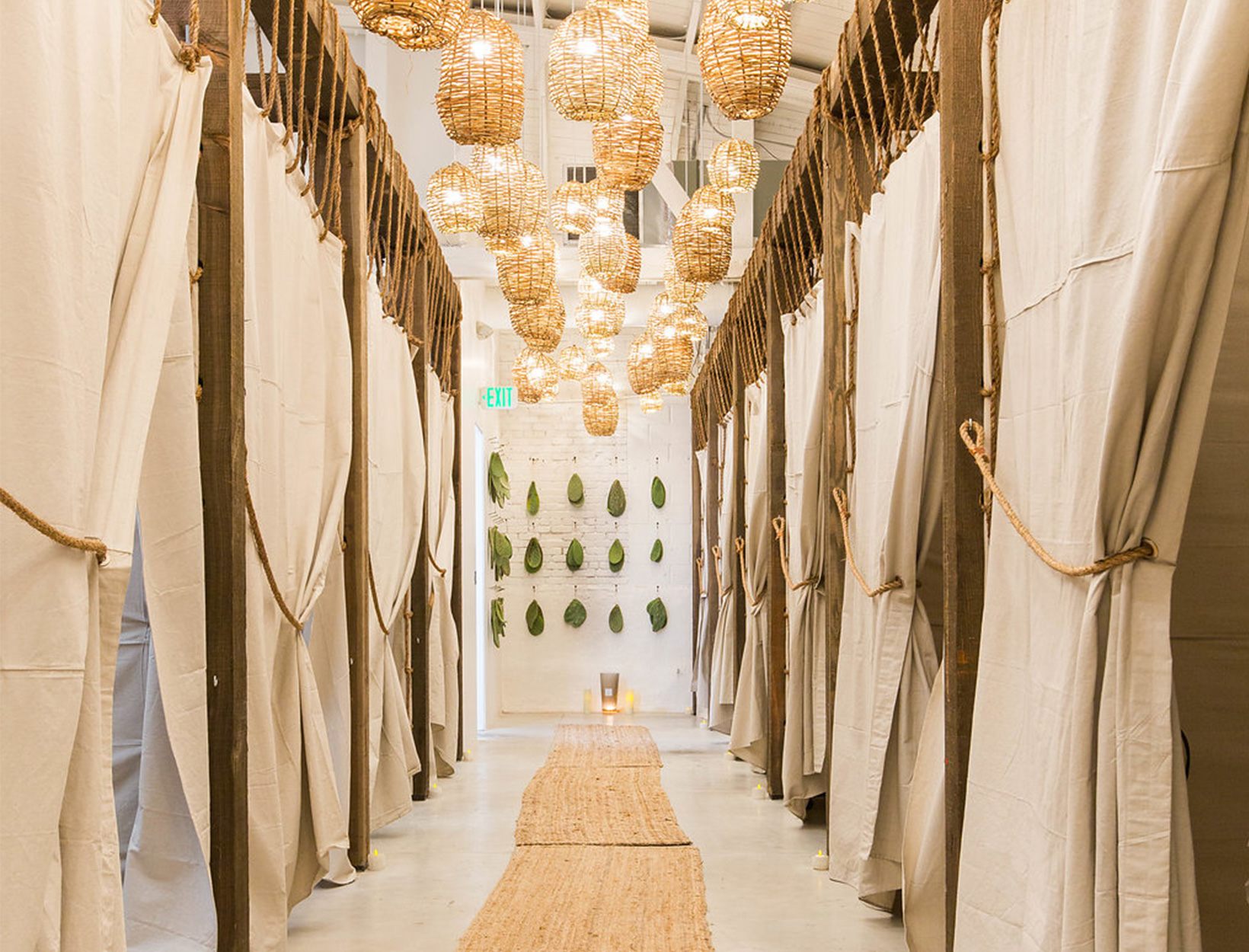 Bucket List Spa Day Trips

Whether it's an annual tradition or a long overdue catch up with your best friends, a spa day is no doubt the blissful recharge you've been craving. We combed through our city guides and pulled out a few tried-and-true favorites (Aire in New York, International Orange in SF) to turn down the dial, plus added a few new spots our beauty editors have been testing out. Each of these offers a little something for everyone in terms of facials, massages, and steam rooms for afternoon-long idylls—but for those who want an entirely new-fangled experience, we've thrown in a cryotherapy session and sweat lodge on both coasts, too. (Also featured: a few of GP's favorite spots in London.)
New York Los Angeles

Heyday Los Angeles
Fairfax

New York transplants rejoiced when the first West Coast location of Heyday, a skincare spot that specializes in personalized facials opened its doors on Beverly Boulevard, not too far from the Grove. For the uninitiated, here's how it works: You choose the duration of your treatment (thirty, fifty, or seventy-five minutes) and set your goals with your skin therapist. Every treatment comes with a deep cleanse, exfoliation, custom mask, and hydration, then ends with SPF protection (the fifty- and seventy-five-minute options also have extractions). Upgrades include peels, microdermabrasion, and light therapy, and if you need monthly treatments, there's a membership program. Upon checkout, there's a small apothecary stocked with goop favorites like Herbivore Botanicals and Ursa Major. After your treatment, your skin therapist will send you a recap email, which includes a 30-day skincare plan, plus product recommendations. Bonus: Appointments are available until 9 p.m., making an after-work facial doable—and they've got free parking out front, which is clutch in this part of town.

By way of a serene neutral interior—complete with cactus plants and lots of driftwood—this massage spa aims to recreate a little piece of Tulum in the center of Los Angeles. They're also open until 10pm, catering to a crowd that can't always break away during the day for some spa time. The best part, however, is the pricing: $35 gets you a 25-minute massage ($95 for 85 minutes). They recently launched a monthly membership service which is pretty great too, for those who want pampering more regularly. While you can book an appointment through their site or app, they also allow walk-ins. Silver Lake is their newest location, (the original is in West Hollywood) with two others in Santa Monica and Studio City.
Photo: Tessa Neustadt

Also known as the sweat lodge, this spot, which boasts a pretty major Hollywood following, is exactly that. Equipped with small, cozy rooms where you get into an infrared bed, the idea is that you sweat it out for 60 minutes at a time, while you watch TV, read, or listen to music. Bring a friend—you won't get to chat during the session, but you can talk all about it after. People tend to sign up for memberships and come several times a month (or week) and complement the sessions with lymphatic drainage, which is meant to boost the detox process.

Tikkun is the next level when it comes to Korean spas, combining high-tech far infrared heat with traditional Korean sauna therapies. So, if you want to lay down in a Himalayan salt brick tiled sauna, or sit in a Hwangto clay room, you get the added benefit of far infrared heat. And, in addition to the sauna rooms, there's a long menu of massages and kick-ass body scrubs to complement the sauna time. We're burying the lede though, because the real golden ticket here is the Mugworth V-Steam: You sit on what is essentially a mini-throne, and a combination of infrared and mugwort steam cleanses your uterus, et al. It is an energetic release—not just a steam douche—that balances female hormone levels. If you're in LA, you have to do it.

Tomoko in Beverly Hills is a transformative experience from the moment you walk through the doors, where it's likely Tomoko herself who will hand you a pair of slippers before leading you into the traditionally minimalist, Japanese-style pre-treatment relaxation area for tea, the first of many pots they'll brew for you. There's no communal changing area or locker rooms, as each of the four treatment rooms is set up with all the amenities of a luxury hotel room (shower, closet, bath, vanity, etc.). A single treatment can take up to four hours with all the trimmings—starting with a foot soak and reflexology massage, and ending with post-massage herbal tea and mochi ice cream.
Photo: Tessa Neustadt

San Francisco

Part yoga studio, part day spa, International Orange (IO)—named after the paint color of the Golden Gate Bridge—is a huge open space of Zen, with locations in Pacific Heights and a gorgeous new outpost in Marin. IO has both restorative and vinyasa yoga available (group classes, private sessions, or workshops). And that's all in addition to a spa menu rife with massages, facials, and more.

Situated inside The Scarlet Huntington Hotel, this spa has a Zen-like, indoor infinity pool (no diving/swimming laps here) that leads out onto an outdoor patio with a picturesque Nob Hill view. Inside, there are ten treatment rooms for massages and other body treatments, facials, and manis and pedis, including a handful of services designed for the guys. Nob Hill Spa is also home to a gym, steam and sauna rooms, and a fireside lounge. Guests of the hotel have complimentary use of the spa, and visitors can purchase a facilities-only day pass Monday through Thursday.

Austin & Dallas

The sleek subterranean spa beneath the The Joule hotel offers both traditional and experimental spa treatments in a relaxing environment. Many of the facials use Tata Harper products; body treatments include Swedish massage, cupping therapy, and Thai table massage; and there are brow treatments from threading to microblading by local brow expert Rula Sharkawi. There's a steam room with a giant amethyst shining in the corner (thought to encourage tranquility), sauna, shower, and the Vitality Pool, a body-temperature pool with jets that gently massage the skin, encouraging circulation and lymphatic drainage. Book a 50 minute or longer service and get a free spin, kickboxing, or yoga class at the neighboring Vital Fitness Studio.

Just 30 minutes outside of downtown on a particularly spectacular bend in the river, Lake Austin is as amazing as day spa as it is an overnight retreat with friends. Either way, you can use all spa facilities, the restaurant (many ingredients come from an on-site organic garden) and participate in daily fitness activities from water yoga in the stunning, barn-enclosed warm pool, paddle boarding, and hikes to river-based workouts). There are more than 100 services on the extensive mind- and body-nourishing spa menu—everything from standard Swedish to Chinese-medical cupping treatments—with specific options for mothers-to-be, couples, and groups. You can either book by service or by time; post-treatment, you can lounge by the series of swimming pools in the large hillside garden.

If you're in need of a wax, a quickie facial, a mani/pedi, or just about any self-care treatment you can think of, Milk + Honey is the spot. If you're after a one-and-done style pampering, go for the "Spa Partisan" that packs in a body polishing treatment followed by a steam under a canopy, and a 60-minute body butter massage. (It's as good as it sounds.) End your experience by wandering through the smartly curated shop, which features plenty of the spa's own line of product (try the lemon vanilla body polish—trust), not to mention travel-sized Davines hair care, which can be tricky to track down, plus, the full range of Osea's clean skincare.

Chicago

This British import, located inside the Soho House in Chicago's buzzy West Loop, offers extraordinarily comfy treatment chairs and farmhouse vibes. It's particularly popular for its indulgent manis and pedis (60 and 75 minutes, respectively) and each of the chairs features its own TV and freshly brewed tea served in a teapot is available upon request. There are only five treatment rooms, but they'll do everything from facials (some with SkinCeuticals products) to body wraps, scrubs, and deep tissue massages.

Occupying both the nineteenth and twentieth floors of the Peninsula Chicago, the hotel's Asian-inspired spa and wellness facilities are pretty next-level. (There's even a half-Olympic length swimming pool that overlooks the Chicago skyline.) The treatment menu is exhaustive—spanning everything from a bamboo massage to balance your qi to hot stone massages that use a generous helping of ESPA oils to cover every inch of your skin in long, sweeping motions. They're also one of the first to feature the cult Biologique Recherche products, which is incorporated into several of their facials. (The Biologique Recherche Lotion, P50 is akin to a facial in a bottle.) Meanwhile, the 75-minute Holistic Feet treatment is an anytime-of-year luxury: in addition to a sea salt scrub and paraffin treatment, therapists tailor an aromatherapy acupressure-point massage.

Miami

Unlike most spas, which favor whites and neutrals, Faena Hotel's Tierra Santa is a burst of color: A rainbow-striped rug runs through the spa's lobby, which is outfitted with bright Juan Gatti artwork and floral-printed poofs. Inspired by an array of South American (and some South Asian) healing traditions, Tierra Santa houses a Turkish-style hammam and has a full wet spa experience (from waterfall shower to herbal steam room, wet scrub, sauna, and ice parlor), and many of the treatments include ritualistic wellness aspects. The Hamam Rose Ritual is a highlight: During the treatment, as you lie on top of a warm marble slab, a therapist will scrub your entire body for what is likely to be the most thorough exfoliation of your life. Following this, you'll be covered in soft foam, then a soothing clay, and later treated to a massage. (Other massage options are more conventional, as are the facials.) Led by two partnering doctors, Tierra Santa also has a holistic, preventive medicine program, including testing, exams, detox, and digestive health offerings.

Whether you're lounging on the heated marble steps of the enormous, co-ed Turkish-style hammam, sipping fresh-pressed green juice while the ocean glitters before you, doing serious yoga or pilates—or all three plus an astrology reading and a pedicure–a few hours here truly takes you out of the everyday. Located inside The Standard, the spa's sleekly modern ashram-meets-sybaritic-retreat has everything: Within the hammam, there are shiny metal tubs for individual pre-treatment baths; beyond that, there a Roman-waterfall hot tub, mud lounge, Finnish sauna, an infinity pool and an arctic plunge. There's every sort of massage and facial, plus goop-ier options like crystal-infused masks, biopuncture, and workshops on hypnocoaching, sound healing, crystal healing, and more. The food couldn't be healthier or more delicious, and the on-an-island setting is about as gorgeous as it gets.
Photo: Adrian Gaut

London

Hands-down one of our favorite places to stay in London, the Connaught in Mayfair manages to strike a balance between charming and yet totally modern. The hotel's 5,000-square-foot spa (the only Aman Spa of its kind outside of the resort group), is just as incredible as you'd imagine swathed in floor-to-ceiling marble. At just five treatment rooms strong, there's a welcome intimacy here—all treatments start with an herbal infusion to help you unwind and then treatments take from Chinese, Indian, and Thai influences. (Each of the treatment rooms has its own private steam room.) During the week, the spa hosts a 20-minute lunchtime meditation that's free and open to the public.

The Corinthia in Covent Garden is one of those places that generally lives up to all the hype. As soon as you enter the space you immediately understand why: the interiors are dark, it's covered in Italian marble, and the vibe is moody but polished. The ESPA is one of the city's largest with twenty-nine treatment rooms and even a stainless steel swimming pool. Along with a robust roster of treatments—signature facials and massages—there's also a selection of customized treatments that focus on detox, sleep, pregnancy, and weight loss. The best part? Their day spa offerings include access to everything from the gym and thermal floor to the sauna and steam rooms.

At its core, KX (pronounced "kicks") is a members-only gym with a roster full of workout classes and in-house nutritionists, in addition to having one of the prettiest locker rooms in town. There's also a restaurant and juice bar and a spa—the latter of which is the only thing that's actually open to the public. Last fall, they opened KXU, a pay-as-you-go (and wallet-friendlier) model on Pavilion Road which may not have all bells and whistles that KX Life does, but features a detox-promoting infrared sauna, a cryotherapy chamber, massages, and rose-gold hued changing rooms. Their easy-to-use app makes it easy to book on the fly, too.