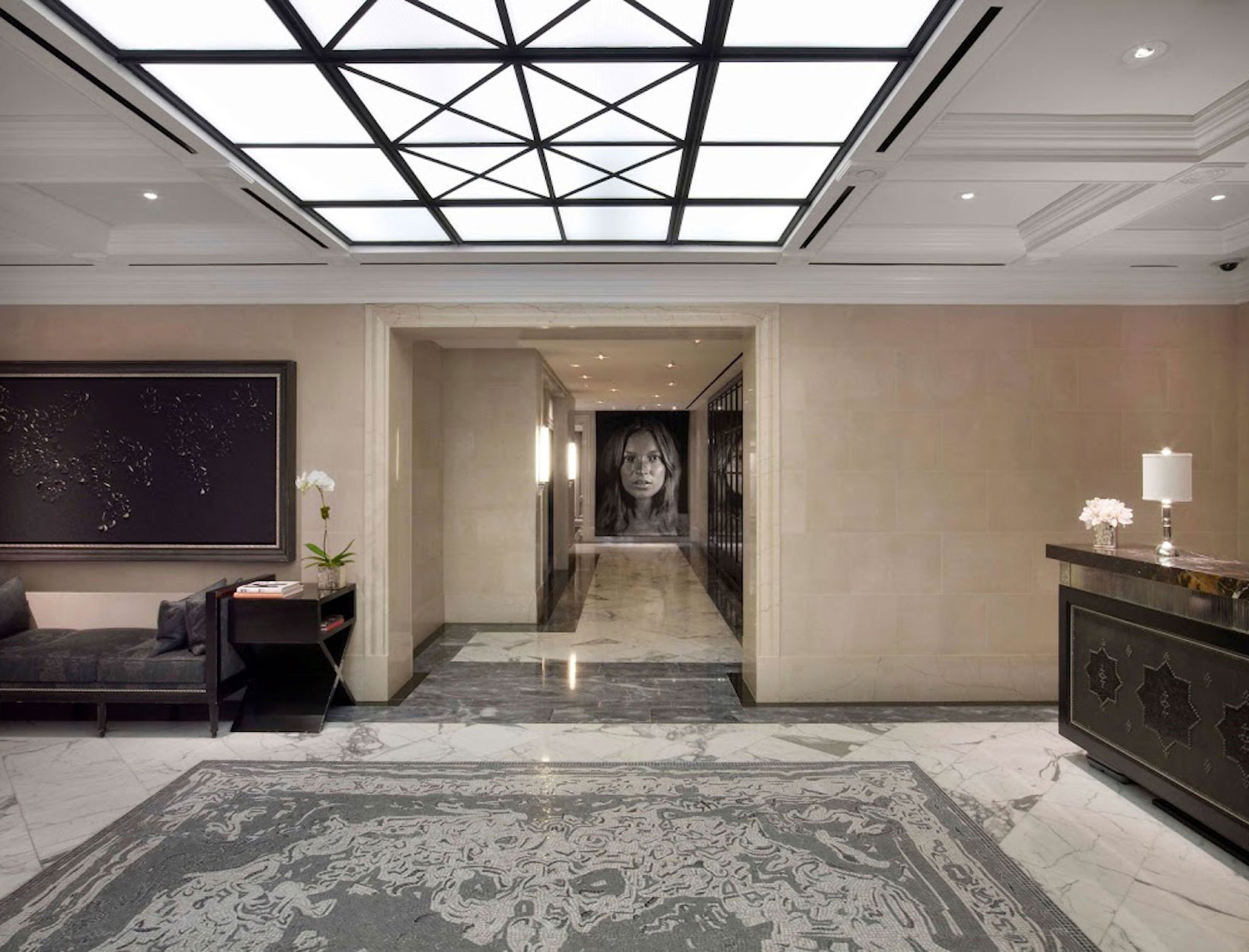 Photo courtesy of The Surrey, New York
The Best Old-School Hotels on
New York's Upper East Side
There aren't many places in the world impervious to time and trend—places whose identities are as reliable and consistent as a neighborhood bistro. But New York City's Upper East Side is exactly such a place. Sure, it's had its highs and lows, its intrigues, its gossip, its Kennedys, its ladies perpetually lunching—but for the past handful of decades, the grid of New York that rests roughly between 59th Street and 96th Street, between Fifth Avenue and the East River has been a pocket of great art, amazing food, and some of the best hotels in the world. This isn't a place for skyscraping vacation factories; the hotels of the UES are small, tasteful, romantic. Three of our favorites have recently been refreshed, which means all the history and attentive service is still there, but now they come with updated amenities, redone bars, cozy restaurants, and in at least one case, a wall-size portrait of Kate Moss. They're certainly all a tribute to the Upper East Side—it's just that these days, they come with a touch of downtown, too.
The Carlyle
The Carlyle's location within the UES is near perfect: It sits on a prime stretch of Madison Avenue, a five-minute walk to the Metropolitan Museum and Central Park (probably why celebrities like Jackie Onassis, Princess Diana, and Audrey Hepburn were all regulars). We'll tell you from firsthand experience: It can be hard to leave. Recently, 155 of the 187 rooms and suites were refurbished in a style inspired by prewar New York and all the glamour and elegance of the era. There's a charming and singular feeling of Art Deco fabulousness (the hotel opened in 1930), with the polished, black-marble-floored lobby; the potted palms; and original Audubon prints that still hang on the guest room walls. But it's really Bemelmans Bar that defines the Carlyle. This is where Ludwig Bemelmans (the creator of the Madeline children's book series) created the playful murals that have remained untouched since he painted them in 1940, and where the live jazz bands, leather banquettes, and pisco sours give you that only-in-New York sense of nostalgia.
The Lowell
Obama White House decorator Michael S. Smith gave this discreet hotel a makeover recently, and we're truly in love with the quiet, personalized atmosphere. Even the smallest rooms are a roomy 400 square feet (by NYC standards, that's palatial), and the little touches—cashmere throws, polished oak floors, antique Oriental rugs, Frette linens—aren't so little when you put them all together. It's hard to imagine anything more decadent than having a glass of Pinot Noir next to a crackling fire because, oh, did we mention? Some of the rooms have their own wood-burning fireplaces. If you aren't staying here, at the very least you have to make a reservation at Majorelle, the Lowell's gorgeous Moroccan-French restaurant. The towering flower arrangements are a sight to remember, and the food is excellent (we highly recommend the red snapper tagine with fennel, lemon, and olives or the saffron risotto with lobster). It's also great for people-watching: You'll see all those impeccably dressed UES ladies lunching in their natural habitat.
The Surrey
Walk into the Surrey and it's immediately apparent that this is a hotel that doesn't take itself too seriously. The lobby's artwork—a silver chest scrawled with graffiti, a giant Chuck Close portrait of Kate Moss—is irreverent and playful and the opposite of stuffy. The staff also seems to have gotten the memo: Everyone who works there is friendly and happy and relaxed. It's refreshingly free of uptightness. The guest rooms are exactly what you'd like in a hotel room: spacious white bathrooms, invitingly plush beds, more than enough room to do a cartwheel, and a deliciously stocked minibar. But the pièce de résistance is the room service menu: It comes from the hotel's in-house restaurant, Café Boulud. And watching a movie in bed with Daniel Boulud's kale salad and side of fries makes any movie that much better.