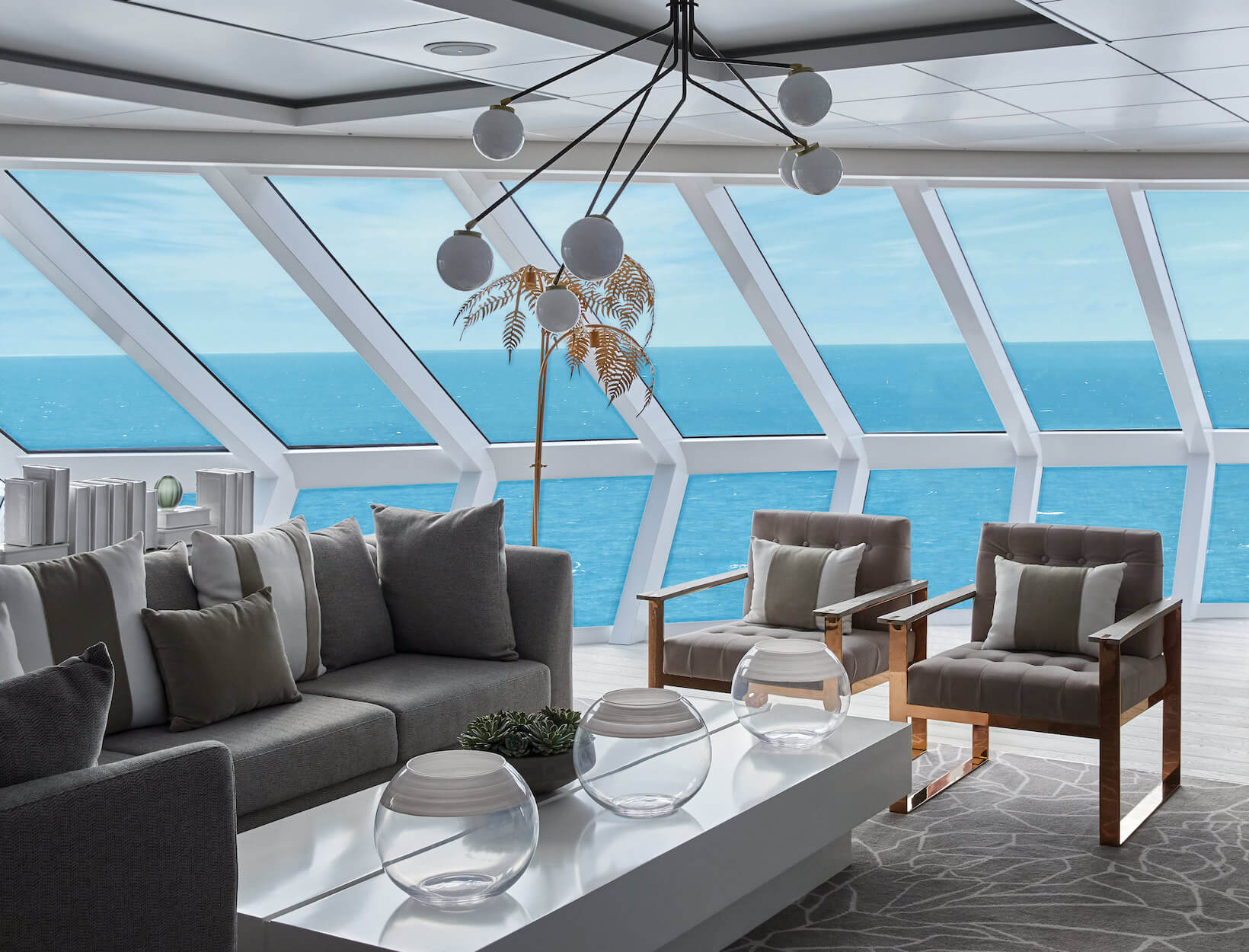 The Most Stylish Cruise Ever
In partnership with our friends at Celebrity Cruises
It's hard to imagine the level of thoughtfulness that's gone into The Retreat, an exclusive experience on the soon-to-be-christened Celebrity Apex (where we're hosting goop at Sea this August), until you spend an hour—or a day, or a week—on board.
ON BOARD
The ship is a lot like a floating hotel—and in The Retreat, every suite has a veranda with an ocean view and comes stocked with all the amenities and guilty pleasures that we associate with a swish vacation. Fluffy Frette robes, swimming pools galore, cushy beds for lie-ins, room service, and tech-forward spa treatments form the bedrock of our daily offshore routine. But when the local port of the day is Barcelona or Palma de Mallorca, we're happy to trade the infrared sauna for tapas and sangria.
"The Retreat" is code for "suite experience": The minute you board, your personal butler appears to handle details like unpacking, dinner reservations, and hunting down floaties for the littles. You're left to do…exactly as you please. For us, exactly as we please involves some luxurious, bucket-list contrasts: We'll be climbing the Spanish Steps one day and spooning bouillabaisse in Marseille the next—and we'll also be reading the latest Hilary Mantel tome on the veranda and finishing it in the tub, before moving back to daydream on the veranda.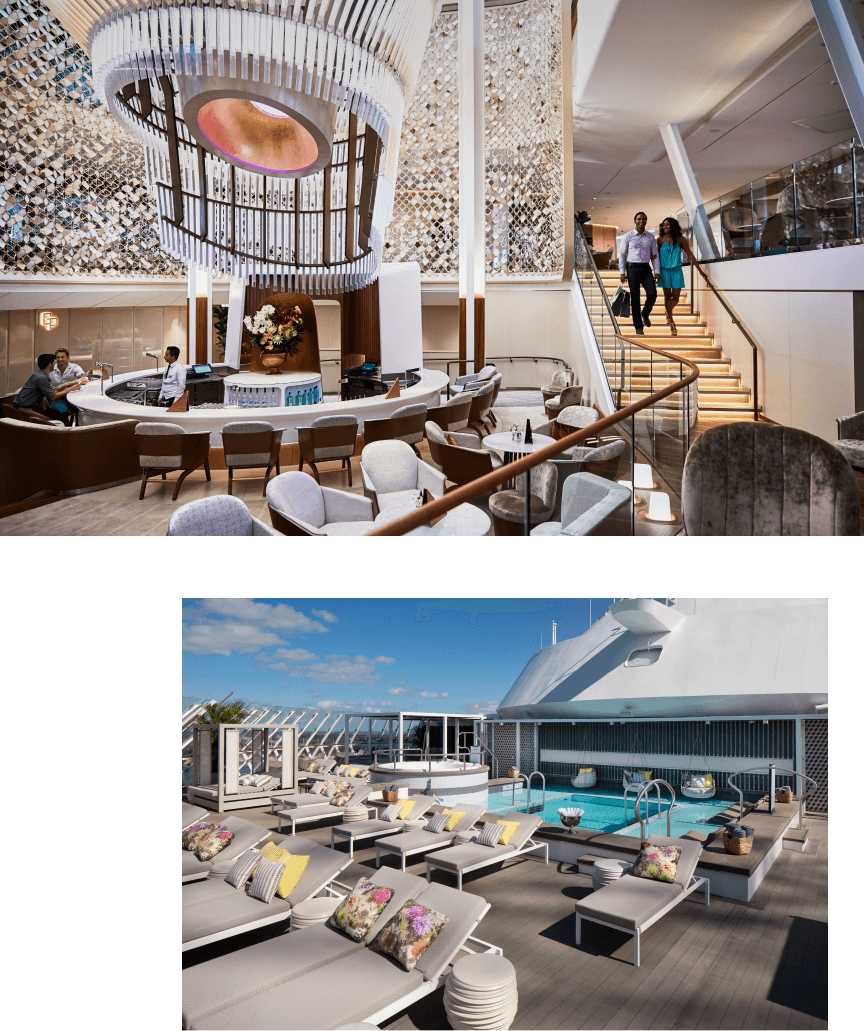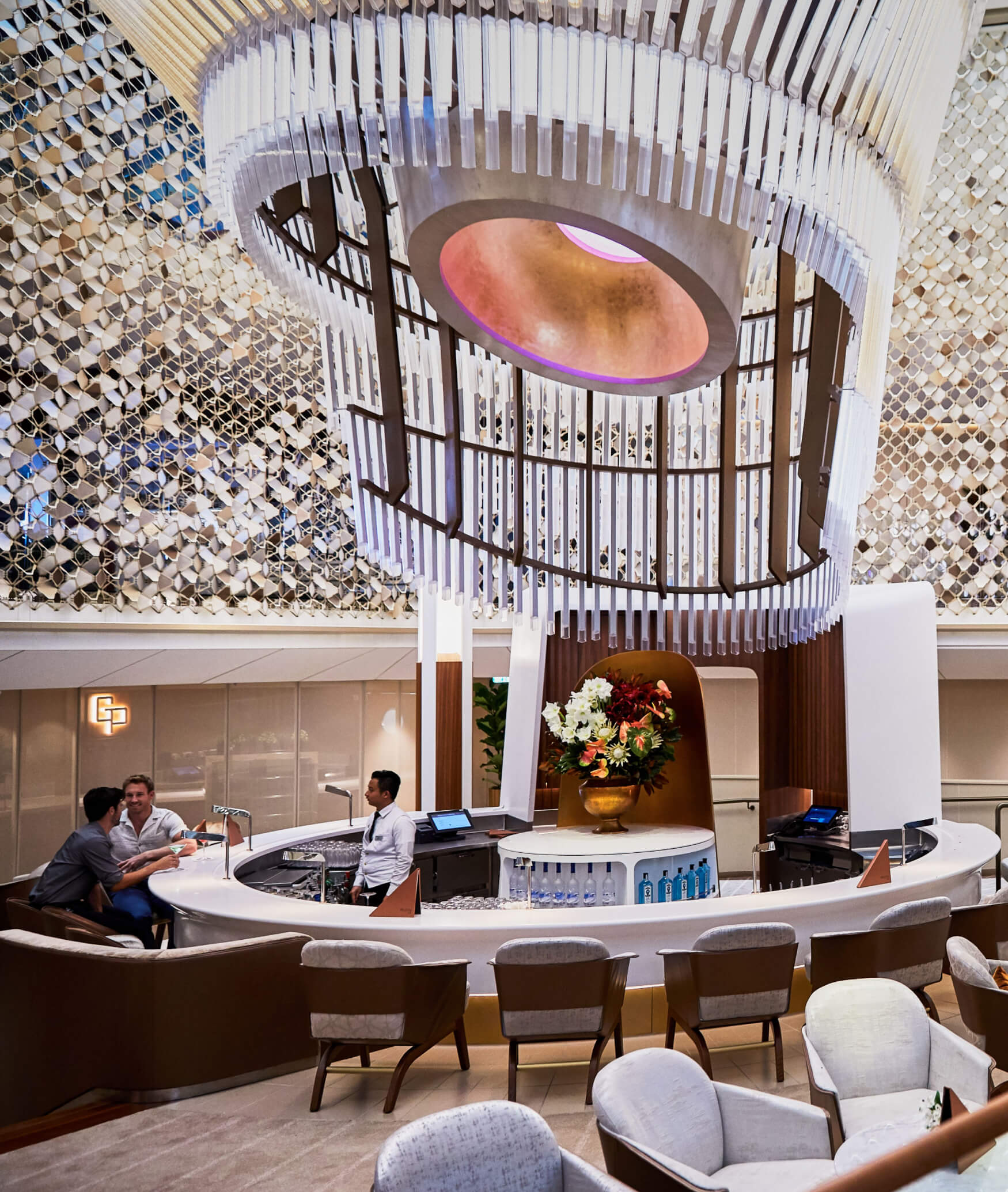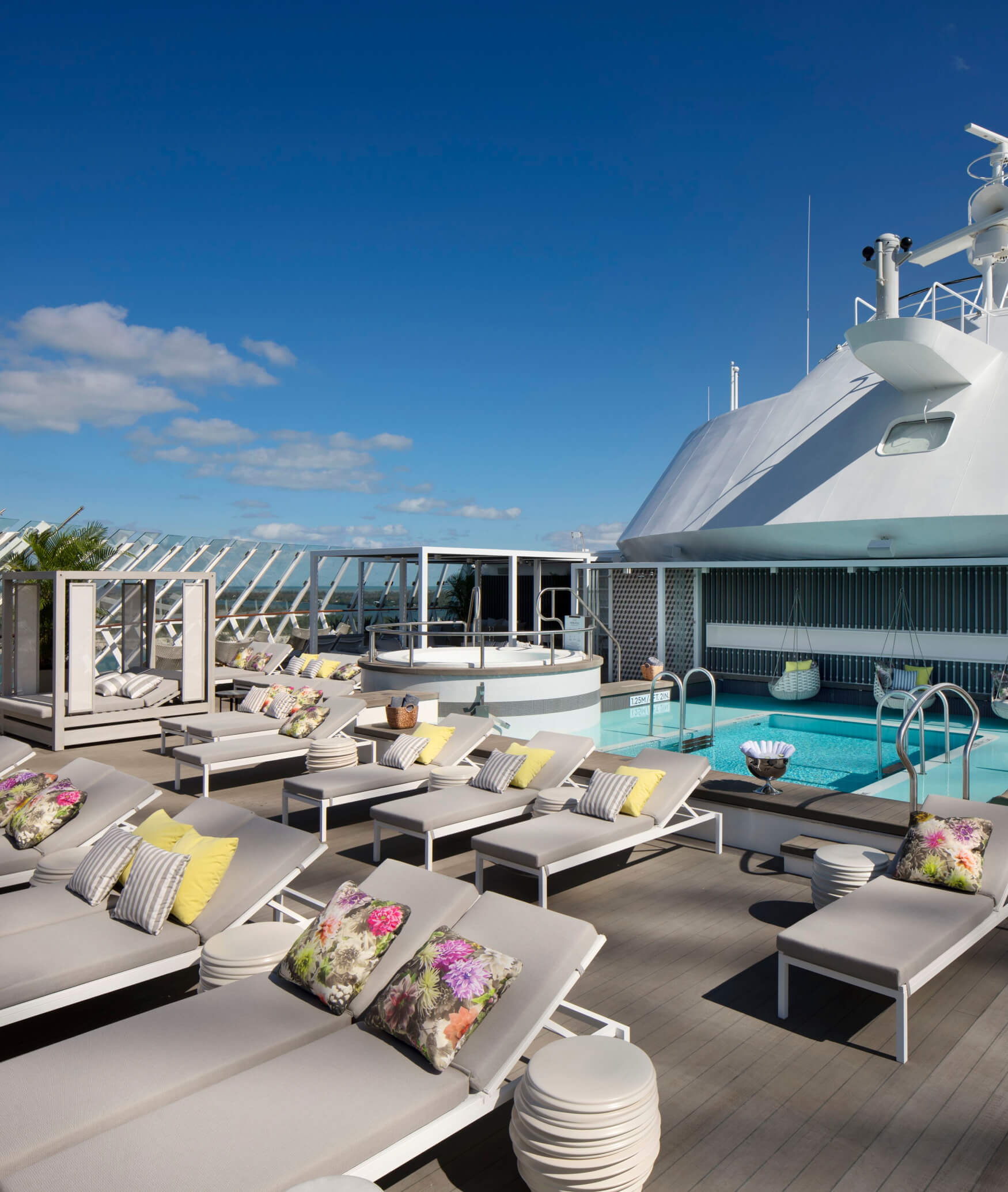 THE SUITES
On Apex, square footage is simply not an issue. There are six types of suites—Iconic, Penthouse, Royal, Celebrity, and Sky Suites, plus the Edge Villas—ranging from 476 to 2,581 square feet, all of them done in luxe, creamy neutrals. Each one comes with every possible amenity and perk you would expect in your favorite luxury hotel, and then some. Two standouts—especially if you have kids in tow—are the Iconic Suite and the Edge Villa. The two Iconic Suites are the roomiest of the lot: Wraparound glass windows frame sleek silver-and-taupe dining and lounge spaces that lead out onto massive verandas with curved rattan seats big enough for two, a full daybed, and a hot tub facing the bow of the ship. The Edge Villas are exactly that: floating villas. Two stories, one bedroom, one living room, two baths, and, like the Iconic Suite, a bird's-eye view of whatever happens to be creeping over the horizon. Glass doors open right onto The Retreat Sundeck, an exclusive pool area. And comfy, sink-into-them chairs are perched strategically by the windows in every room for the moments when you're struck by the fiery sunset or spy a slice of the rocky Amalfi coastline for the first time. Huge televisions on discreet marble backing anchor each living room area for those drowsy evenings when skipping the formal sit-down dinner, pulling on silky pajamas, and ordering in a burger and truffle fries is the right call.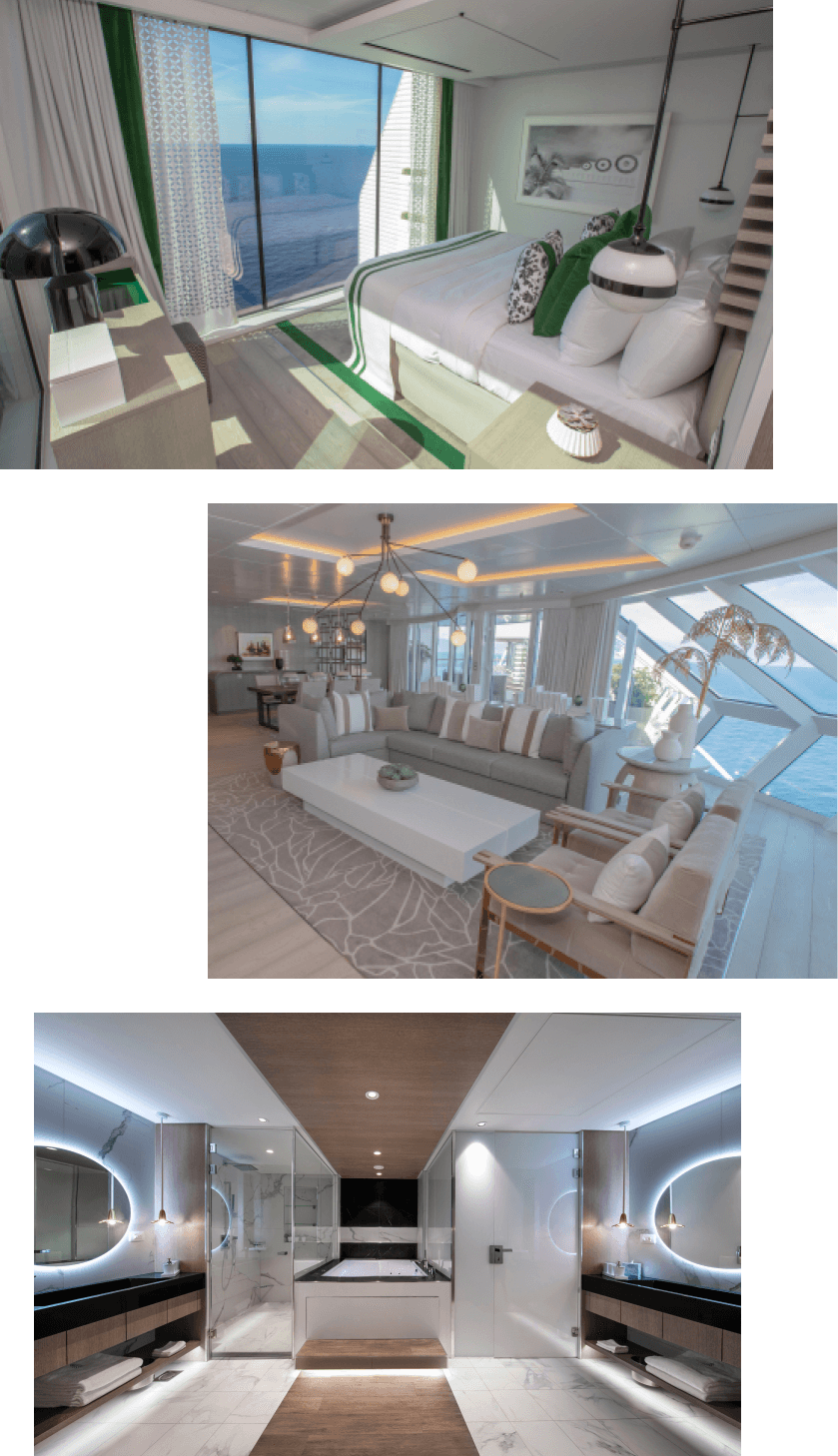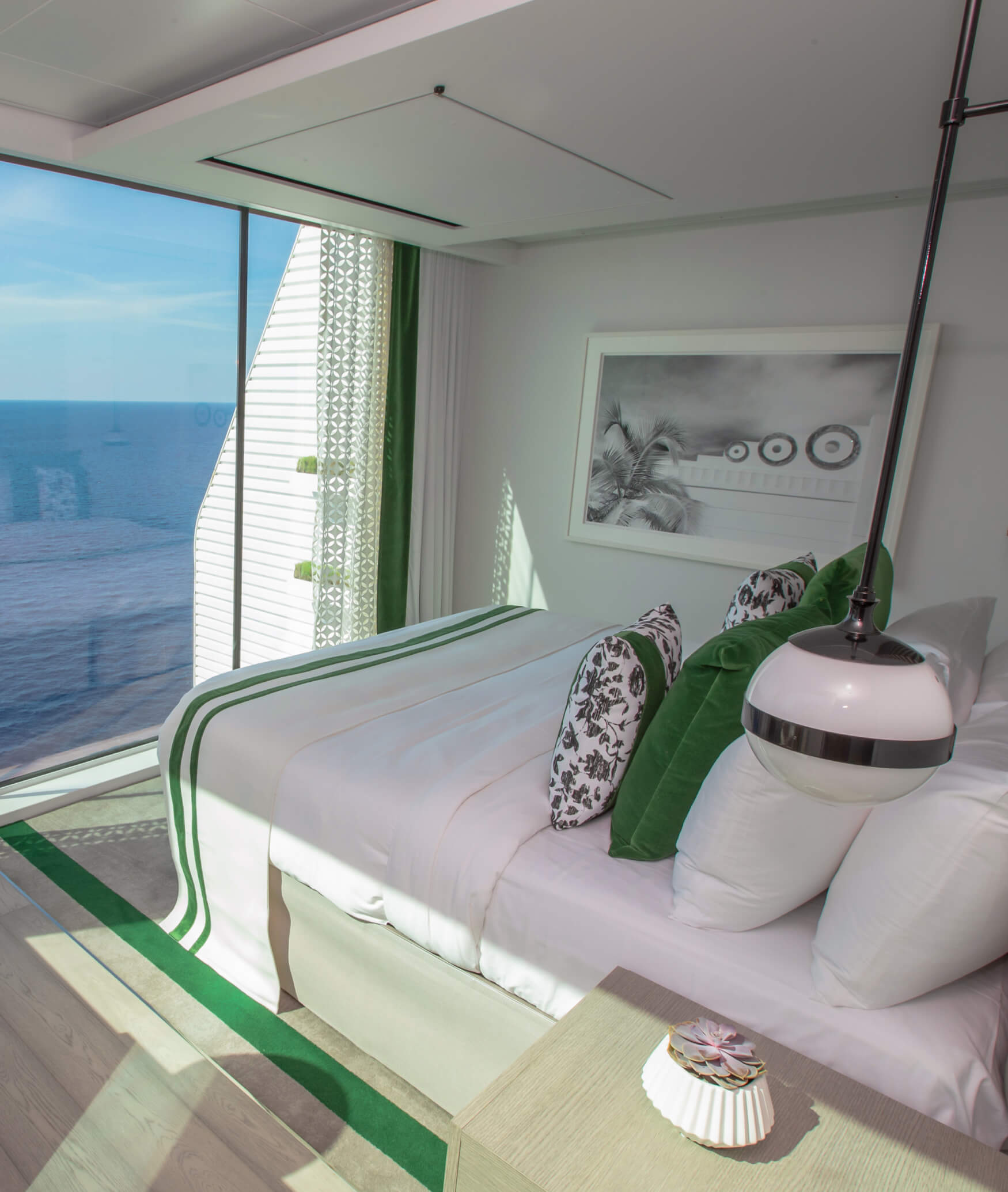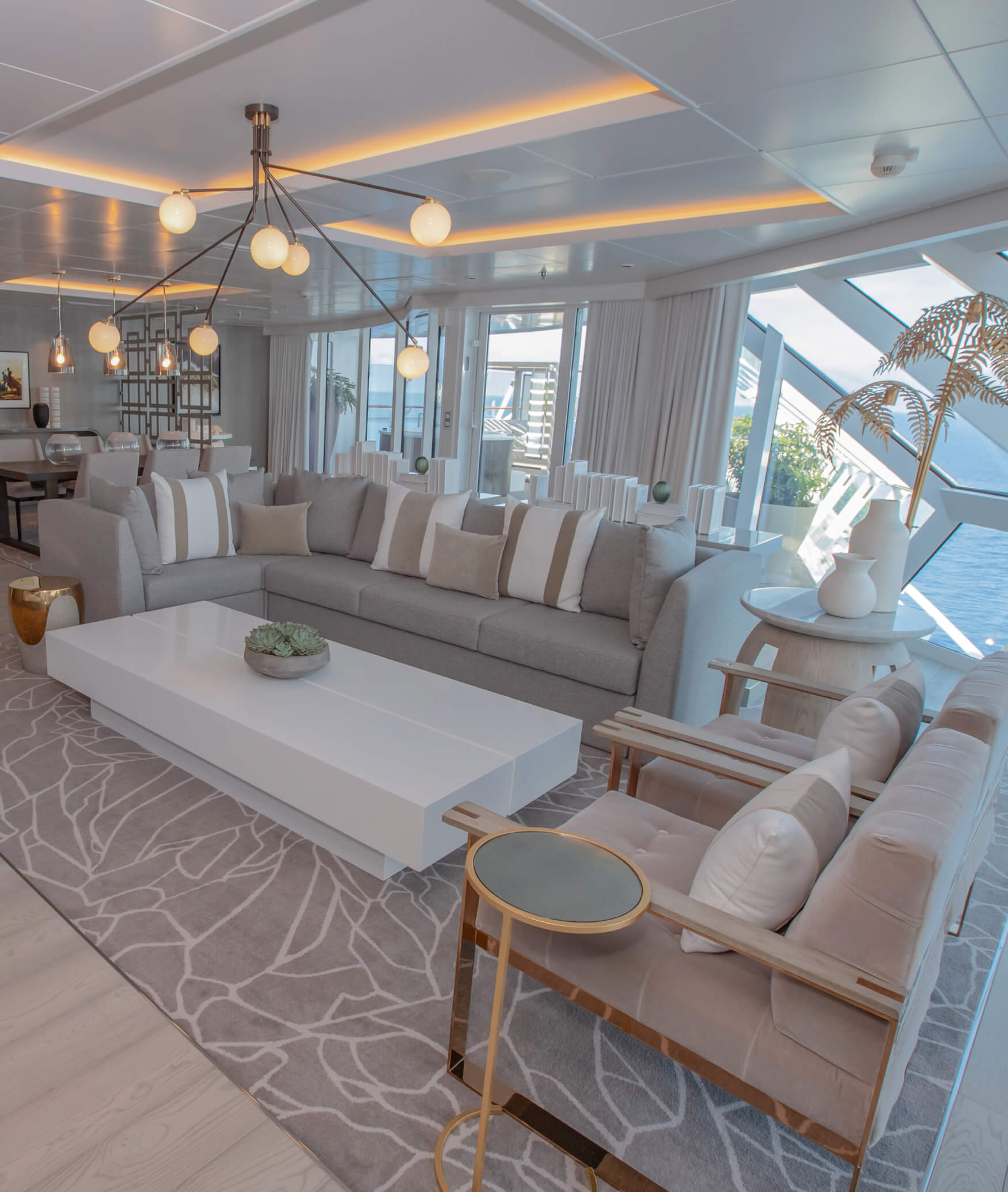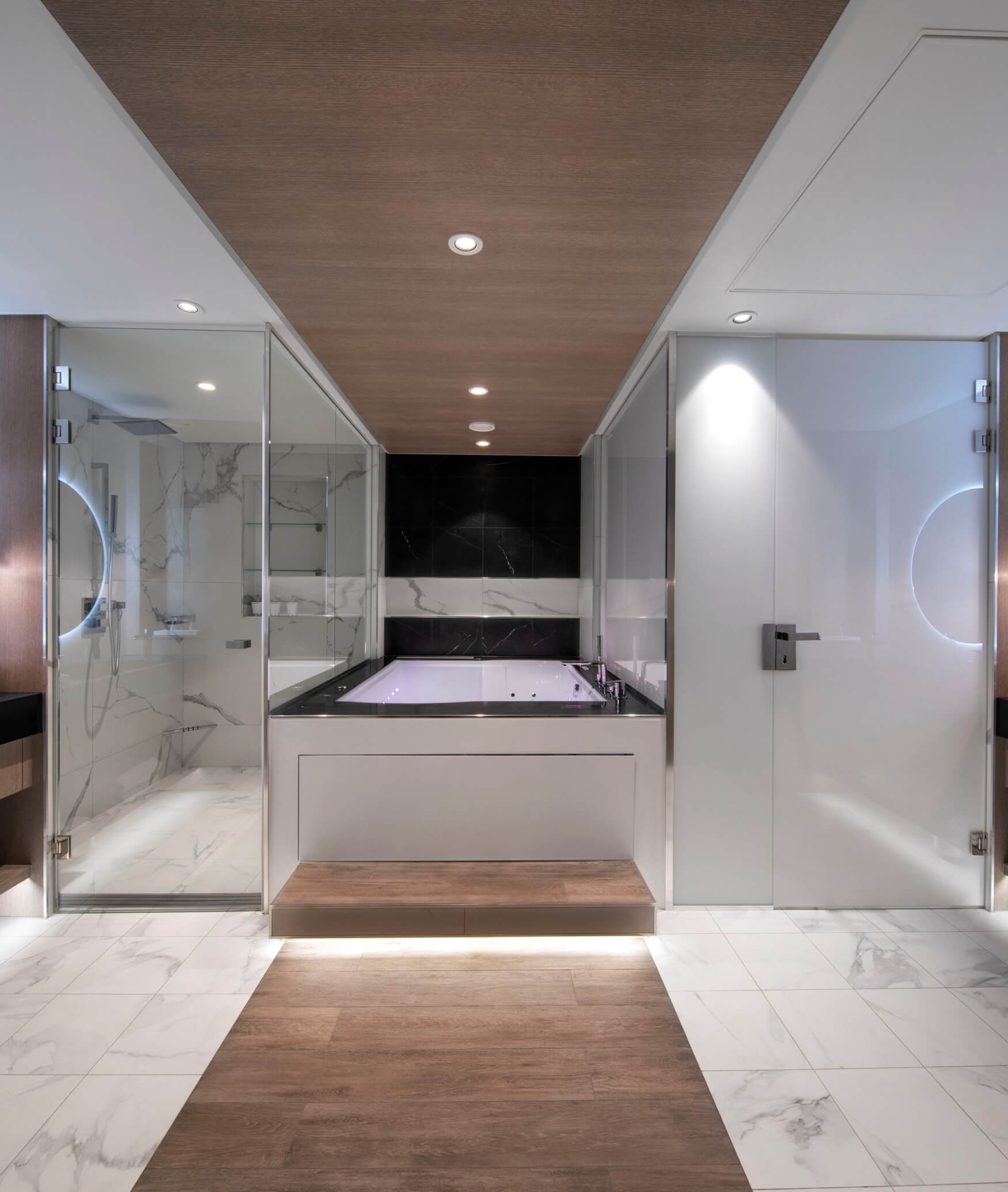 ARTISANAL COCKTAILS, DISHES BY CHEF DANIEL BOULUD, AND (MUCH) MORE
On those balmy nights when you do feel like hitting the decks—there are fourteen of them—an aperitif at Craft Social Bar, dinner at Luminae (open only to guests of The Retreat), and a digestif on the Magic Carpet (just wait) are our favorites. Luminae, smaller than the other restaurants, is intimate and cozy—and chef Daniel Boulud, of Restaurant DANIEL and Café Boulud fame, designed some of the dishes. Between the fresh French cuisine, nightly amuse-bouches, and the gorgeous dessert trolley with cakes, chewy cookies, and homemade candies, dinner at Luminae is one of the most delicious meals on board. For drinks, Craft Social Bar has a cool Brooklyn vibe, with small-batch beers and wines on tap. The Magic Carpet, a tennis-court-size platform cantilevered off the side of the ship, moves up and down—a more than dramatic setting for a final glass of something and dose of salt-on-your-lips sea breeze before bed.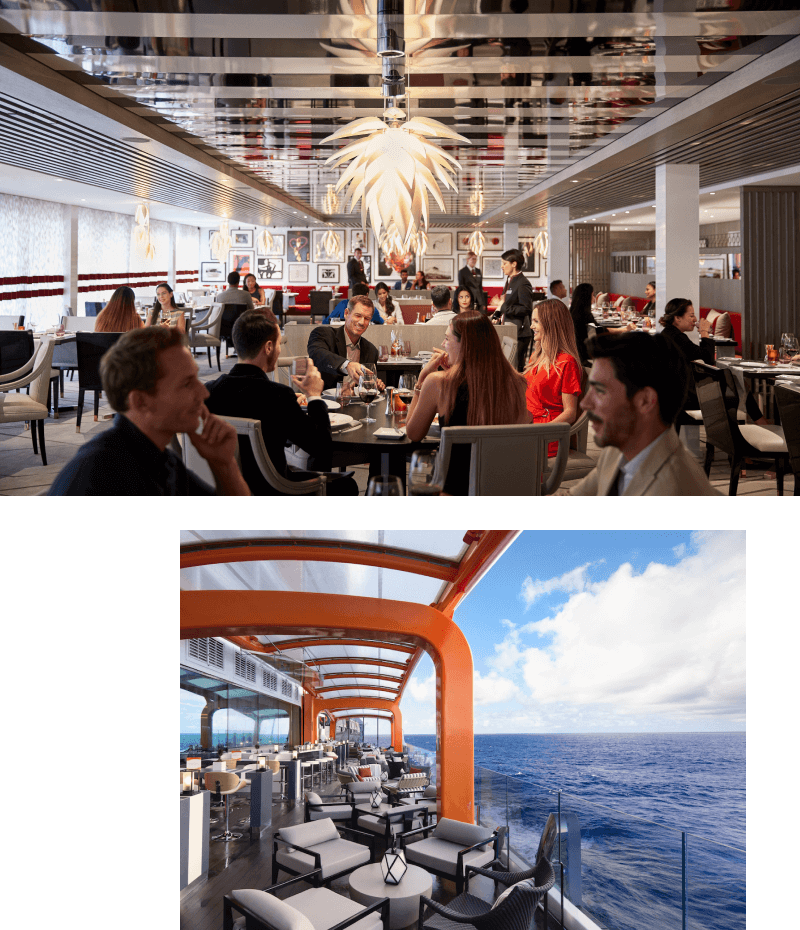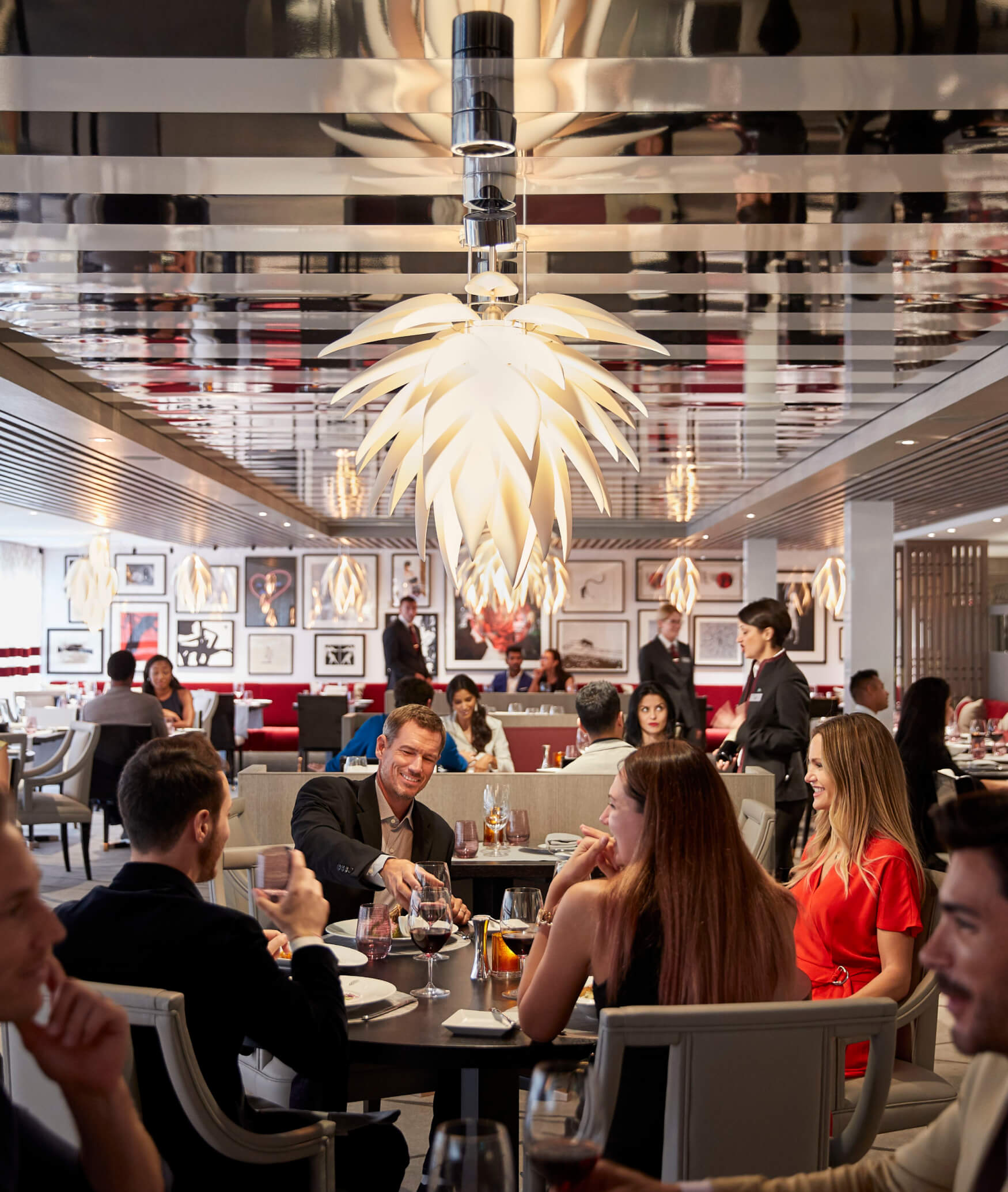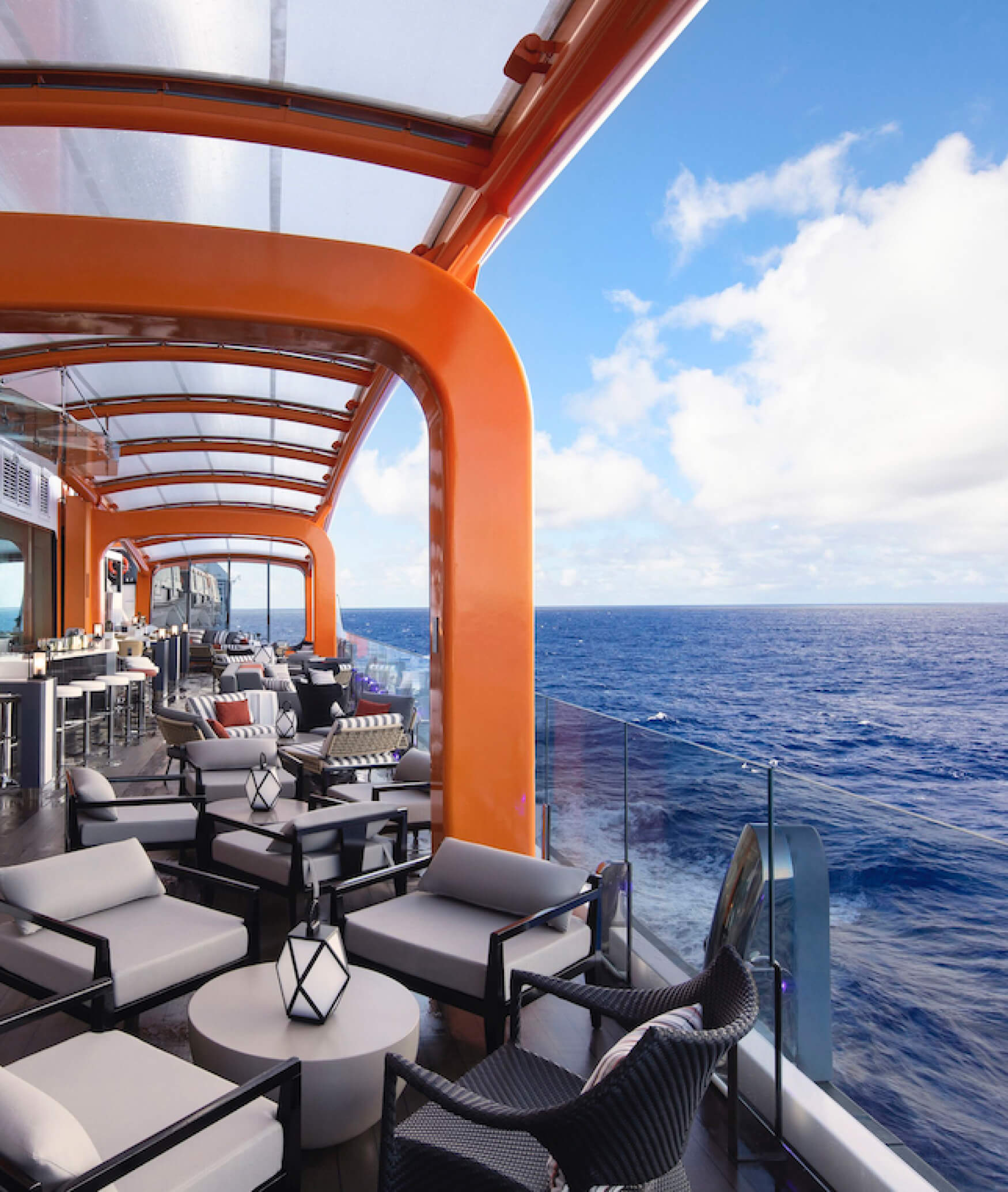 THE EPIC SPA
The spectacular spa on Apex is all smooth, mineral-toned contours, with supercharged treatment tables and an absolutely incredible menu of offerings. For a deep, cleansing sweat, the infrared Iyashi Dome is pure heaven, as is the quartz bed—a treatment table filled with pebbly quartz that feels like warmed-by-the-sun sand. A treatment in this healing "sand" before the hammam or after a strenuous session at the gym is deeply restorative and calming, especially with a wall of ocean-facing glass to stare at instead of the usual blank wall. You'll be back. And back. And back.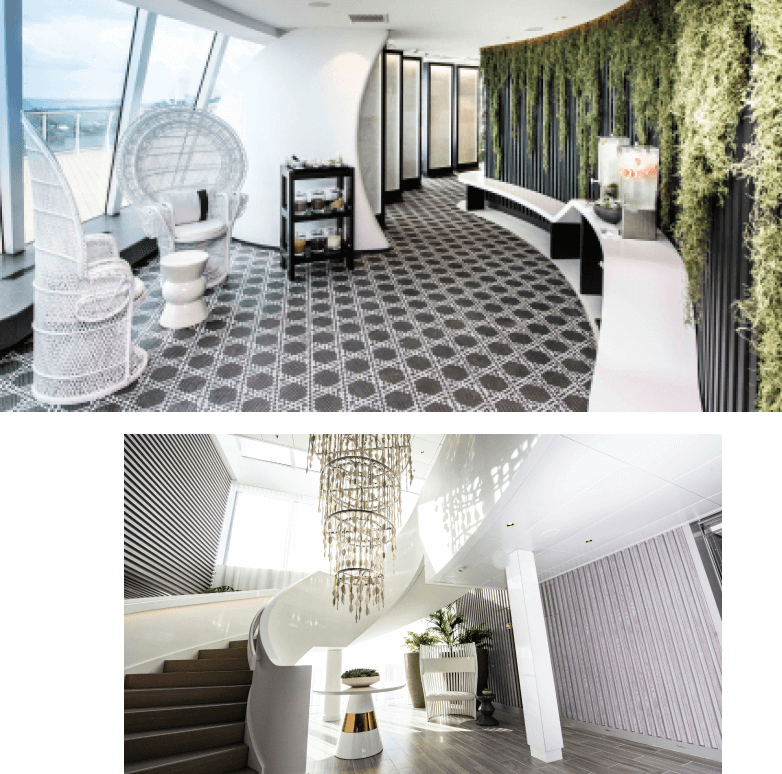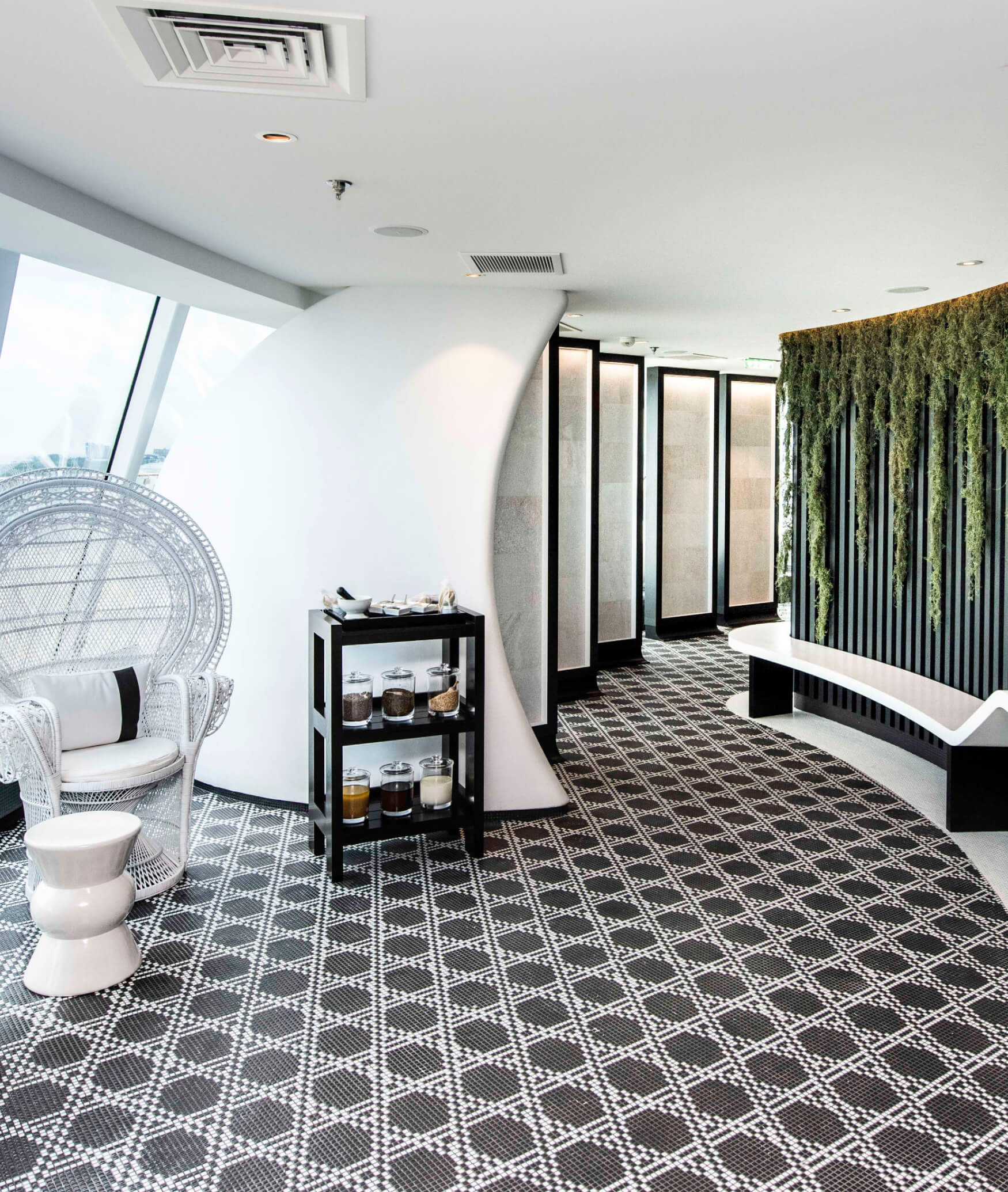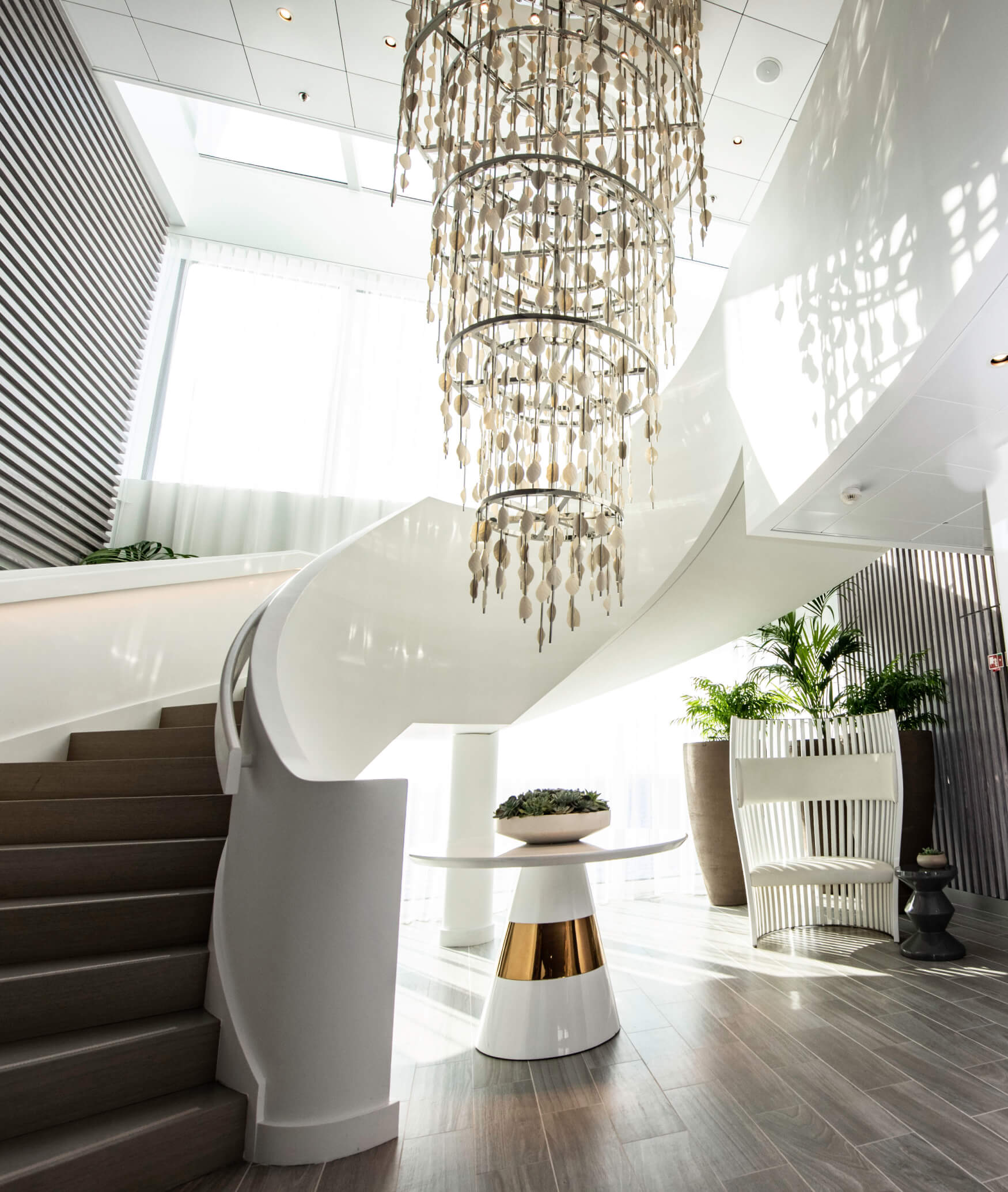 INTRODUCING: GOOP AT SEA
We're hitting the high seas! We've partnered with Celebrity Cruises to bring a wellness-on-water experience to Celebrity Apex. goop at Sea will take place in 2021. Guests who purchase tickets can expect a roster of our trailblazing healers; transformative workshops for mind, body, and soul; intimate conversation between Elise and GP; and plenty of surprises—and goopy perks—along the way. Space will be limited; to stay in the loop, click here.