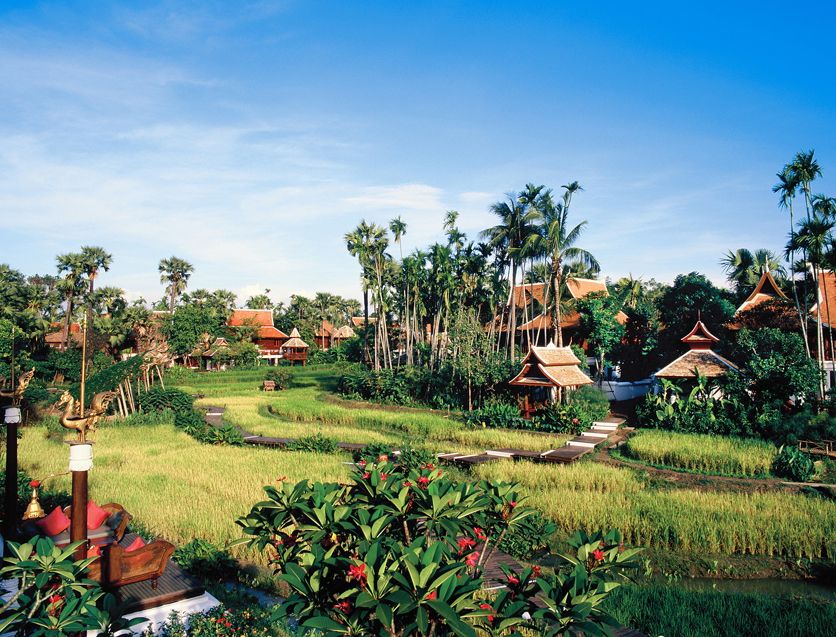 A Wellness Guide to Chiang Mai
Chiang Mai is the definition of a beautiful, vibrant, exciting Thai city: mopeds screaming through narrow alleyways, sidewalks punctuated with steaming bowls of sweet coconut curry, and majestic 700-year-old Buddhist temples anchoring the whole place. You can spend a Saturday afternoon sipping lemongrass tea by the Ping River as you watch the sun dip below the horizon as the Wua Lai Road night market starts buzzing to life. (If you need a handmade bamboo rice box or a fuchsia silk scarf to bring home, this is your place.)
Chiang Mai has long drawn travelers looking for the Thai trifecta: night markets, temples, and incredible food. But it also overflows with wellness attractions. This is a city where you can get a deep, restorative massage on every corner, where every aspect of the culture is steeped in health and well-being. Restaurants focus on organic, vegetable-heavy dishes; world-class hotels and retreats offer tailored healing treatments; and experts in the fields of mindfulness and meditation are everywhere. It's a mystical destination for self-care where you leave feeling completely new. For being a relatively small city—less than 150,000 people—Chiang Mai is a giant of wellness. Just watch out for the mopeds.
Stay: Chiang Mai makes feeling good easy—really easy—thanks to a bevy of hotels that offer truly effective wellness packages. Take Anantara, a hotel and resort located along the Ping River with an incredible spa that's worth a visit even if you aren't a guest. Situated underground, its dark, simplistic design has a monastic feel. A clinician greets you in a candlelit room where you choose from a variety of Thai, Chinese, and Burmese treatments. Go for the traditional full-body Lanna massage—ninety minutes of restorative Rolfing, rubbing, and kneading with organic local plai oil. Afterward, your clinician will invite you to write a wish on a bodhi leaf, which she'll kindly take to one of the local temples to help it come true. If you're looking for something more intense, ask the staff to create a wellness program that includes tailored spa treatments, an exercise routine, meditation sessions, and catered meals. If you can pull yourself away from the spa, explore the rest of the hotel—which feels somewhat quaint at just fifty-two rooms. Don't miss the one-hundred-year-old house on the property with its beautiful dimly lit library and restaurant. (This is one of the best spots in the city to enjoy a cocktail by the river.) The spacious guest rooms have gigantic, supremely comfortable beds and grand soaking tubs. If we had more time, we would have spent an entire afternoon in the lobby, lounging on the daybeds and watching the Lanna flower dancers perform on the lawn. About a fifteen-minute walk north is 137 Pillars House, another hotel with an old-world aesthetic and total exclusivity. The grounds are centered around an ornate, antique teak Lanna-style house (the Lanna Kingdom ruled what is now northern Thailand from the thirteenth to eighteenth centuries) that the owners purchased and refurbished in the early 2000s. It's incredible to spend several days just on the grounds. Have afternoon high tea in the house; lounge in the spacious, light-filled guest suites; and relax by the pool enclosed by a towering wall covered in tropical plants. The spa is pristinely decorated with oriental antiques. Treatments include facials and traditional Thai massage, but you can also ask the team to customize a wellness itinerary. Slightly west of the Ping River is Dhara Dhevi, a place we've been dreaming about since our first visit. A gigantic retreat set on sixty acres of gardens, moats, and rice paddies, Dhara Dhevi prides itself on its elaborately adorned buildings and holistic spa treatments. But what intrigues us most are the workshops: You can take classes in traditional Thai cooking and bamboo weaving that give hands-on insight into the country's traditions.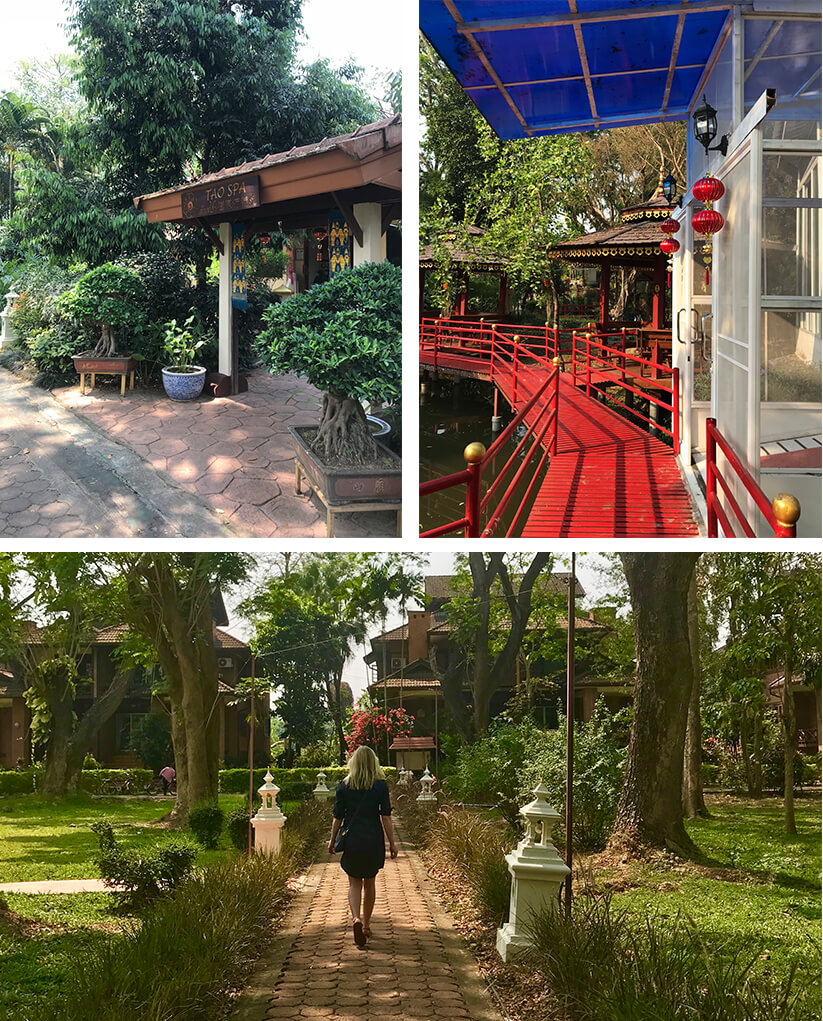 Further afield: Tao Garden Health Spa and Resort—a healing center in the foothills of the Himalayas—is a forty-five-minute drive northeast of Chiang Mai, but it seems worlds away. When you arrive, the first thing you'll notice is: peacefulness. It's that quiet (thanks in part to the fact that there are no televisions or electronics here). Then you'll see the green—fifty acres of lush gardens and bonsai trees interwoven with impeccably manicured walking paths and huge brick guesthouses. The rooms are austere—a simple queen-size bed, desk, bath—but you don't come here for luxury. Tao's draw is its clinic's massive list of ancient integrative treatments. And they are not for the wary. There's a live blood analysis where a doctor screens your blood for plaque buildup and other ailments. We followed this with the Chi Nei Tsang abdominal detox massage. Be warned: This is not a relaxing treatment. It's actually quite uncomfortable. The technician rolls and rubs your belly to break up blockages. But it's worth it for how you feel afterward: lighter and full of energy.
Eat: While all these hotels have restaurants that serve some of the best northern Thai food we've had, venture out to explore Chiang Mai's culinary scene. You won't be sorry. The food is salty, spicy, sweet, pungent, earthy, and incredibly fresh (barely anything comes out of a jar). And given Chiang Mai's proximity to Laos, Burma, and China, the mix of spices is heavily influenced by these three countries. One of the best spots to eat homemade curry and fresh vegetables is The House by Ginger, a romantic, colorful restaurant-café-marketplace. Imagine floral wallpaper in bright pinks and golds, dimly lit paper lanterns, and cozy velvet Victorian sofas. And then, as you're lounging in your corner, imagine steaming bowls of khao soi (rice noodles in savory coconut curry broth), nutty bulgur wheat with mushrooms, and nasi goreng (vegetable fried rice) brought to your table. The owners source most of their produce and grains from their nearby organic farm. We ended our meal with a pot of steaming tart lemongrass tea and mango sticky rice—creamy, chewy, sweet aromatic grains topped with sliced ripe mango and rich, decadent coconut cream. A bit further east in Old Town, is David's Kitchen—a warm, lively bistro-style restaurant serving classic French dishes with a Thai twist (i.e. incredible spicy fish salad with crisp green apple, wild mushroom risotto, and pan-seared tuna with mango).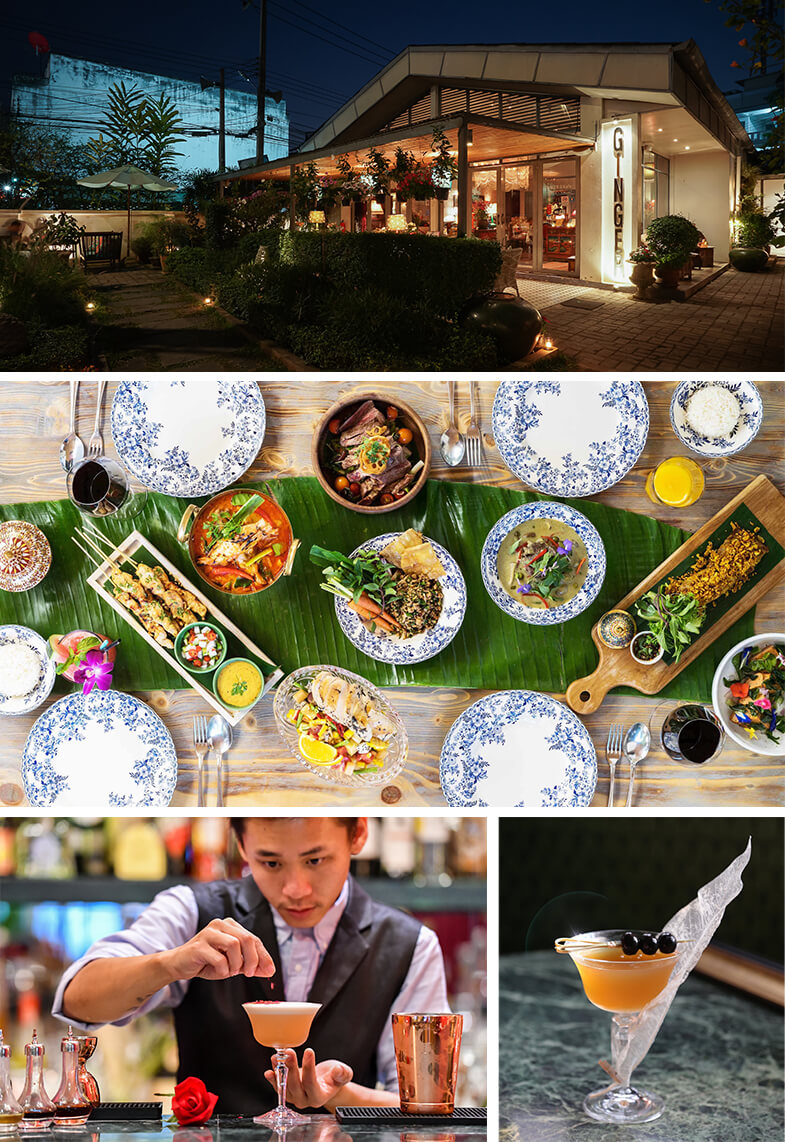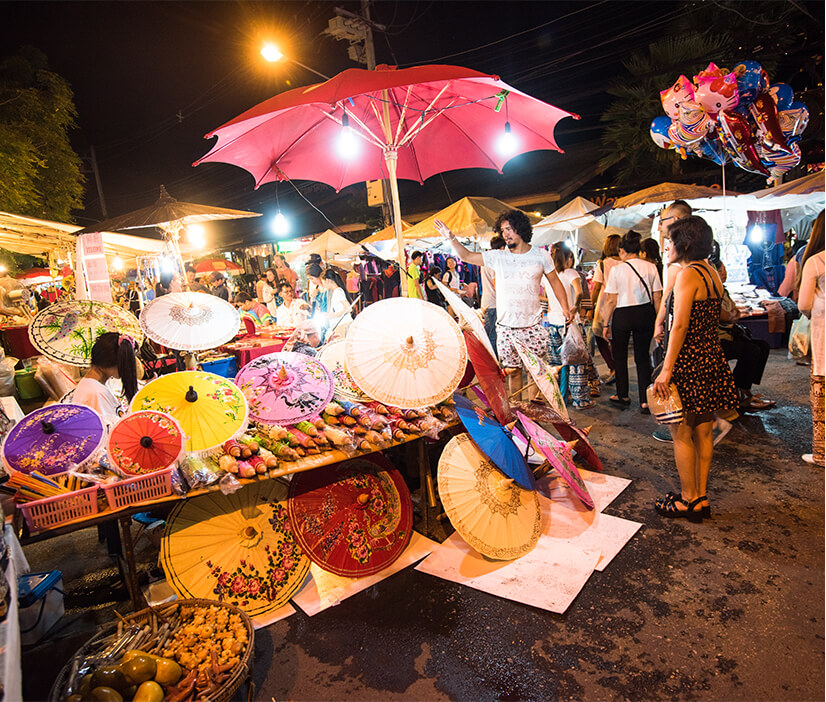 Don't Miss: In Chiang Mai, locals give you long, eye-locked smiles that make you feel like you're a part of their neighborhood. Which is why just walking around this kind, safe city and witnessing everyday life is a relaxing wellness activity in its own right. From the Ping River, trek west to the Old City to see the epic temples. Cranking your neck to look up at the tall, arresting grandeur, particularly that of Wat Chedi Luang, is profoundly humbling. It's like the gods are watching from above. It's even more epic when the sun goes down and the structures are lit. And Chiang Mai experiences an intense burst of energy at night—a cacophony of rattling tuk tuk taxis, revving scooters, and clanging pots and pans around the street-food carts.
Keep in mind: It's best to fly into Chiang Mai to avoid the eight-hour bus or train ride from Bangkok. There are no direct flights from the US, but various airlines offer easy connections from Bangkok, Hong Kong, Shanghai, and other Asian cities. And consider visiting sometime between November and early March, when the weather is relatively cooler and drier. Temperatures can be sweltering by mid-spring—and come mid-summer, the rainy season begins.