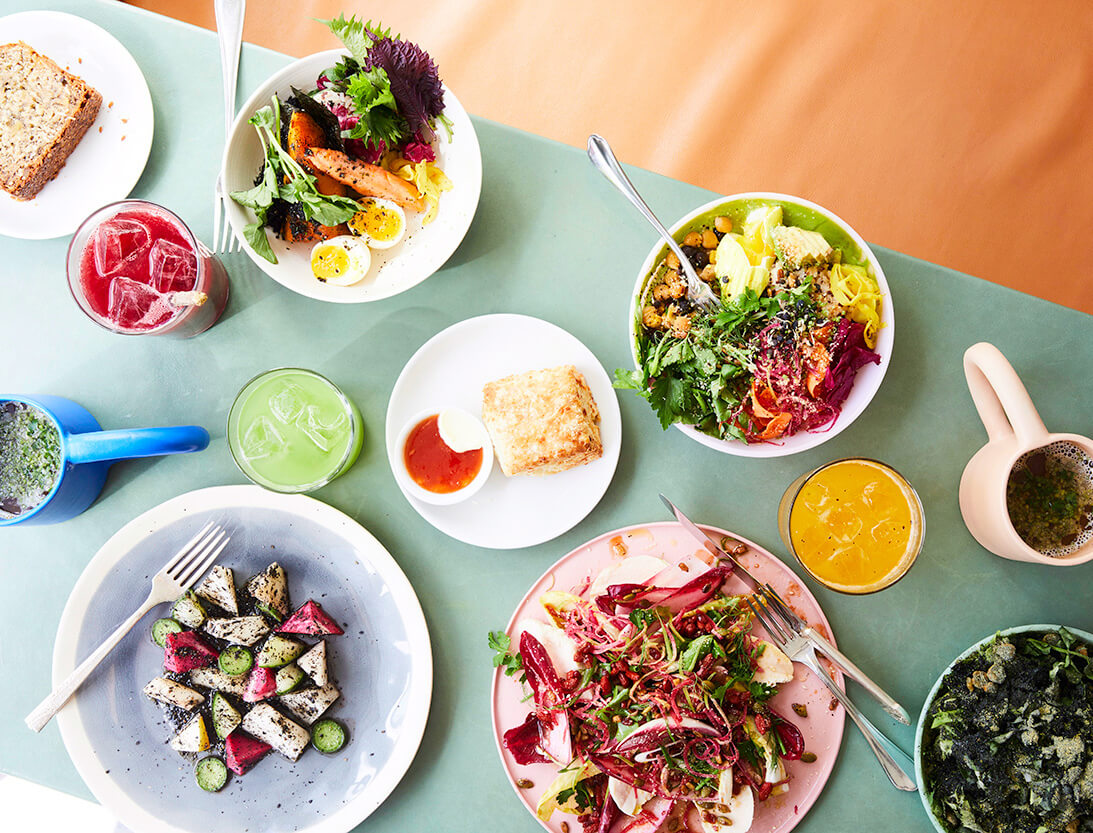 A Wellness-Centric NYC Weekend (Plus, What to Pack)

New York City may be in the throes of a white winter, but its concentration of cozy hotels, spas, and boutique workout studios make it a no-brainer destination for a few days of self-love, no matter the season. Here, we compiled our favorite (mostly) healthy spots–some new to us, some long-time favorites—to help build an itinerary. Coincidentally, if you're headed to In goop Health next weekend, use this as your roadmap for where to eat, stay, and indulge in some R&R during your downtime–plus, as a tip sheet on what to pack to keep you warm when you're on the go.
Eat: If you can pry yourself away from brunch at Russ & Daughters, head to St. Mark's where Vietnamese spot Hanoi House serves a savory brunch of crispy rice crepes, fried eggs, and salmon roe, all of which is best with a pot of hot coconut oolong. If a sweeter start is more your thing, cafe/market Clover Grocery has sprouted rye berry bowls you can take on the go. Come lunchtime, it's worth checking out De Maria in Nolita for their coconut grains, house-cured salmon, hijiki, and black sesame. Further uptown in Union Square, abcV, Jean-Georges Vongerichten's (it's adjacent to ABC, a goop HQ NYC go-to) has a menu packed with plant-based dishes, from beluga lentils, chili oil, and yam to a beet tartare sandwich. For classic Aussie-style avo toast, look no farther than Two Hands, a low-key café with outposts in Nolita and Tribeca. For a midday pick-me-up, The Good Sort is well worth the trek to Chinatown for blue algae and activated charcoal lattes. One of Soho's newest, West-Bourne, brings a bit of the West Coast to New York with its Cali-inspired, veg-based menu (go for the farm grains with almond butter) and zero-waste philosophy.
Do: Even the most die-hard LA residents among us are impressed by the wellness scene in New York. Start the day with a sweat session at Tracy Anderson's Tribeca studio where you can opt for a muscular structure or dance cardio class (there's also the wallet-friendly streaming option, which let's you take a class from your hotel room, or anywhere with a WiFi connection). Keeping up with the self-care theme, head to nearby tenoverten for a non-toxic manicure in a pretty space outfitted with mid-century modern furniture. For exceptional skincare at an accessible price point, Heyday is a facial spa located next-door to Madison Square Park (there's a second location in Tribeca). With a membership option, flexible scheduling, and a staff of New York State-accredited and licensed estheticians on hand, it's easy to pop in for a last-minute tune-up. Those in need of a massage will love the pros at Chillhouse, a downtown café-meets-spa that gives aching muscles some quick relief.
Stay: We've been fans of the 1 Hotel group since it first set up shop in Miami; New York quickly followed with two locations—one near Central Park and the other on a stretch of rapidly changing Brooklyn Heights waterfront. Blurring the line between luxury and sustainability, every corner of the building is considered in terms of design, from the locally made tables to the greenery and reclaimed wood walls. The rooms are minimal and comfortable, outfitted with hemp-blend mattresses and organic cotton sheets. Another major draw is the food: Chef Jonathan Waxman's beloved NYC establishment Jams was reprised here, serving one of the city's best kale salads and amazing squid-ink rigatoni. Another wonderfully relaxed stay can be found at The Greenwich Hotel in Tribeca. Subtly Mediterranean in ambiance, the thoughtfully decorated rooms are comfortable and airy. Then there's the incredible Shibui Spa, a pool and steam room, and a secluded courtyard that's the perfect destination when you want to unwind with your morning coffee and paper. The real crown jewel though is the penthouse suite, which Axel Vervoodt spent two years renovating, resulting in a stunning space with stone and wood accents, rough-luxe textured walls, wooden floors, and a markedly Japanese simplicity throughout.

TRAVEL UNIFORM
CITY WEEKEND WEAR
What to Wear to In Goop Health