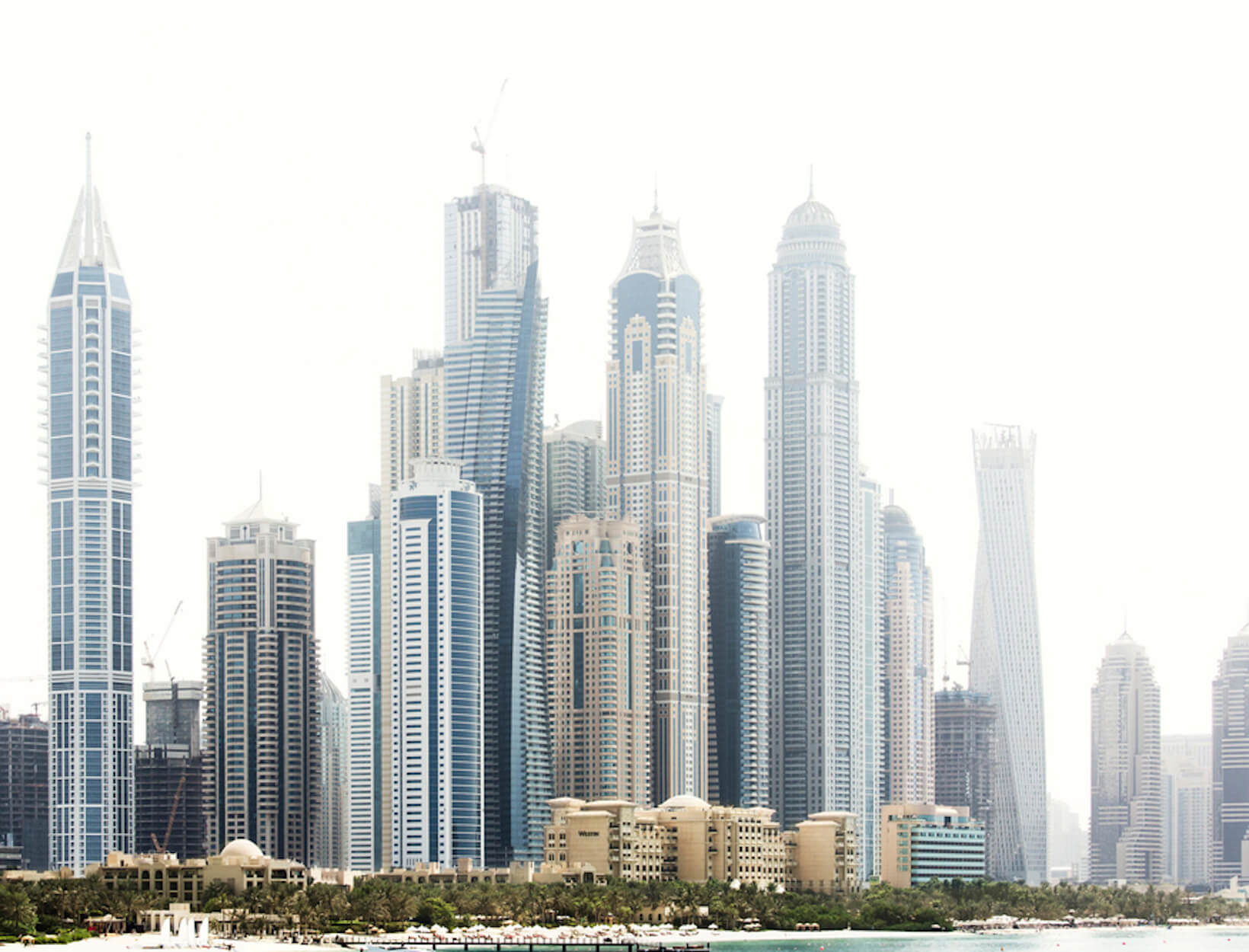 A Design-Lover's Guide to
New York, Milan, and Dubai
There's no better way to up the ante on a trip than to make the most out of a layover. Have a couple days to spare? We're big fans of weaving in a few cultural sightings and satisfying meals–it's pretty easy and just requires a bit of extra planning on the front end. For the design-enthused, we put together a mini itinerary for three of our favorite cities–NYC, Milan, and Dubai–each within a direct flight of one another and known for their strong architecture game, inspiring design shops, and long-held commitment to craftsmanship and artistry. Below, a few ideas to inspire a trip of your own.
NEW YORK
Admittedly, there's no shortage of design inspiration in New York City—from labyrinthine Central Park and the iconic architecture to the densely packed museums and forward-thinking boutiques. Covering it all certainly isn't something you can do in a day or two, but we've provided a few of our favorites—largely focused on the creative energy of downtown Manhattan and its large, loft-like spaces to better take the city in.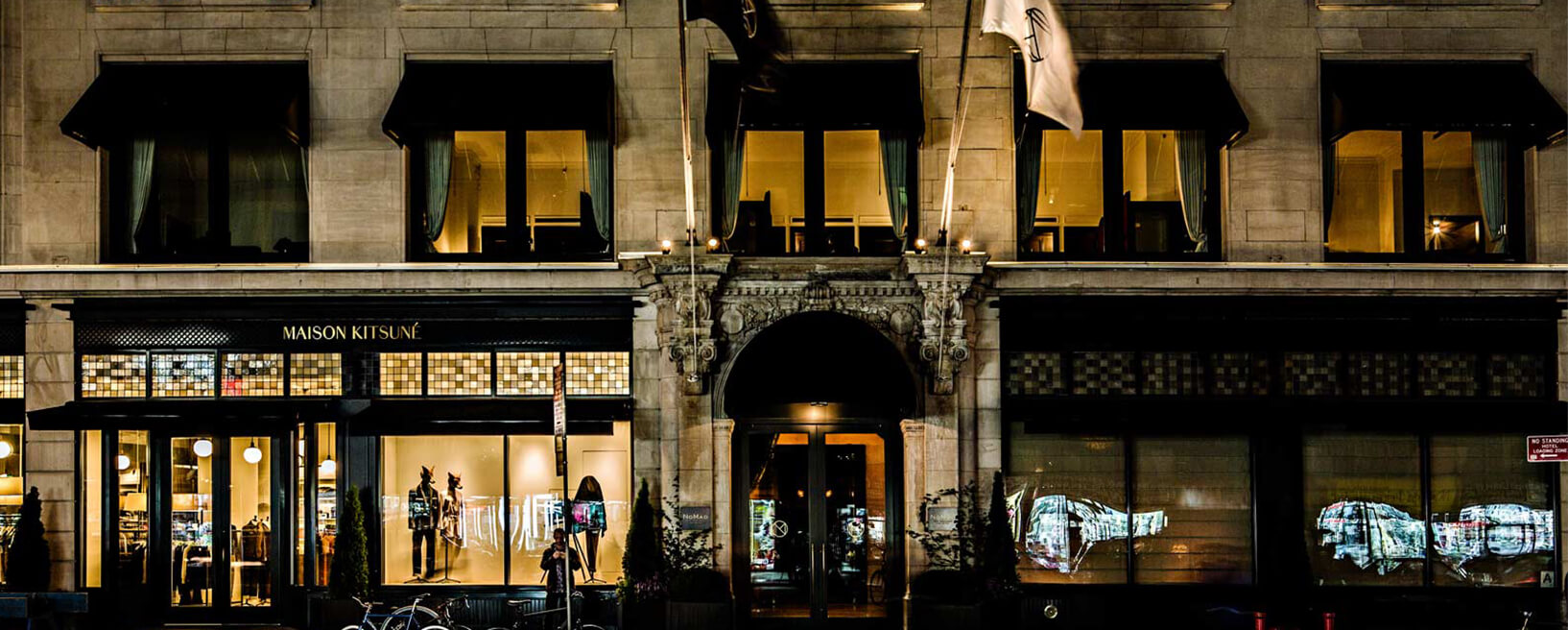 Stay: Across the East River in DUMBO the rapid clip of construction has resulted in plenty of new restaurants (SoHo House's Cecconi's, Vinegar Hill House, and Smile to Go, among them) and, most recently, the addition of 1 Hotel Brooklyn Bridge, a high-design project with sustainability at its core (case in point: 100 percent of the hotel is wind-powered and the designers incorporated reclaimed materials from the Domino Sugar Factory). The 194-room property, complete with hemp-blend mattresses, on-demand meditation, and plant-filled nooks by Harrison Green, boasts East River views of the Manhattan skyline and its own rooftop pool. Back in Manhattan, the NoMad, a twelve-story Beaux-Arts style hotel designed by Jacques Garcia (of Hôtel Costes fame) takes inspiration from 1920's Paris with its timeworn Persian rugs, tapestry-covered chairs, and a two-hundred-year-old fireplace imported from France.
Eat: Beautifully designed restaurants in New York are in no short supply, so we whittled this list down to a few recent favorites: If you're up early, breakfast at abcV, the latest in the Jean-Georges Vongerichten empire (and ABC Kitchen-adjacent). Here, in a minimally designed space (look for pops of color in the form of hot pink plexiglass and neon yellow chairs), the vegetarian menu includes everything from omega seed butter shakes with raw almond milk, wild blueberry, hemp, chia, and dates, to gluten-free almond pancakes. Our beauty director swears by the wellness tonics (which feature adaptogens like rhodiola and ashwagandha). If you can't zip through the Renzo Piano-designed Whitney Museum and its four light-filled galleries, it's worth sitting down for a quick bite at the museum's eatery, Untitled. On the ground floor of the Whitney, Danny Meyer runs a decidedly unpretentious restaurant that features straight-from-Union-Square market produce. Highlights at lunch include a baby lettuce salad with star strawberries and Kunik goat cheese, miso roasted eggplant, and a decadent but delicious pimento cheese dip. Another solid option for lunch (or any time of day) is DeMaria, helmed by chef Camille Becerra, which is equally a draw for its pared-back design, as it is for its Fire Dragon bowl, which is presented in a beautiful ceramic dish. For dinner, the Roman and Williams-designed Le Coucou, which opened last year just north of Canal Street, is the handiwork of Stephen Starr and chef Daniel Rose of Spring, one of GP's favorite restaurants in Paris.
See: Generally speaking, downtown Manhattan has the biggest concentration of design stores, which specialize in everything from hand-hewn custom furniture and antiques, to repurposed found objects and unique artist collaborations. In a white-washed space on Crosby Street, BDDW shows off Tyler Hays's genius. And what that manifests as is beautifully designed and hand-crafted furniture, ceramics, and rugs—all with a rustic yet pristine, modern feel. Farther up the block, HAY Market has taken up residence in the basement of MoMA's Design Store, stocking a wide assortment of industrial-style kitchenware, including marbleized enamel plates, silicone salt and pepper shakers, and a stainless steel kettle. Nolita new-kid-on-the-block Primary Essentials (it has a sister location in Brooklyn on Atlantic Avenue), stocks gift-ready jewelry, textiles, and ceramics by local artists; as well as their first-ever own label of candles, tea towels, pillows, and vases. Meanwhile, Brooklyn's The Future Perfect relocated to Great Jones Street where, David Alhadeff continues his efforts to cultivate up-and-coming design talent, plus, feature unique works by notables like Lindsey Adelman, Jason Miller, and Kristin Victoria Baron.
And while so many big-name museums dot the city, it's worth checking out the Judd Foundation where the artist lived for twenty-five years, renovating each of the building's five floors according to his singular aesthetic. The Judd Foundation opened up the space to docent-led tours, where visitors get to see his custom-made furniture, and the art and objects he acquired over the years. Uptown, the Met Breuer's takeover of the the former Whitney Art Museum means the Met's contemporary collection gets prime real estate in the Marcel Breuer-designed Brutalist space. (Currently on view: Indian photojournalist Raghubir Singh's saturated—and deeply moving—street photographs.)

MILAN
As home to Salone del Mobile, the highly anticipated annual furniture fair, and the original fashion week, Milan is a city pulsing with design energy. It's a city that knows how to do–and showcase–everything with style, why is why so many fashion houses, including Prada, Armani, and Ermenegildo Zegna put down their roots here. But beyond the sophisticated facades of the design brands and chic storefronts lining Via Monte Napoleone, it's an industrial city at its core with deep cultural roots.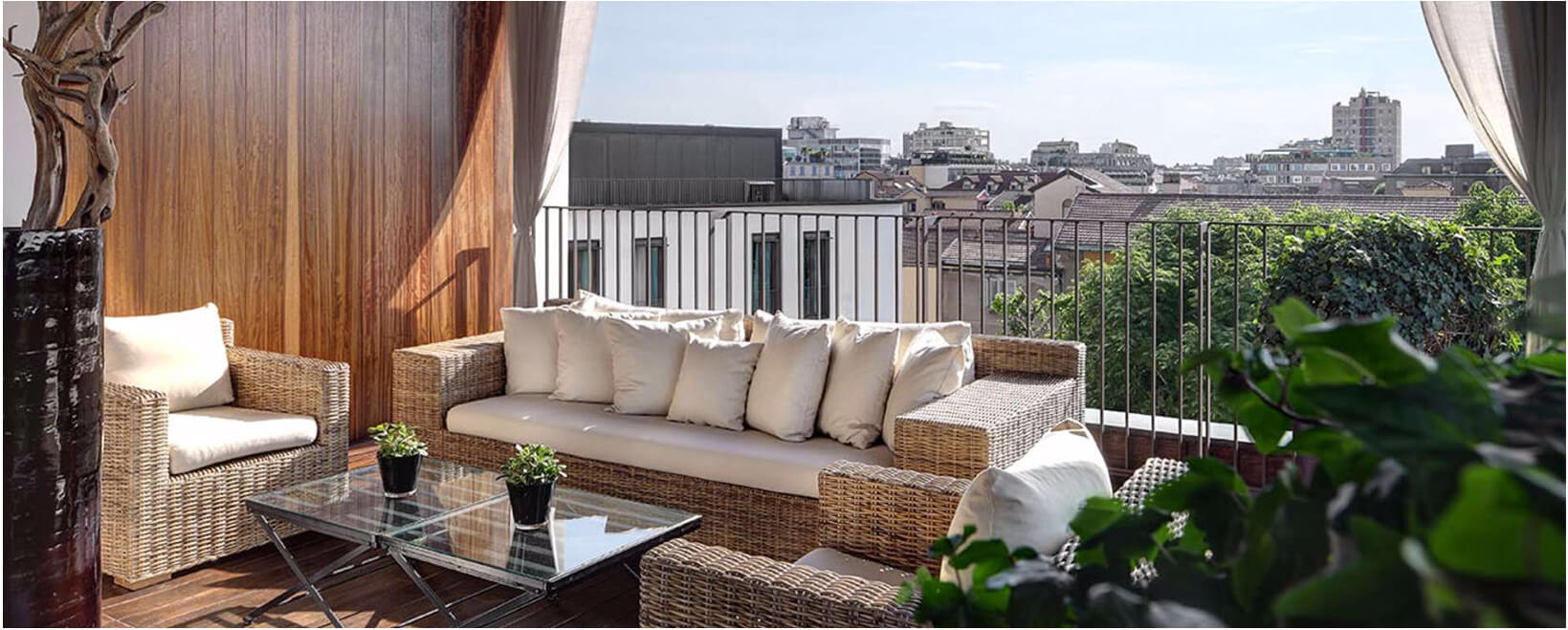 Stay: The Grand Hotel et de Milan has been open since 1863–and run by three generations of the same family. Milan design firm Dimore has renovated the interiors in phases, marrying modern aesthetics with antique furniture and rich textures. Given its history, it's a cultural experience on it own, but within walking distance to some of the city's best—including La Scala Opera House and the fashion district. Meanwhile, the nearby Bulgari Hotel offers a quieter stay in the Brera neighborhood. Tucked in amidst its pristinely groomed gardens, the Bulgari's design is predictably slick (think: black marble and granite, floor-to-ceiling windows, and Italian furniture). The service is delightfully attentive without being overbearing.
Eat: While Rome and Naples often get top culinary billing, Milan is a bustling foodie city in its own right. Classic Milanese dishes can be found in family-owned restos alongside a growing wave of globally focused cuisine. Head over to Porta Garibaldi, a neighborhood experiencing a renaissance as of late, to dine at the Michelin-starred Ratanà where the food is as exceptional as the space (housed in an Art Nouveau building that was once a railway warehouse, it speaks to Milan's industrial roots). Equally impressive and grand in scale is Carlo e Camilla, a drop-dead gorgeous farm-to-table restaurant that serves seasonally on-point dishes and authentic, handmade pastas.
See: Head to the Tortona Design District to discover a mix of rising design brands and household names, including the Armani/Silos, a museum dedicated to the eponymous style–all amidst the historic neighborhood. The Triennale is almost a rite of passage for seeing Milan design, with its cutting-edge exhibits. From there, trek further north to 10 Corso Como where you can spend an entire afternoon perusing the art galleries and design and fashion boutiques, not to mention the picture-perfect café housed in a classic Italian structure. Lastly, don't miss Fondazione Prada Milan: A little off the beaten path, it's worth the trip to the industrial ex-distillery for a full day's enjoyment courtesy of the Pradas and architect Rem Koolhaas's firm OMA, where the three new buildings are dispersed throughout an elegantly restrained complex.

DUBAI
As one of the world's most fascinating and rapidly growing cities, Dubai has morphed into a global destination–seemingly overnight. Here you'll find the burgeoning Dubai Design District (d3), a neighborhood catering to the region's creatives, artists, and designers that aims to bring in international travelers for its cultural exhibits. There's also the jaw-dropping infrastructure with its futuristic skyline featuring the world's tallest building. But perhaps what makes Dubai even more interesting right now are its contrasts: The United Arab Emirates was only officially established over forty years ago, but some of its archaeological sites date back as far as the Bronze Age.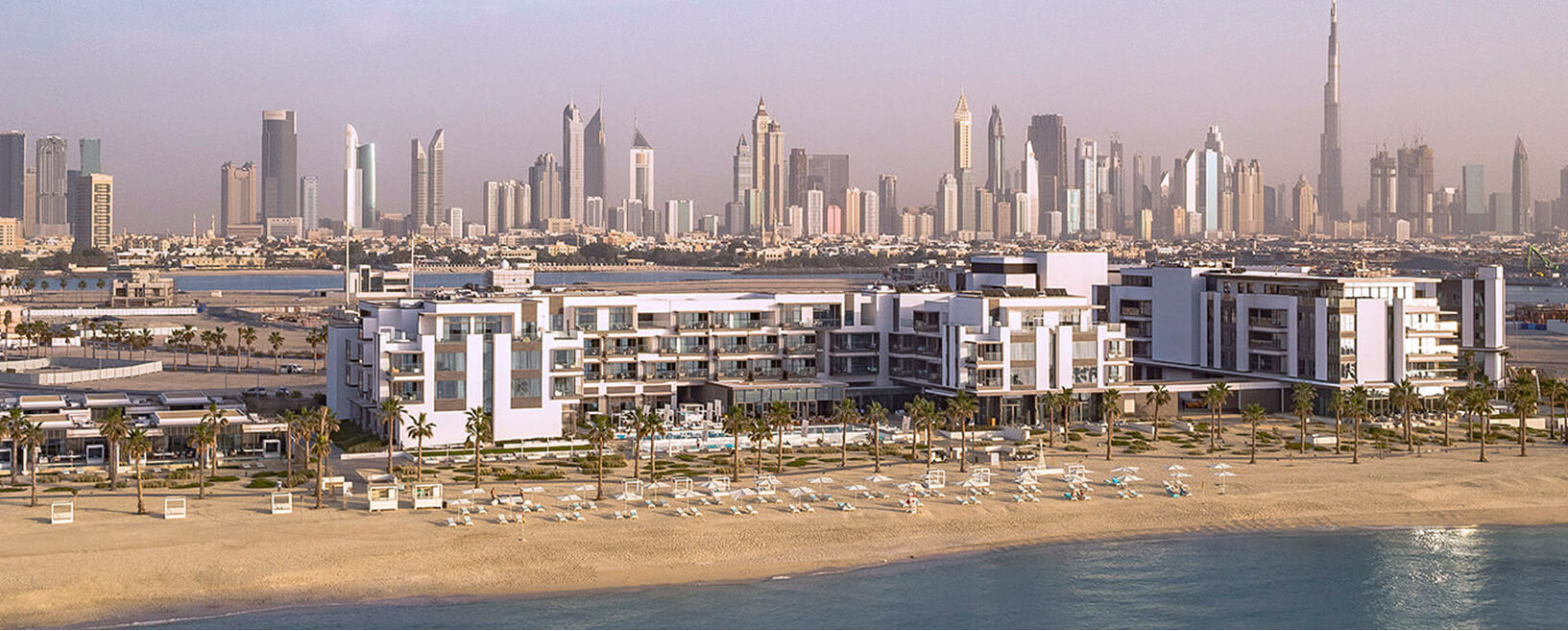 Stay: One element that sets Dubai apart is its impeccable service and attention to detail–which is most evident in its hotels. Burj al Arab delivers an experience that could wow even the most discerning visitor. One of the world's iconic hotels, it's regularly referred to as the only seven-star hotel (there's no such thing) and has a manned butler station positioned on every floor. The suites, particularly their take on "luxury" like the Presidential and Royal, are over the top in every sense—enormous spaces filled rotating canopy beds (some with gilded mirrors overhead), large libraries, formal dining tables, private cinema spaces, and lots of gold finishings. In contrast, Nikki Beach takes a more minimalistic approach to its aesthetics (but still upholds incredible service). Bright and modern, the expansive spaces are the artwork of Italian designer Gregory Gatserelia of Beirut-based Gatserelia Design. The multiple-floor beachside villas, which have their own pools, are hard to beat, but the resort rooms are lovely overall, and the vibe is pretty blissed-out.
Eat: In Dubai, sometimes it seems there's a new restaurant popping up on the daily (hello, Waka), but a solid roster of favorites continues to deliver. Case in point: Zuma, which opened in the City of Gold several years ago to major hype, is still one of the best options in town. Tokyo-based interior designer Noriyoshi Muramatsu (who's done several of the other Zuma locations) differentiates Zuma Dubai, which sits within the Dubai International Financial Centre, with a massive bamboo sculpture suspended from some 450 delicate wires. For a quieter meal, Omnia sources its cheeses, meats, eggs, fish, and produce locally—something of a rarity in Dubai. The offerings, like orange blossom glazed chicken or a zucchini linguine and avocado pesto, are light and health-centric yet accessible, and there's a lineup of paleo and superfood-packed pastries and desserts, too, if that's your thing. The insanely cool interior features a peacock mural on the wall, wicker chairs, and even vegetation suspended from the ceiling.
See: For any architecture enthusiast, the Design District is a main attraction. It's here where the city's creative crowd works and hangs out amidst the eclectic mix of office spaces and boutiques. Check out Lighthouse, a fun concept store in the center of the neighborhood that features a indoor-outdoor dining space. From there, spend an after at Al Quoz–a newish area that's the industrial antidote to the city's polished aesthetic–where you'll find Ikonhouse, a design junkie's dream. Whether you're in the market for home décor or looking for artistic inspiration, the sprawling showroom and its endless stock of unique furniture, lighting, and home cinema options satisfies. If time permits, it's worth an hour's trip north to the Sharjah Art Museum to see its impressive–and grand–permanent and rotating collections from local and international artists, including lithographs from Scottish artist David Roberts. And of course, a trip to Dubai wouldn't be complete without a visit to one of the many Arabic markets, which make for pretty great sensory overload.