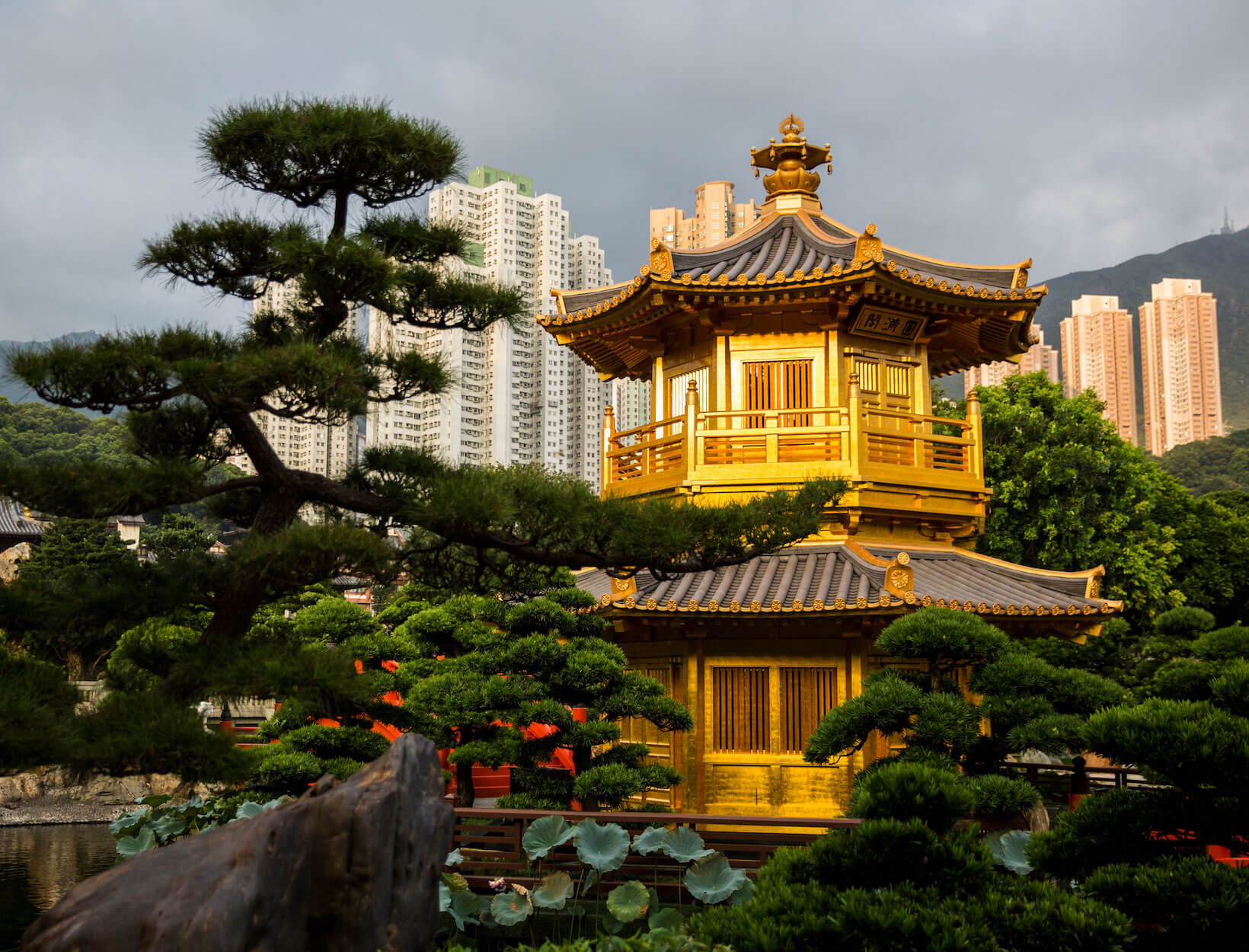 How to Spend a
48-Hour Layover
in Hong Kong
In partnership with our friends at

Hong Kong is the transit hub of Asia. It's the place people stop on their way to Bali, Siem Reap, Saigon, Bangkok, and the rest of the world. And it seems like the city planners may have had that international crowd in mind when they set about creating modern-day Hong Kong. Even if your ultimate destination is somewhere else, it's very worth spending a couple days exploring this city (and letting the jet lag wane). With China's relentlessly modern energy and the towering bands of skyscrapers—not to mention the exquisite dim sum and gorgeous outdoor spaces—this is a place unlike anywhere in the world. And it's also surprisingly easy to get here: Cathay Pacific offers nonstop flights to Hong Kong from eight American cities (including the recently added Washington, D.C., and Seattle routes) and connections to virtually every major city in Asia. The Hong Kong airport also has seven Cathay Pacific passenger lounges, which offer—no joke—yoga and meditation rooms, so yes, it can be hard to leave the airport. But leave the airport you must! The city is waiting, even if you have only two days. We've put together a list of our Hong Kong favorites so you can hit the ground running (or napping). Luckily, most flights from the US arrive in the early morning, which means you have the whole day ahead of you when you land.
CHECK IN

The Upper House is the kind of place that can be hard to book because it's already full of repeat guests who've tried it once and put aside thoughts of any other hotel. Maybe it's the views of the harbor and the city skyline, maybe it's the huge guest rooms (designed by local interiors star Andre Fu) that feel like the super comfy yet tasteful apartment of your most sophisticated friend, or maybe it's the service, as staff members are famous for going out of their way to make life just a little bit easier in this incredibly frenetic city.
EAT

In a city as modern and forward-thinking as Hong Kong, we're grateful that Luk Yu Tea House still exists. A gorgeous relic from the 1930s, it's a solid option for dim sum in the Central neighborhood, amid the forest of skyscrapers. But what we really love about it is the old-school atmosphere—antique wood furniture, stained-glass windows, ceiling fans turning lazily overhead while you finish cups of rare, Yunnan-grown Pu'er tea. It's Hong Kong nostalgia at its best.

Over in Sheung Wan, Yardbird doesn't take reservations, which doesn't deter the crowds from lining up every night: The menu is all about chicken, served yakitori style, and it doesn't disappoint. While the focus seems specific, they're unsparing in skewering and barbecuing every part of the bird, from the neck to the heart to the liver (you can get basic breasts, too). For vegetarians, there are plenty of delectable sides, including sweet corn tempura and eggplant salad.
SEE

Hong Kong may be the nexus of Asia's financial universe, but the past few years have seen the city become a leader in the region's creative sphere, too. That's thanks in part to the 2013 addition of Art Basel, the roving international art fair that now pops up every March at the city's convention center, lending serious cred to Hong Kong's place in the contemporary art world. But you don't have to line up your trip to coincide with Art Basel to experience the incredible art offerings, as the city's blue-chip galleries seem to multiply every year. Essential stops include Gagosian, housed in a historic Beaux Arts building from 1923 in the city's Central neighborhood. A few blocks away, London-based White Cube shows the likes of sculptor Antony Gormley and painter Magnus Plessen on the first floor of a Robert A.M. Stern high-rise. Over at the Asia Society, cutting-edge shows often feature local Hong Kong artists (Eddie Kang, Fang Zhaoling) in its converted British military munitions factory—an inspirational look at the city's current and past creative leaders.
DO

You'll want to unwind in order to get a good night's sleep after the long flight and day of sightseeing. And although the Upper House doesn't have a separate spa facility, what it does offer is almost better: Book a treatment and one of the excellent therapists will come up to your room for a facial, mani-pedi, and/or massage. We'd recommend the sixty-minute Tranquility Pro-Sleep massage, which uses sound therapy and essential oils to maximize relaxation (trust us—it's better than any sleeping pill).
EAT

As the name suggests, the focus at Little Bao is on steamed buns ("bao" in Chinese) filled with pork or fish, though the sides are equally compelling: There are Brussels sprouts (topped with fish sauce and fried shallots) and sambal-inflected fries, along with sweet slabs of green tea ice cream sandwiched between deep-fried buns.
For something more formal, there's Duddell's, which has two Michelin stars. Duddell's is the work of executive chef Siu Hin-Chi: It's an arts-heavy restaurant that stylishly merges Hong Kong's British and Chinese heritage to great success, serving contemporary spins on traditional Cantonese
cuisine—especially dim sum—in a cool setting reminiscent of a country estate. On any given day, it hosts lectures, talks, screenings, and guest-curated exhibitions of international modern and contemporary art, including some local to Hong Kong and some on loan from private collectors. While the food is exceptional, the art makes it a very special occasion. And the garden terrace is a welcome escape from the city streets.
SEE

A big aspect of Hong Kong that many visitors don't know about (even after multiple trips) is that it's a great city for outdoor pursuits. Beaches and hiking trails are plentiful once you leave the confines of the skyscraper-filled core. One of our favorite activities is the Dragon's Back hike, which is a five-mile trail on the ridge of a mountain. Bring your camera: The views up here are spectacular. Plus, at the end of the trail, you're rewarded with Big Wave Bay, a swimming and surfing beach where you can cool off before making your way back.
DO

Afternoon tea in the lobby of the Peninsula hotel is about as Hong Kong as you can get. A little bit British, a little bit Chinese, and a ritual for both locals and return visitors who love the theatrical aspect of it all. Pu'er, jasmine, rose, and Ti Guan Yin (a premium version of oolong) teas are served alongside delicate finger sandwiches and freshly baked scones with clotted cream and organic strawberry preserves. And all of it is accompanied by performances from the Lobby Strings, the hotel's classical quartet.