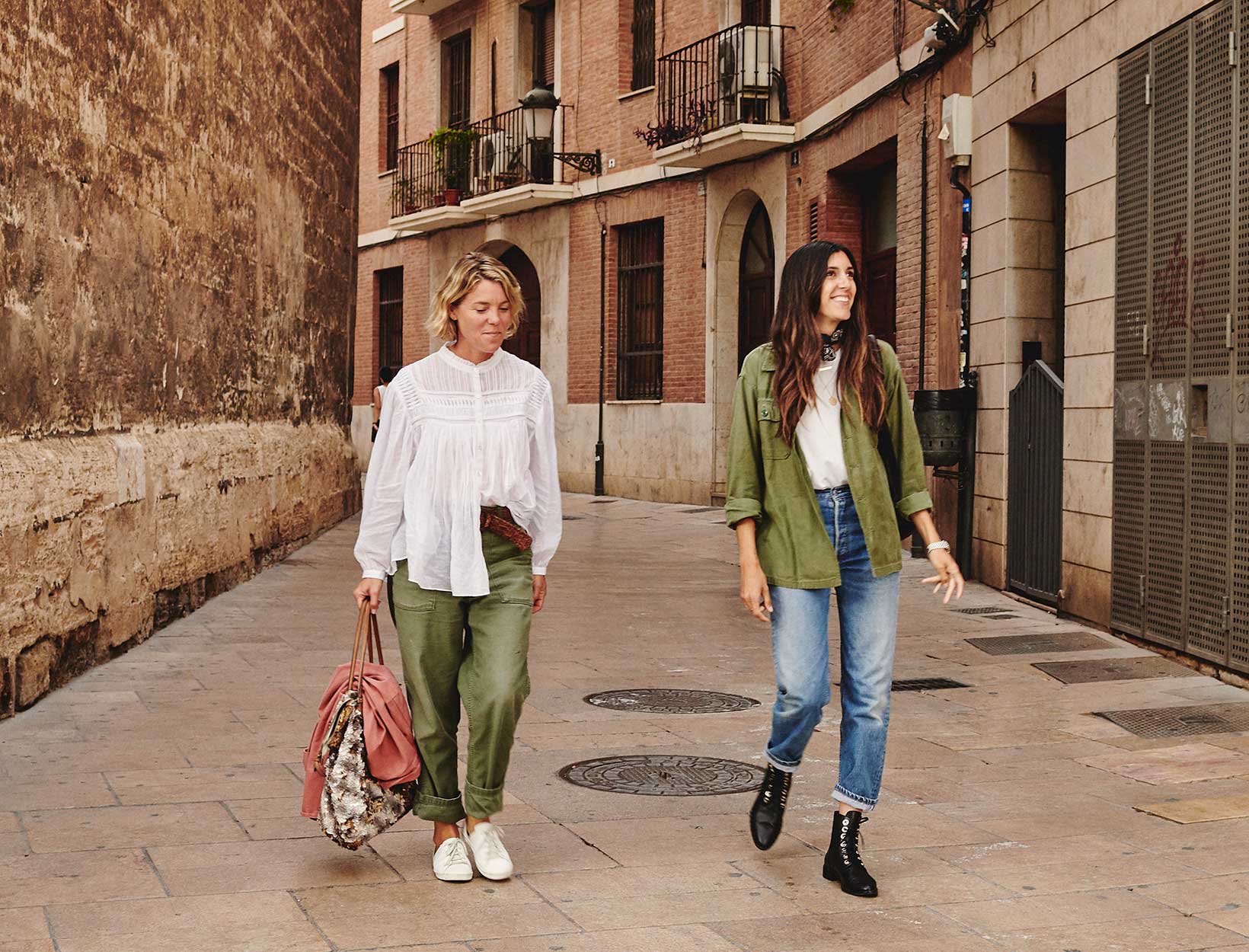 Photos courtesy of Maria del Rio
3 Days of Food, Camaraderie,
and Craftsmanship in Eastern Spain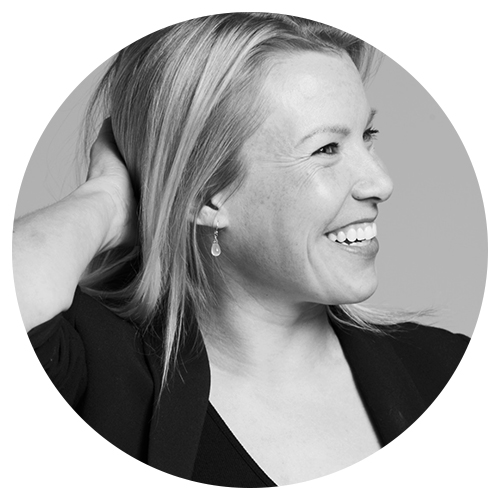 Before she came to goop, Stacey Lindsay was a news anchor and a reporter covering the Four State Area in the Midwest. As an editor at goop, Stacey covers career and financial health. She also happens to be the nicest person on staff. Write us at [email protected] if you have a question you want her to get into.
Our first night in Valencia we had tellinas. Tiny shellfish the size of dimes drizzled in Spanish olive oil. Our lips glistened as we sucked the sweet meat from the amethyst shells. Plates of jamón and pan con tomate and olives and salted sheep's milk cheese crowded the table. I smiled with my mouth full.
Spain is somewhere you go to eat: to try the fresh gazpacho in Andalusia, the grilled prawns in Madrid, and—of course—paella, which originates in the Valencia area, where I was staying. But I hadn't traveled to this storied region to explore its food. I'd come to see how shoes are made. Specifically, Freda Salvador shoes. The company's founders, Megan Papay and Cristina Palomo-Nelson, had invited me to join them on their semiannual factory trip to Spain's east coast, where all of their shoes—which they design at their headquarters in Sausalito, California—are crafted by hand. I couldn't wait. I have loved Freda Salvador for years. The stitching, the details, the aesthetic that doesn't bend to trends. And I'm intrigued by watching female entrepreneurs in the field.
The plan was to see two factories: one that makes Freda Salvador sneakers (a newer addition to the line) and another that makes the rest of the collection—boots, oxfords, flats, and sandals. Before the trip, I had thought about what I wanted to ask Megan and Cristina. There at the table that first night in Valencia, my mind wandered back to those questions, until my thoughts were interrupted with: "Stacey." I looked up at Raül, Freda Salvador's production manager. He lives in Valencia, and Megan, Cristina, Maria del Rio (a photographer who was documenting the trip) and I were having dinner with him and his wife, son, and daughter. Raül was pointing to a plate of salted tuna. The sides of his eyes crinkled. "Try this," he said. That's when I realized: I had come to Spain for the shoes and the food.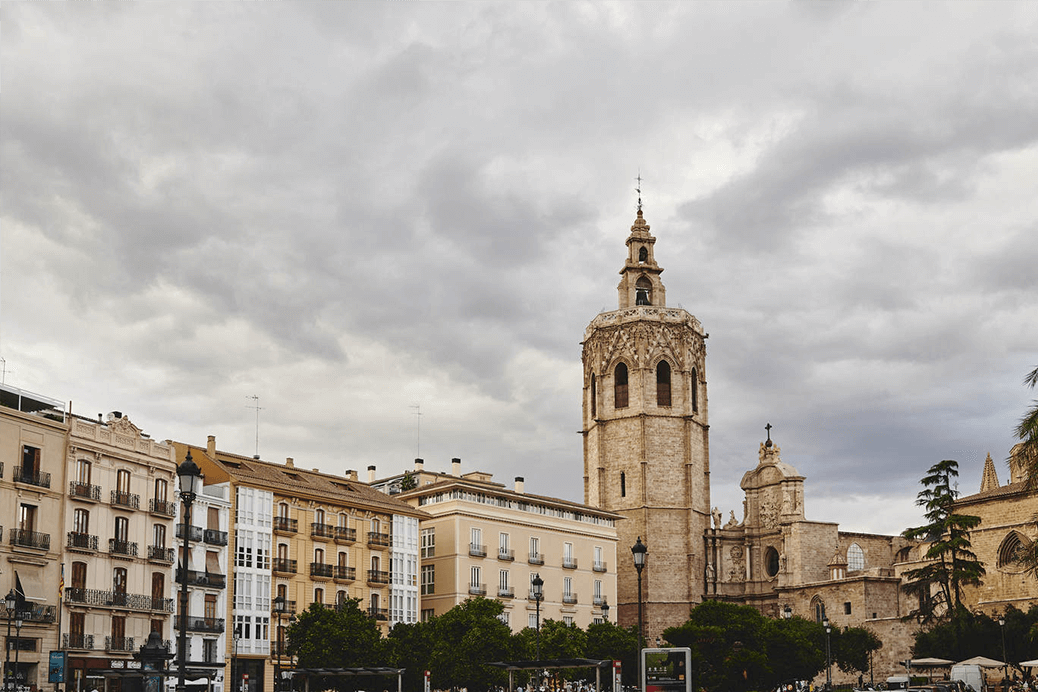 The next morning Raül and Rafa—who also works on the shoe production in Spain—picked us up at our hotel. Fueled by cortados and fresh fruit, we piled into the cars and headed about an hour south to the Alicante region, where Freda Salvador sneakers are made. I was in the back with Maria. It was tempting to nap. We were all jet-lagged. But once we turned onto the highway and Rafa started talking rapidly about the culture and the region, we were wide awake—and rapt. The landscape turned into a weave of golden browns and emerald citrus trees. The outline of an ancient castle loomed in the distance.
When we arrived at the factory, the owner, Miguel, greeted Meg and Cristina with hugs and me and Maria with cheek kisses and told us to make ourselves at home. We walked onto the floor—an expansive space filled with light—and the room coursed with sounds as the workers cut, tapped, sewed, glued, steamed, cleaned, and boxed the sneakers. The atmosphere was charged.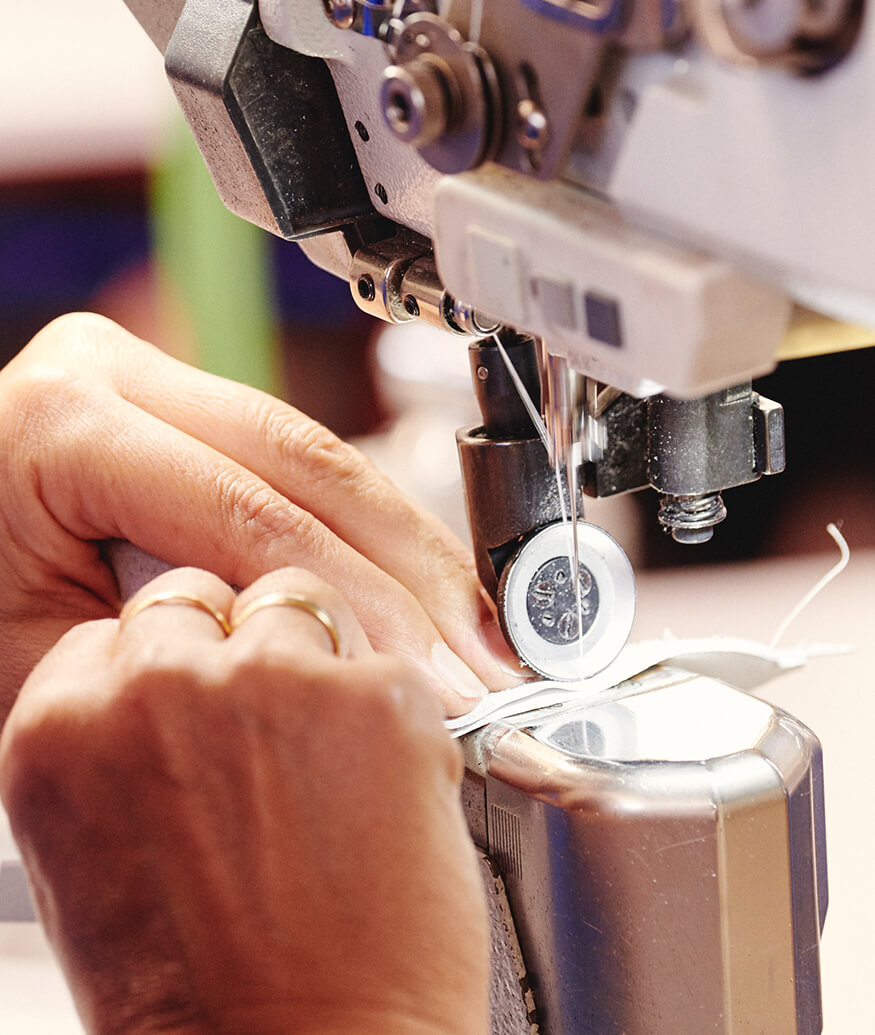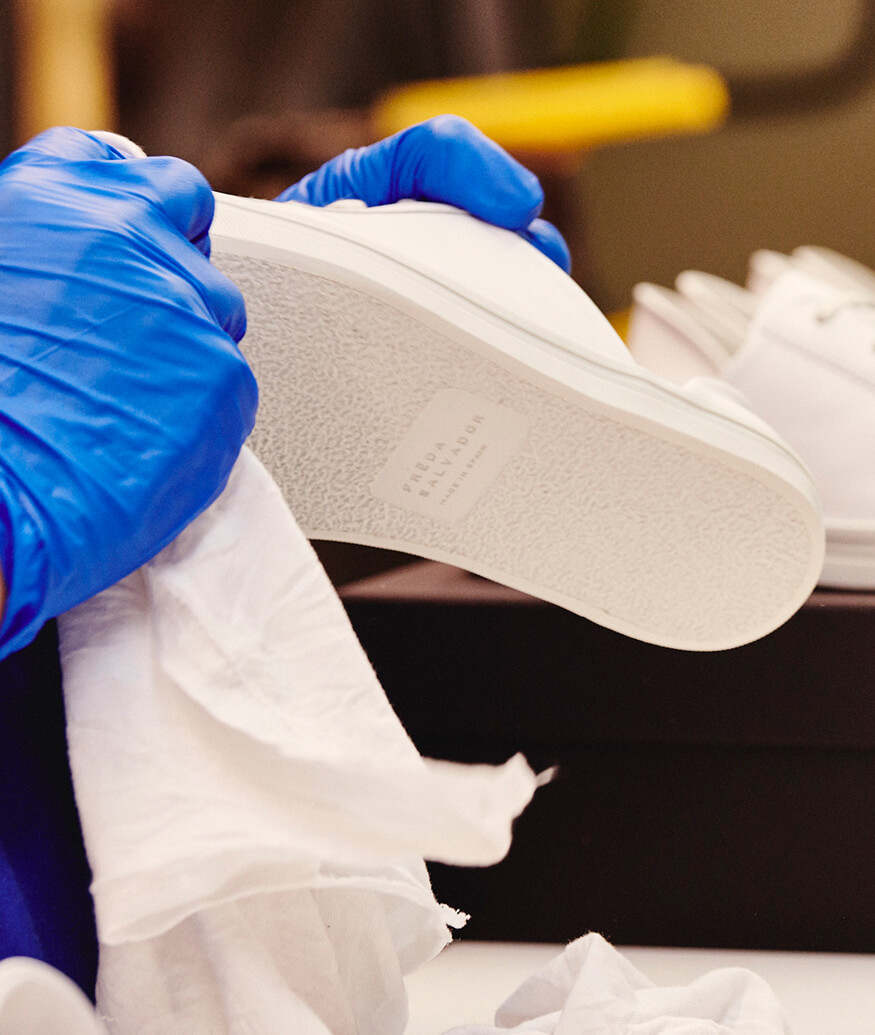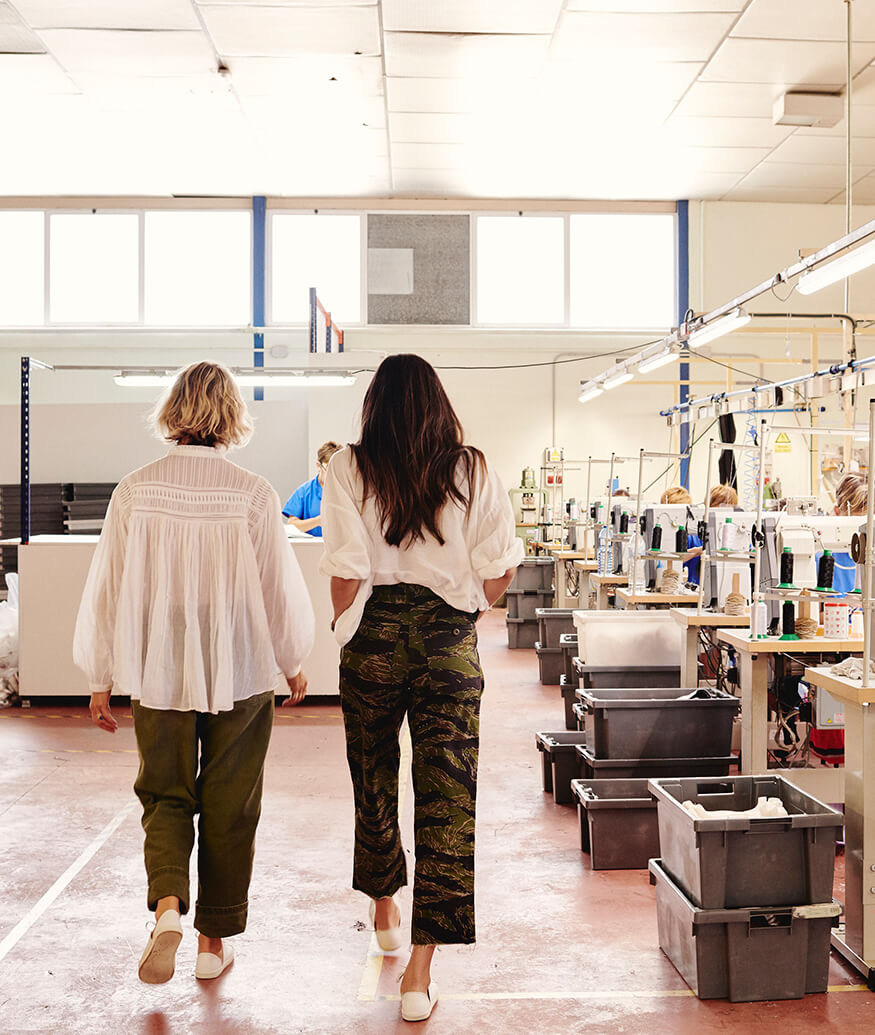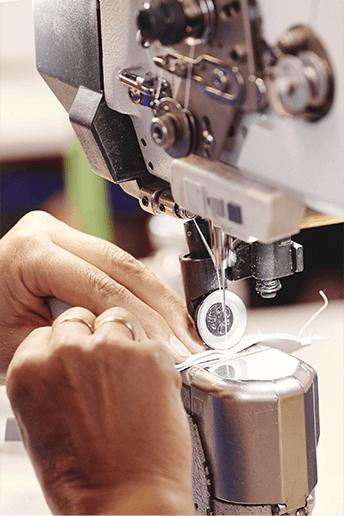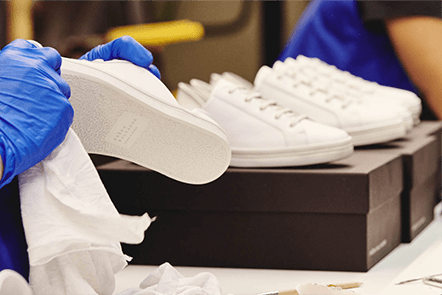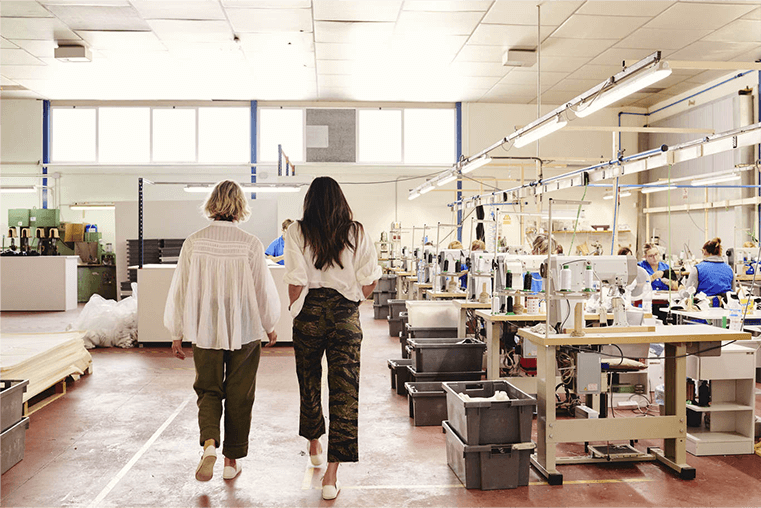 Freda Salvador sneakers are unlike any I've seen. Streamlined and simplistic, the EDA style—a low-top lace-up—boasts a V-shaped cutout in the middle of the body that has become one of the brand's signature silhouettes. It's a detail that requires something called a vulcanized sole, which is a more malleable bottom that supports the d'Orsay-like profile. This factory is the only one in Europe that produces this style of sole.
As we walked through the stations to see each part of the process, the workers we met—young and old, women and men, quiet and friendly—were generous with their time, answering each of my many questions thoughtfully. There are more than 200 steps that go into making a single pair of EDA sneakers. It starts with cutting the leather. From there, the pieces move from station to station where they're skived (meaning the leather is thinned in places so it can be married with another piece), stitched, glued, pounded, molded, heated, polished, cleaned, laced, and boxed—by hand. Everyone is a specialist in their specific job, Rafa told me: "It's amazing, no?"
As I leaned in and watched so many people's hands working to form the shoe, fingers delicately manipulating the leather, I thought of how I had taken my EDAs for granted. I loved the design. But I had no idea of the sweat and care that had gone into making them, all so I could run from home to train to office to dinner and back to home with ease. Later, when I asked Megan and Cris their thoughts on the intention, they told me it's what makes them most proud about their business. "I feel the direct connection between the people who are working here and their excitement to be working on our brand," said Cris. "There's a genuine passion."
We left the factory and stopped for lunch at a nearby restaurant, a favorite of Megan, Cristina, and Raül's. It was so romantic, it almost looked staged. Patinaed yellow walls. Dark ornate wood detailing. Raül ordered for everyone. When the pan con tomate arrived, he made pieces for Megan and me, spreading the fresh tomato purée on thick slices of crusty bread and sprinkling it with sea salt. I had piece after piece after piece. Then the paella arrived. A shallow pan the size of a small window. The rice, a deep eggplant color from squid ink, glistened. Raül told me to eat straight from the pan: Paella is a communal event. I held back before timidly plunging in my fork and taking a bite, tender and briny and complex. It was a perfect day.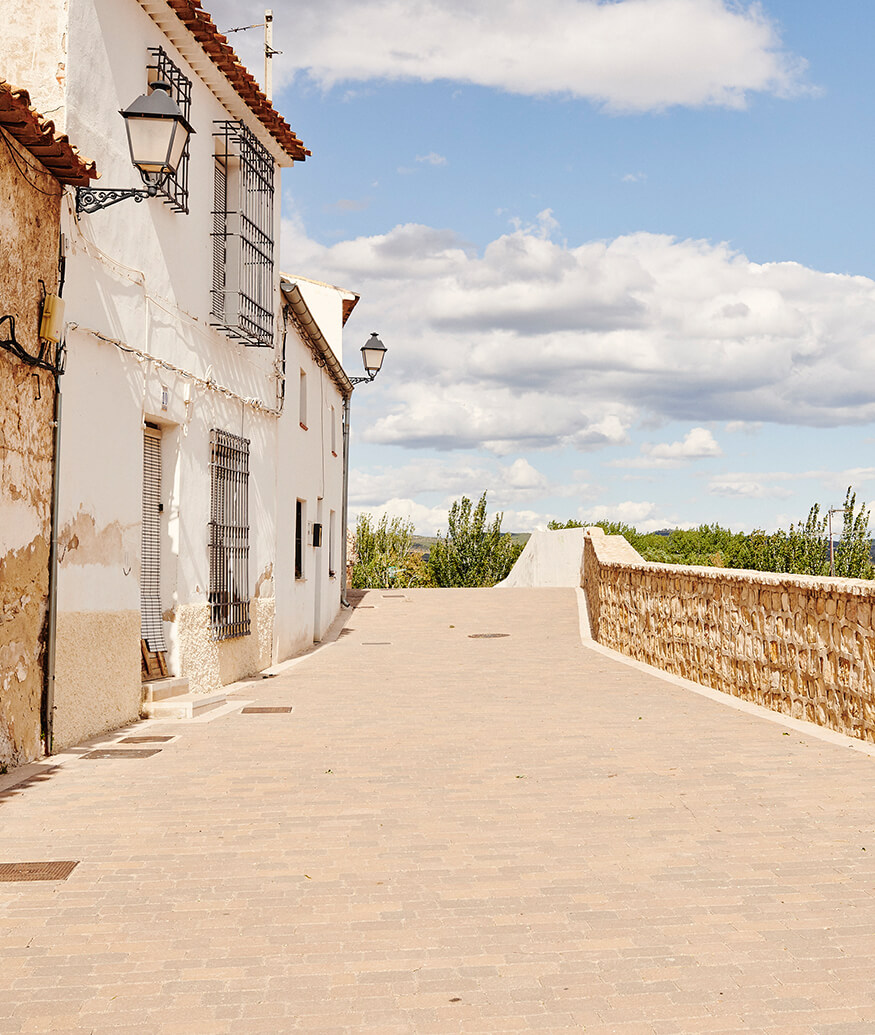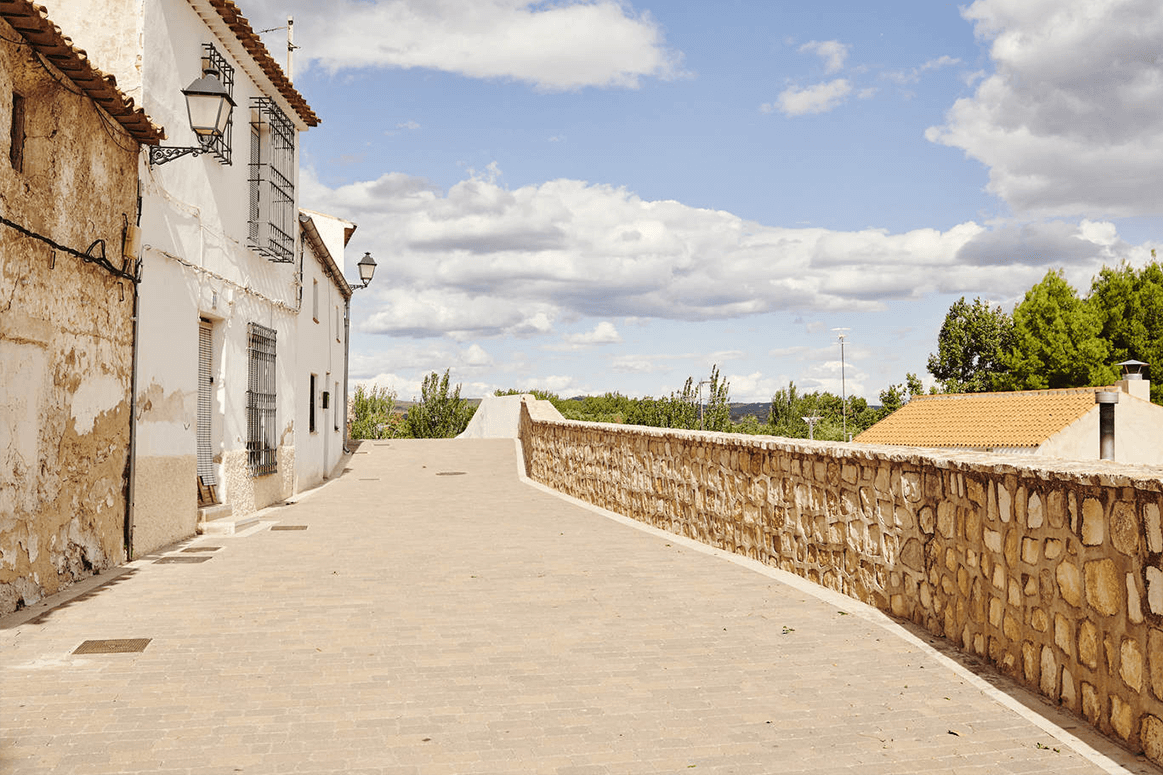 The following morning we were back on the road, this time to a different factory in the Alicante region. I sat in the front and talked with Rafa. We drove by rustic scenes of Spanish farm life, rows and rows of Valencia orange trees, jutting mountains, horses grazing. We passed by another ancient castle. I kept turning and twisting to take photos.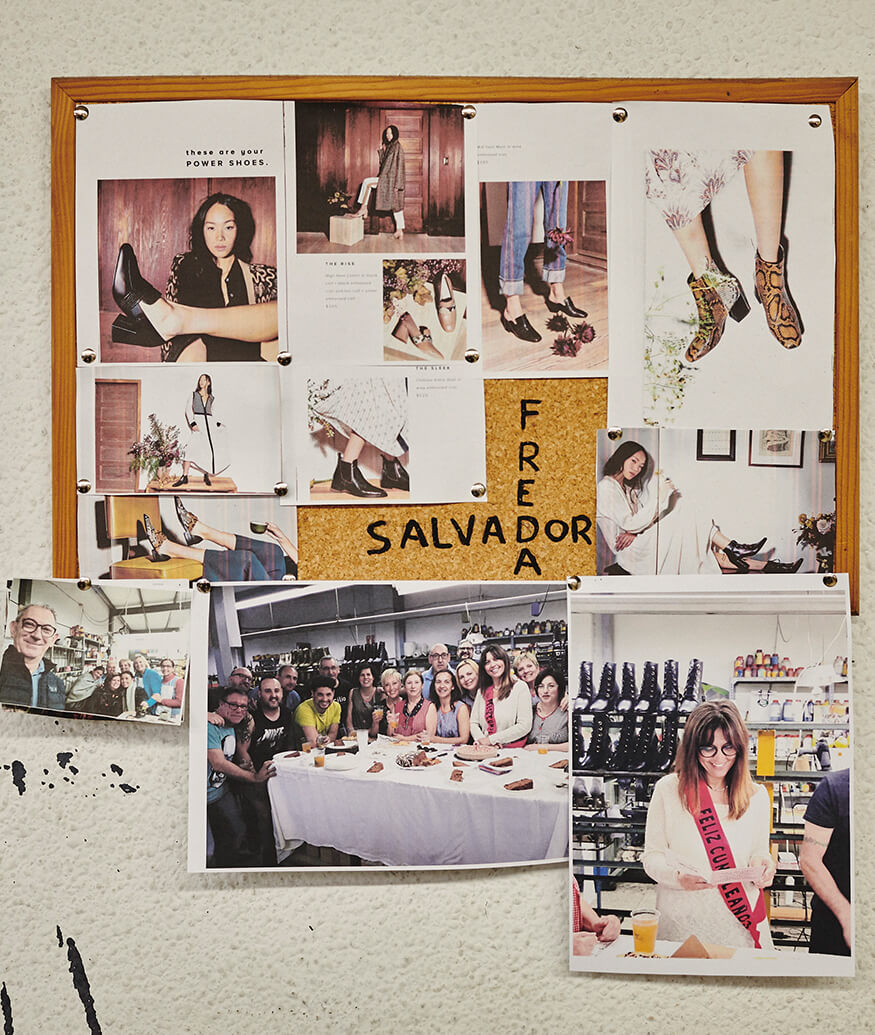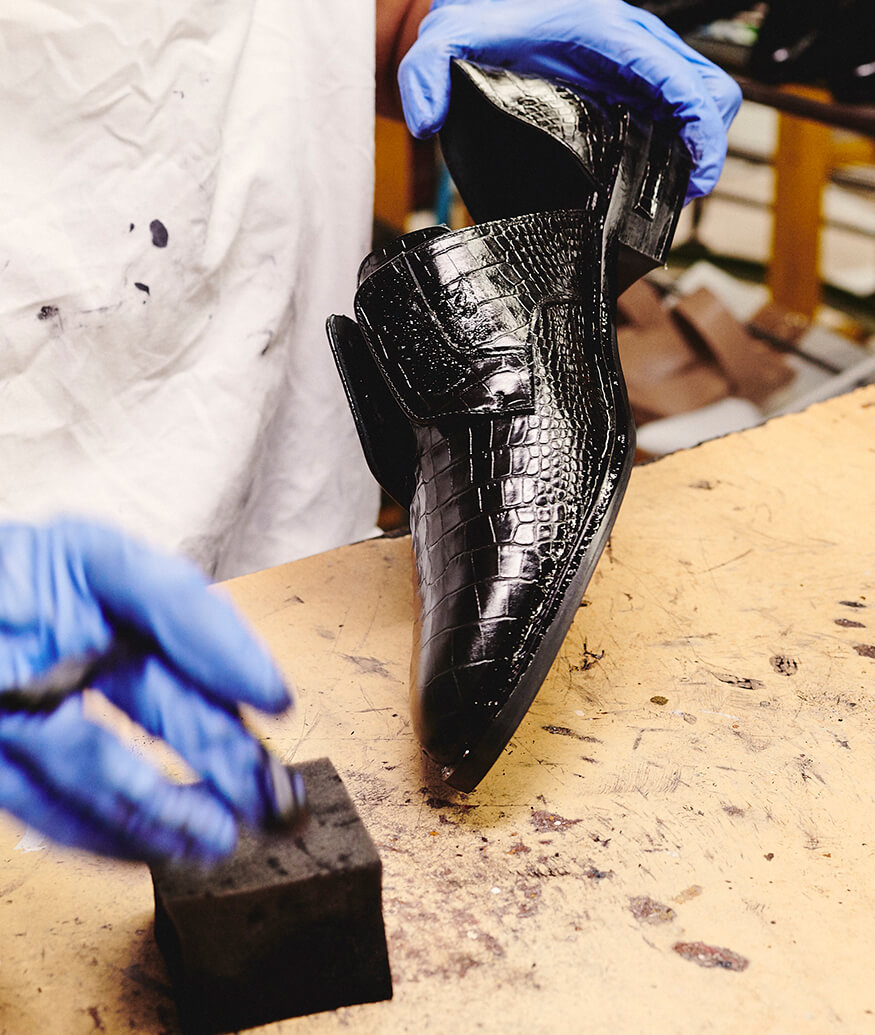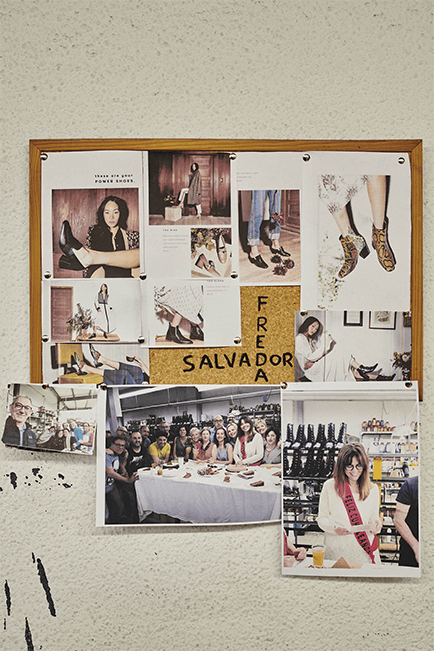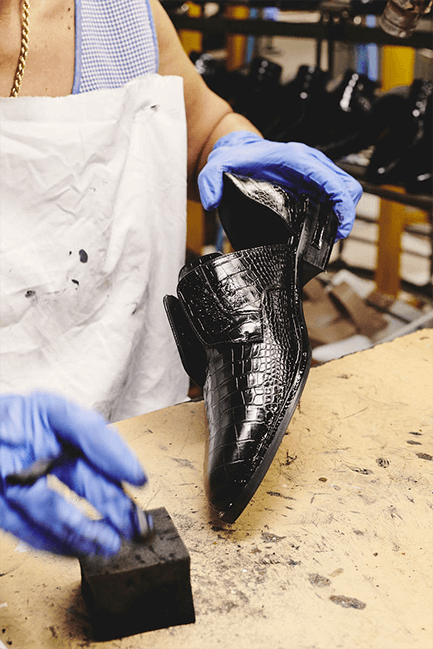 As we walked through the factory doors, it felt as if we'd walked into a gathering at someone's home. Pilar, the factory manager, greeted us with a smile that looked like it extended across Spain. Some people embraced Meg and Cristina with tears. This team has been making Freda Salvador shoes since the start, more than ten years ago.
I walked over to Pedro, who co-owns the factory with his brother, Jose. He was cutting giants swaths of leather using a small tool with a curved blade. This is how every flat, sandal, oxford, and boot in the collection starts. Pedro's been making shoes since he was thirteen—and he's been using the exact same tool for two decades. He leaned over with his shoulders scrunched as he pressed the blade onto the leather. I could see the parts of the shoe starting to form: the top of the toe, the back of the heel. Jose walked over to Pedro and said something to him in Valencian. They laughed. "My favorite relationship is between Pedro and his brother, Jose," Cristina told me. "They call each other by a nickname that you call your sibling when you're a child. They still refer to each other by that."
After Pedro finished cutting the leather for a pair, Maria and I followed the shiny pieces as they moved from station to station to be made into the WEAR, Freda's popular oxford in its signature d'Orsay silhouette. A woman skived the leather, working quickly but with sure, measured strokes. It was mesmerizing to watch. Next the pieces were glued, stitched, put on a last (a mold that helps give the shoe its shape), warmed, hammered, and polished. At each station, everyone showed me and Maria their job. They pointed and raised the shoe as I asked questions, with Rafa often translating.
The room was loud and bright. The machines hummed beneath the conversations and laughter. I walked over to Lola, who was giggling with her coworkers as she polished the shoes. On the wall next to her was a collage. Photos of models wearing Freda Salvador shoes, printed and thumbtacked to a corkboard. "It was so humbling to see that," Megan later told me. "We've earned each other's respect. The love that they put into it, I don't think we would have gotten that anywhere else."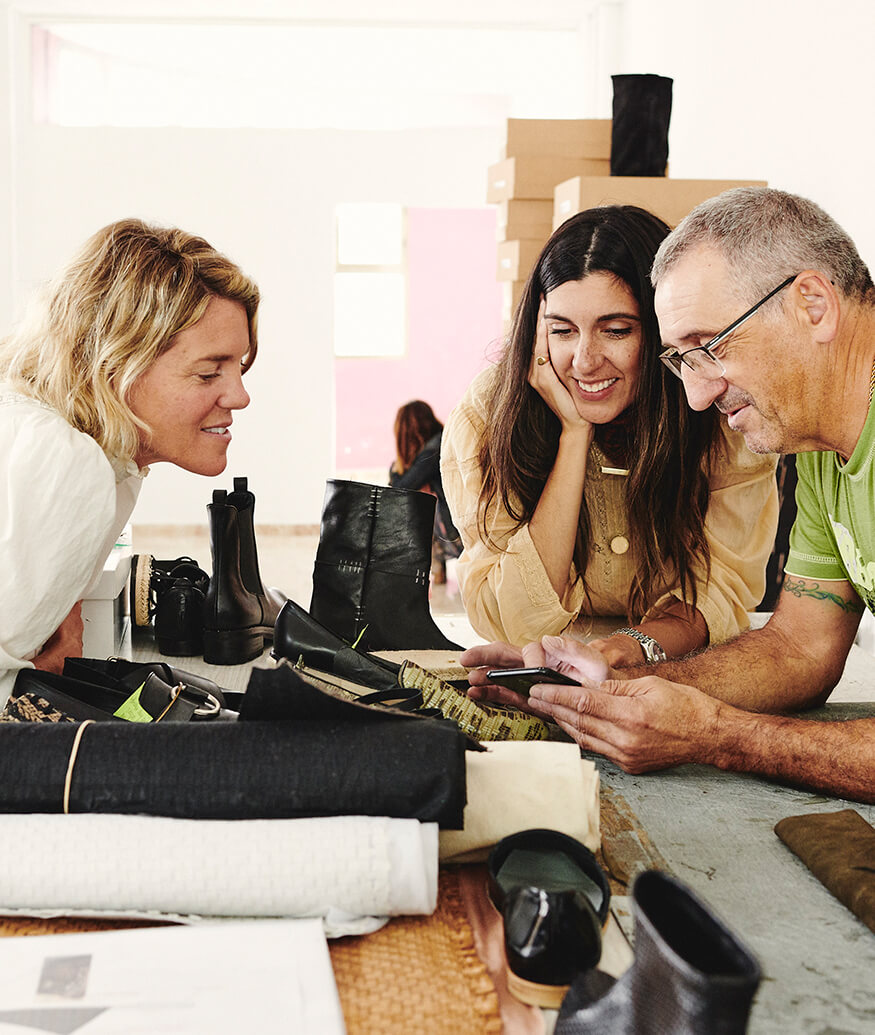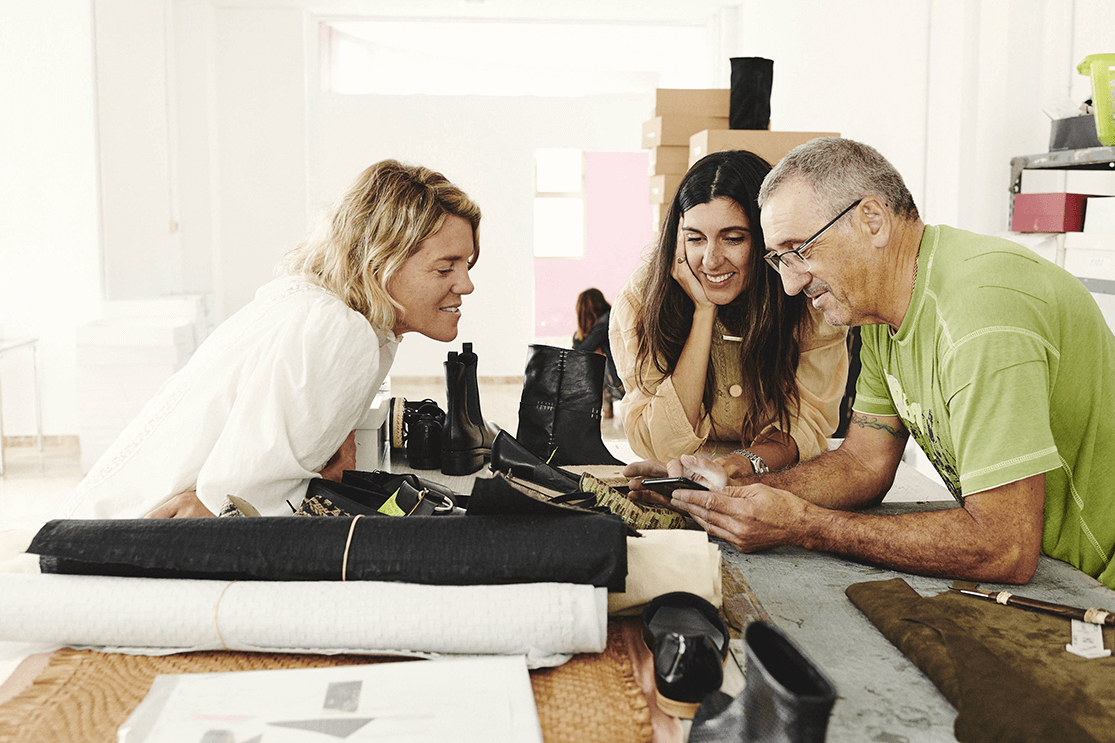 As I watched the shoes come to life, I kept thinking: We need to be more discerning about the things we wear. Who is behind them? Where are they from? With the privilege of choice in what we buy comes a responsibility to consider how our things are made. Now when I wear my Freda Salvador shoes, I'll picture Raül, Rafa, Pilar, Jose, Lola, Pedro, and so many others who welcomed me with such kindness and generosity.
After watching the finished oxfords go into matte black shoeboxes, we went to eat at an unassuming little restaurant ten minutes from the factory. "They're like family here," Raül said. The nine of us—Cristina, Megan, Maria, Raül, Pedro, Pilar, Rafa, Jose, and I—squeezed around a rectangular table. A young man wearing a Hulk T-shirt greeted us and spoke to Raül. A minute later, cold beers were delivered to the table, followed by salted peanuts, fried cubes of cheese with sweet berry jam, and pan con tomate. We ate and laughed.
I had been in Spain only a few days, but I at that moment I felt like I was home. I looked around the table. Cristina and Megan cracked up with Pilar. Pedro and Jose teased each other. Maria and I dipped the salty cubes of cheese in the jam as Rafa watched. "Good, isn't it?" he asked. There was no talk of shoes. At that moment, nothing else mattered but what was happening at that table. And I realized then that I had come to Spain to learn about shoes and food—and family.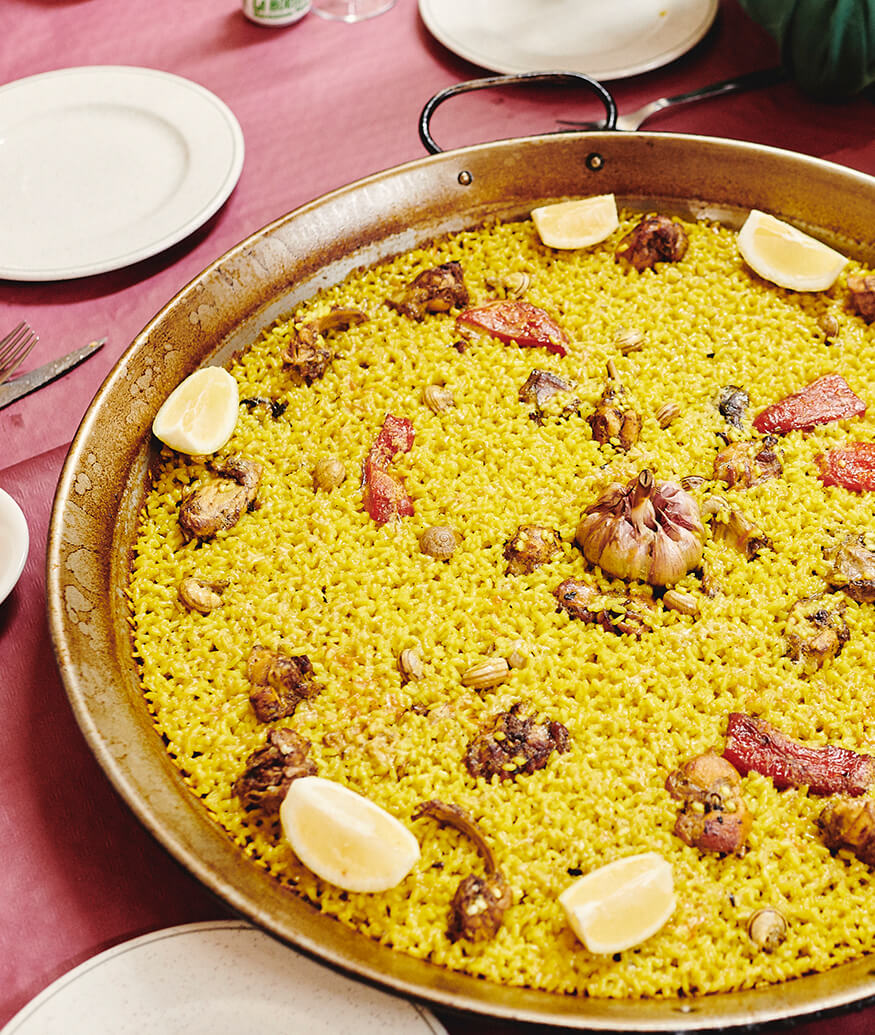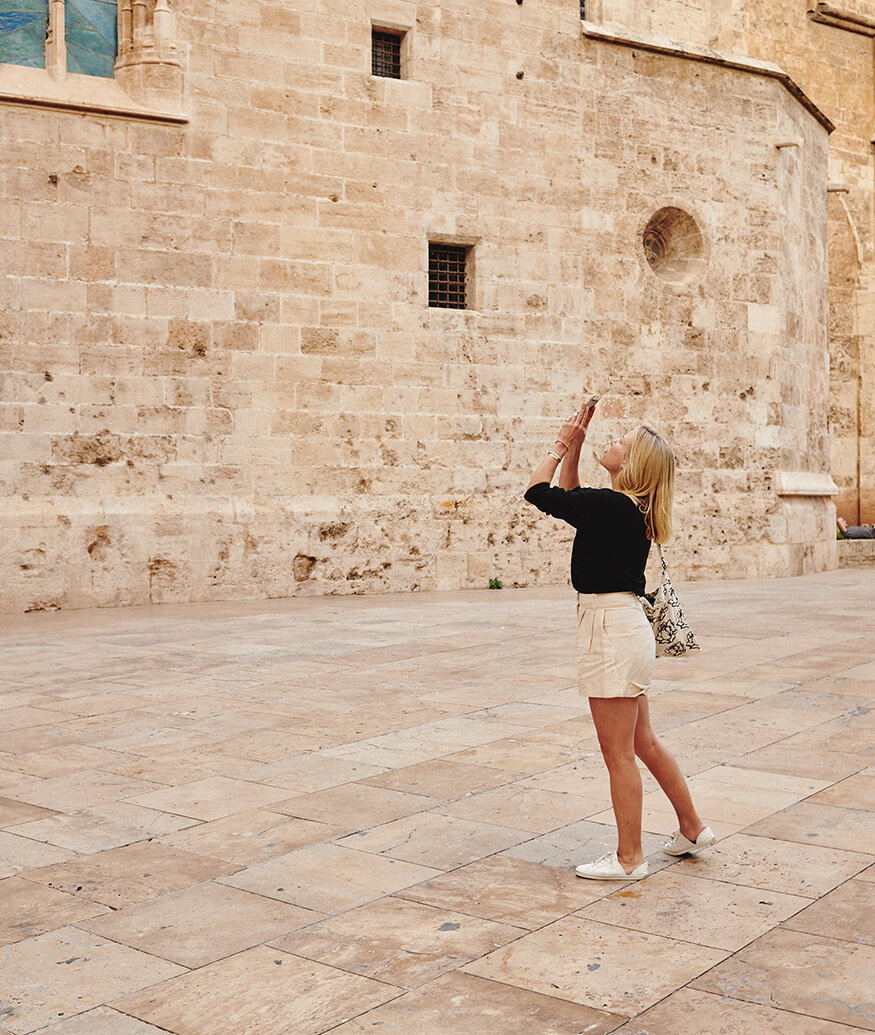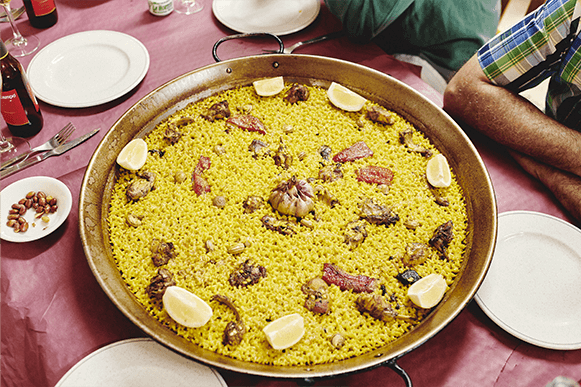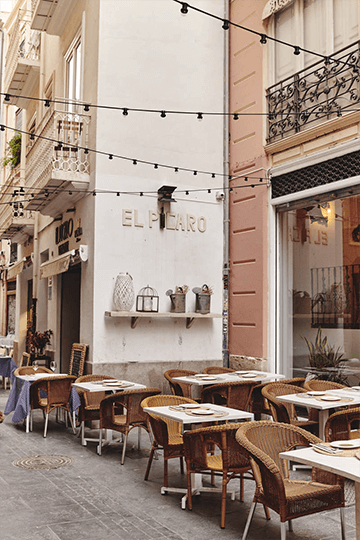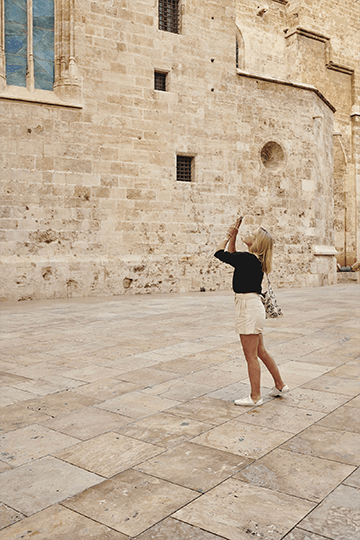 A moment later the paella arrived. The young man and his father—the owner—placed it on the table. It was bright yellow and dotted with fresh snails and vegetables. I followed Raül's lead and sank my fork in along with everyone else. The rice was buttery and warm. I took another bite, this time scraping the pan to get the crusty, chewy bits at the bottom. I was in heaven. "Stacey." I looked up holding my heaping fork. Raül was smiling. "This makes me very happy," he said.