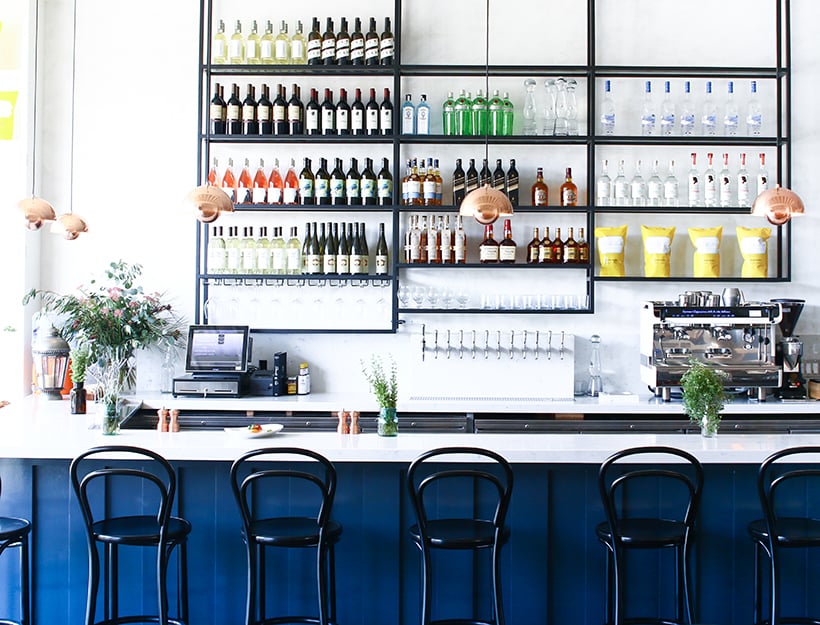 12 Places We Love on LA's West Side
While there's no merit to any definitive argument that the East Side trumps the West Side or vice versa, there's no denying that when summer comes along, proximity to the ocean—and the wonderful, cooling marine layer that rolls in each morning—is kind of magical. Plus, so many westside pockets are eminently walkable: Culver City's Bird Brooklyn, Stay, and everything else in Platform are just a a couple blocks from lunch at BäcoShop; you grab a cone at Jeni's on Rose after a StretchLab appointment (#balance) before strolling to Abbot Kinney to shop; a BoxUnion class is steps away from a drink at Shutters and a view of the Pacific at sunset. Below, a few new additions to our West Side guide to try in the coming warmer months.
Health & BeautyEatSpecialty

9552 Washington Blvd., Culver City | 424.258.6301

There's been a lot of local buzz around the opening of this small lunch destination, and understandably so: It's a concept from chef Josef Centeno, the same man behind goop favorites Bar Ama and Bäco Mercat. We can confidently report it doesn't disappoint: you can't go wrong with on of their bäcos or bäcorritos, which are homemade-flatbread-enclosed sandwiches filled with everything from shrimp with sriracha, buttermilk cabbage slaw, and mint to coffee rubbed-steak with red chile, almonds, and charred scallion. Their creative salads and vegetable offerings are a lighter option, but just as good. (They have a nice short list of beer and wine, too.) Photo: Wonho Frank Lee

540 Rose Ave., Venice | 310.314.2024

Not new to LA, but new to the West Side, Jeni's new outpost on Rose is conviently adjacent to some of our favorite things: StretchLab, Moon Juice, and Café Gratitude, to name a few. If you haven't already been, know that this ice cream shop excels at decadent and out-of-the-ordinary flavors: brambleberry crisp, churro, ylang ylang and fennel, Riesling poached pear sorbet, etc. Jeni's started in Ohio, founded by Jeni Britton Bauer—James Beard award-winning author of Jeni's Splendid Ice Creams at Home, and has since expanded to other cities. Photo: Caroline Juen

Shop

8850 Washington Blvd., Culver City

Just like everything else that's a part of Platform, Stay by Spring Street Social Society is full of very pretty things in a very pretty (and highly Instagrammable) space. (Look no further than the hand-painted mural that says, "Come In For Awhile" by goop favorite Brian Kaspr.) In this case, those things come in the form of little gifts you'd want for yourself: textiles from Caroline Z Hurley, home objects from Well Received and (wh)ORE Haus Studios, candles from Putnam & Putnam, plus a small mix of easy, well-priced dresses and blouses from brands like English Factory. Stay is temporarily popping into Platform, but word on the street is they'll be there until end of summer 2017. Photo: Patrick Janelle (@aguynamedpatrick)

8870 Washington Blvd., Culver City | 310.596.4200

Owner and buyer Jen Mankins has built a bit of an empire out in Brooklyn, drawing Manhattanites out to shop in the process. Now, you can peruse the same edit in Culver City, where you're greeted by an entrance courtyard replete with its own native plant garden. Within: Mankins's eye for both quirky and cool, meaning that you'll find a pretty irreverent (and bright) mix here, along with picks from Ulla Johnson, Apiece Apart, Mansur Gavriel, and A Détacher.