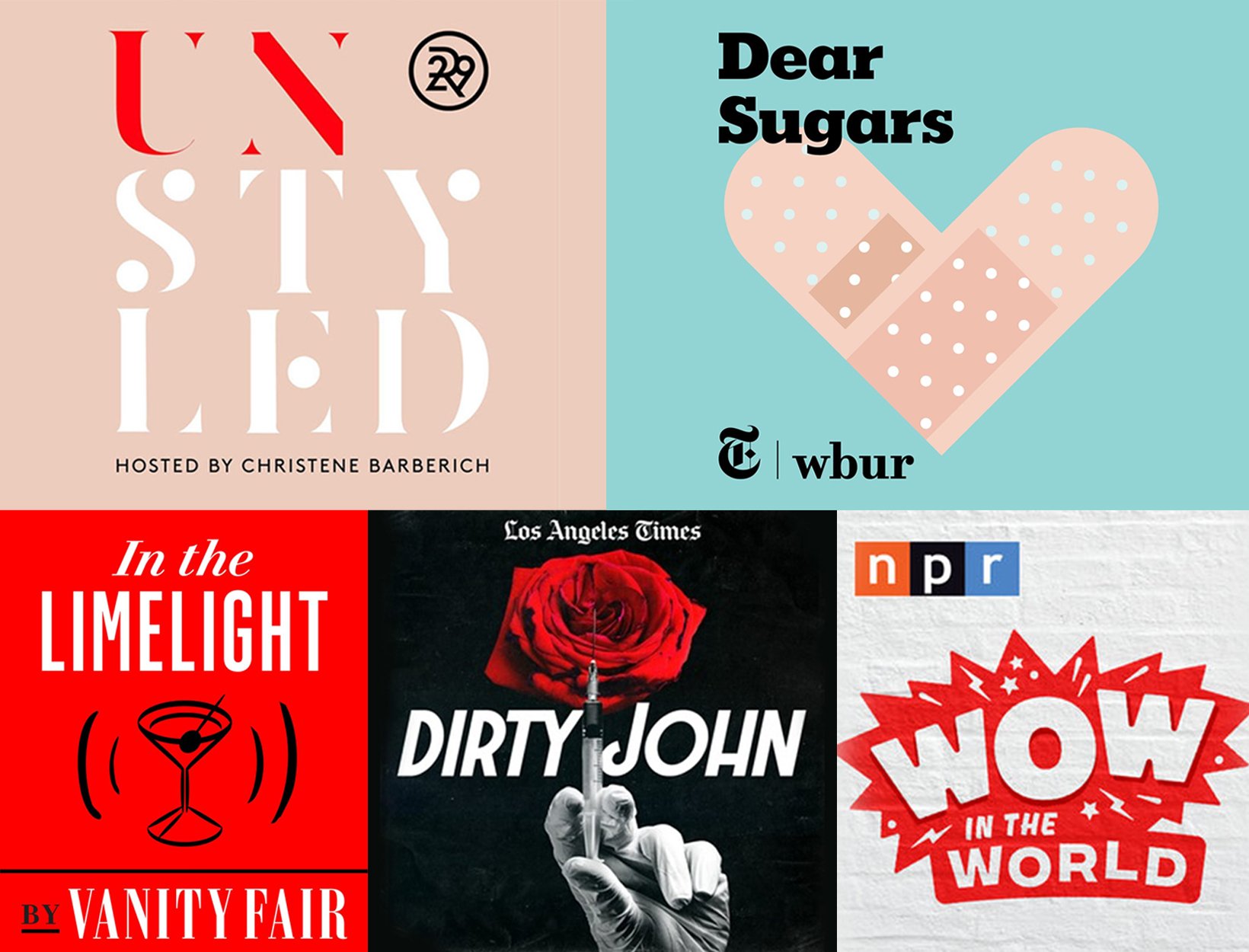 The Podcasts We're Listening to Now
Our love of podcasts runs deep. And now that we're two months into producing The goop Podcast, we have that much more respect for the time, sweat, and occasional tears that go into delivering solid episodes week after week. Podcasts are unique to our modern diet of nonstop information in that they don't seek to overload the brain or force our attention. Our favorites are as intimate as a conversation with a friend, as gripping as a good read, as informative as the news. And perhaps best of all, they double as an act of mindfulness: Just sit still and listen.
goop Guests

Oprah's SuperSoul Conversations

Oprah is capable of rendering even the most intimidating authors, actors, spiritual guides—you name it—as vulnerable and open as her devoted audience. Her radical empathy transformed our debut podcast, and she shines that same light on all her guests: Listen in as Reese Witherspoon gets candid about female ambition, Don Miguel Ruiz talks about finding freedom, and more.

WorkLife with Adam Grant

In his new podcast, WorkLife, Adam Grant investigates the structures of unconventional workplaces. There's the CEO who demands his employees criticize him, the creative pressure cooker behind The Daily Show with Trevor Noah, and the college basketball team that went from underdogs to all-stars. Each group has figured out how to fine-tune their dynamics to produce extraordinary work and offers valuable lessons in leadership we can all bring back to the office. As Grant points out, we spend a quarter of our lives at work and should make that time count.

Where Should We Begin? with Esther Perel

A therapy session with Esther Perel can save a relationship, and her podcast series—featuring real couples in open, unscripted dialogue—is proof. The voyeuristic (in a professional way) series is a study in the power of vulnerability, as guests stumble toward shared understanding. Season three explores dynamics beyond the romantic (siblings, parenthood, and friendships) all distilled through Perel's own emotional wisdom.

Editor's Ear

The Daily

The New York Times got into the podcast game about two years ago with The Daily. On weekday mornings at 6 a.m. over the course of twenty or so minutes, former political reporter Michael Barbaro dives deep, often interviewing key figures in breaking news or Times writers and reporters, getting a richer story than what's in print. Barbaro is well informed, smart, and earnest and brings stories to life. At the end of each episode—whether it's about Harvey Weinstein or coal miners or the Kushner family—you'll feel like you know what's up even if you don't have a chance to pick up the paper for the rest of the day.

In the Limelight

What task has Meghan Markle assigned Prince Harry for the royal wedding? And how's she getting fit for the big day? (Yoga, obviously.) These are the questions Vanity Fair writers and cross-country pen pals Julie Miller and Josh Duboff are asking. They scan the week's headlines—everything from the Cut to TMZ—to dissect and analyze the biggest celebrity news in a way that's laugh-out-loud funny.

Radio Cherry Bombe

Listening to someone talk about food you can't eat sounded like a slow form of torture to us—until we heard Cherry Bombe's interviews with the best voices in the food world. Focusing on the driven, creative women revolutionizing the industry, the magazine's editorial director, Kerry Diamond, nerds out with chefs, foodies, and restaurateurs over everything from chocolate chip cookie recipes to garden envy. The series will tide you over between issues of the beautiful, but painfully infrequent, biannual publication.

Unstyled by Refinery29

Refinery29's editor-in-chief, Christene Barberich, is insightful and funny during her conversations with women whose personal stories are as inspiring as their careers. These podcasts are short—run time is thirty minutes each, give or take—but in that space, Barberich has a way of getting her guests, like Stacy London, the Mulleavy sisters, Norma Kamali, to unload a lot of heaviness about the complexities of womanhood.

Serial Lovers

My Favorite Murder

Murder hardly makes for light conversational fodder, but in the hands of true-crime junkies Karen Kilgariff and Georgia Hardstack, nightmarish tales are approached with a humane sense of humor. Peppered with details both hilariously taboo and absolutely necessary to do them justice, the cases can make even squeamish listeners feel engaged.

Dirty John

Dirty John is a compact podcast about a Newport Beach interior designer who becomes involved with a handsome, successful doctor—hardly unheard of. However, their relationship is barely off the ground when the red flags start popping up: What kind of doctor has no car? Or shows up in medical scrubs to a black-tie event? Los Angeles Times reporter Christopher Goffard does an excellent job of leading you through the tense and at times terrifying course of events, making this seven-parter the perfect companion to a road trip.

Heaven's Gate

In 1997, thirty-nine people dressed in identical black sweat suits, Nikes, and matching haircuts gathered in a San Diego mansion and committed mass suicide—allegedly in preparation to be abducted by aliens. This is the Heaven's Gate cult, whose members, it turns out, were not a bunch of hysterics but ordinary people in search of higher meaning. This podcast takes a while to rev up, but once it does, hold on tight.

Kid-Friendly

Wow in the World

Adults can learn a thing or two from the inexhaustible sense of wonder with which children explore life. Wow in the World hopes to stoke that curiosity by answering the questions you probably didn't even think, or forgot, to ask: How does 3D printing work? Where do squirrels hide their nuts? Where did the universe come from? For insatiable little minds, this series is a treasure trove of knowledge.

The Myths and Legends Podcast

Folklore is poetry and a history lesson wrapped into one, and Myths and Legends nails it. Sampling fairy tales from around the world, some familiar—like the original version of "The Little Mermaid"—some not so much, host Jason Weiser narrates with a wry sense of humor and always provides a considerate sex and violence warning in the introduction. It's a good sub for nightly bedtime stories for older kids.

OGs

The New Yorker Radio Hour

This one goes out to anyone who's got an aspirational pile of New Yorkers they're never going to get to: The Radio Hour is a digestible assortment of the magazine's best content, hosted by editor in chief David Remnick. Delivered with the same style, humor, and masterful storytelling as the print edition, each episode is a short, insightful addition to your daily news digest.

Dear Sugars

For the forlorn, lovesick, heartbroken, abandoned, or sexually frustrated, Dear Sugars is here to help. Hosts Cheryl Strayed and Steve Almond embrace every aspect of the love spectrum in the podcast companion to The New York Times's beloved Modern Love column. Letters and questions submitted by fellow listeners will lead to the humbling realization that in love and heartache, we're all the same.