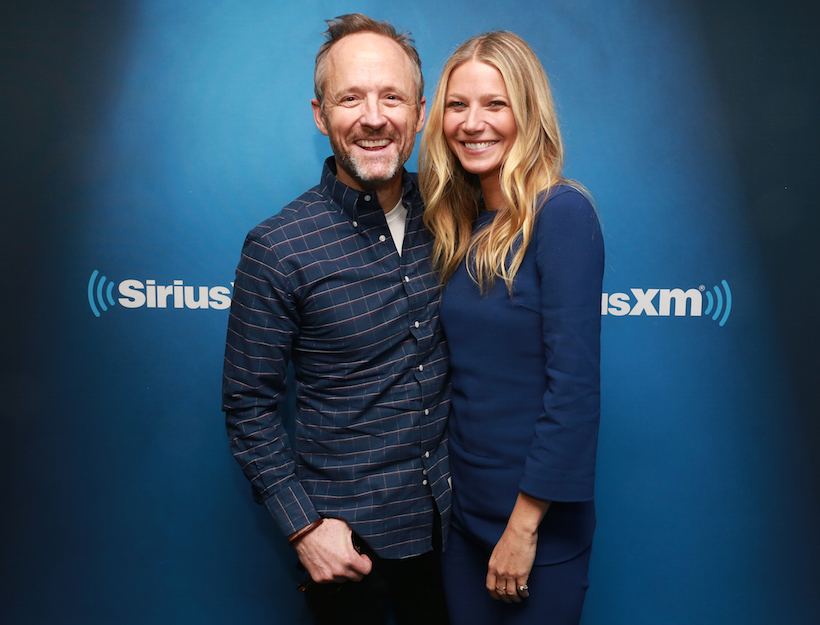 My Favorite Song: Your New Favorite Radio Show
If your commute exceeds the 20-minute mark, you're likely familiar with the wealth of podcasts available right on your smartphone. But there's something that might be even more compelling than the true crime, history, and economics-based topics: something about John Benjamin Hickey's SiriusXM radio show on the Radio Andy channel, My Favorite Song, that does an especially great job of tugging at the heart strings, cracking us up, and making time fly by. The premise is relatively simple: John invites his friends (Sarah Paulson, Ethan Hawke, Liam Neeson, and GP, for example—we dropped in some of our favorite clips after the Q&A) to fill out a favorite song questionnaire, then has them over to the studio to chat about their picks—where they first heard them, why they love them, etc., and the conversation inevitably turns to non-music related topics. Being that John is an actor by trade—and an incredibly talented and successful one at that—we were naturally curious about why he wanted to pursue this particular side project. Below, he answers a few of our questions; the accompanying playlist is made up of songs John mentions in his answers, should you be inclined to listen along.
A Q&A with John Benjamin Hickey
Q
You have a very successful acting career—why did you decide to start this radio show on the side?
A
Truth be told, I never imagined myself hosting a radio show. I am pretty content being an actor but I have always loved talking to friends about music, the music they are listening to right now, the music they love from their childhood, etc. I have always just sort of noticed other people's music, you know?
I feel like a person's taste in music says a lot about them. For instance, I met this gangly, incredibly dorky, beautiful, and also super cool kid named Gwyneth Paltrow when she was like 17 and I was in my late 20's. We were at the Williamstown Theatre Festival together, we shared a house that summer with a handful of other actors, dorm-style, and her room was right down the hall from mine. The first thing I noticed about her was her CD collection and it was her taste in music that made her so cool to me. The five or six CD's that she packed for the summer, along with her boom box, consisted of some really good rap, a copy of George Michael's "Freedom! '90," which was sorta cheesy at the time but also so so good and she knew that, and a copy of Led Zeppelin IV, which just about killed me. I kinda fell in love with her right then and there. I remember her and her choice of music, I can hear it playing from down the hall, like it was yesterday.
Twenty-five years later, I am walking down the beach one day with another old pal of mine, Andy Cohen, who had just gotten his own radio channel at SiriusXM and he said, "Would you be interested in hosting a radio show?" And the more I thought about it and the more we talked about what the show could be, all about the soundtracks of our lives, well, the better the idea sounded. That's how this show was born. It's been such a blast and I am so grateful to Andy and to SiriusXM for giving me the show. I am by no means an expert on music, so it was a gamble for them. but I am definitely an enthusiast, which can take you a long way.
Q
What is it about a person's favorite song that's so telling?
A
It says so much! Former Billboard editor Bill Werde once said, "Music has a way of tapping you on the shoulder and reminding you of who you are." I just love that description—music is life, it is the river that runs through our lives, and it ties us to certain moments and feelings. I just love when a person describes their specific relationship to a song. For instance, when Sarah Jessica Parker was a guest on the show, she described the great song "At The Ballet" from A Chorus Line and how as a kid in Cincinnati, Ohio she visited the record shop every day waiting for that record to be released and how the owner finally gave her a promotional copy just to get her off his back and out of the store. It's a hilarious story and you learn so much about her just from hearing what that song, that record means to her. I think that has been one of the wonderful surprises of the show, that for people like SJP, or Gywneth, or Liam Neeson, folks who do a lot of interviews and sometimes can maybe get tired of being asked the same questions about their lives, that somehow talking about their favorite songs gives them a chance to talk about their lives without really talking about their lives.
Q
Which of your guest's answers surprised you the most?
A
Oh man there have been a lot of fun and wonderful and moving surprises: Matthew Broderick's favorite movie song being "The Morning After" from The Poseidon Adventure, Amy Sedaris' favorite song of all time being "The Bottle" by Gil Scott-Heron, Tom Hiddleston picking "He's the Greatest Dancer" by Sister Sledge as his favorite disco song (reason enough to let him be the next Bond). Gwyneth describing why "Everything's Not Lost" is her favorite Coldplay song, Gabourey Sidibe's undying fangirl crush on 'NSYNC. But my biggest surprise was when Liam Neeson chose "Crazy Love" by Van Morrison as his favorite love/wedding song, and explained how his beautiful wife Natasha Richardson sang it at their wedding. They were/are great friends of mine, and it was a story I had not heard before. It was a pretty special moment for the show and me.
Q
Are there any songs that consistently pop up on people's lists?
A
"God Only Knows" from The Beach Boys' Pet Sounds pops up as a lot of people's favorite love song, and for a very good reason.
Q
What are some of your favorite songs?
A
Dammit, I just drew a blank. As a matter of fact, that is what I wanted to call the show, "My Favorite Blank," because anytime you ask anybody what their favorite…whatever is, most human beings immediately draw a blank, right? I mean, it's a crazy question, because it can change every week, every day. I remember when Gwyneth filled out her list, she wrote me saying she had a headache from doing it, it was so hard, but that it really was fun, as fun as homework can be. Some of my favorite songs…I am an old fart and steeped in nostalgia, so if you turn on The Bridge on SiriusXM, which is a 70's mellow rock station, there is "Goodbye Yellow Brick Road" by Elton John, or "Sister Golden Hair" by America, or "Dirty Work" by Steely Dan—well you could call any one of those songs my favorite song. I love Aretha Franklin and her version of the great Ashford & Simpson classic "You're All I Need To Get By" might just be my number one. But then there is always "Hey Jude," as well. I am also loving "Cake By The Ocean" by DNCE right now, a great summer song. "Call Me Maybe" (a great song) next week, and I will have a whole new set of favorites, I am sure.
Listen In
Gwyneth Paltrow on seeing Taylor Swift with Apple:
Liam Neeson on Natasha Richardson singing at their wedding:
Sarah Paulson on the sexiest actor:
Ethan Hawke on getting starstruck: