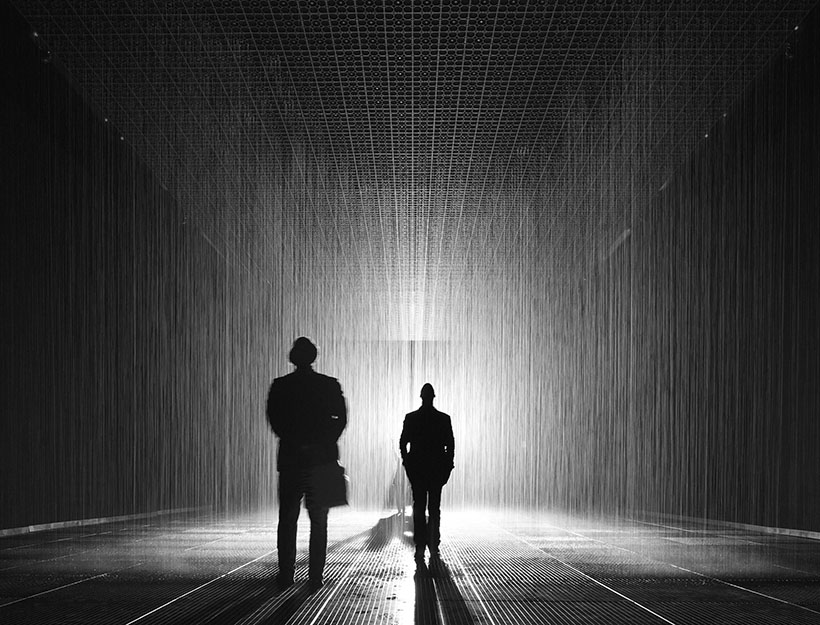 Hurry Up and Reserve a Rain Room Ticket at LACMA
After an opening that triggered lines around the corner for months at MoMA, artist collective Random International is bringing its famous Rain Room (a piece that was commissioned and loaned by Restoration Hardware) to the West Coast. Here's how it works: You enter a dark room that's lit only by a spotlight in the upper corner, where rain is constantly falling from the ceiling. As you walk in, sensors halt the water falling above your head, allowing you to walk through the rain without getting wet. The specially ticketed exhibition (visitors have to sign up for a timed slot online) is already setting attendance records, so reserve a spot now. Also: Keep in mind that the floor is grated, so leave heels at home.
As the inaugural exhibition in LACMA's Hyundai-sponsored Art and Technology Initiative (a ten-year plan meant to build on the museum's groundbreaking 1967 program by the same name), the work is an impressive feat of technology that incorporates 3D cameras, water recycling technology, and technical programming. The magical feeling comes from the illusion that the visitor controls the rain, but a machine ultimately controls the entire experience. This tension between man and machine is characteristic of Random International's work, which centers on human behavior as it relates to technology. As founder Hannes Koch explains: "We think there is a huge need for citizens to be involved in the monologue that's going on in Silicon Valley."
Photo courtesy Random International.