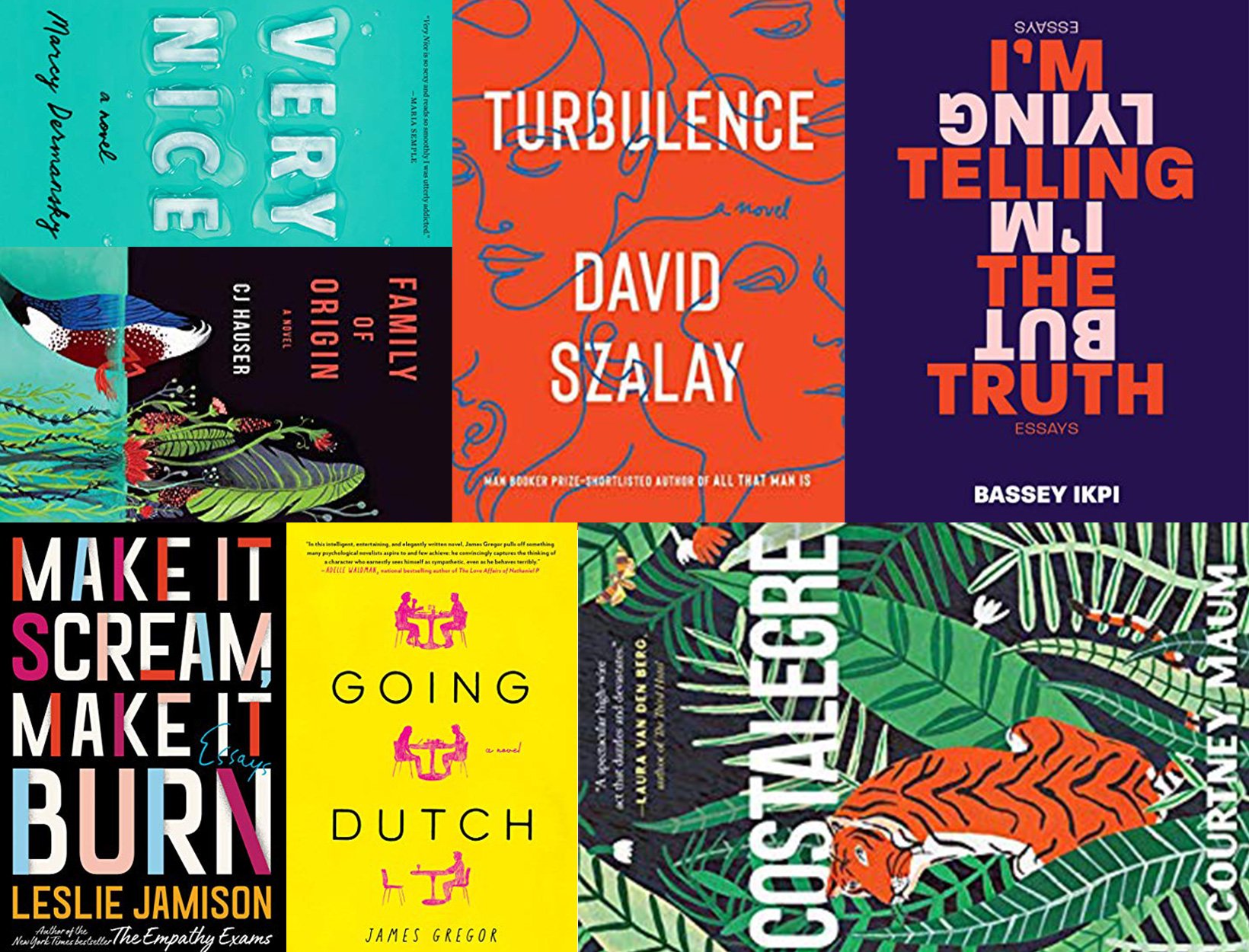 10 Books for Labor Day 2019 (and Beyond)
Lots of sex. Lots of swimming. Dating apps. Boarding school vibes from the '90s. A mystical jungle. A group of outcast artists. A group of outcast scientists. Longing, desire, obsession. Lying. Telling the truth. A goldfish that watches cartoons in slippers. Eight Mennonite women who imagined something beyond the only world they'd ever known. Meet our ten favorite new books—novels, short stories, essay collections—each peculiar and alluring in its own way.
For the BeachWhile Traveling

It would be pointless to try to find a wasted word in David Szalay's slim novel Turbulence. Each chapter has a different protagonist (there are twelve in total). They are strangers for the most part who meet in transit—because they're sitting next to each other on an airplane in one instance, or because they have a one-night stand during a layover in another. Over the course of their twelve flights, they travel to and from London, Dakar, Madrid, São Paulo, Delhi, Doha, Toronto. Some are going to visit family; some are alone. Some are in love; some are lonely. What's so elegant about Turbulence is how Szalay turns every brief encounter into a moment that changes his characters—and us, the readers, in turn—suggesting that we might have a more meaningful impact on the people we meet along the way than we think.

This strange, beautiful—short—novel is set up as the diary of a fifteen-year-old-girl named Lara. It's 1937, and Hitler is blacklisting artists. Leonora, an impetuous art collector and Lara's mother, decides to take a talented, eccentric group of surrealists to Costalegre, a mystical jungle in Mexico where she has a home. There, typically neglected Lara gets noticed. And a story about growing up and looking for love unfolds. (In her author's note, Maum calls Costalegre "a book where fact and fiction tussle." If you're an art person, as you read you'll notice other layers and some of the inspirations behind Maum's characters, like Peggy Guggenheim and her daughter, Pegeen. And if you don't, that's okay, too.)

Perspective Shift

Bassey Ikpi's lyrical memoir-in-essays asks us to reframe the way we think about memories, the stories we tell ourselves, the stories we tell other people, the stories we never tell, and all the other ways we try to make sense of who we are in the world. She begins with her early childhood in Ugep, Nigeria, and moves to her adolescence in Oklahoma, then to a break from her family that brought her to Brooklyn. Ikpi's life throughout is marked by moments of intense euphoria and fogs of deep depression. This book, her story, is in part about how she was eventually diagnosed with bipolar II and anxiety and in part about the search to find and redefine "normal."

If you ever need to be reminded of the potential of the essay and why essay collections matter or if you just want to get excited about one, read Leslie Jamison. Her new book (out September 24; you can preorder now) is a collection of fourteen essays that blend memoir with literary criticism and reporting and cultural history, as did The Recovering, her book on alcoholism and addiction. Make It Scream, Make It Burn is loosely about longing and obsession. The first piece centers around 52 Blue, a whale—labeled the loneliest whale in the world—whose call no other whales hear. In another essay, Jamison visits the Museum of Broken Relationships in Zagreb, Croatia. In others, she mines classic literature—Susan Sontag, Let Us Now Praise Famous Men. She explores war photography. She follows a photographer who has been documenting the same family in Mexico (and then in the States) for twenty-five years. She asks: What are we looking for from other people? What do we desire? Three of the most poignant and personal essays come in the final section: one on Jamison's own marriage and a meditation on what marriage isn't ("not waiting for love to stick, as if love itself could do the work, but waking up to support it each day"). A brilliant exploration of what it means to be a stepmother, why stepmothers have been vilified on and off throughout history, and how Jamison began a relationship with her own stepdaughter. And the last, an essay on giving birth that flips back and forth between Jamison's pregnancy and an eating disorder that marked her earlier experiences of her body.

Blow Your Mind

Miriam Toews: Wow. Women Talking is searing. A courageous, moving novel based on real events, it's told through the perspective of a man named August Epp, who has returned to a Mennonite colony after having been thrown out as a child. August has been asked by Ona, a woman in the colony, to take minutes at a gathering of eight Mennonite women (all illiterate). For the past two years, these women, along with more than a hundred other women and girls, have been drugged and raped at night by men from their own community. And told that they were being punished by demons for their sins—or else imagining things. Now these eight women are meeting to decide if they should stay in the only world they know, if they should fight, or if they should attempt to escape. These women are brave, vulnerable, funny, smart characters. You will love them and learn from them.

When you read an Etgar Keret story, it's hard not to go straight to "genius." Who else could write a complete narrative in two pages about a family with a goldfish that comes out at night, puts on Dad's slippers, and watches cartoons, nature films, and CNN without sound so as to not wake anyone? The stories in this collection are wide-ranging, and many have that fantastical, highly imaginative Keret element. There is dark humor, wry humor, really-fucking-funny humor. There's depth and sadness. And mostly there's life: people falling into and out of relationships with themselves and others.