Behind the Scenes:
A Harper's Bazaar Photo Shoot
I was extremely honored when the editor-in-chief of Harper's Bazaar, Glenda Bailey, asked me to be on the cover of the newly redesigned magazine. The whole experience was great, culminating in a very thoughtful interview with the wonderful novelist Justine Picardie who has written a definitive biography of Coco Chanel and a heart-wrenching account of the loss of her sister to cancer. Here's a look at the inner workings of a magazine photo shoot.
Love, gp
---
9:00 AM
Call Time—The crew and stylists arrive to set up cameras, clothing racks, etc.
This is just one of many clothing racks, jam-packed with options.
Lots of shoe options.
Clutches, bags, purses…
---
9:27 AM
Arrive from the morning school run and go straight into hair and makeup.
The looks for the shoot are all black and very dramatic, so Emma Lovell goes for it with a red lip.
Marc Lopez complements the look with hair that could be from a film noir.
---
10:15 AM
The shoot begins.
1st shot
I almost fit into this jumpsuit.
I'm not used to this look so it takes a minute to not feel like a dork.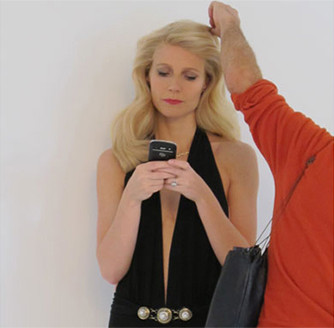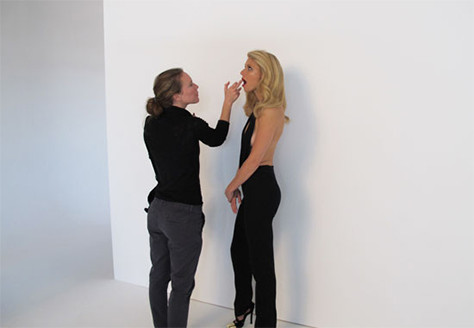 I send a few emails during a break.
On the other side of the set, the digital team reviews the images throughout the shoot.
---
11:20 AM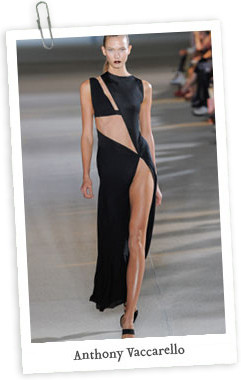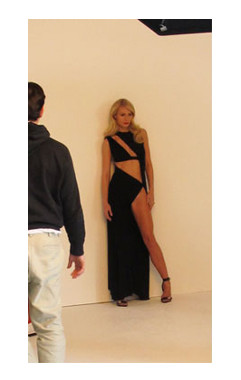 Another shot, this time in a very sexy Anthony Vaccarello.
---
3:45 AM
Another shot toward the end of the day…
One of the last ones is this incredible dress.
Yet another round of hair and makeup before the last photos.
---
4:15 PM
8 dresses later, it's a wrap and we're all ready to go home. Check out the final shots here.
The runway looks for some of the other dresses I wore.
---
Get the look
We've gone out and tracked down a few excellent alternatives that are in keeping with the theme.
All Saints is always a good place to start if you're looking for something particularly goth and glam.
Urban Outfitters has tons of options in the vamp department. Here are just three particularly good ones. Loving the cutouts!
Another good lookalike.
Court
An ideal, super-sexy wedge from Court.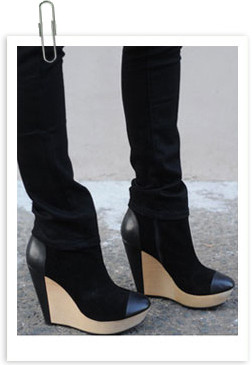 Some perfect platforms to go with any of these looks.