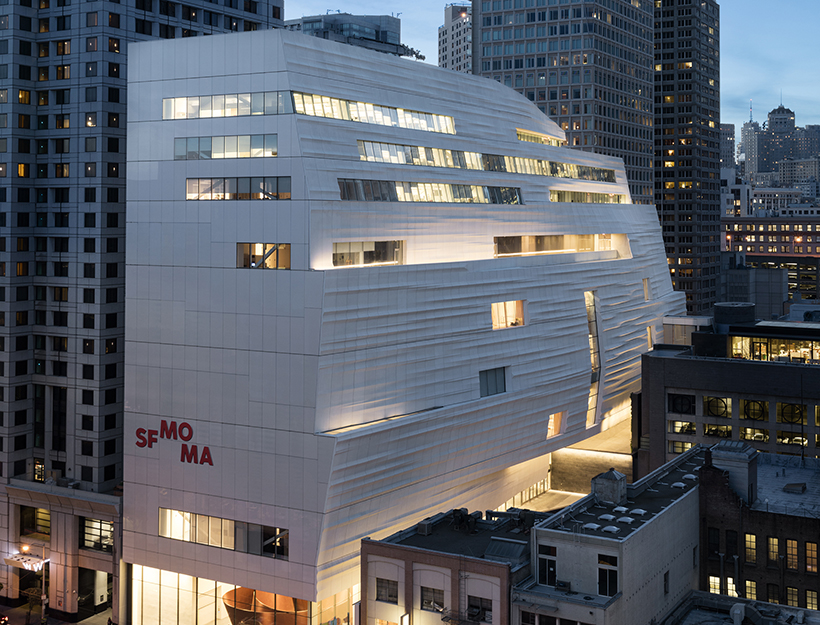 Another Big-Deal Museum Opening: SF MOMA
After closing HQ for renovation and running their programming remotely for nearly three years, SF MOMA opens their doors to the public again on May 14. Scandinavian firm Snohetta (previously famous for the September 11 memorial pavilion at the World Trade Center and for a stunning opera house for the Norwegian National Opera and Ballet) led the design of the project, and it sits both above and next-door to the existing structure by Swiss architect Mario Botta, which opened in 1995. The modern, white façade of the building is made from FRP (fiberglass reinforced polymer), which was embedded with silicate crystals from Monterey Bay; they catch the light throughout the day with the effect of a wall that changes as the sun moves across the sky. Critics have already taken a few stabs at metaphors, from fog to marshmallow to merengue—but that hasn't stopped visitors from lining up to see the enormous new building (the first day, which is free to the public, is already sold out).
This renovation nearly triples the size of the museum's gallery space, expanding it from 70,000 to 170,000 square feet and giving it more exhibition space than even New York's Museum of Modern Art. The impetus for all the new square footage? To devote space to a generous loan from collectors Doris and Donald Fisher, whose collection is featured prominently in the 18 exhibitions opening in May. Like their unofficial counterparts in Los Angeles (who opened their own museum this year), the Fishers began collecting in the 1980s, amassing a survey of contemporary American art that starts then and continues to today—visitors can expect to see Chuck Close, Andy Warhol, and Ellsworth Kelly well represented, plus a strong showing of German art from that timeframe. There are also plenty of other must-see's, including an expansive outdoor living wall, a room full of Clyfford Still behemoths, and Richard Serra sculptures that can be experienced for free by the public, as they occupy an open first floor. We're getting our tickets now.