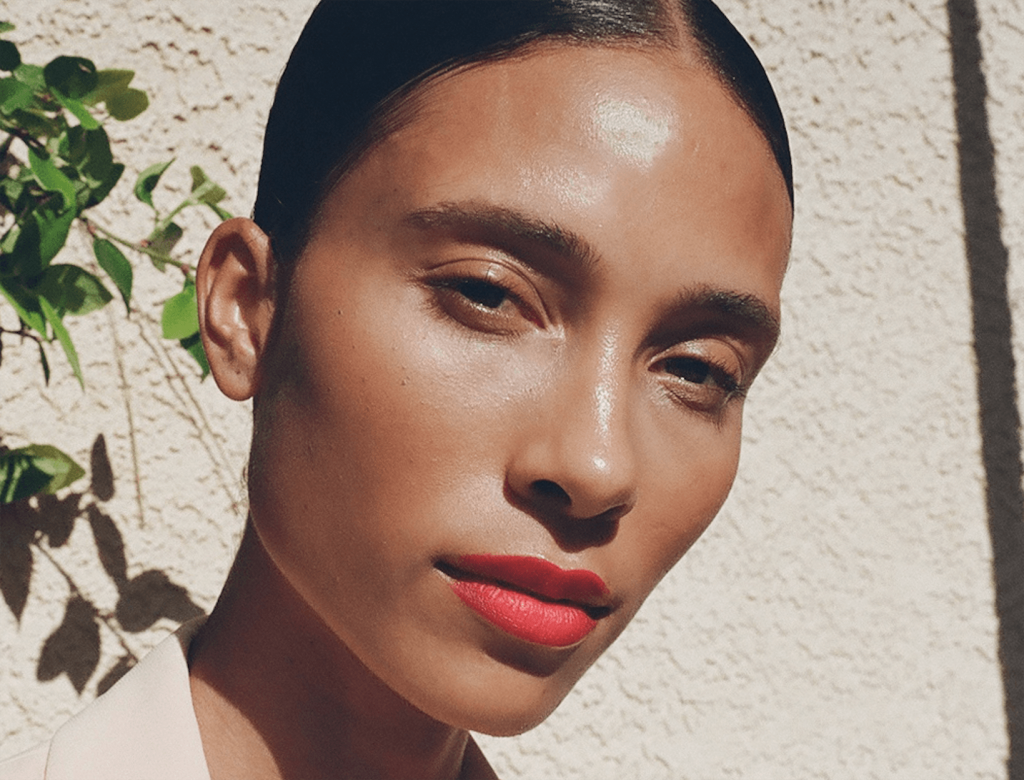 A Lingerie Line for Minimalists
FEMALE FOUNDERS
A Lingerie Line for Minimalists

Perhaps the only upside to workplace inequality is it has driven a lot of amazing women out of corporate America—and straight to the helm of their own companies. We decided we didn't want to just cheer them on anymore. We wanted to meet them and interview them and write about them. With that, we give you: Female Founders, a column featuring women who create, design, and inspire.
If you could find a way to combine the decadence of Parisian lingerie with the laid-back ease of California, you might think you'd bottled lightning. And designer TyLynn Nguyen just about has. Her line of lingerie is as sexy and elegant as it is simple and minimal—this is the kind of lingerie you could practically live in yet feel like it's a special occasion every time you wear it.
Nguyen says her pieces are made for the modern woman, and her inspiration for classic cuts like her silk-charmeuse bralettes and strappy mesh underwear comes from a worldview rooted in the spirit of self-love and sensuality (it is lingerie, after all). But it's hardly just clothing that ignites her imagination. In California, where Nguyen lives, the architecture and mid-century furniture in places like Palm Springs catch her eye. "The intelligence here inspires me," says Nguyen. But for the most part, "my influence comes mostly from within myself."
A Q&A with TyLynn Nguyen
Q
What prompted you to create your own lingerie line?
A
I started modeling when I was seventeen, right before I went to college. I got a full scholarship for running track and was studying fashion design. I'm naturally a fast learner, so I immersed myself—and I connected most with lingerie. It was amazing to me that everything women wore in the history of undergarments was always to attract a man. So often, I found, lingerie was geared toward the male perspective. I thought it was crazy; all women aren't attracted to men. What about lingerie for the woman's perspective? What about lingerie for the woman who loves a woman? Or a woman who chooses not to have a partner and just wants to feel good about herself? So I created a brand that is geared toward what a woman wants and reflects her natural beauty. I am drawn to lingerie because it is the foundation of a woman's outfit. It is like the heart of an outfit. You don't see a person's heart, but you can feel it in their actions. The same goes for lingerie.
---
Q
Did you always want to run your own business?
A
I've always wanted to follow God's plan for my life, and it's always been my work to be the best version of myself in this one life because we don't know whether we have other lives. All these things unfolded, and they led me to intimates. I listened to God one afternoon in my home and sat down at my sewing machine and created samples to show my husband. I told him about the vision that was given to me, and my husband loved my idea, so we started TyLynn Nguyen.
---
Q
What were some of the early challenges?
A
I believe roadblocks are a redirection to the bigger purpose. Whenever we go through something difficult in life, it's not to make us feel less than or to look down at ourselves. These roadblocks, heartbreaks, disappointments—all things I've gone through—have gotten me to this moment today. I needed challenges to become who I am today. I've had negative experiences because I needed to understand things, get through them, and share them with other people.
---
Q
What inspires your design?
A
I am inspired by modern architecture and regal, classic, straightforward dressing. I've always found inspiration in the way my mom dresses and her taste. She's Dutch, so she's naturally drawn to design and the balance of things. I bring my personal perspective to my lingerie and design undergarments that I would want to wear under my own clothes. Some of my style icons are Carolyn Bessette-Kennedy and Sade, so inspiration comes from them, too. I am also inspired by the vision God has for my life; my mom's Catholic, and my dad's a Southern Baptist. I was always the little girl who thought, God did this; God made flowers. It was always a part of our lives and the way my parents raised me.
---
Q
Is there a piece from the collection that you reach for the most?
A
The rose bra in all colors. It's made of the strongest, softest mesh and is a solid staple that looks great under clothes.
Q
Have you learned any lessons from balancing work and life as a wife and mother of three?
A
Communication with my husband has been key—I'm very blessed that I have a loving and supportive partner. But as easy as that sounds, it is a craft you have to work on constantly as schedules get busier and the children get older. I am very proud of the connection I have with my partner. I know that without him this dream wouldn't exist.
I also feel like what changed for me the most was the power I felt from being a person who made another person. Having birthed three children makes me feel like I could do anything. It's empowering, but it's still hard, and you still have to fight off negative thoughts from time to time. I've learned that I'm a beast and can take on anything, but it's okay to ask for help—and people matter.
---
Q
Lingerie can be a deeply personal shopping experience for women—what separates your line from other lingerie brands?
A
Lingerie can be an intense experience. If you talk to any woman when she's buying lingerie, she will recognize how she has a bulge, or something doesn't fit right, or one boob is bigger than the other. We're not supposed to be sculptures; not everything will always be in the right place because of gravity, children, life, food—all of it causes your body to be the way it is, and that's okay. But it's also recognizing that you're responsible for yourself, taking care of yourself, and knowing that no one else has the power to determine who you are. I hope people put on my lingerie and think: There's nothing about me that I need to change. I'm aiming to connect with the spiritual aspect of the woman. The type of women I am designing for are women who want something more spiritual and personal, women who see themselves as more valuable than their appearance, women who value the common spirit connected throughout all of us, and women who desire to live or who are already living unapologetically.
---
Q
There are a lot of positive affirmations on your website: You are perfect as you are. You are beautiful and deserve the world, etc. What resonates with you the most?
A
That entire paragraph is one of my mantras, and it came from my heart. I know who I am as a woman and what I deserve. In a way, the intimacy aspect of lingerie and how personal it is have been therapeutic for me as a designer. I've learned that the way I feel about myself is most important to me. Narcissism is not healthy, but when you arrive at the point of feeling worthy to be here because you are special and unique and your flaws make you who you are, then that's being intimate with yourself. It's being aware of the energy you bring and realizing that you are perfect the way you are. I want to share that with people so we can have a stronger community and bring peace within ourselves. We have to live with ourselves every day. Life is a solo journey that we get to experience with other people who are also on their own solo journeys.
---
Q
Where do you want to take your business next?
A
My mission is so big, and I want to share my distinct style with the world. I hope to bring TyLynn Nguyen to extraordinary levels only God can lead me to. I'd love to have high-end luxury retailers carrying my brand, to expand my e-commerce, and to impact women through engagement. I'm aiming to include more sizing for women because we're of all different shapes. I want to master the body and really understand my community. I want my brand to be a place where people feel included and they know what it stands for. It's all happening, and I am beyond grateful to my community. It is my community that makes this exciting.
---
Q
What's the best piece of career advice you've ever received?
A
Listen to your still, small voice.