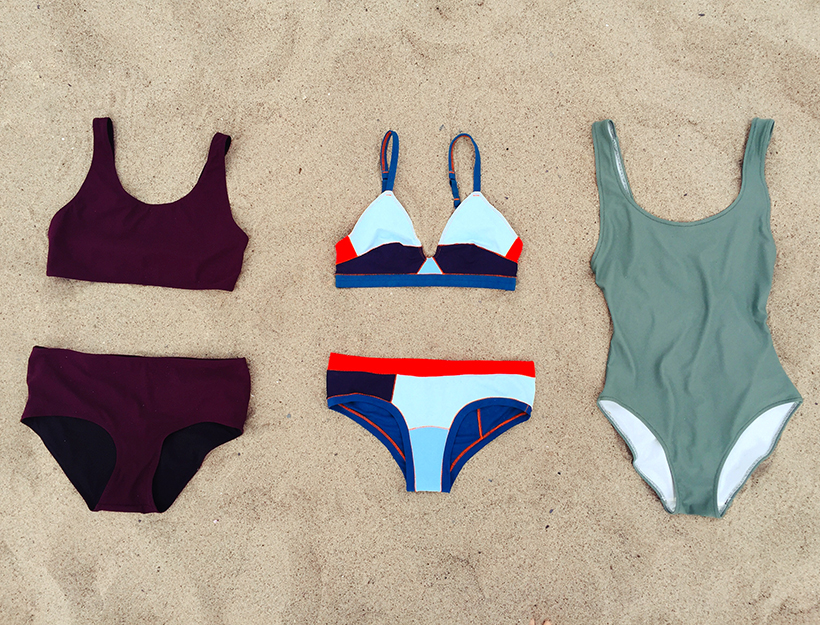 Swimsuits for Every Body Shape
With so much to love about summer, it's a bummer that shopping for a swimsuit is such a dreaded task. Luckily, with a little bit of planning, it's not hard to find a style or fit that not only flatters, but enhances, all shapes and sizes. Below, we took some of the guesswork out of it.
Athletic
Opting for a skimpier cut has the dual benefit of: A. showing off the fruits of your labor at the gym, and B. shaping curves on a more willowy frame—low-slung, side-tie bottoms are particularly well-equipped for this task. Up top, most anything goes (just steer clear of shapeless bandeaus or anything that flattens), from gently padded triangle cups and gathered halters, to deep-cut and asymmetrical necklines, which spotlight toned shoulders and arms.
Wear It With
Boob-Centric
Lift and support are priority number one—needless to say, itty-bitty string bikinis are impractical for top-heavy figures, so consider suits with substantial straps and molded or underwire cups. Sportier silhouettes that take cues from neoprene wetsuits tend to smooth and flatter as well.
Wear It With
Petite
For smaller busts, heavy padding can look obvious and ultimately unflattering. The merits of thoughtfully placed ruffles, subtle embellishments, and splashes of print on a simple triangle or bandeau top can't be overstated.
Wear It With
Curvy
Hourglass figures are best enhanced with dramatic silhouettes and supplemented by extra support where needed. High-rise, retro-style bikinis offer tummy control and simultaneously draw the eye to a trim waistline; underwire and halter-tie tops keep everything in place. It's worth mentioning that clean, uninterrupted lines—like those on a classic one-piece—can also create a beautifully sleek silhouette.
Wear It With
Butt-Centric
Contrary to popular belief, boy shorts and added-coverage briefs don't necessarily do fuller bottoms any favors (in fact, they can have the opposite effect by cutting the hips and butt in weird, entirely unflattering places). Keep proportions in check by opting for not-too-revealing bikinis with higher waistlines and pair with a top of your choosing. Lively prints and dramatic maillots—like cutouts and/or plunging necklines—are both great for directing the eye upwards.
Wear It With