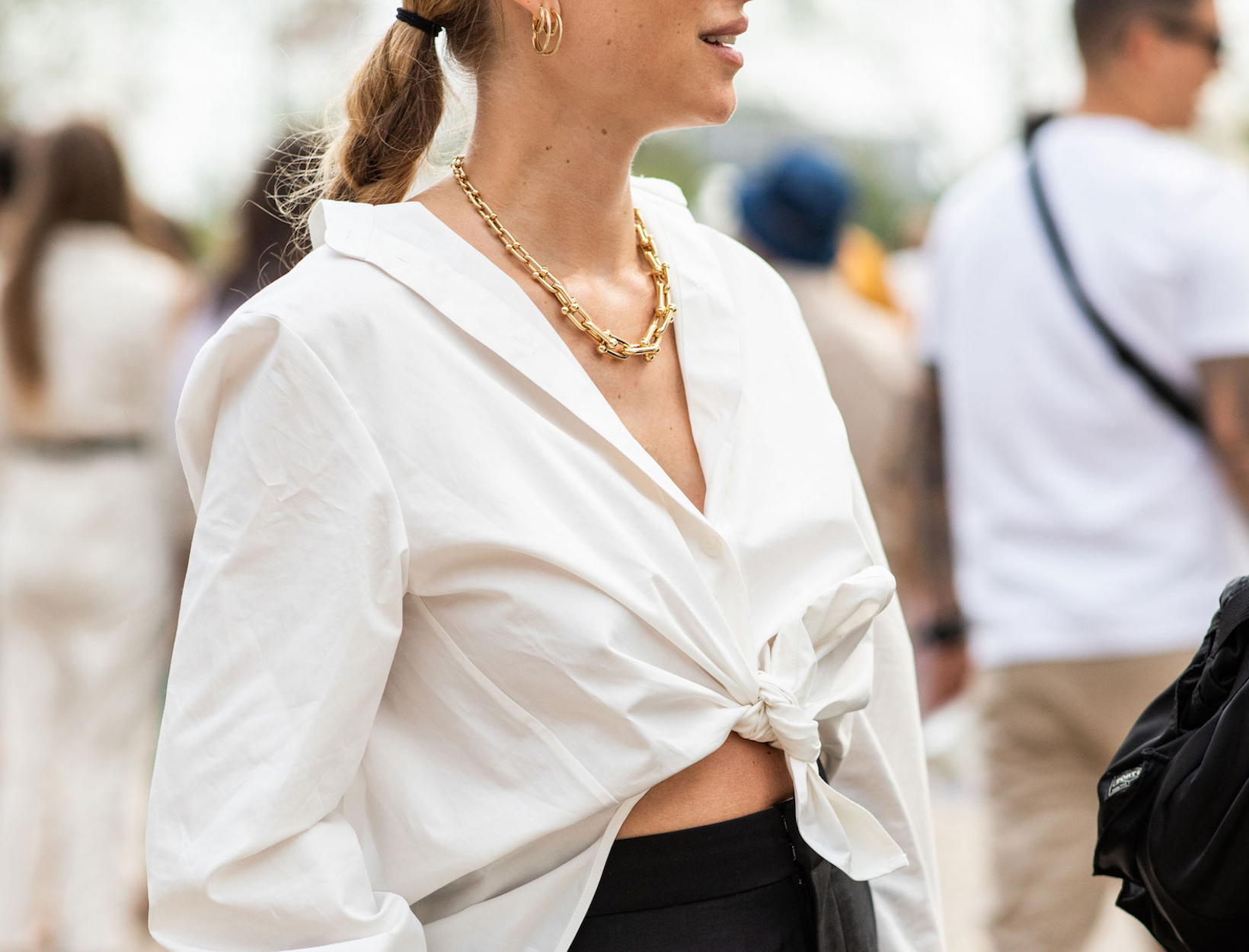 5 New Ways to Wear Gold Jewelry
Welcome to July. Heat is on the rise, clothing skews skimpy, and sartorial flourishes—volume, texture, layers—are trumped by "It's too damn hot." You know what scratches the little-something-extra itch at no cost to your body temp? Jewelry. But not just any jewelry. We're talking about add-ons decked out in rainbow sapphires, earrings punctuated by freshwater pearls, rings inlaid with intricately cut stones. These are the conversation-owning shapes that when paired with the world's most precious metal (gold, obviously), wield the power to perk up everything from a delicately dipped neckline to a best-loved cotton tee.
1

All Whites Reserved

Summer and rosé, sea and stripes, gold and diamonds—some combinations never lose their appeal. An on-point monochrome matchup in—you guessed it—all white lets this timeless combination really shine.

wear it with
2

Face Time

Breathe new life into otherwise serious accessories by getting creative with color (bold bands, bezel-set ROYGBIV stones), patterns (stripes on stripes), or new takes on classic shapes (we swoon for you, Hermès).
3

Chains of Command

Chunky chains veer into lighthearted territory when you embellish them with charms or work in an unexpected pairing, like choker-length links and a sleek, streamlined swimsuit. Pro tip: Double the chains, double the impact.

wear it with
4

Out to Sea

Dip into summer's whimsical under-the-sea trend with low-key glamorous earthly delights that take cues from coral, crustaceans, oysters, even those tropical bahia leaves swaying on shore.
5

The Green Party

Emeralds, ones with a quietly modern edge, are ready to rock with whatever you team them with (tees, jeans, and sneakers included). Oh, and here's a fun fact: They're believed to be the luckiest gemstone of all.

wear it with