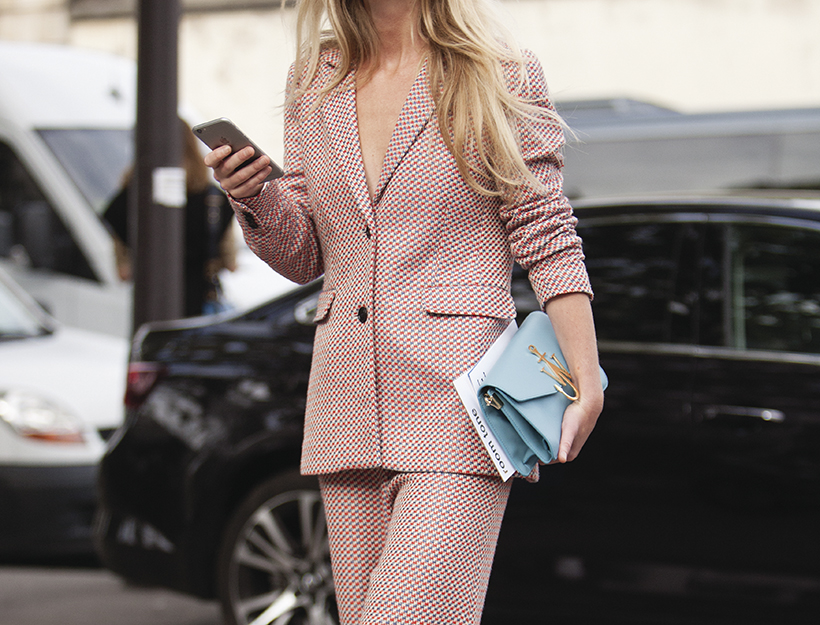 Our Favorite Spring 2017 Accessory Trends
Some of our favorite spring trends don't speak softly. In fact, they go big and bold, whether it's a sampling of the colors of the rainbow, a jewel-toned pump, or berry-saturated pops of color on everything from woven sandals to structured totes. What's nice about any of the below is that the simple addition of just one or two pieces into your repertoire will help jumpstart spring's brighter (and warmer) mood. Consider this your cheat sheet for the season.
SHARP LINES
Crisp lines are the building blocks of a minimalist's spring wardrobe (yep, the trend is here to stay). Keep your palette classic black-and-white for the full impact: Prada's Plex Ribbon Bag paired with, say, a menswear-inspired blazer is a study in modern monochrome, while Stella McCartney's enameled choker will look artful (and tasteful) with a plunging neckline.
RAINBOW BRIGHT
Tackle the entire spectrum of color in one fell swoop with these playful pieces, all of which are sure to put a smile on your face. Add a little bit of of ROYGBIV in your life with a delicate Iam by Ileana Makri rainbow necklace, or, add a lot with these Zara velvet slides with a pom-pom detail, which are guaranteed to put a spring in your step. (We even threw in a Edie Parker phone case for the color shy.)
PINK + ORANGE
Blush pink may have had a moment in seasons past, but this spring we're culling from the entire quadrant of the color wheel for a brilliant assortment of persimmon, fuchsia, raspberry, and pink hued eye-catching accessories. A hint: Shades of pink and orange pair particularly well when worn together, too.
MIXED METALS
Sparkle and shine shouldn't be relied on simply to alleviate the winter doldrums. In fact, there's something to be said about shining bright come spring too—so long as it's done in moderation. (Lamé bikini? Best to skip it.) Gucci's embellished metallic clutch is an ideal shade of coppery-gold that will enhance your sun-kissed skin, while the simplicity of Marni's oversized hoops are striking with any of spring's shoulder-bearing blouses.
A CLEAN SLATE
We're not shy about embracing a white bag or shoe in cooler temperatures, but the case for white-on-white dressing is perhaps its strongest in the spring and going into summer. Here, everyone's favorite trend, the mule, gets a fresh update with an architectural sole from Mercedes Castillo, whereas the warmth of the wood accent on the Marni earrings beckons summer's long days. When in doubt, the effortlessness of a soft-flat clutch from 3.1 Phillip Lim can't be denied.
SHADES OF BLUE
There's something crisp about a dash of cobalt, cerulean, or even powder blue once the weather starts to turn. For one, it looks reliably fresh when paired with classic poplin, and, when paired with an an all-denim look, too, it adds a bit of texture. Here, Balenciaga's go-with-you-anywhere tote will be a staple on upcoming trips and farmers market haul. Plus, these light-as-a-feather chandelier earrings from Annie Costello Brown are sure to be the talk of any cocktail party.
A SLIP OF SATIN
When you think of traditionally warmer-weather fabrics, like linen, gauze, cotton—silk may not immediately come to mind. But for that reason, we love to embrace a pop of the unexpected fabrication as we gear up for the season. Whether it's a statement-making pop of jewel-tone green or an effortless knotted headband, it will certainly dress up anything else you slip on.