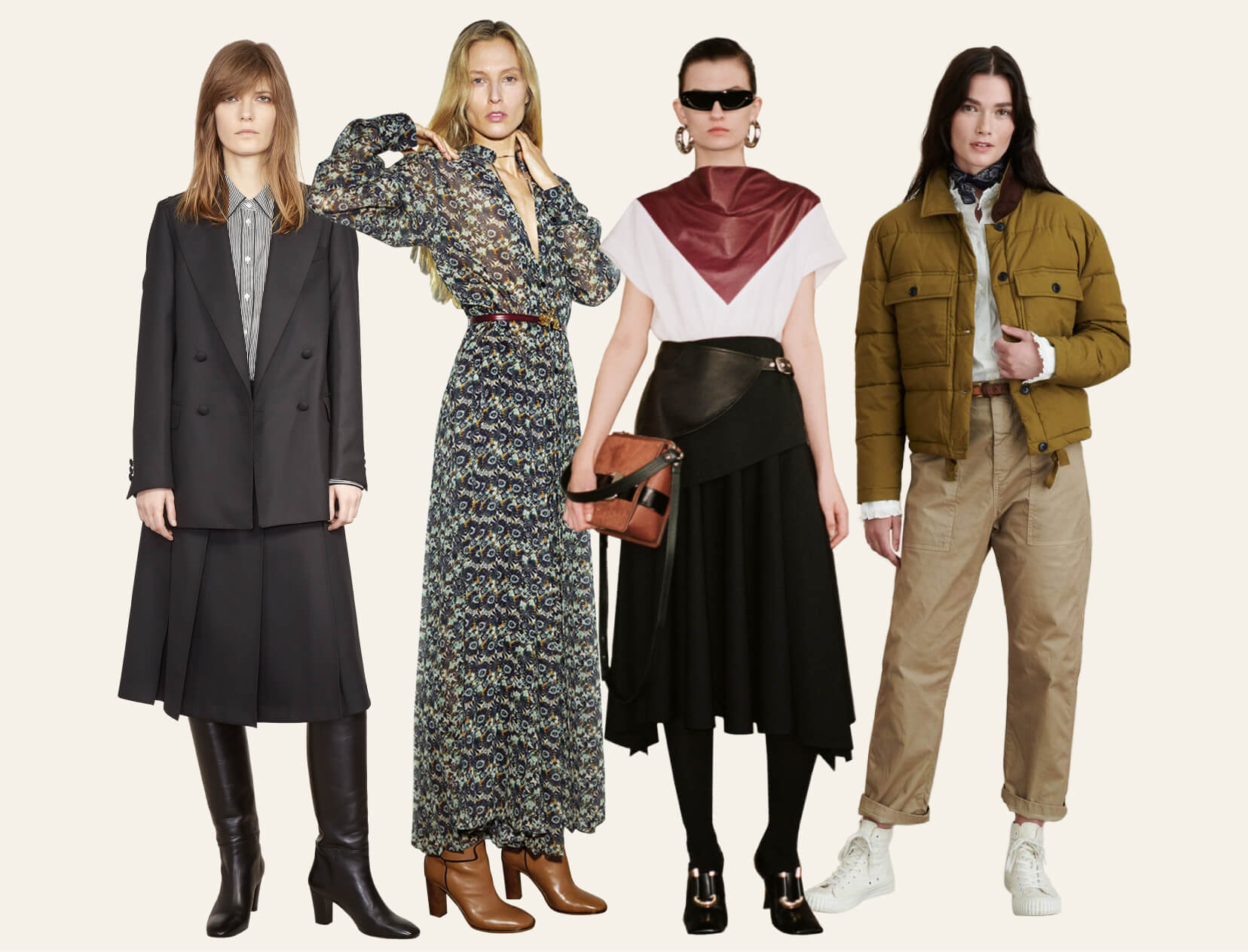 Which Fall Style Archetype Are You?
Shopping by style archetype is a lot like reading your horoscope. While it doesn't paint the entire picture—there's your moon sign, your rising sign, and all the cuspers out there—it's a good place to start. Your personality, your habits, your vibe, the little recognizable truths and on-the-nose narratives we take comfort in knowing: They all tell the story of you.
Which isn't to say that we are each any one thing. But having a broad understanding of what works and what doesn't as it applies to your lifestyle can be useful—you can lean into your aesthetic, dress with intention, and confidently color within the lines of your personal style.
THE FRENCH GIRL AT HEART
Your Vibe: Chic, elegant, and always effortless.
The Palette: Noir et blanc—plus all the luxe leather accents.
Style Mantra: Do less.
You're the opposite of a try-too-hard. You've got mystique. You know the correct way to pronounce Timothée Chalamet and know not one but five ways to style a scarf. Tousled hair? Don't care. Workout of choice? Non. Towering boots and butter-soft leathers are right up your alley—a charming little alley that meanders through the Marais. You're fluent in vintage and pride yourself on your ability to throw together an outfit in the time it takes to say, "Thanks, I got it in Paris." Sophisticated with an air of insouciance, you are the Francophile, to be Franc.
THE BOHÈME
Your Vibe: Romantic—romp-through-a-field-of-wildflowers kind of romantic.
The Palette: Down-to-earth tones with a dose of denim.
Style Mantra: Never underestimate the power of print.
You're free in every sense of the word. You carry around crystals, you are in tune with your dosha, and you flex that intuition every chance you get. Your friends tell you you're the creative type—always marching to the beat of your own drum, which you got from an ex who lives up in Laurel Canyon. You love experimenting…with patterns and prints. You'll try anything once. You've never met a moody floral you weren't instantly drawn to, and your style tends to skew feminine and relaxed—gravitating toward loose-fit fabrics that are as carefree as your wild spirit.
THE MINIMALIST
Your Vibe: Rooney Mara goes to Stockholm.
The Palette: Black, leather, and gunmetal.
Style Mantra: Less is more everything.
You speak streamlined. You really can do more with less. The last thing you'd ever do is overdo it. Tough around the edges, you see fashion as your armor and have that cool-girl look on lock. As for color, well, you're really more of the "Does this come in black?" type. Razor-sharp lines, tough textures, and heavy metals are the stuff of your wildest minimalist dreams—not that you do stuff. No need to overcomplicate things in the closet—restraint is the name of your game.
THE REALIST
Your Vibe: Oscillates between pretty and practical.
The Palette: Classic neutrals and anything with pockets.
Style Mantra: Fashion and function can absolutely coexist.
To say that you're a doer would not be a stretch. Ever the pragmatist, you appreciate the kind of multitasking pieces that work just as hard as you do. Like most things in your utilitarian universe, your closet is a lean, mean functional machine. And while you're all about the basics, you aren't afraid to test the directional waters now and then. Peloton-ing while podcast-ing while prepping for back-to-back video meetings, you need sensible pieces that can keep pace. You are the realist: Efficiency—plus an impeccable uniform—is key.
---