Fall
Recently, I have enlisted the services of an old friend in the style department. Elizabeth Saltzman, the long time Fashion Director (and now Contributing Editor) of Vanity Fair and one of the best dressed girls I know has been getting me dressed when I need to dress up. She's used her discerning eye to pick trends for fall that will work for falls to come—these shapes and fabrics can be used as inspiration and modified for the everyday.
Love, gp
Elizabeth Saltzman
Here is my fashionating list of Fall (sad face) Winter (even sadder face) trends for 2009/2010.
We're already working on Spring/Summer 2010 so this feels like many eons ago… and I haven't even bought a single stitch of newness yet.
But I feel it coming… the trends are showing up… I haven't forgotten what I really wanted for myself or how I really wanted other people I work with to look.
---
Lanvin
Bravo Mr. Alber Ebaz…. You captured the forties, you captured the fashionistas and if I don't have your black velvet, sleeveless, floor length, slightingly draped, belted dress my wardrobe will not feel complete. Bottega Veneta looks were stunning and chic also capturing perfect ease and elegance. There is also Derek Lam whose dress is another good choice and might be easier on the wallet.
Designed by Lanvin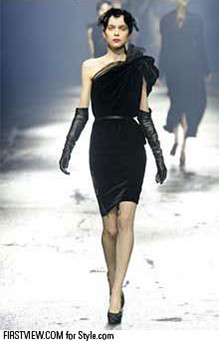 Designed by Derek Lam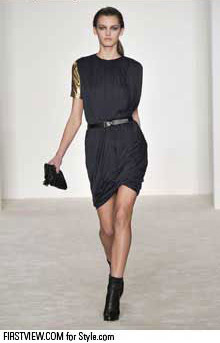 ---
Marc Jacobs
1983: Not only was it my favorite year pre-married life but what a comeback for a year to make… Marc Jacobs show was flawless in representing this. The styling and make-up were extraordinary but my favorite piece that rocked was the black, strong shoulder, studded dress.
Designed by Marc Jacobs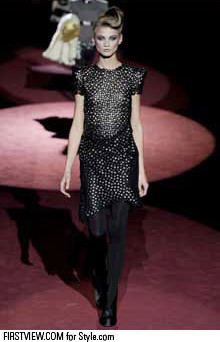 ---
Stella McCartney
Rocked the boudoir… Lace and layering is everywhere but no one did it better than this…
Designed by Stella McCartney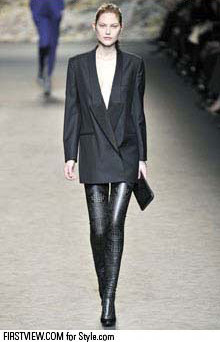 Designed by Stella McCartney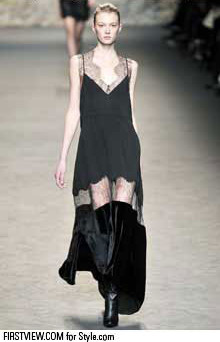 ---
Balmain
Shiny for day is everywhere but I believe this is not an easy look to pull off if you're not young… no one says it better than Balmain. They brought back the shoulder and now they have brought back the stud and sequin. Philip Lim had my favorite little "shimmy shimmy coco pop" dress with a chiffon trench over it… tres cool.
Designed by Balmain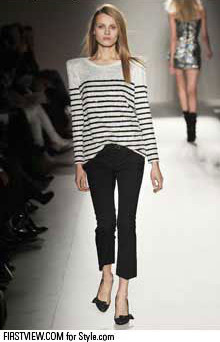 Designed by Balmain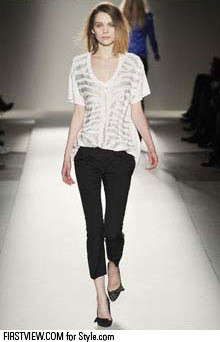 ---
Louis Vuitton
Coquette… Don't try this look at home ladies… this is for runways only. I love a flirty, little dolly look.
Designed by Louis Vuitton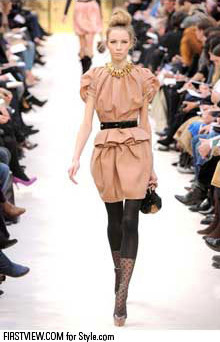 ---
Burberry, Christopher Kane, Prada, Rochas, Bottega & YSL
Cool, smart, long term, class… You can never go wrong with this approach. Grey is so beautiful on every skin tone…there are so many shades to get it right. As my father always told me "when you go out, you represent me." I think what he was trying to say is always be the Jackie O, the Audrey Hepburn and not show off too much. They are my style icons.
Designed by Bottega Veneta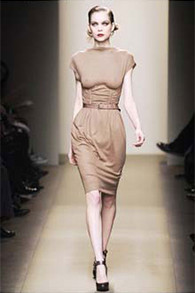 Designed by YSL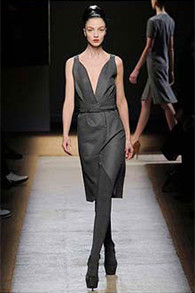 ---
Erdem & Rodarte
Two designers who cannot go unmentioned. Individuals in a class all their own. Ones to keep watch of… so marvelous, strong, and fabulous. My point being… I will always tell someone to wear classic clothing with a small twist but I am keen on anyone who can pull off being an individual with a style of their own.
Designed by Rodarte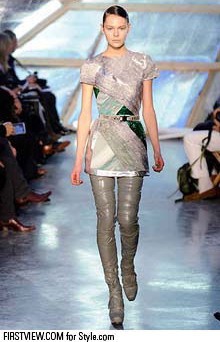 ---
Balenciaga & Oscar de la Renta
Fierce chic… perfect, fitted, flawless. For a President, First Lady, Professor, or any elegant woman whether on a red-carpet or a private dinner… this is fierce.
Designed by Balenciaga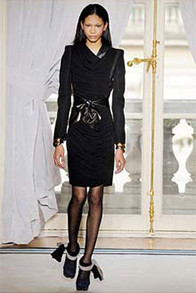 Designed by Oscar de la Renta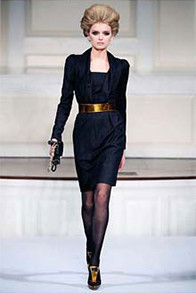 ---
Accessories
It's not me but I can't deny that it's everywhere… Leather, leather, leather, biker, biker, biker. The only thing I am craving are some good old-fashion, worn-in motorcycle boots but most people will pick up a leather jacket. May this trend soon be over. I get my leather (personalized jewelry boxes, bound books, wallets) from Anya Hindmarch Bespoke… the best shop to happen in London opening this September.
---
FYI, this is me Elizabeth'd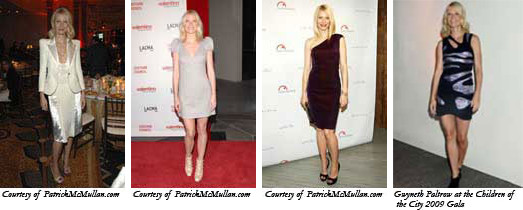 ---