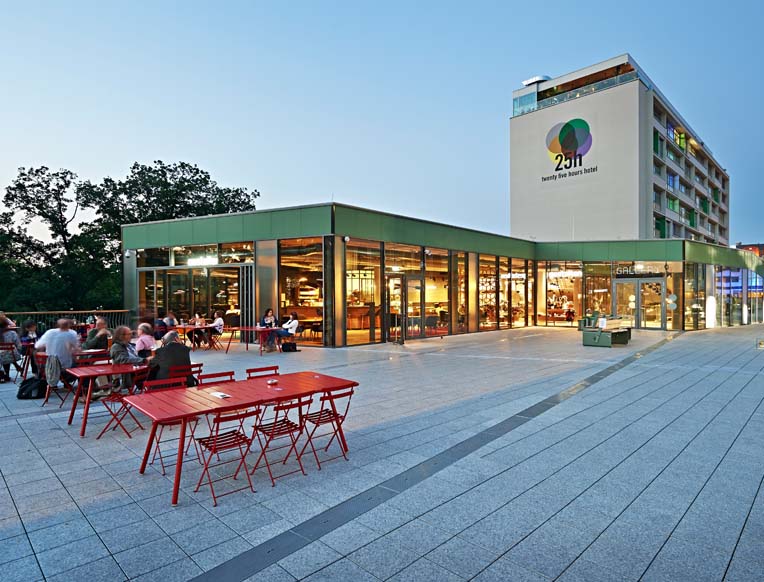 Berlin Might Have Opened the Coolest Mall Ever
For many obvious reasons, few new things in Berlin—whether buildings, coffee shops, hangouts and even boutiques—come without layers of modern history, and few new arrivals come without a large dose of cool as well. The new Bikini Berlin mall (yes, that's a mall and we're excited about it) development is no exception. On a massive corner of West Berlin overlooking the zoo, the Bikini building known for its bikini-like shape-two levels connected by a "bare midriff" glass pavilion—is in the final stages of becoming a new kind of shopping experience for both locals and foreigners. In a place where the burgeoning Berlin fashion industry once thrived and then fell into disrepair, the fashion industry is getting a second chance, in a massive regeneration project that includes shops, a hotel, restaurants, and a movie theater. The new Bikini houses a bounty of indie pop ups along with permanent boutiques from the very first shop for Odeeh-a gorgeous German womenswear line made with custom Italian fabrics-to Andreas Murkudis' first venture into West Berlin with AM+ (he's the man behind the original and always on-point eponymous concept store in the city), to Gestalten's new pavilion store displaying it's considered leap into lifestyle publishing, to the awesome East Berlin shop for mid-century antiques, Yellow.
And there's more: There's also the super playful 25 hours hotel connected to the mall, where all rooms offer floor-to-ceiling windows overlooking the zoo. It also has a restaurant and Monkey Bar on the rooftop, and a stunningly restored 50's movie theater, the Zoo Palast, which was once home to all the Hollywood glitz and glamour of old Berlin. The brain behind the concept is Nicole Srock Stanley, who found a branding agency with her husband (he happens to be running the zoo restoration project), Dan Pearlman. Thanks to her work as creative director, there's a seriously layered network of coolness, and definitely a good full day's worth (or two) of activities for all ages in this thriving island of tricked out hipsterism in West Berlin.
Photography by Yves Sucksdorff, Copyright Gestalten 2015