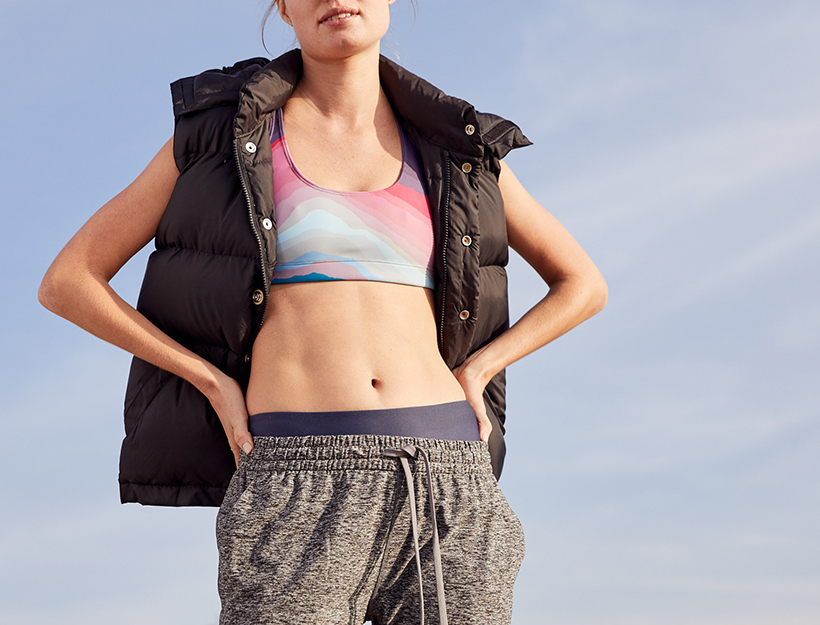 Workout Wear When It's Cold AF
Working out in winter poses its own set of problems: Namely, what to wear to, from, and during? Bundling up just the right amount is key, but we're not talking about just piling on the layers. Nobody wants to run outside in layers that can't be removed easily, but working out in the cold can be seriously unhealthy if you aren't insulated properly. Likewise, after a yoga class, you don't want to shiver all the way home and undo the relaxation of Savasana—but on the other hand, it's annoying to interrupt your flow to peel a layer off. Below, our tips on how to work with—and around—your fluctuating body temp to keep cool while breaking a sweat.
FOR A HIKE
The last thing you want is to carry too much extra gear while hiking, so choose pieces to suit the intensity level you're going for as well as the weather. Here, it's all about warm but breathable separates: A warm fleece core—with a thin, lightweight, weatherproof shell on over it—won't be too bulky, but will protect you from the elements.
FOR A RUN
If you're going for a run on a chilly morning, opt for thin but purposeful layers so that you won't overheat once your body temperature rises. This chic sports bra also works on its own as a crop top, but the super-thin cardio jacket is a lightweight but full-coverage base layer to help regulate your body heat. Heat escapes most through your fingers, feet, and head, so wearing insulating running gloves and durable socks is a must. A fanny pack—love it or leave it— is also pretty genius.
FOR A YOGA CLASS
We can think of a few ways to make this work: The leggings/sports bra combo is a cute base layer to hit the mat in (just add tank), and it works well under cozy sweats both to and from class. We love the socks (with non-slip, grippy soles); when you're heading out you can just slip on your Birks.
Related: Stylish Workout Clothes