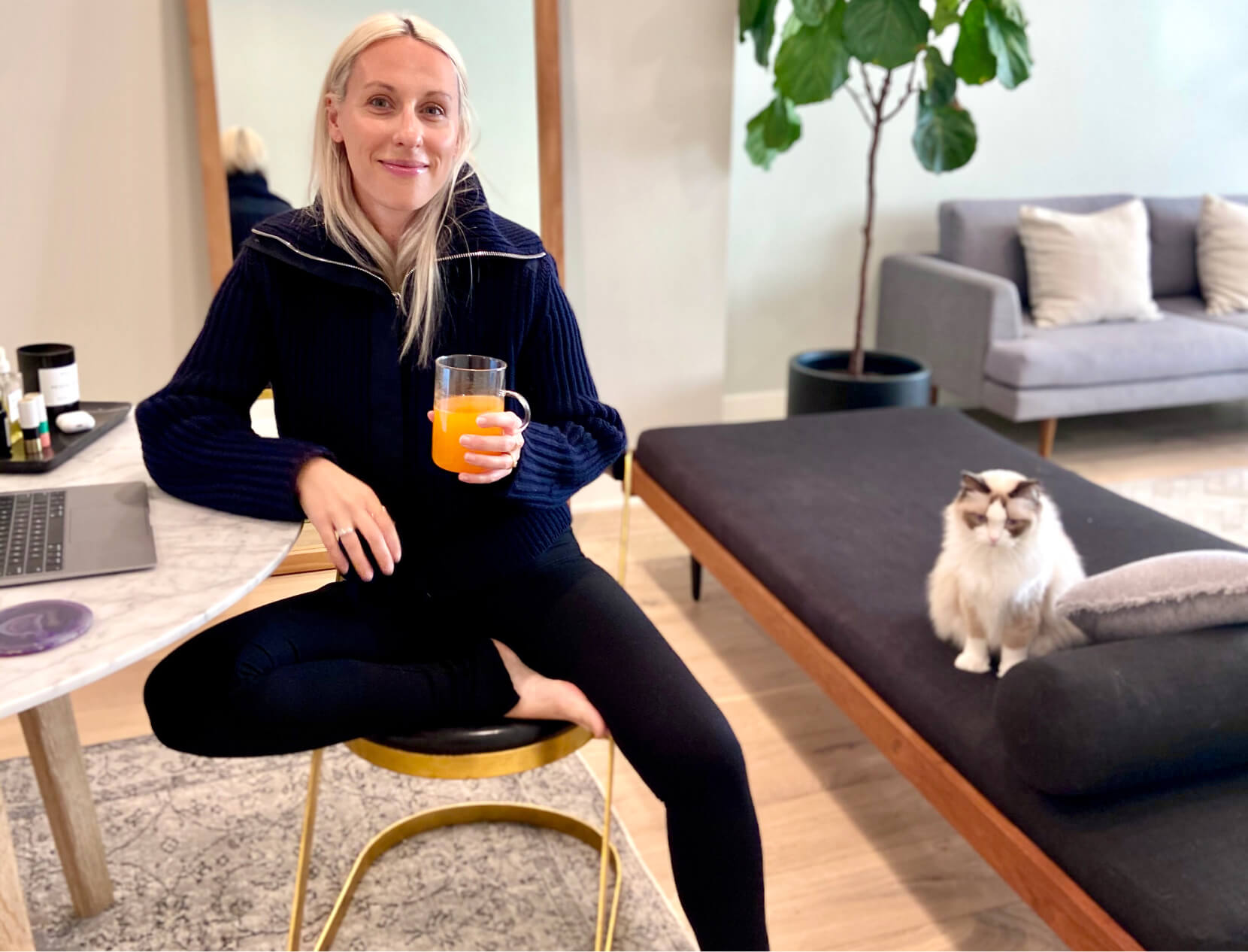 A Week of Outfits: Ali's At-Home Edition
Ali Pew can navigate the goop fashion closet blindfolded, can streamline a look in three moves or less, and knows how to stretch her personal style just enough to keep things fresh. At goop HQ, we're always taking notes on her subtly nuanced minimal looks, but because we're only seeing her from the collar up on video calls, we requested a rundown of what our fashion director is wearing all week while working (and doing everything else) from home.
Monday
"Monday mornings are busy, so keep things simple, I went with this one-and-done jumpsuit. It's easy but has personality. Plus I wanted something creative and fun that would work for a morning of diving into look books and brand visuals for inspiration as well as for a breezy afternoon walk around the neighborhood. Lunch these days often means tying on an apron and making something savory and nourishing in between emails—this sweet potato is so easy."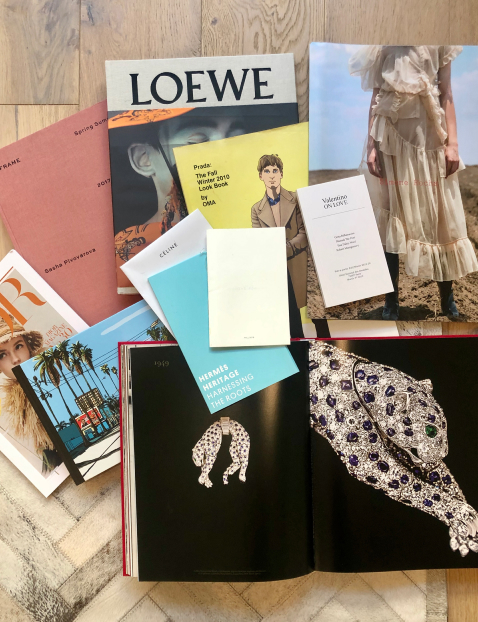 Tuesday
"Back-to-back Zoom meetings called for a sophisticated top with a feminine puff sleeve (the "touch-up my appearance" feature doesn't work for clothes) and a comfy skirt. I even put on a swipe of makeup today. For a midweek pick-me-up, I turned Tuesday into date night by having our go-to Felix order—pizza and pasta—delivered: Everything comes in a kit, so you get to do the last bit of preparing yourself. After dinner, my husband and I played cards (I won)."
Evening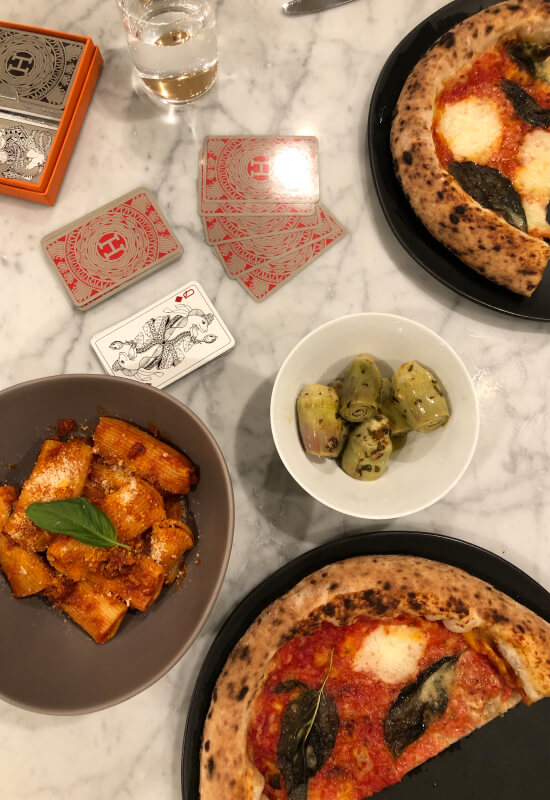 Wednesday
"Starting the day with one of Erika Bloom's streaming Pilates classes (shout-out to my favorite instructor, Claire) means going straight into meetings, but the endorphin boost is worth it. These contoured leggings feel sleeker than your average pair, and I added a structured, cinched jacket—perfect for fielding video calls and transitioning into an evening run. The new Weeknd album is so good, I think it's making me faster."
Thursday
"A midday grocery run is now officially stressful, so I opted for comfy, trouser-style wide-leg jeans and a pullover—the collar-hood combo makes this one extra chic. And of course, the current leave-the-house essentials: totes to haul everything home and a cute gingham mask from Kassandra Maria (I also love the ones from Heather Taylor Home, and both companies are donating masks or proceeds!)."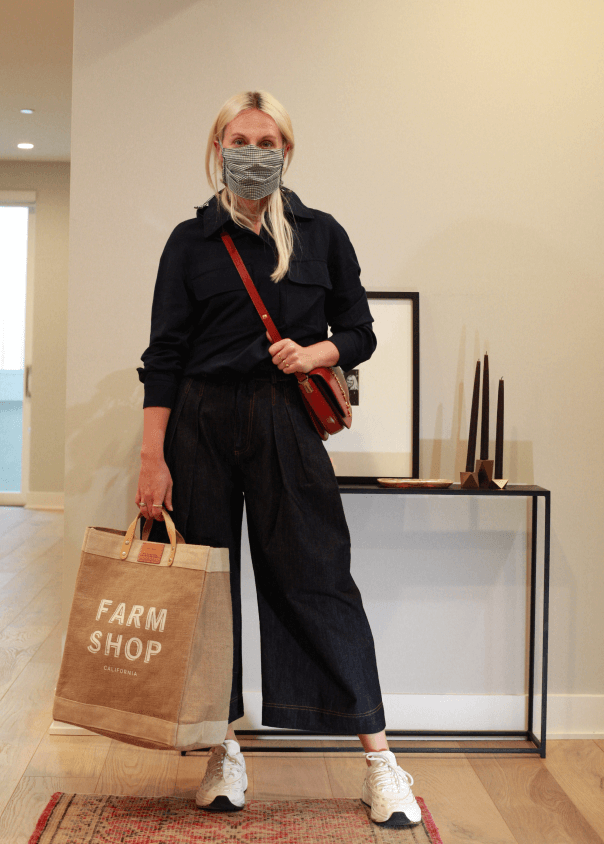 Friday
"My morning got busy fast, so when I looked up from my laptop at 2 p.m., I was still in sweats (these cute rolled-up ivory shorts lessened the blow, but still). Then I realized I actually had a reason to dress up: Zoom night with my friends—I surprised them by showing up in bright pink. If you know me, you know I never do color, but I've been inspired by people wearing brights to bring joy, so why not! Tip for fellow neutral addicts: A knit is a great way to dip your toe in."
Day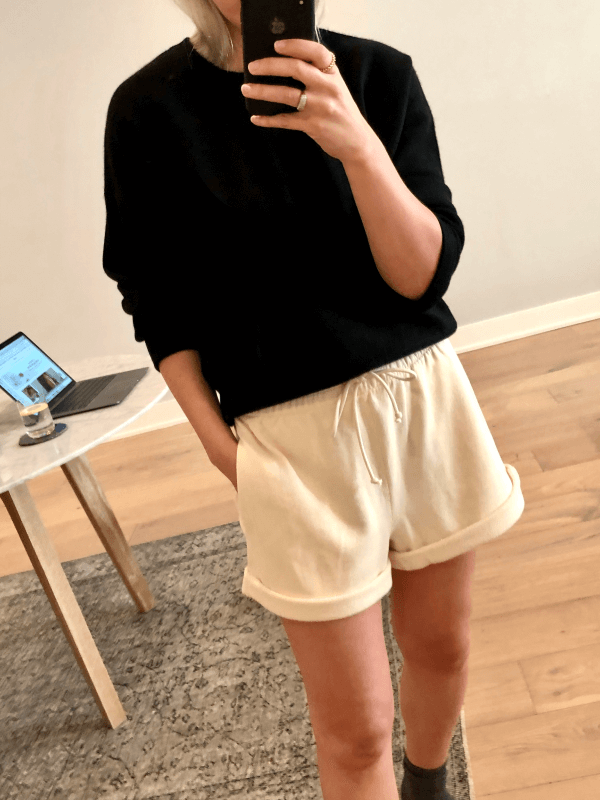 Evening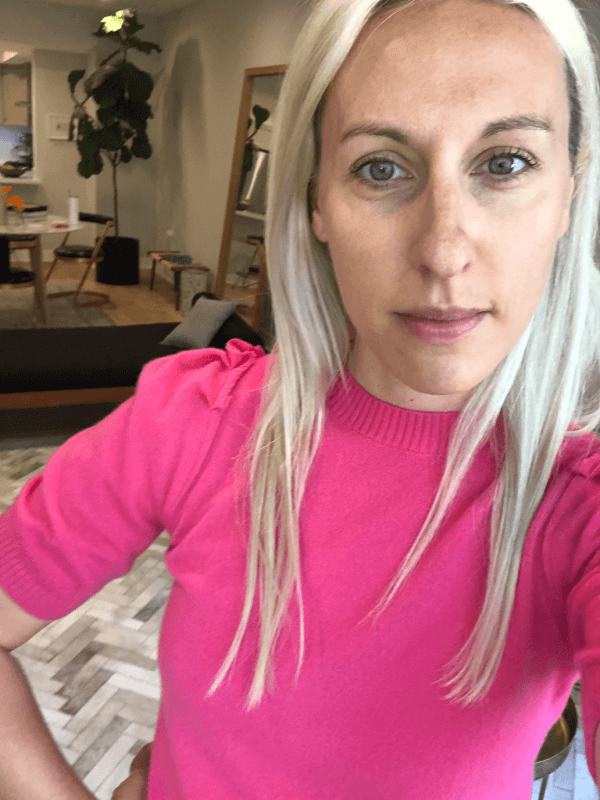 Saturday
"Easing into the weekend, I wanted something light and airy—how a good Saturday should feel. I slipped on this breezy cotton dress, SPF 50, and easy-on, easy-off sandals and spent the day reading on my patio. It seems like I'm the last to read Three Women, but better late than never. After this one, I'm diving into How Much of These Hills Is Gold for goop Book Club."
Sunday
"All-day pj's are even better when the top matches the bottom—and the print matches the African safari livestream I can't stop watching. Explore.org has a bunch of livestream options, but the big five currently have my heart. By dinnertime, I was ready for this delicious pasta (sheltering in place has really leveled up my kitchen skills), and I closed out the weekend with my Sunday self-care ritual: Microderm facial and a soothing bath."
We hope you enjoy the books recommended here. Our goal is to suggest only things we love and think you might, as well. We also like transparency, so, full disclosure: We may collect a share of sales or other compensation if you purchase through the external links on this page.