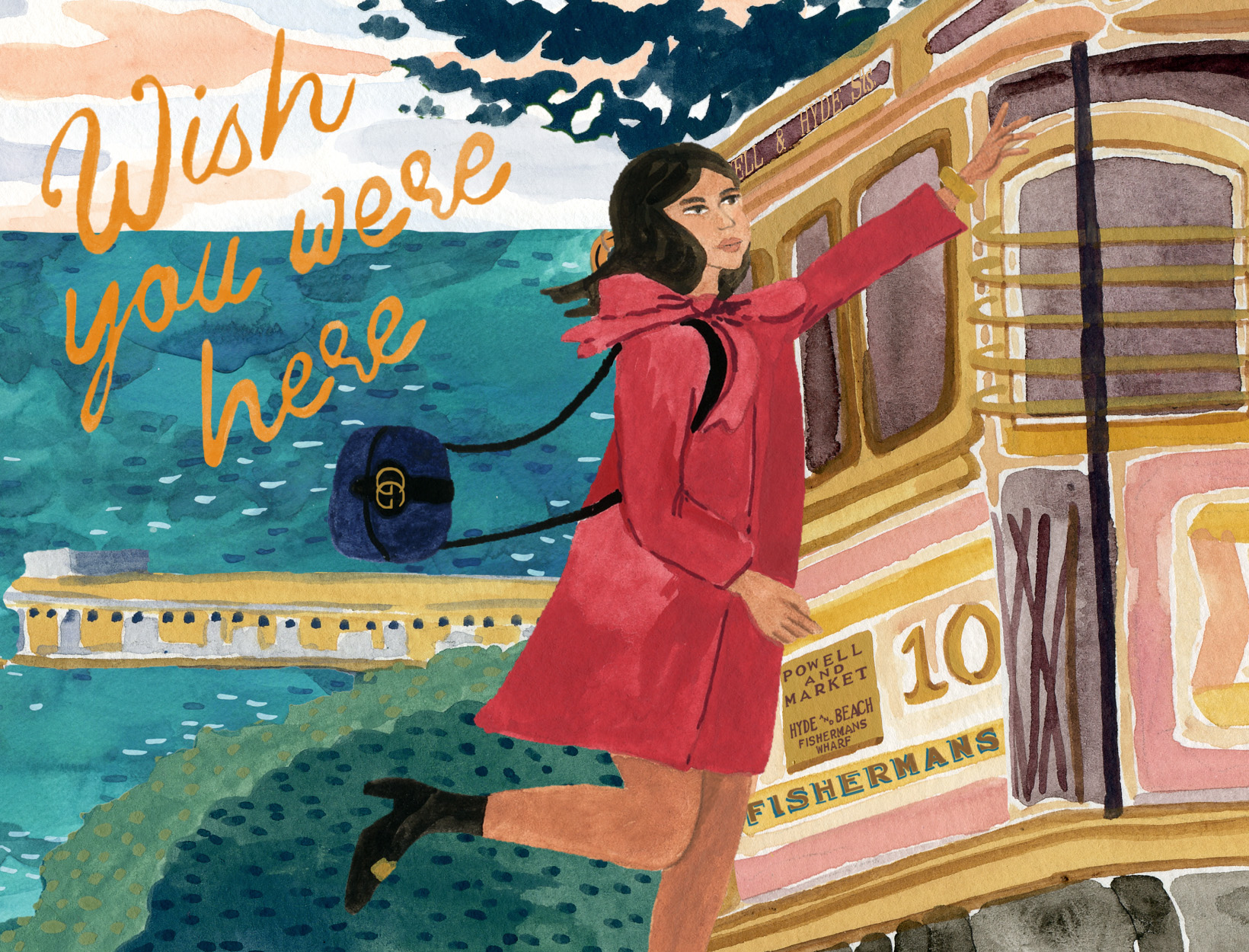 Illustrations courtesy of Angela McKay
Wish You Were Here:
A Style Guide to Three
of Our Favorite Cities
In partnership with our friends at


Half the fun of a trip out of town is packing—imagining the fun mornings, the afternoon strolls, the long, decadent dinners, and what you'll wear for every one of them. We set our sights on three American cities, each with a rich history and a strong personality, and selected the pieces that perfectly complement each. Also along for the ride: the Gucci Arli bag that's exactly right for exploring museums, discovering new restaurants, and staying out too late.
CHICAGO

It's the only big city that can also lay claim to Midwestern charm—so a trip to Chicago means versatility: sleek leggings, cool kicks, and a burgundy leather top-handle bag big enough to stash a pair of warm gloves and a scarf. While you're there, be sure to check out the Art Institute and the Renzo Piano–designed Modern Wing and, if you can, tour Frank Lloyd Wright's iconic home and studio in Oak Park. Finish the day with drinks at Soho House and dinner at Elske for a Scandinavian-inflected meal.
DALLAS

There's nothing subtle about Dallas, which is exactly what gives this city its character. While we're in town, we love to shop for charming home items and flowers at Grange Hall, stroll among Rodin and Richard Serra masterpieces at the Nasher Sculpture Center, hang by the pool at the Rosewood Mansion on Turtle Creek, and indulge in some of the best sushi anywhere at Uchi. It's a trip (and a city) made for bold statements and bright colors—turquoise floral jackets, hot-pink skirts, and a crisp, white-and-gold Arli bag.
SAN
FRANCISCO

The famous fog that tumbles down the hills onto the city makes for beautiful pictures—and chilly nights. It's a perfect reason to throw on a cozy sweater, grab your crossbody bag (which is ideal for running around town), and settle in for a long, luxurious supper at Leo's Oyster Bar. Afterward, head back to your room at the Hotel Drisco in Pacific Heights and turn on a movie in keeping with San Francisco's darkly romantic vibe, like the Hitchcock thriller

Vertigo.

Watch:
Vertigo