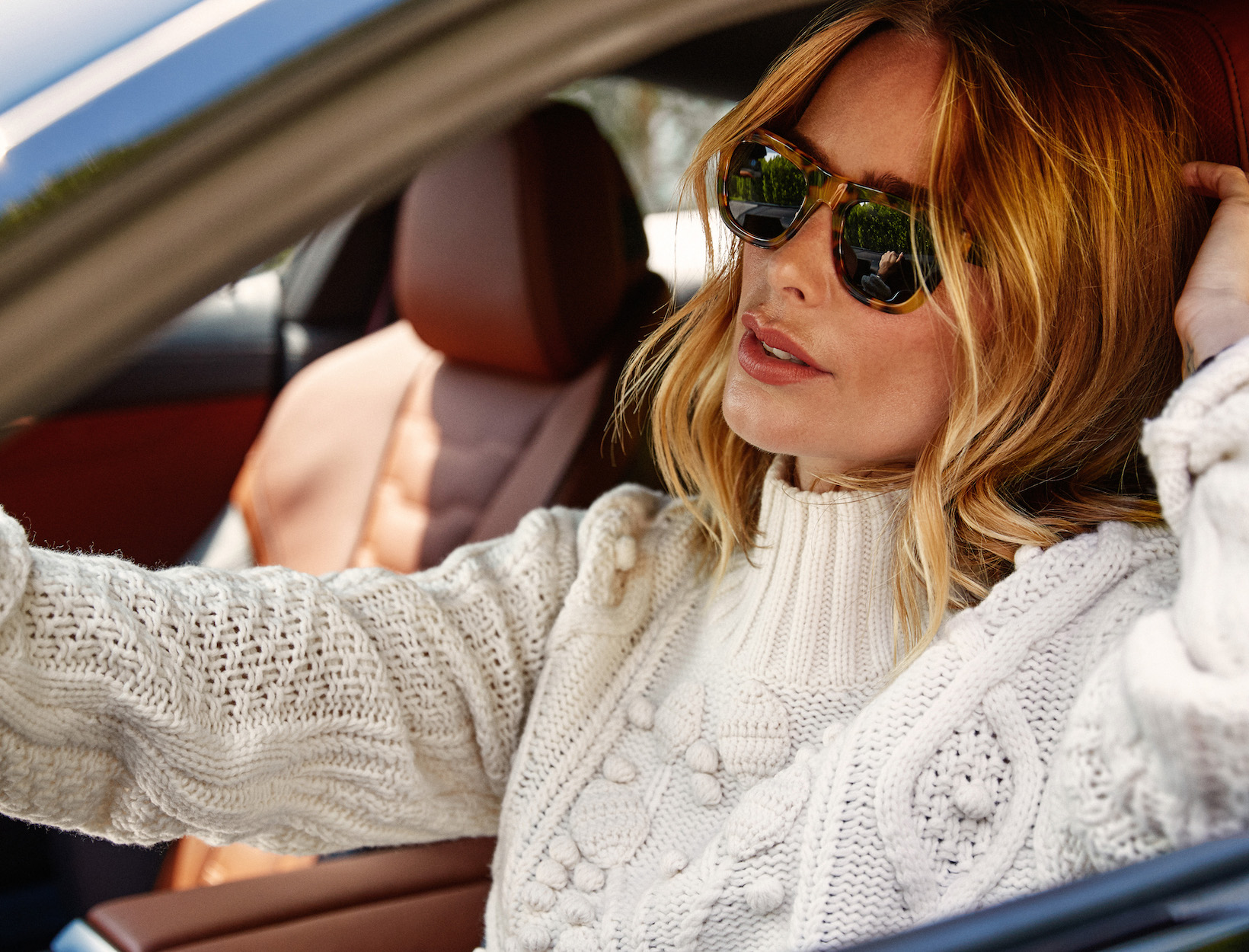 Designer Anine Bing gets into her BMW 8 Series for a day of meetings that has her shuttling between her office in Downtown LA and the West 3rd flagship store.
DAY IN THE LIFE
Why (and How) This Danish
Designer Loves LA
In partnership with our friends at

Los Angeles—the city, the desert, the beach, the Rose Bowl flea market—inspired designer Anine Bing, a former blogger and model, to create her now-six-year-old clothing line. "All of the pieces I design are infused with the city's history and creative energy," says Bing, who started the business with her husband, Nico, out of their home in Silver Lake. (They now have an office in Downtown LA and nine stores, including an LA flagship and their newest in the Palisades Village.)
Fittingly, she built her brand with some distinctively LA designs: The first collection included jeans, a leather jacket, and T-shirts, a foolproof combination that half of the city, it seems, along with Bing herself, wears almost daily. "I feel most myself in a great pair of jeans, a vintage rock tee, and a great fitting leather jacket," she says. "The pieces I reach for in the morning—the ones I don't have to think about—are the most meaningful to me."
And perhaps because Bing started her career blogging in Sweden, she's been in touch with what women want to buy for a long time. (More often than not, it's exactly what Bing is wearing. For more outfit inspiration, Bing's Instagram account, is pretty fantastic.) So she set her line apart by releasing new pieces every week, as opposed to traditional seasonal drops. "It's how women want to shop now," she says. This year, she added Bing Kids, inspired by her own kiddos at home, Bianca, seven, and Benjamin, five.
Bing is the first to acknowledge that running a business involves more than the standard 9 to 5, especially when your life partner is your business partner. "We make a real effort not to take our work home with us," says Bing, who is both founder and chief creative officer at Anine Bing. "It's a fine balance because we really love working together, so it's easy to get excited and a little carried away. We're finally starting to get the hang of it."
We dropped in on Bing in get-the-kids-out-the-door mode one morning, making ourselves right at home in her gorgeous Spanish-style Silver Lake home, and marveling at all she manages to cram into a day.
6:30am

"I'm a morning person. I wake up and am ready to go. When the kids were little, they'd wake me up, but now that they're getting a little older, they sleep in later. First I catch up on emails that have come in from Europe. Then I check my schedule for the day and Instagram for inspiration (and to answer any messages that may have come through)."

7AM

"The kids are up. We usually eat breakfast together at home. On the weekends, we go to Joan's on Third. Everything on the menu is so good, but I always order the same thing: avocado toast and a soy latte."

"If I have extra time in the morning or if my husband takes the kids to school that day, I try to squeeze in a quick hike with our dog, Luca. We live right by Griffith Park, so I do a quick hike for some fresh air."

8am

"Every day in the office is different. I'm very hands-on. I might meet with our wholesale team to discuss new retailers or sit with our PR team to go over speaking engagements or events we're hosting."

"All the clothes in the line are easy to mix and match, so I don't have to think too hard about putting an outfit together. That's why I started designing in the first place: I want getting dressed to be effortless for everyone."
1pm

"Other days, there's so much going on off-site that I don't even make it to the office. Instead I run around LA, meeting people at our store on West 3rd Street or working on campaign shoots with our creative director."

6pm

"Depending on the day, I either make dinner at home (we love pasta) or we order in. Nico and I spend time relaxing and playing with the kids outside in the backyard. Most nights I prefer quiet family time, and I try to use the time of day as an excuse to put my phone down."

"When you're taking care of two kids and running a business, it can be hard not to be dialed in all the time. Much of my day-to-day happens on my phone, from emails to Instagram. So at the end of the day when I'm with my kids, I try to stay off the phone. Being present is important to me. It's a balancing act."

"Every once in a while, I go out to dinner with friends in the neighborhood. The vibe at Pace is so amazing. I love how it's tucked into Laurel Canyon, super private and cozy and special. And of course, they have the best pizza and pasta."

10pm

"The best beauty advice I've ever received was to go to bed by 10 p.m., and I've tried to stick to it. It doesn't happen every night, but I take a few minutes for myself—whether it's a mask and a spritz of True Botanicals Renew Mist or a bath. I try to read as much as I can—I'm reading the The Power of Now by Eckhart Tolle at the moment. I don't always have time, but I like to get through a few pages before bed."
Anine's Picks