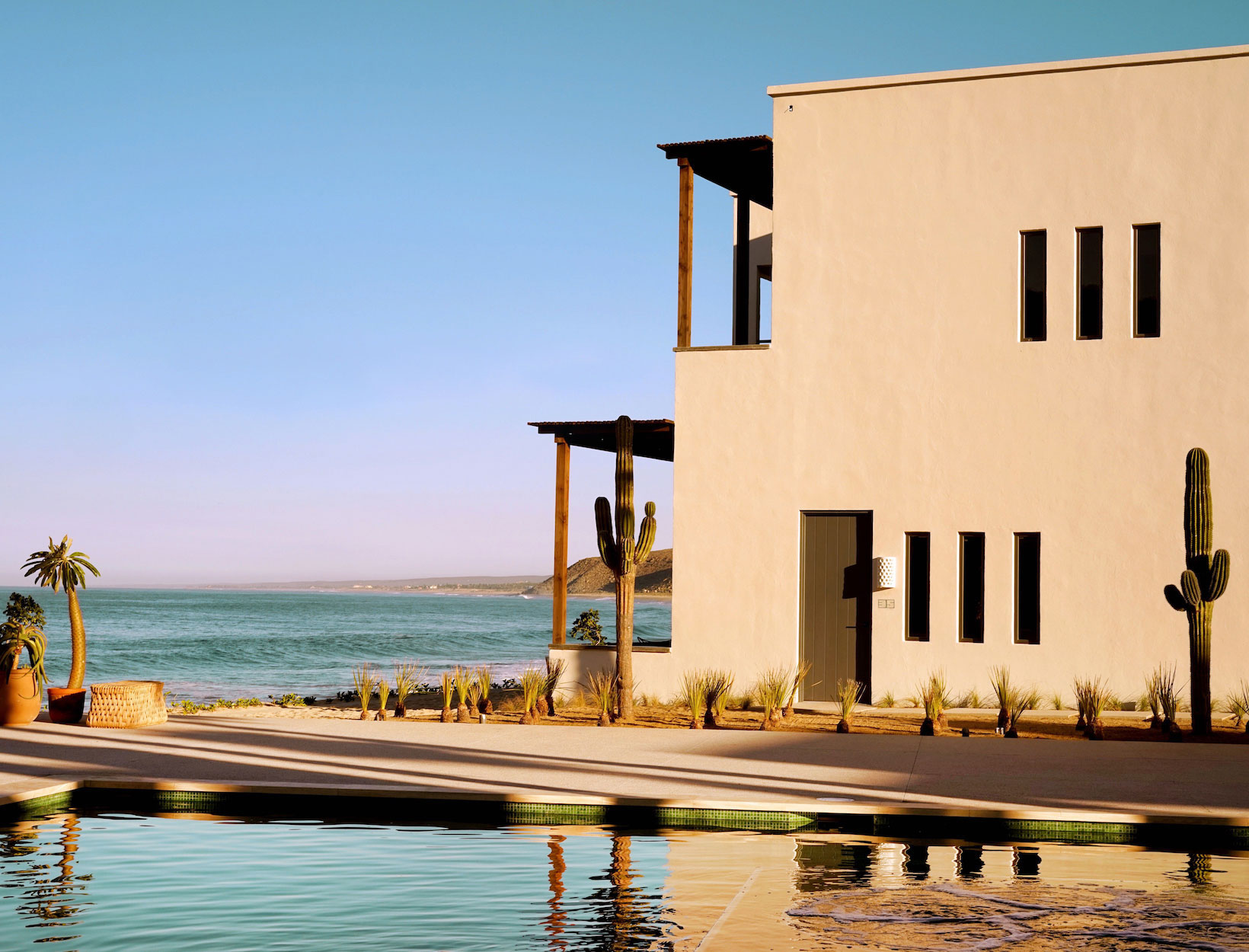 Where to Go and What to Wear
This Summer
In partnership with our friends at


TODOS SANTOS
This tiny surf-town-meets-desert-utopia in Mexico's Baja California Sur is a far cry from the slick resorts just an hour south in Los Cabos. And that's exactly the point. Here, fisherman reel in their haul daily at Punta Lobos, and the soil is ripe for avocados, chilies, papayas—in other words, you'll eat very well here. The restaurants are great, the beach is gorgeous, and there's an impressive art scene, but Todos Santos still feels quiet and a little undiscovered. Or at least as undiscovered as a Mexican beach town can be.

Stay: Todos Santos has long had a quiet appeal for both artists and surfers who have appreciated the town's understated, laid-back vibe. So it follows that hotelier Liz Lambert (of Austin's Hotel San José and Hotel St. Cecilia) would head way south of the border before everyone else caught on. About fifty miles north of Cabo San Lucas, Hotel San Cristóbal Baja, a thirty-two-room beachfront property, is a thoughtful reflection of its surroundings: hand-stamped concrete tiles, locally made furnishings, and colorful Guatemalan fabrics anchor much of the inside-meets-out design. (If you remember nothing else: The ocean king has a beautifully tiled, generously sized soaking tub that looks out onto the ocean.) The infinity pool has an unobstructed view of Playa Punta Lobos, and there are plenty of indoor-outdoor spaces and hammocks for reading or dozing or doing nothing. In the evening, make your way to one of the fire pits as the sun goes down and a light chill sets in. Benno, the restaurant on the property, melds Mediterranean and Mexican flavors while relying heavily on fish caught by the local fisherman who share the beach with the hotel and organic vegetables grown at a farm down the road. Also standouts: the cocktail list, which centers around small-batch mezcal and tequila, and the wine list, with some impressive Mexican labels.
Do/See: The location right on the Pacific is pretty great, especially if you surf. (Just don't confuse this Todos with the famous surf break at Todos Santos Island—that's in Northern Baja.)
If you want to take lessons, the hotel will set you up with the guys at Mario Surf School, who'll orchestrate everything from a two-hour lesson to a longer full-day excursion. Playa Cerritos, about twenty minutes south of town, offers both mellow waves as well as a rockier point break to choose from depending on your propensity to shred. Todos also happens to be surrounded by miles of biking and hiking trails that weave through the foothills of the Sierra de la Laguna mountains. The hotel is stocked with cruisers to take for the four-mile ride into town, or the concierge can track down mountain bikes from a local outfitter. Punta Lobos is one of the most popular hikes in the area, and for good reason: The payoff is a crazy view of a sea lion colony that has made its home in an abandoned fishing village. Spend the afternoon in the colonial town of Todos Santos, which is within striking distance of the hotel and lined with galleries, tiny boutiques, and taco stands. If you want to head into town one night for dinner, La Copa Cocina has great fish tacos and a pretty garden terrace, where tiny flickering lights hang overhead. For shoppers, Nomad Chic is a one-stop shop for the beach (Itawuli towels, gauzy linen cover-ups, and the perfect sun hat), particularly convenient if you forgot to pack something. And Etnica is a tiny, nondescript shop that has some of the best (and most reasonably priced) beautifully embroidered blouses and cover-ups. And while we don't usually get excited about a hotel gift shop, the one at Hotel San Cristóbal has assembled a spot-on edit of artisan-made bags, cover-ups, and Mexican blankets turned robes just like the ones hanging in the guest rooms.
Don't Miss: Dinner on the rustic farm at Hierbabuena, about a fifteen-minute drive from Hotel San Cristóbal is incredibly special, particularly around dusk. A walk down a winding dirt path through the veggie- and cactus-lined garden takes you to an open-air restaurant marked by communal picnic tables. The chalkboard menu changes daily but you can always count on wood-fired pizzas, local fish, and cocktails loaded with fresh fruit and garnishes.

What to Wear
Castello Di Casole, Tuscany
Tuscany is one of the few places in the world that really looks like the postcard of itself. The hills are really that rolling. The views that spectacular. And the curvy, cypress-lined roads are really that…cypress-lined. The place just takes your breath away no matter how many times you go. And the good hotels know exactly what they're doing: They all have vineyards, they all have olive groves, and they all offer delightful aperitivi. The great hotels, however, go a few steps further.
The recently reopened Castello di Casole is a refurbished castle that pretty much encapsulates every blissful vision of a summer in Italy we've ever had—the views, the dusky orange air, the Rosso di Montalcino, and the endless feeling that you're starring in your own Iris Origo story.

Stay: While Tuscany certainly isn't short on incredible hotel experiences (Castelfalfi, Villa San Michele, we're looking at you), Belmond's recent renovation of this medieval castle—the original structure dates back to 998—is impressive. The place is surrounded by hundreds of acres of olive groves, vineyards, and gardens with ancient Etruscan artifacts still buried beneath the soil (a sampling of the relics they've dug up is on display throughout the property). The estate is an easy drive from the Tuscan cultural trinity that is Siena, Florence, and San Gimignano, but tearing yourself away from the castle is hard. With thirty-nine rooms and suites, it has a laid-back atmosphere and privacy that feel more akin to staying at the restored home of an old Italian aristocratic friend (in case you have one of those). There's nothing overdone or ostentatious about the place, if you don't count the Ferraris in the parking lot. Walking across the terra-cotta flagstone floors in the rooms, catching the breeze from the open windows, glancing at miles upon miles—well, kilometers upon kilometers—of rolling hills are just some of the thrills of being here. The cantilevered infinitely pool seems to just…hang over the surrounding landscape, which is teeming with deer and pheasant and symmetrical groves that seem to stretch on forever. There are plenty of ways to get familiar with the estate's diverse acreage—on horseback, by bikes, on a truffle-hunting expedition, or just meandering around writing poetry.
Do/See: The Castello has two restaurants and a bar with an impressive aperitivi that can easily morph into apericena. For a real blowout, book a table at Tosca. The restaurant specializes in Tuscan fare with enough Brunellos and Super Tuscans on the menu to sink a small ship. Slide into one of the upholstered booths illuminated by a series of sculptural glass chandeliers (hand-blown in Murano) for a multicourse extravaganza. This is not the place for a bowl of pasta and glass of vino. Go big with the six-course tasting menu replete with handmade ribbons of tagliatelle in a saffron boar ragu, suckling pig in a chianti vinegar reduction, fillet of beef with black truffles sourced on the estate, and fresh vegetables all grown in the surrounding gardens. While Monteriggioni is a little closer, San Gimignano is close enough to make a half-day trip on a bike, and the medieval town of towers is entirely worth the jaunt. Many of the buildings have been standing since the eleventh century, and less than a dozen of the seventy-two original tower houses remain (a style preferred by the medieval locals to display status and wealth). There is no other town architecturally quite like it in Tuscany. After fueling up with an espresso, head to the Duomo, which has kept watch over this ancient citadel since 1056. It's Romanesque in genre, and inside, nearly every scrap of wall space is covered in Old and New Testament frescoes—most of which date from the 1300s—the color pigments still vibrant hundreds of years (and a heavy bombing during World War II) later. In the tiny chapel dedicated to a local saint, Renaissance master Domenico Ghirlandaio painted two frescoes depicting the last moments of the Saint Fina's life on the walls, and the actual town of San Gimignano is discernible in the background. And look up. The vaulted ceilings are soaked in a deep, ultramarine blue. The most expensive pigment in the world during the Renaissance period, the color was made from ground lapis lazuli stones, mined only in Afghanistan—no easy feat in the 1200s.
Don't Miss: The spa—set inside a centuries-old converted wine cellar with the barrel-vaulted ceilings and warm sandstone walls—is unlike anything we've ever seen. Alongside Castello di Casole's handmade organic products (guests can take a workshop and make lotions and serums themselves), clean beauty brand Ila and French label Carita are also available. While the treatment menu is extensive enough to keep beauty die-hards busy for days, the holistic treatments—including Reiki, chakra healing, reflexology, and our personal favorite, Shiatsu—are like a salve after a long flight. We're also big fans of the Divine Ritual—a grape body scrub, a grape-seed oil massage, and, no exaggeration, a bath filled with polyphenol-rich red wine.

What to Wear
Hotel Californian, Santa Barbara
Santa Barbara has long held the reputation as a sleepy, not-much-happening-but-nonetheless-well-heeled beach town. Miami it is not. But things are shaking up in this very pretty Spanish-colonial-style town. The Funk Zone—a newish neighborhood teeming with the creative vigor of artists, vintners, and chefs—has injected SB with energy, and new businesses are fighting for space. The extensive renovation of the storied Hotel Californian, which was famously first demolished right after being built by a 1925 earthquake, is luring Los Angelenos in droves up the PCH. A few steps from the beach in the walkable Pueblo Viejo District, the hotel provides a stunning home base for visitors looking to spend a weekend wandering from the beach to the tasting rooms but still making it to bed by 10 p.m.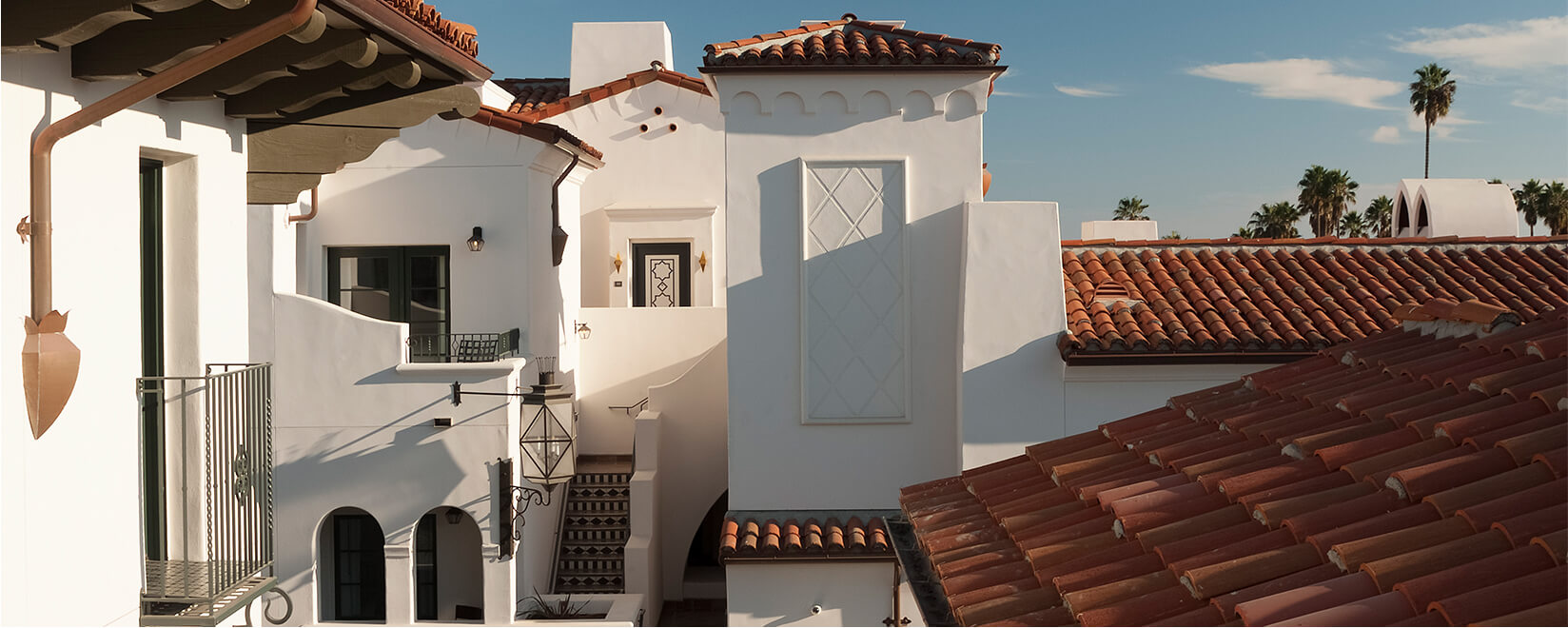 Stay: The best part of the Hotel Californian isn't its closeness (a thirty-second walk) to the Santa Barbara beach. But that's a good one. Nor is it the Spanish Colonial lobby or the guest rooms covered in twenty-seven different styles of Moroccan tiles. And those are pretty nice, too. The best part isn't even its history as a city landmark and its recent expansion to a five-building resort that includes a decadent spa, a café serving fresh granola and French pastries, and a restaurant with squid ink pasta worth driving two hours from LA for. The best part is the Funk Zone. There, in the middle of SB's downtown area, is this "funky" little neighborhood, every inch of it filled with entertainment for days: fifty California-wine-tasting rooms, local breweries, art galleries, quaint cafés serving house-made sandwiches, and charming Craftsman-style homes. And it's one block from the Hotel Californian. But when you do make it back to your room, expect momentary confusion. The Martyn Lawrence Bullard–designed, Moroccan-inspired fixtures, oxblood leather headboards, and assertive tiles feel more like summer in Tangier than Santa Barbara. But a morning espresso on the balcony watching surfers catch the early waves plants you firmly back in California, in wine country no less. After the inevitable wine- and cheese-heavy night in the Funk Zone, a few hours in the Majorelle spa—essentially a Californian interpretation of a Moroccan hammam—with its steamy chambers, hot and cold circulation-boosting treatments, and skin-polishing, aromatic scrubs. Oh, and there are always the striped loungers by the rooftop pool for sand-free tanning and late-morning siestas that are the hallmark of a good vacation.
Do/See: Sometimes a store can provide real escapism, and Raoul's is one such example. The workshop and showroom are a modern-day Aladdin's cave. Brimming with stacks of hand-printed Belgian linens, artisan furniture by the likes of George Smith and Janus et Cie (as well as Raoul's own line Engle & Deutch), and a rotating gallery of artwork on the papered walls. Whether you're there for a browse or to furnish an entire home, the store is a beautiful space to just amble around in. Founder Sally McQuillan designs most of the textile prints herself and has done so since Raoul's inception in 1981. The process is an ode to the craftsmanship of times gone by—each pattern is hand-drawn in ink, then hand-printed onto the finest Belgian, Scottish, and French linens. Shopping builds up an appetite, and while SB is not short on good restaurants, Loquita is top of the list when it comes to ambiance. The whole concept just works. Perch on a leather stool at the walnut bar for a fiery mezcal aperitif before sitting down to a series of small (and we mean small) plates of farm-to-table tapas. The outdoor patio is the prettiest in the city with elegant wrought-iron furniture, walls covered in creeping vines, and an outdoor fire pit to ward off the evening chill. Pans of saffron-scented paella are the order of the day here—rice cooked in a rich, smoky stock (traditionally over a fire for those crisp edges and dark crunchy crust at the bottom of the pan), studded with vegetables, seafood, and chorizo—grab a few spoons and tuck in.
Don't Miss: These days Santa Barbara is as much about the Funk Zone as it is the beach. While the options for wine-swilling are endless, we prefer to sequester space in one or two spots and sample a few glasses. Les Marchands has long been our go-to in the Funk Zone for the décor and the bites as much as the wine. Built into what was the fish market warehouse in 1920s SB, floor-to-ceiling Douglas fir shelves heave with thousands of old- and new-world labels. The custom chandeliers resemble balls of twinkling lights, and the tables are perpetually full of locals tasting master sommelier Brian McClintic's favorites of the moment. The nearby Santa Barbara Wine Collective is fairly new (open since 2015) and its USP is showcasing the communal talents of the area's producers. No less than five vintners, including Babcock and Fess Parker, are available to sample, and guests leave with a real taste for the varietals of nearby wine country. Order a few flights and pick up some of the irresistible buttery, flaky goods at Helena's Bakery next door for an impromptu picnic at the tables outside.

What to Wear
Related: Best Weekend Outfits