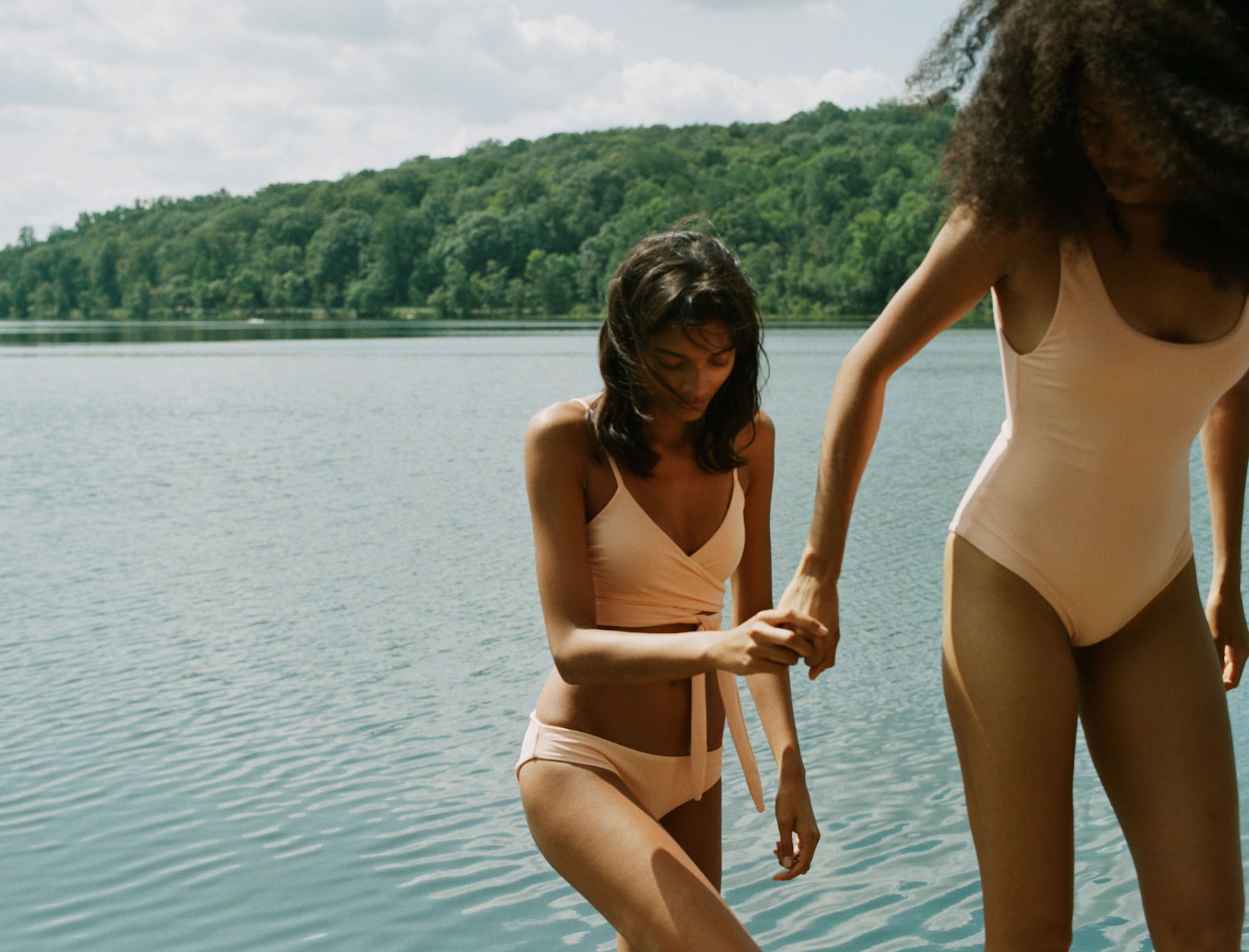 3 Water-
Adjacent

Getaways—and What to Eat,
Wear,
and Do
When You Arrive
Hermann Hesse famously called water "the voice of life," and we couldn't agree more. Something magical happens when you're in close proximity to the soothing lapping of the ocean, a lake, even a pool. Blood pressure drops, spirits rise, and dreams of summer drift through our minds as effortlessly as clouds.
With that in mind, we've planned out a few vacations—each one brings us closer to the water's edge, and just as close to days given to exploring a new place and evenings given to long languorous dinners. These are the trips, the places, and the packing lists that make for a very bon voyage.
Lake Tahoe


Where to Stay:
Ask your chicest friend where to post up in Tahoe for a weekend and you'll likely get two answers: the Ritz-Carlton, for its old-world charms, or the Edgewood, for its new-world ones. But ask your in-the-know friend where the coolest spot with a little local mountain flavor is and they'll tell you: the Coachman Hotel. This converted design-y motel (think Ace Hotel vibes for the mountain adventurer) is a few blocks from Heavenly village, within walking distance of all the lake-life activities and yet removed enough to still feel like an actual escape. Take the bikes out for a spin and cruise around South Lake Tahoe, hit up the hot tub, and afterward, huddle by the firepit with wine and s'mores.
Where to Eat:
The first thing to know about Lake Tahoe is that it's big. Like, it spans the state line between California and Nevada big. Which means the where-should-we-eat question is usually answered by what side of the lake you're on. On the north side, there's Truckee—home to beloved Moody's Bistro (go on the weekends for live music) and many must-sip microbreweries, like Alibi Ale Works and FiftyFifty Brewing Co. Twenty minutes south in West Shore, you can watch brunchgoers boat up to perennial favorite Sunnyside Restaurant and Lodge for fish tacos with a side of the most epic lake views ever.
What Not to Miss:
When you're not paddleboarding, trekking up Cascade Creek Falls, or taking a posthike cold plunge, there are actually a host of things to do in town. Like really decent shopping. Our personal favorites are sprinkled around Truckee, where you'll find rustic, woodsy-chic objets d'art from High Camp Home to deck out your dream mountain home and artisan-crafted candles, ceramics, stationery, and more gifts at nearby boutique Bespoke.
What to Wear
Cabo San Lucas

Where to Stay:
One of the more surprising things about Cabo San Lucas is that the ocean is notoriously unswimmable. But that doesn't mean the beaches aren't loungeable. Especially when your home away from home happens to be the Cape—where the views are as spectacular as the margaritas are spicy. The Glass Box bar (it looks just like it sounds) is the prime spot for both, and the options for kicking back beachside (private cabanas, plunge pools, pick your poison) are the kind of vacation decision-making we relish. On the quieter, more low-key side of San José is the new Nobu Hotel Los Cabos. Modeled after Nobu's Malibu ryokan, this minimalist-chic beachfront oasis has a Japanese-meets-Mexican feel with four pools, a hydrotherapy garden, an on-site Malibu Farms, and, of course, a Nobu-on-the-sand experience curated by chef Matsuhisa.
Where to Eat:
Eating out in Cabo can go one of two ways: classic or trendy. Resting on twenty-five acres of farmland in San José is one of the latter: Acre—a jungle-tree-house hotel slash farm-to-table oasis where you sip small-batch mezcal before tucking into spicy seafood tostadas, scallop ceviche, and farm-fresh vegetables underneath the starry sky. But if staying within striking distance of downtown is more your speed, grab a reservation at Capella Pedregal's cliffside El Farallon for classic, fish-forward Mexican fare and listen to the waves crash against the rocks as you watch the sun dip below the horizon, casting its flattering light on everyone in its reach. It's magical.
What Not to Miss:
For an afternoon spent off the sand, head over the One & Only Palmilla and devote a couple hours to sweating out all the bad stuff in a traditional temazcal—which is essentially a glorified sweat lodge (based on a Mayan cleansing ritual) warmed by hot-as-hell volcanic rocks—where you'll get a good herbal scrub-down and a total mind-body-spirit detox. Afterward, meet with a shaman who will give you one of the best damn deep-tissue massages you've ever had using indigenous techniques meant to balance the energy centers. All you need to bring: a bikini and a caftan to get you to and from.
What to Wear
Lisbon


Where to Stay:
The One Palácio da Anunciada is one of those gorgeously decrepit sixteenth-century palaces that's had a contemporary vibrancy breathed back into its hallways while maintaining the integrity of its past. The grand blush marble staircase that sweeps up from the ornate lobby feels all of 400-plus years old, but the guest rooms belong to 2019. Big beds, bigger bathrooms, and Nespresso machines complete the cool, creamy interiors. The spa area is small but mighty, with stellar massages and facials on offer alongside an indoor plunge pool and a steam room. High up at the hotel's crown is the real reason to stay here. The hotel's outdoor pool—a rare indulgence in the capital—seems to hover above the city. The surrounding daybeds provide the perfect vantage point from which to take in the detailed azulejo (glazed ceramic tilework) cladding and frescoes on the surrounding buildings.
What to Eat:
The best get-your-hands-dirty dining experience in Lisbon requires patience. Spot a crowd jostling under a canopy drinking two-euro beers and you'll know you've arrived at Ramiro. Tug a ticket, pull a beer, then wait about an hour. Once you're inside, the warmth of a roomful of theatrical Lisboans plus plenty of out-of-towners hammering crab claws with mallets over rousing dinner conversation washes over you. There are no sides other than warm bread doused in puddles of butter—a strangely perfect accompaniment to the fresh-out-of-the-tank crustaceans you'll order. Across town, O Magano is a little more refined but still resolutely local (we were the only tourists in the place). Our chatty, intuitive server decided to skip the standard menu explanation and instead brought platters of what she figured we would like: cold seafood salad, bowls of chickpeas saturated in grassy green olive oil, and plenty of buttery rice. She guessed right. Pro tip: Reservations are essential, but make them late—no one eats before 8 p.m. in this town.
What Not to Miss:
Watching Manteigaria's bakers expertly knock out hundreds (if not thousands) of those sweet, blistered custard tarts in minutes is, to say the least, captivating. Skip breakfast and fuel up with thimbles of the bakery's velvety espresso and one or two still-warm treats dusted in cinnamon sugar. To see Lisbon, be prepared to walk. Most of this port city may be situated along steep hills and steps, but its gritty beauty is hidden down the many alleys and around the tight corners. Ditch the map, get (happily) lost, and consider the historic buildings, dazzling blue azulejos, windowsill flowers, and dramatic harbor your reward. The best view is up one such hill along the ramparts of the twelfth-century Castelo São Jorge, a former royal residence that's now home to a seriously notable collection of ancient artifacts.
What to Wear