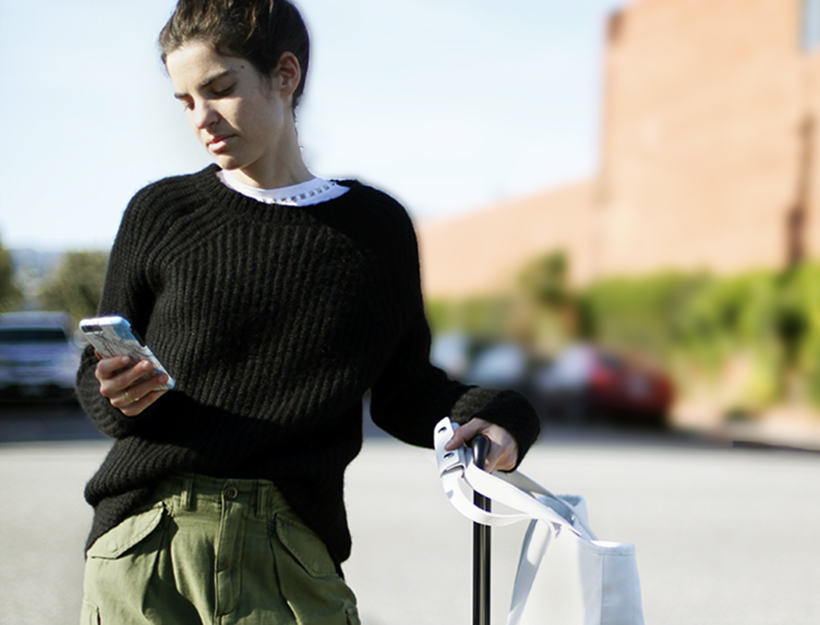 NILI LOTAN Penelope Sweater, goop, $555; R13 Cargo Harem Pant, goop, $395; VALENTINO Open Sneaker, goop, $745; GOOP LABEL Classic G. Tote, goop, $285; RADEN The A22 Carry, Raden, $345
What to Wear for Every Kind of Flight
Whether you're bound for a quick domestic flight the length of a commute in LA traffic, or a red-eye halfway around the world, the key is to opt for an outfit with function and thought behind each piece. The three looks below will serve you well before, during, and after.
Cross-Country
A cross-country flight (like the one between NYC and LA most frequent fliers know well) often requires pieces that can go from airport to meeting, all while being versatile enough to accommodate two climates. The right jeans—body-sculpting, leg-elongating, yet with a comfortable bit of stretch—paired with a snug-fitting knit, is the effortless way to go.
International
You could be on a long but happy slog to a destination vacation, or on an overnighter for a work trip; in either scenario, comfort is key. Soft, sporty, breathable pieces—tees, track pants, and sneakers—are a good choice, along with roomy knits to take on and off as needed. A big cashmere scarf can easily double as an in-flight blanket. Pro tip: Stash a pack of cleansing wipes—we love Herban Essentials—to refresh and de-stress before you step off the plane.
Puddle Jumper
For a short-and-sweet flight like the one between SF and LA, easy, comfortable separates in like colors—black and neutrals are our go-tos—look and feel effortless. A good pair of ankle boots manages to be chic and laid-back at the same time, and work no matter the weather; a great backpack is the ultimate carry-on and schlep-everything solution once you've touched down.