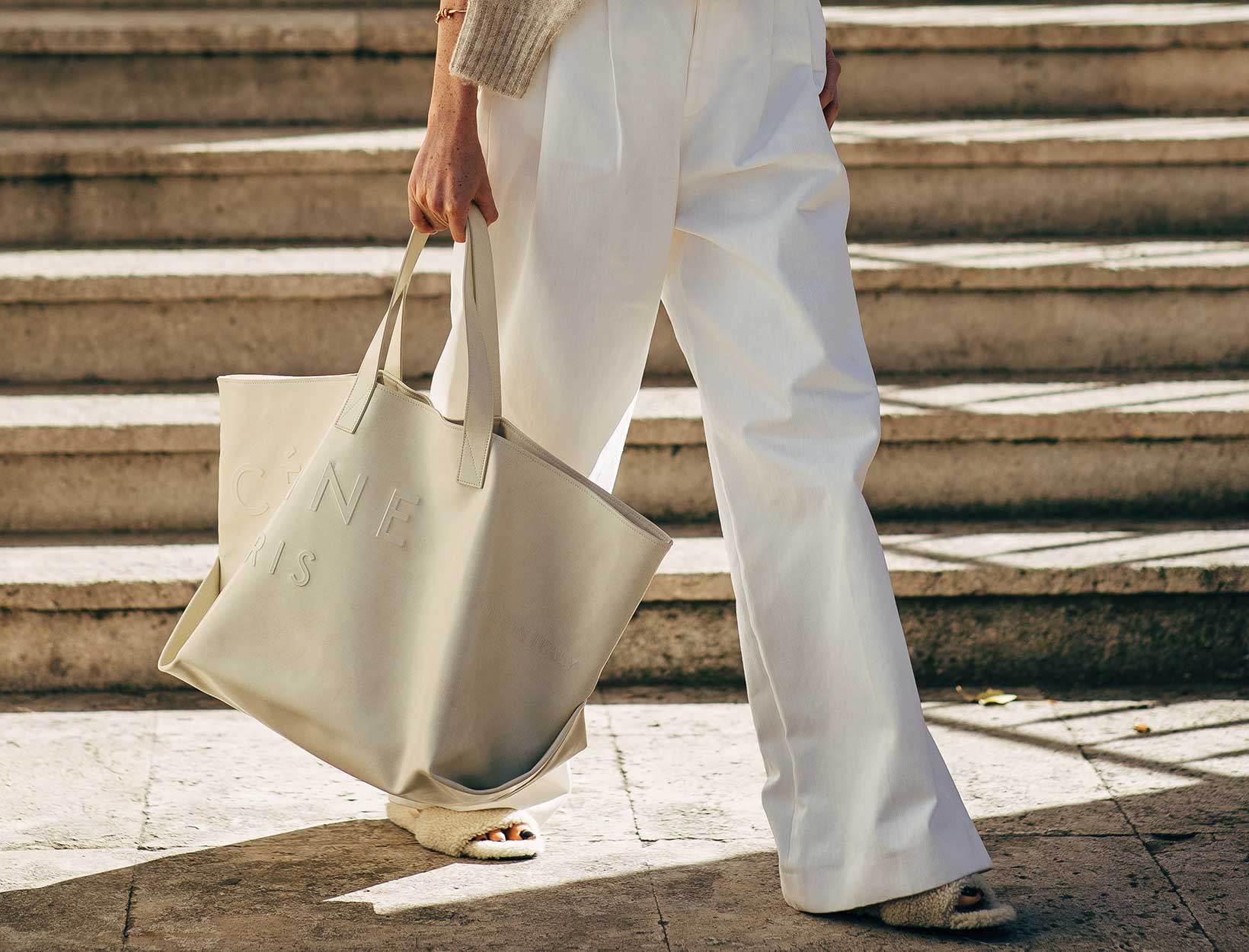 Photo courtesy of Acielle / STYLEDUMONDE.com
The Essentials to Throw in Your Weekend Bag
Traveling light is great in theory. But when you're strapped for time, firing off last-minute emails, and dealing with laundry/kids/dog/etc., your strategic brain tends to take a back seat to your overwhelmed brain. To help lighten the load, you'll need: 1) a foolproof weekender bag (size limits are a good thing, people), 2) smart, down-for-whatever layers that'll ensure you're always prepared, and 3) restraint. These should get you started.
the perfect carryall

(Did we mention it's reversible?)

1

Streamlined Bikini

When you're not chasing waves, lose the strap for lounging around.

2

Linen Set

Because there's nothing wrong with options: Wrap it around a bikini at the beach, and then ditch the suit for
a night out.

Lisa Marie Fernandez Blouse, goop, $395; Lisa Marie Fernandez Skirt, goop, $475; Azlee Necklace, goop, $3,360

3

Elegant Earrings

A thirty-second outfit upgrade for everything from a tee and jeans to that
linen set.

4

Tortoise Shades

The kind of classic sunglasses that are just as pretty as they
are protective.

5

Classic Shirting

It doubles as an easy beachside cover-up when you're not tucking it into your summery jean shorts
(see: number 8).

6

Packable Hat

Here's a fun fact: This resilient straw is designed to bounce back, so you can pack it up without it—or you—getting all bent out of shape.

7

Beauty Balm

Lightly dabbed on your cheeks or swiped across your lips, this your-face-but-better balm is a two-for-one score that nestles neatly in any pocket.

8

Jean Shorts

Elevated shorts for people who don't do jean shorts.

9

Slinky Sleepwear

It's sexy. It's strappy. But the real highlight here: It takes up zero room
in your bag.

10

(Clean!) SPF

Protective zinc oxide? Hydrating argan oil? Sinks-right-in, sheer matte finish? Yes, yes, and hell yes.

11

Wear-Everywhere Sandals

Delightfully understated, these just-fancy-enough sandals are the perfect casual counterpoint to every
breezy hemline.

12

Cozy Cashmere

Pulled on post-beach, draped over your shoulders for dinner, curled up on the couch—the ROI on this seafaring sweater is immediate.