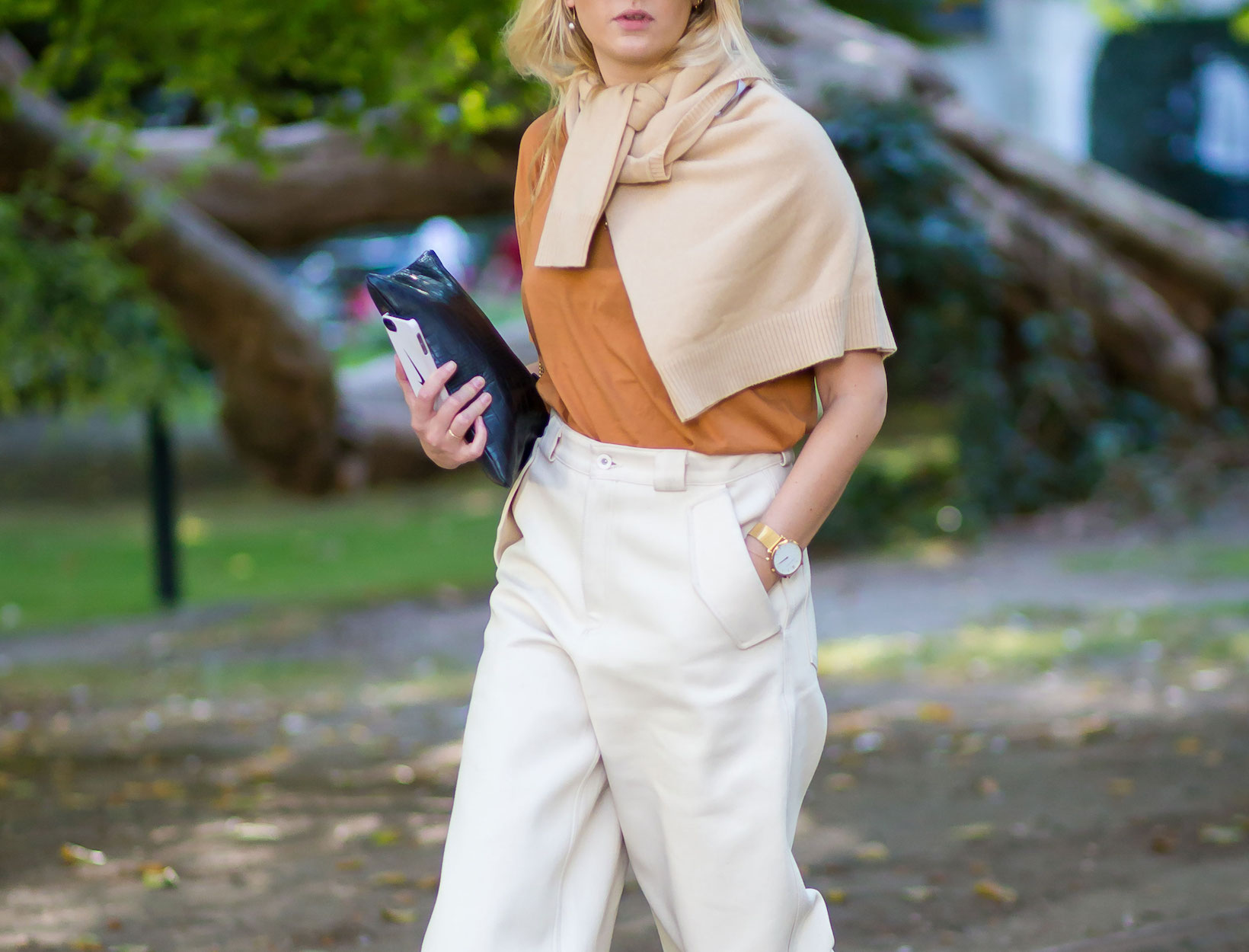 Photo courtesy of Acielle/Styledumonde.com
Your Weekend
Formula: The
Neutrals Update
In partnership with our friends at KILN
The inherent problem with neutrals and basics—and don't get us started on neutral basics—is that it's a short road from simple to snoozefest. So here's what you do: Keep a palette of white, cream, and caramel feeling cool and luxe—and worlds away from meh—with sharply tailored cuts (big ups for graceful quarter-length sleeves) and well-edited styling (like discreet hits of gold). Slide into a pair of summery shoes. Throw a great bag over your shoulder. And you're ready. The weekend awaits.
FRIDAY EVENING
FRIDAY EVENING
Body-skimming white trousers with a striking, generously cut top have all the ease of a beloved jumpsuit. Throw on the world's most beautifully simple slides, toss a few essentials—like a sweet pair of gold hoops and a skin-nourishing face oil—into a rugged weekender duffel, and…go.
SATURDAY AFTERNOON
A polished bag and sleek pair of flats are the embodiment of refined. A trim, flattering white button-down: the epitome of classic. But now look a little closer. See that cinched waistline? The jangly bracelet? The skirt slit up to there? There's just enough playfulness in these details.
SUNDAY MORNING
It's the kind of thing professional stylists intuitively know: If you take a pair of shorts that behave like a miniskirt, add a crisp white shirt that's quietly demure, and slip on a pair of coy, revealing sandals, you will arrive at your new day-off uniform. Add a chic suede tote to round out the elegance factor and voilà: a clean-slate upgrade that'll take you anywhere.