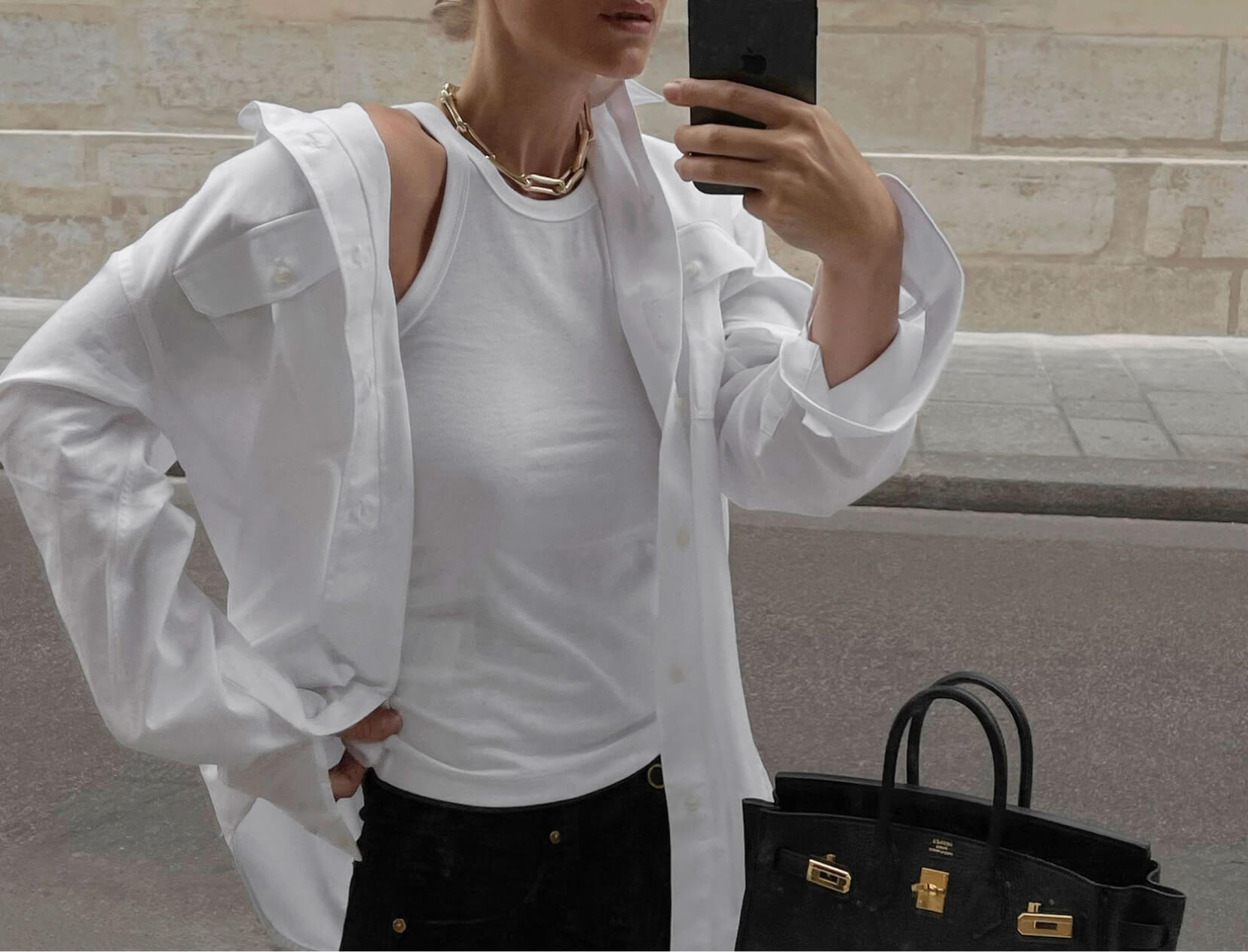 Photo courtesy of Mirjam Flatau
The 2022 Wardrobe Essentials Guide
Maybe you're experiencing a post–G.Tox 7-Day Reset Kit energy boost, or perhaps you resolved to tackle that closet cleanout (finally!). Whatever the case, if that new-year-refresh energy has you zeroing in on a sartorial revamp, there are a few golden rules to keep top of mind when replenishing the essentials.
TEE PARTY
Fitted or boxy, patterned or plain—the perfect tee comes in many forms (which is why you can never have too many). It's the ideal pared-down companion to denim, sure, but also plays well with silky skirts, tailored trousers, linen culottes…in fact, there's little it can't do. We rounded up the all-stars in every silhouette and hue. Classic-tee devotees: Go all out. Everyone else: Go all in on a favorite (or two)—any of the options below will hold up for seasons to come.
RE/DONE TEE, goop, $90; G. LABEL GEIGER WIDE-LEG JEANS, goop, $295
GOOD JEANS
The beauty of denim lies in its versatility. A faded wash lends casual charm to day-off knits, button-downs, and tees alike, while a dark blue or a creamy white sets a sleeker tone for more polished pairings. Wide-legs—with their retro silhouette and nonrestrictive fit—keep proving they're here to stay, and a great pair of trendproof straight-legs is essential to any denim rotation. Below: three key pairs we love as much for their flattering fit as we do for their meticulous craftsmanship.
G. LABEL VIVIENNE PUFF-SLEEVE V-NECK TOP, goop, $375; RE/DONE JEANS, goop, $275; VEJA SNEAKERS, goop, $145
Wear It With
LINE UP
If you're waiting for a sign to wear more stripes, now is your moment. We love their playful-chic duality, and colorwise, we're drawn to the classics: black and white or navy and cream. It's an easy way to skew a bit preppy-nautical while still keeping things neutral and simple to style.
G. LABEL KIRSTIE STRIPED PUFF-SLEEVE CARDIGAN, goop, $595; VICTORIA BECKHAM JEANS, goop, $590; JUSTE UN CLOU BRACELETS, Cartier, $7,500 and $11,700
Wear It With
EASY DOES IT
Soft tailoring—smart, fluid silhouettes—is one pandemic trend worth holding on to. Whether in-person meetings are back on your calendar or your lounge drawer just needs a day off, a pair of easy trousers is your best friend. These ones are cute: streamlined and black, with sleek design details tempering those relaxed fits.
LEFT: G. LABEL GOETZ PLEAT-NECK TOP, goop, $395; G. LABEL CONNOR CULOTTES, goop, $495. MIDDLE: G. LABEL SHAND HALF-ZIP STRIPED SWEATER, goop, $595; NILI LOTAN PANTS, goop, $495; JW ANDERSON LOAFERS, goop, $595. RIGHT: LEE MATHEWS TOP, goop, $320; CIAO LUCIA PANTS, goop, $255; HEREU SANDALS, goop, $500.
BASE PLAYERS
Optimizing your middle drawer comes down to cultivating a collection of soft-on-skin everything—strategic pieces that are flattering enough to wear solo and cozy enough to layer as needed. We recommend a combination of figure-huggers and drapey cuts to cover all your…bases.
THE BARE NECESSITIES
Seamless, organic-cotton underthings that are equal parts supportive and sexy. Light linen sleep sets and fleece-lined sweatsuits put-together enough to wear out the door—on errands, dog walks, coffee meet-ups—if you want to. These are the foundational heroes you'll find yourself reaching for day after day.
THE FINISHING TOUCHES
Versatile accessories—say, a chunky gold chain that adds a bold touch to any look, or a canvas-and-leather tote you can pack your whole day in without sacrificing an ounce of cool—will integrate easily with your star pieces while catching a little attention of their own.