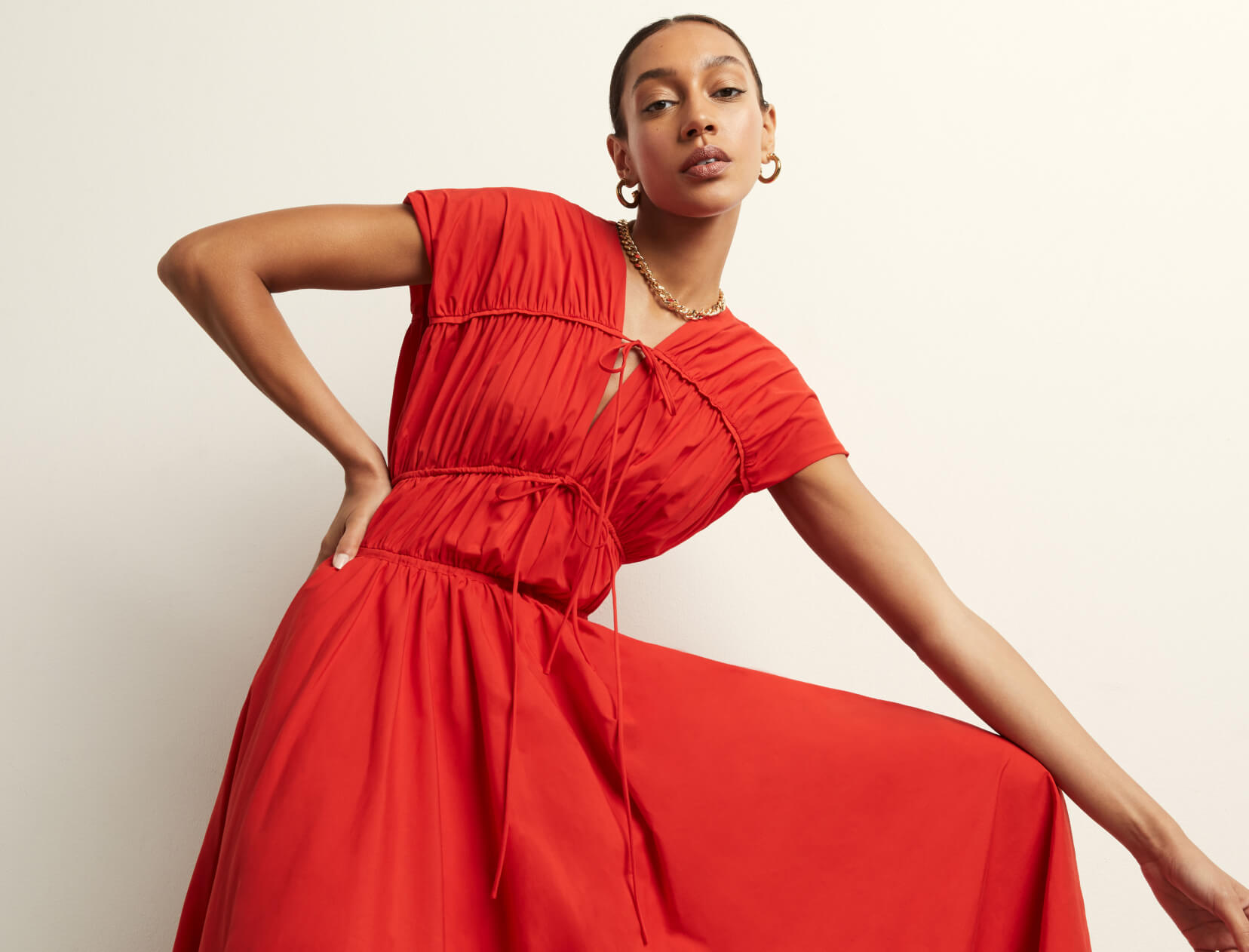 TOVE DRESS, goop, $645; LAURA LOMBARDI EARRINGS, goop, $128; LAURA LOMBARDI NECKLACE, goop, $280
How to Use Contrast to Your Advantage
In a recent team meeting, conversation shifted toward our current fashion challenges: One editor lamented her lack of cover-ups. Another bemoaned the stack of lounge shorts she accumulated during the pandemic and now isn't sure what to do with. In these moments, we turn to senior stylist (and resident cool girl) Sarah Rose for sartorial wisdom.
"The phrase 'opposites attract' doesn't just apply to dating," says Rose. "Incorporating contrasting elements—whether you do that with shapes, textures, or accessories—is what makes an outfit interesting." She shared five ways to play up wardrobe juxtapositions.
BEST DRESSED
The key to keeping a pretty dress from looking too saccharine is to pair it with offbeat accessories. Stacks of statement rings and light-catching links read more punk-rock than proper (bonus points for layering them over a halter neckline), while chunky lace-ups ground the whole look.
ON MODEL: ULLA JOHNSON DRESS, goop, $495. OFF MODEL: NATALIE MARTIN DRESS, goop, $373; G. LABEL FIENE YELLOW GOLD AND PAVÉ EAR CUFF, goop, $650; G. LABEL SYDNEY FLOATING-DIAMOND PINKIE RING, goop, $1,300; MARLO LAZ RING, goop, $1,500; MARLO LAZ NECKLACE, goop, $3,840; NATALIE MARTIN DRESS, goop, $280; MELISSA KAYE EAR CUFF, goop, $2,950; WOLF CIRCUS NECKLACE, goop, $240; A EMERY SANDALS, goop, $180.
MATCH MAKER
Stretch your wardrobe (and your styling skills) by combining fabrics and textures you normally wouldn't—denim with sweats, silks with knits, crisp cotton poplin with the slinky boxers you wore to bed. Think of it as closet Tetris: The objective is to shift everything around until the pieces slot perfectly into place.
ADULT SWIM
Old cover-ups not cutting it anymore? Step outside your caftan comfort zone with a big white button-up and breezy shorts you can pull on post-swim or this matching linen set from Deiji Studios. We're big fans of the robelike top, the stonewashed softness—and the fact that it's secretly sleepwear.
ON MODEL: DEIJI STUDIOS SET, goop, $281; EMME PARSONS SANDALS, goop, $430. OFF MODEL: DEIJI STUDIOS SET, goop, $220; EPHEMERA BIKINI TOP, goop, $175; EPHEMERA BIKINI BOTTOMS, goop, $80; NATALIE MARTIN DRESS, goop, $243; ALEX MILL SHIRT, goop, $135; TOTEME SHORTS, goop, $250; CULT GAIA TOTE, goop, $498.
BRIGHT IDEA
If your goal is to pull off a monochrome moment, it's best to keep the rest of your look low-key. Temper a terra-cotta minidress with simple drop earrings, team a cobalt bikini with a matching button-up (and little else), or style a tomato-red sundress with the sleekest sandals this side of Sorrento.
ULLA JOHNSON DRESS, goop, $395; TOVE DRESS, goop, $645; MATTEAU TUNIC, goop, $450; MATTEAU BIKINI TOP, goop, $135.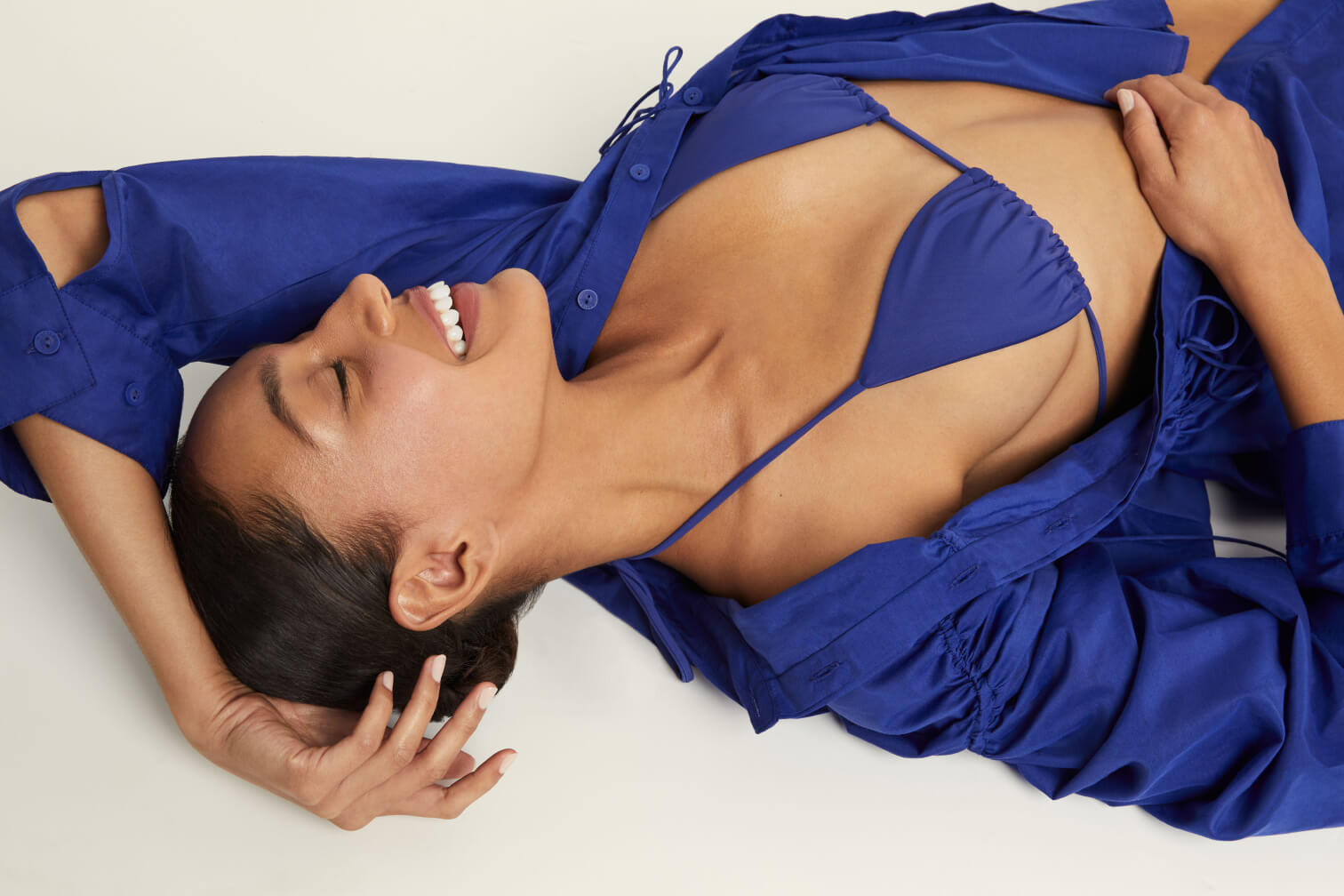 JEAN QUEEN
The MVP (most valuable pants) of any closet.
Night Out
Faded black denim typically has big "I'm with the band" energy. But set against a preppy blouse, an elegant clutch, and a sparkly cocktail ring, it's decidedly polished.
Next Morning
Easy straight-legs plus a cool contrast-stitched top are all you need to hit up your favorite brunch spot. Don't forget the shades (in case you decide to sit outside) and a crossbody for your keys, card, phone, et. al.