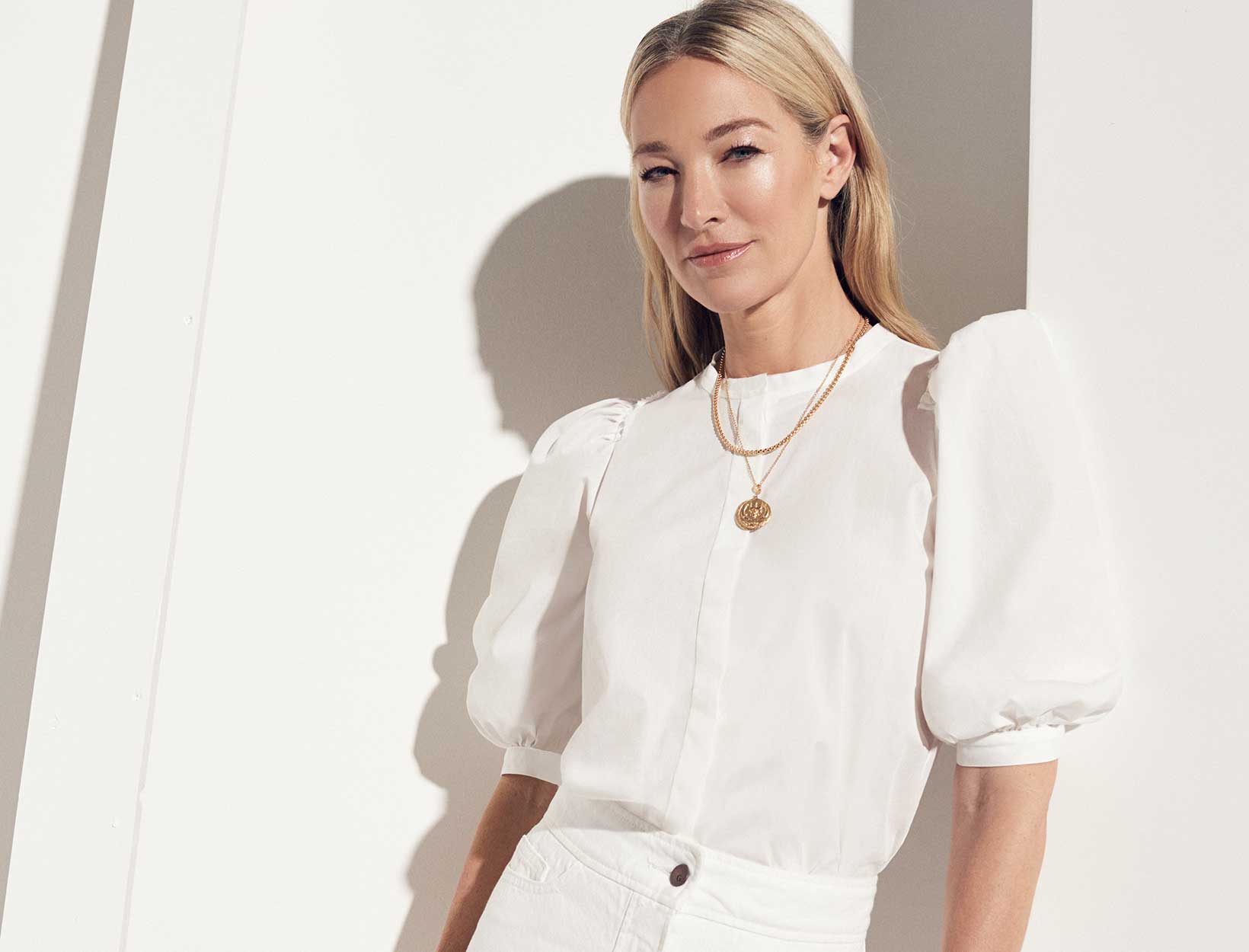 Travel Like a Supermodel
She's sauntered down hundreds of runways and graced the covers of every notable magazine on the newsstand. She's raised kids, traveled the world, and mastered both sides of the camera. She's even modeled G. Label. Twice. Elaine Irwin, you could say, hasn't lived a typical model's life.
"I'm always up for an adventure," says the model in what is likely a gross understatement. (She also used to race cars.) "Traveling and exploring new places is one of my passions and a favorite thing to do," she says. Another passion to add to the list of things she's preternaturally good at: collecting and selling mid-century modern Danish furniture. So it follows that when we asked her what her favorite place (okay, one of them) was, she didn't miss a beat. Copenhagen. The Danish capital—and the minimalism capital of the world—is never far from her itinerary. "I keep a bag of toiletries and travel accessories packed so I am ready for a last-minute getaway," she says.
Elaine Irwin's Copenhagen
Elaine Irwin's Copenhagen
"Copenhagen is great for design, amazing food, and exceptional furniture finds. It's my favorite place to go hunting for unique pieces and lighting while also getting a chance to check out some of the world's best restaurants. The summer months are particularly spectacular."
STAY

"Hotel Nimb is my favorite place to stay in the city. In addition to its great design, it's located in the Tivoli Gardens, which is a magical place. It's a mix between an amusement park and a street festival set up amid beautiful architecture and greenery."

EAT

"The restaurants in Denmark are extraordinary—you really can't go wrong. But the Nimb hotel Brasserie, Geist, and Studio at the Standard are a few of my favorites."

Activities and shopping

"Nyhavn is Copenhagen's harbor area, the perfect place to walk around and explore some of the great little shops and local food. You can even rent a boat to see the city by water. Bredgade is the street I go to for authentic Danish furniture. This is where you'll find the Danish Design Museum and some of my favorite stores, such as KLASSIK Moderne Møbelkunst, Architect Made, By Malene Birger, and Cold Heggem."
What Elaine's Packing
What Elaine's Packing
"I like to pack light, so I make sure everything in my suitcase is versatile and can go from day to night—you never know what adventures lie ahead. For me, G. Label is the epitome of travel style: elevated essentials for every occasion. No need to overpack; just pack well."
Carry On
Checked Suitcase
G. Label

Natalie Trench Coat

goop, $795

"It's the ultimate travel essential—lightweight, classic, elegant."
G. Label

Strappy Maillot

goop, $285

"Chic and elegant for an underwater adventure or relaxing by the pool."