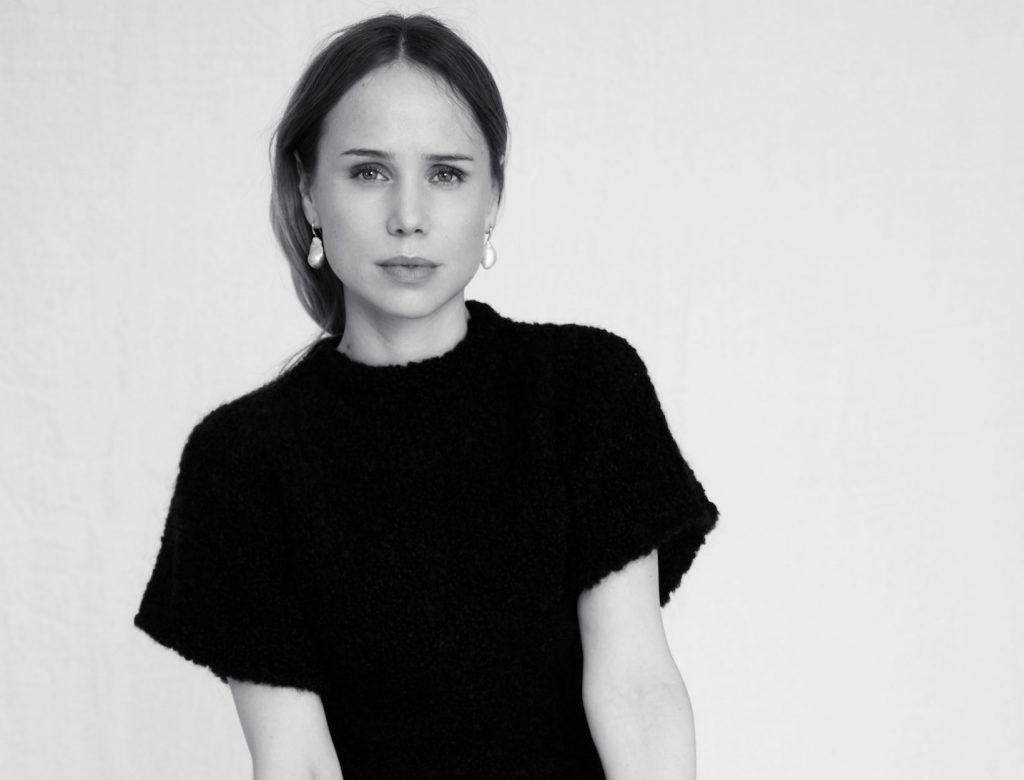 Female Founders: An OG Influencer on the Importance of a Unique Point of View
FEMALE FOUNDERS
An OG Influencer on the
Importance of a Unique Point of View

Perhaps the only upside to workplace inequality is it has driven a lot of amazing women out of corporate America—and straight to the helm of their own companies. We decided we didn't want to just cheer them on anymore. We wanted to meet them and interview them and write about them. With that, we give you: Female Founders, a column featuring women who create, design, and inspire.
Elin Kling doesn't believe in shortcuts. That explains why it took the designer seven years to pivot from a wildly successful blog to a full-fledged clothing line, shiny flagship store and all. That level of thoughtfulness—some might call it perfectionism—is consistent in everything Kling does. It's why the legions of women who look to her for inspiration feel like they've gained a priceless resource.
Let's back up: Totême launched in 2014 with a small but mighty collection of trendproof staples. But Kling had been subtly dictating how women want to dress via her personal style blog since 2007. In other words, she was an influencer long before that was a viable profession. Kling has an aesthetic that embodies a special kind of warm, comfortable minimalism, the way only a born-and-bred Scandinavian (who's made New York City a second home) can. This spring marks the first time Totême is available in the goop shop—further proof that good things are worth waiting for.
A Q&A With Elin Kling
Q
You had a successful blog long before you had Totême. How did you get the idea to start your own line?
A
I wanted to create a wardrobe that simplified the choices for the modern woman, so she can feel empowered to be who she wants to be and do what she wants to do. I have always been very strategic when dressing. For example, a good blazer worn over my shoulders has absolutely affected my confidence in meetings in a positive way. I think of Totême as a uniform with hero pieces that you can spice up with seasonal flavors. My designs are meant to have a trans-seasonal approach yet be always relevant and never quiet. It's in the details, the silhouette, and how one puts it together. Totême is my edit—what I want to wear myself.
---
Q
Was it always the plan to run the brand with your husband?
A
It was a natural progression for us. As we outlined the concept for Totême, we realized that our backgrounds complemented each other. I had a loyal following and a clear point of view, which combined with Karl's expertise in luxury branding (previously, he was an art director at the creative agency Baron & Baron and a design director at Interview magazine) to form an ideal combination. Looking back, we are proud of the way we built Totême and the fact that we made it without any outside investors. It allows us to continue with a free mind-set and to set our own rules.
---
Q
Can you tell us about the division of labor between the two of you, in both business and family life?
A
We are both very involved in the daily operations of Totême. In the first couple of years, we did pretty much everything ourselves, but now we have a fantastic team in place at our office in Stockholm. It can be difficult to switch off work mode, but Karl and I are getting better about it for sure. We both love our jobs so much, and Totême is very much a reflection of our personal lives and values.
---
Q
What roadblocks did you run into while getting Totême off the ground?
A
Launching a clothing line is not easy. Luckily, we were a bit naive at the start and didn't fully understand the complexity of the business, which allowed us to power through. We have learned a lot of important lessons along the way. Perhaps the most important piece of advice I got is that there are no shortcuts. You have to focus on developing a great product because that is the only way you can build something authentic and meaningful in the long run.
---
Q
How do you approach the design process?
A
I look for inspiration in my daily life. What am I in the mood for myself? What are my friends and I missing in our wardrobes? It's a very organic process that often starts with a specific look and style. All of our collections are part of an ongoing mission to define the Totême woman and her daily routine. I'm not particularly interested in designing seasonal collections. I'd much rather focus on the specific pieces that make Totême truly unique and special as a brand. It's so important to have a clear point of view in today's marketplace. We design small collections because that allows me to focus on perfecting every single piece of clothing we make.
---
Q
What are some of your favorite pieces from the collection right now?
A
A couple of styles from the existing collection that define the Totême uniform are the Loreo suit jacket, the Original denim, and the knit Trivento dress—a perfect vacation dress.
---
Q
Where do you go in New York, where you used to live, when you're in need of inspiration? Same question for your current home, Stockholm?
A
I love walking around the city just observing. New York is filled with so many amazing characters who inspire me and ignite my creativity. It could be a chic lady crossing the street or a random guy in a great cashmere coat jumping out of a cab. I also love vintage shopping on the Upper East Side. I have a thing for that neighborhood. In Stockholm, I find a sense of clarity and peacefulness that is very important to my creative process. It's a lovely and modern city to live and raise children in.
---
Q
You chose to open Totême's first store in Stockholm. What's the significance of that decision?
A
Opening our first store—or embassy, as we like to call it—is an important milestone for Totême. We strongly believe that the physical presence of a brand, in one way or another, is necessary to tell the complete story. For us, it made sense to open our first store in Stockholm because that's where we are based. The space is a great case study for future stores.
---
Q
What's next for Totême?
A
We are launching shoes this spring. And the next step to complete the Totême woman's uniform is a bag launch, which we are very excited about.