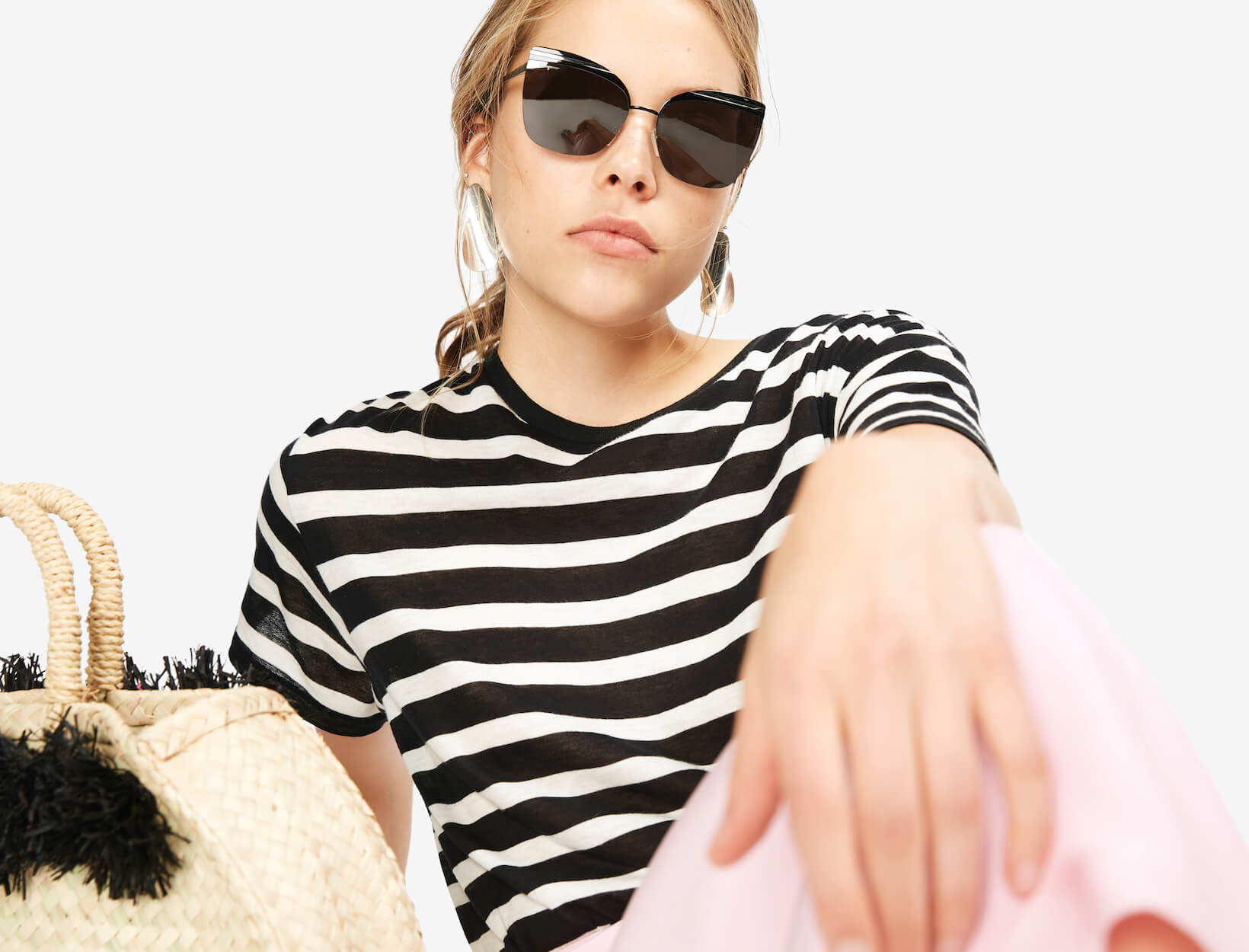 SALVATORE FERRAGAMO Cat Eye Sunglasses, Salvatore Ferragamo, $375; R13 Striped Boy Tee, goop, $195; INDEGO AFRICA Poppy Palm Pom Tote, goop, $110; AGMES Max Earrings, goop, $340
Three Warm Weather Escapes
(and What to Pack)
Wind down the year by leaving the frosty, if not temperamental winter weather behind: Pack that sunscreen, pull out your bathing suits, and get ready to soak in some rays. We've put together three warm-weather spots that check all the holiday boxes—an isolated retreat in Jamaica, an over-the-top Polynesian hideaway in Tahiti, and a culture-filled itinerary in Morocco—plus, a best of resort wear edit, so you know just what to bring along with you.
Marrakesh, Morocco

A combination of some of the best spas and shopping in the world makes Marrakesh a pretty perfect destination for warm weather if sitting on a beach for days isn't your thing. The intimate Riad Farnatchi offers ten stunning suites, each outfitted with candle-lit lanterns and stunning tiled bathrooms, plus a classic indoor/outdoor courtyard and a rooftop garden with views of the city. (Unsurprisingly, their spa is as good as any of the local hammams.) Marrakesh was the second home—and a major inspiration for—Yves Saint Laurent, and there are many homages to his legacy here. Begin with the Jardins Majorelle, the gardens designed by painter Jacques Majorelle that Saint Laurent and partner Pierre Bergé rescued from development. Today, the gardens are open to the public and house the Berber museum, where you can see all of Majorelle's work. Next, reserve at least a full afternoon at the new YSL Museum, housed in a stunning new Studio KO-designed building just steps from the gardens. Inside, you'll find rotating exhibitions of Saint Laurent's couture garments, plus sketches, inspiration, and photography shows from artists he worked with. There's also a lovely café. For more Moroccan inspiration, or to book a full-service planned trip, see Black Tomato's recommended weeklong itinerary.
Strawberry Hill, Jamaica

New York has direct flights that can land you in Kingston, Jamaica in under four hours, so it's an awfully convenient getaway for one of those strategically placed long weekend getaways come winter. Once you land, it's about an hour's drive up into the Blue Mountains to Strawberry Hill, a hillside estate with a serious history. First owned by British statesman Horace Walpole (who gave it its name, after his estate in England), it changed hands several times before landing with Chris Blackwell, the owner of Island Records, who gave it a reputation as a hangout for musicians. Today, it's a peaceful 12-room getaway with views of Kingston and the ocean to one side and the verdant Blue Mountains to the other. Since it's up in the mountains, Strawberry Hill doesn't have a beach, but you hardly need one when you can lounge at their infinity pool, and while it's possible to venture into the city for museum tours and restaurant outings, there's plenty to entertain you on-site, including beautiful hiking trails, a working garden, a spa, and one of the best restaurants on the island.
The Brando, French Polynesia

The Brando is surrounded by clear blue Pacific waters and features pristine beaches, but what really makes it special is the atoll's lagoon, a shallow, sandy area that's home to diverse species of water and sea-life, and makes for wonderful snorkeling. You'll stay in little one- or two-bedroom beachside villas, each outfitted with their own private pool, and dine at the Brando's casual cafe or formal dining room. Though this is exactly the kind of place you come to plop yourself into a beach chair and listen to the sound of the waves (or bliss out in their over-the-top spa), there is no shortage of activities for the restless, including stand up paddle-boarding, hikes with naturalists, tennis, biking, and boating tours.