DVF x GOOP
We've wanted to collaborate with Diane von Furstenberg for a long time, as she's someone we've always admired: Not only is she one of the rare women who has really lived through all of New York City's most iconic periods, but she's rounded it out with an incredible career and family. (Here's more on why we love her.) Our collaboration started at her exhibit at LACMA, Journey of a Dress, when GP wore the DVF x goop jumpsuit, and in the intervening months we added the perfect wrap dress to the capsule collection. We wanted to create timeless pieces that were strong and sexy—something we think we all believe in. To celebrate the launch, we co-hosted a dinner with Diane out in the Hamptons. And Diane gave us her little black book of go-tos in NYC to round out the mix.
THE MENU
Cornmeal Crusted Blue Point Oysters, Lump Crab with Summer Succotash, and Yellow Tomato & Watermelon Gazpacho (recipe below)
Summer Stone Fruit Salad (recipe below)
Kecap Manis Black Cod with English Peas (insanely delicious and impossible to recreate—we tried!)
Virtual Nectarine with Blackberry Sorbet (a feat of molecular gastronomy)
The Green Light (recipe below)
---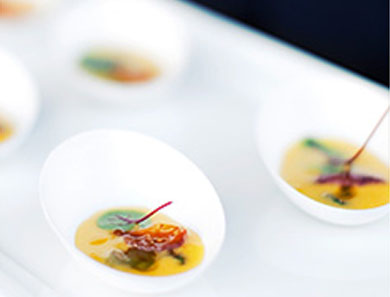 Perfect for the summertime, we served this light gazpacho at our party with Diane Von Furstenberg.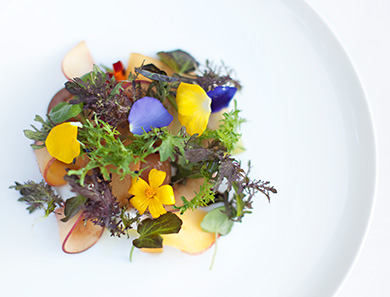 We served this salad from Cloud Catering at our Summer party with Diane Von Furstenberg.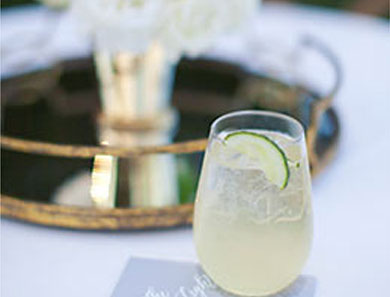 We served this refreshing cocktail at our summer party with Diane von Furstenberg.
---
Photo Credit: Alicia Swedenborg
Special Thanks To: Stefanie Cove and YOA Productions, Cloud Catering, Honey & Vinyl, Elan Artists, Tiny Pine Press, Luminous Designs, Amagansett Flowers by Beth, Alicia Swedenborg, Michelle Huynh Chu, Blo Blow Dry Bar, and Veuve Clicquot.