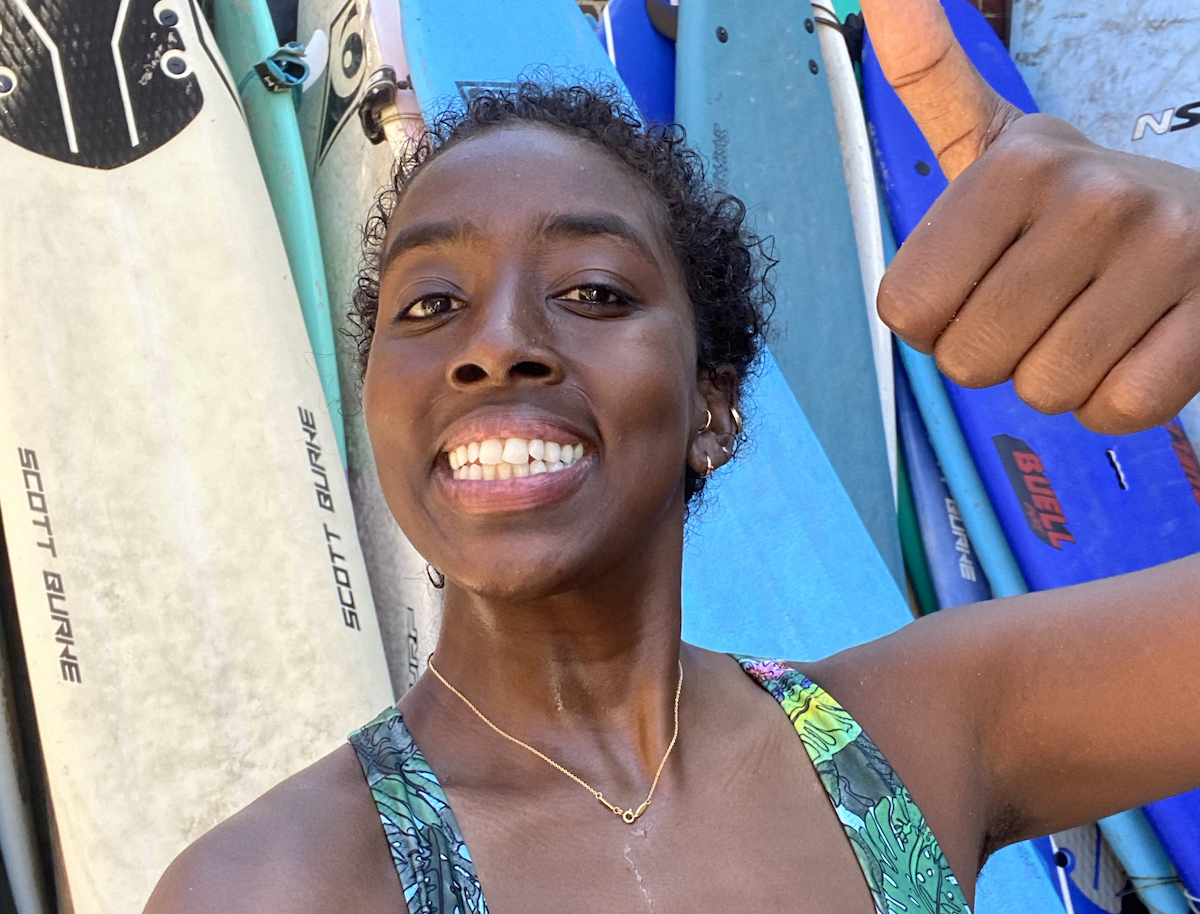 Meet the New Yorker Flipping the Script on Surfing
"I've always been drawn to the water," says Flamingo content manager, storyteller, and former Essence magazine beauty editor Siraad Kalila Dirshe. "I'm a Scorpio—a water sign—so I've always felt like it's this place where I can truly unplug." Like many who grew up in the city, Dirshe got her first glimpse into the world of surfing through pop culture: "I remember being enamored with Blue Crush when I was in high school," she explains. "I didn't know how to swim, but I thought, This is so cool—I want to be like one of those badass women, riding waves."
It wasn't until a recent trip to Ghana that the New Yorker got serious about surfing. "I saw all of these amazing Black people out in the water and thought, Oh my god, Black people do surf," she says. Then she started digging. Turns out some of the earliest mentions of people riding makeshift boards were in the Gold Coast region of what is now Ghana, centuries before the surfing scene hit Hawaii. The more Dirshe uncovered, the more inspired she became. That fervor followed her back to Rockaway Beach, where every weekend, she and her partner would document their days paddling out along the stretch of sand edging NYC. Their goal is to tell a different side of the California-girl narrative that's long had its moment in the sun. "Now more than ever we need diverse perspectives and stories told in the world," says Dirshe, who hints at a documentary project in the works.
Now that she finally feels like she's found her sea legs, Dirshe's advice to women who might be too intimated to get out in the water is simple: Just do it. "There's so much beauty in trying something for the first time—it's really humbling," she says. "We're living through a crazy time, so the water has become an even more important place to find peace and solace."
Dirshe gave us a peek inside her beach bag; her approach to gearing up for a day on the sand is about as down to earth as she is.
MY SUN, SAND, AND SURF ESSENTIALS