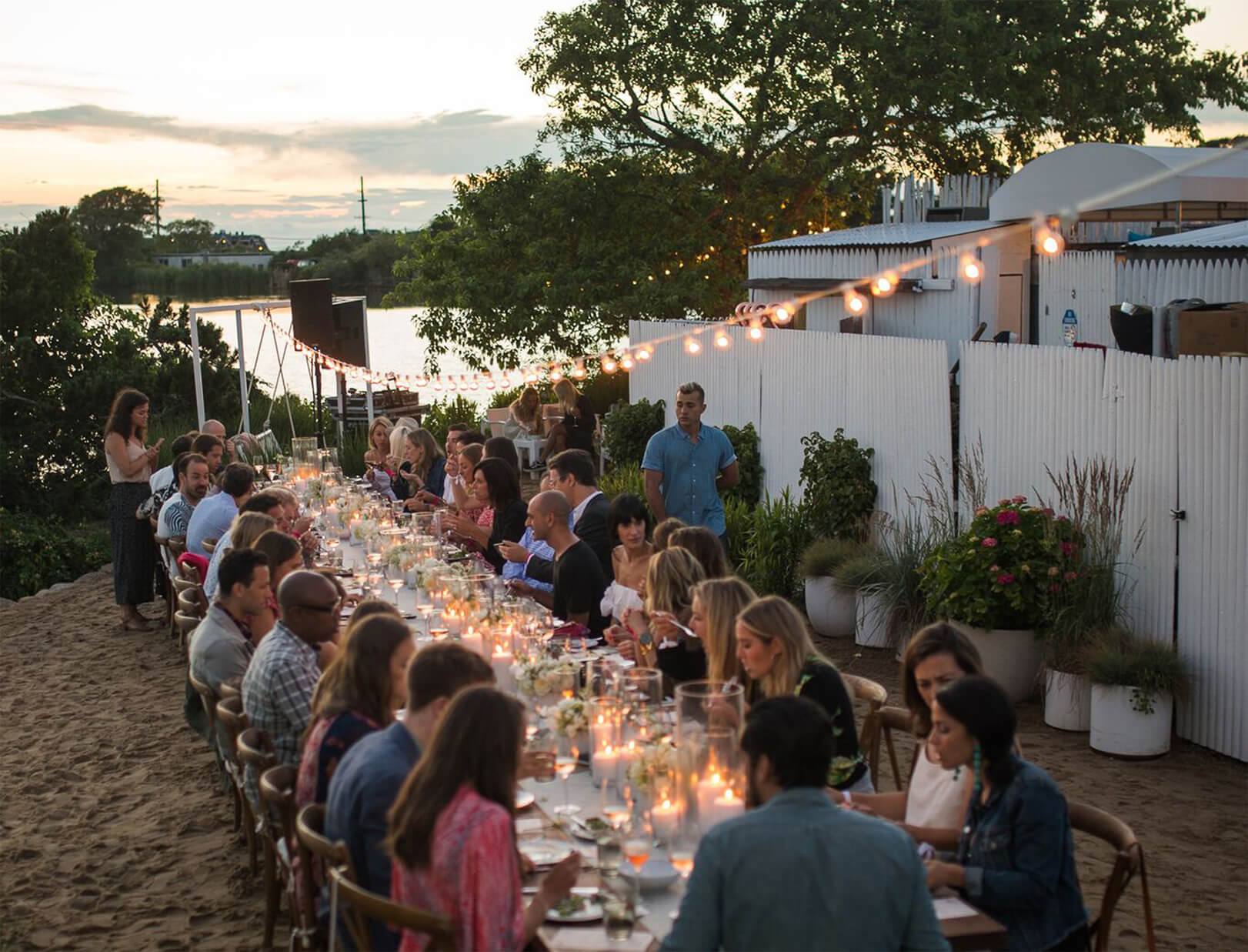 Style Agenda:
Out and About in the Hamptons
A big part of summer in the Hamptons revolves around socializing, whether it's a candlelit backyard dinner party, live music at sunset, or experiencing art in larger-than-life settings. We've rounded up a few upcoming events that are on our radar, as well as some outfit inspiration sure to get you out of any I've-got-nothing-to-wear rut.
Yes Way Rosé

It makes sense that the Hamptons would serve as a backdrop for a dinner in celebration of rosé season, but Kristin Tice Studeman, the founder of the Rosé Project, a new food and wine dinner series featuring well-known chefs around the country, wants to make it educational, too. For the occasion, Studeman has tapped Ari Taymor of the Standard in Los Angeles and Dan Kluger of Loring Place to jumpstart a dialogue about the versatility of rosé when it comes to food pairings. (Spoiler alert: It's not just for sipping on the beach.) Next up: Melia Marden of the Smile, who will host a dinner on the 28th with a menu that highlights the East End's seasonal produce. When you're appropriately buzzed, take a stroll over to the Surf Bazaar and visit the rose-hued pop-up shop featuring beach-ready pieces by Ulla Johnson, Ryan Roche, and Brother Vellies.
Art Party Ready

This annual gala benefiting the Watermill Center is one of the Hamptons party circuits' most highly anticipated. This year, the theme is "Fly Into the Sun," and the performances and installations (Stephen Shanabrook, Kate Gilmore, and Rachel Frank among them) are a tribute to Lou Reed, with a special dedication by Reed's wife, artist and musician Laurie Anderson. There are tickets available for cocktails and silent auction, as well as the dinner party afterward. The auction is available now for pre-bids through Artsy.
From Morning Paddle to Cocktails

WHAT:
The Hamptons
Paddle & Party for Pink
DATE:
Saturday, August 5th
WHERE:
8AM paddle board race at
Havens Beach in Sag Harbor,
7PM Sunset Party on Mecox Bay.
Benefitting the Breast Cancer Research Foundation, this annual event begins with a morning Paddle Board Race in Sag Harbor—Gabby Reece and Laird Hamilton will be leading the charge—and goes into the evening hours with a Sunset Party and artist-designed paddle board auction (featuring contributions from the likes of designer Lisa Perry, illustrator Donald Robertson, and artist Andrew Cotton) with Ryan Seacrest as host. Get in on the SUP action or buy tickets for the party here, or place a bid on one of the boards here.