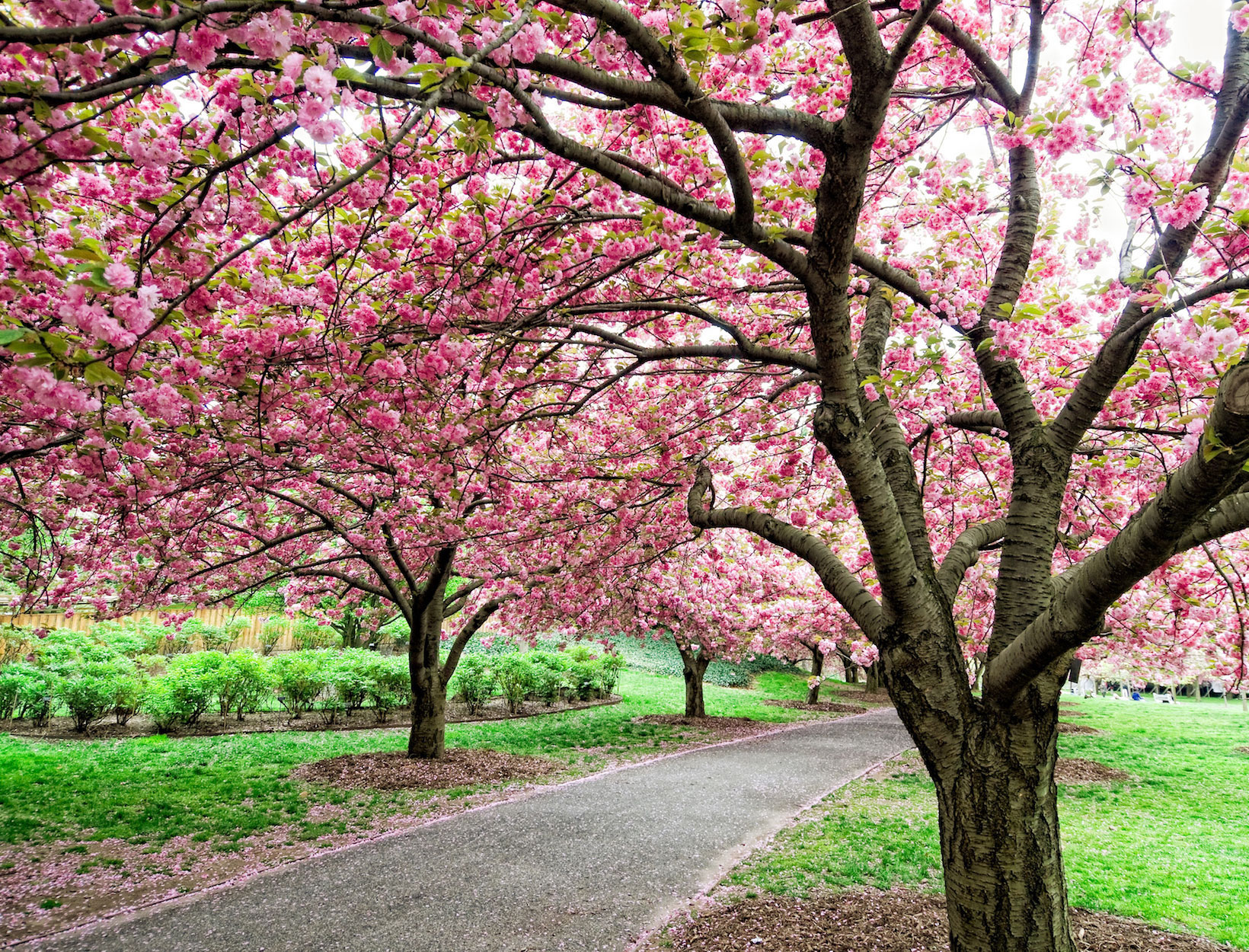 Photo by Antonio M. Rosario, courtesy of Brooklyn Botanic Garden
Style Agenda: Bloom to Spare
An opportunity for new beginnings, the promise of warmer days, and the start of baseball season. Spring is many things to many people, and to flower enthusiasts, it may as well be the World Series. Across three continents, from April to early June, over-the-top flower extravaganzas are in full bloom, with quick-to-blossom, quick-to-fade cherry blossoms taking center stage.
LONDON BLOOMING

WHAT:
The Chelsea Flower Show
WHEN:
May 22 to 26, 2018
WHERE:
Royal Chelsea Hospital,
London
A mainstay of British culture for decades, the Chelsea Flower Show takes place every May, when a posh pocket of West London succumbs to total floral abandon. Dozens of SW10 restaurants and businesses join in with elaborate floral displays, installations, and themed events. The Royal Horticultural Society effectively moves into the grounds of the seventeenth-century, Sir Christopher Wren–designed Royal Chelsea Hospital to exhibit ten elaborately landscaped gardens and sixteen smaller artisanal plots. You'll be intoxicated by the scent of several thousand blooms as you wander from the Rose Garden to the Lemon Tree Trust Garden to the Health and Wellbeing Garden. Take a beat at the champagne tent (because it's a champagne tent), and don't be afraid to chat up the gardeners: They'll have you leaving convinced of your own green thumb.
HOKKAIDO HILLS

WHAT:
Higashimokoto
Shibazakura Park
WHEN:
Visit through mid to late May
WHERE:
Hokkaido, Japan
Cherry blossoms are the floral signature of Japan, but the less famous shibazakura (a type of fuchsia moss) packs just as much visual—and olfactory—punch. Like the blossoms, the moss's blooming period is sadly short-lived, meaning you need to maximize your viewing time. In Hokkaido's Higashimokoto Shibazakura Park, cherry blossom trees, tulips, and the aforementioned shibazakura cover all 100,000 square meters of the sloping hills. Aim to arrive in mid-May and prepare to be gobsmacked. The moss paints the rolling hills bright pink, an actual carpet of color. Pro tips: Wear sneakers. You'll cover serious ground seeing the flowers up close. And for the big-picture, blue-sky view, book a helicopter ride.
NEW YORK BLOSSOMS

WHAT:
Sakura Matsuri
WHEN:
April 28 and 29
WHERE:
Brooklyn Botanic Garden,
New York
Fifty-two acres of valuable Brooklyn real estate dedicated entirely to the natural world is something to be celebrated. The thirteen gardens, six flower collections, and accompanying conservatory that make up the Brooklyn Botanic Garden are beautiful to visit any time of year (the desert pavilion is particularly welcoming in the frigid depths of the New York winter). But in April, the gardens are so resplendent—with the cherry blossom trees in full pink bloom—that a festival is organized in their honor. Spend the weekend at Sakura Matsuri (Japanese for "cherry blossom festival"), immersed in the culinary and visual delights of Japanese culture, surrounded by a real-life blush-pink forest.