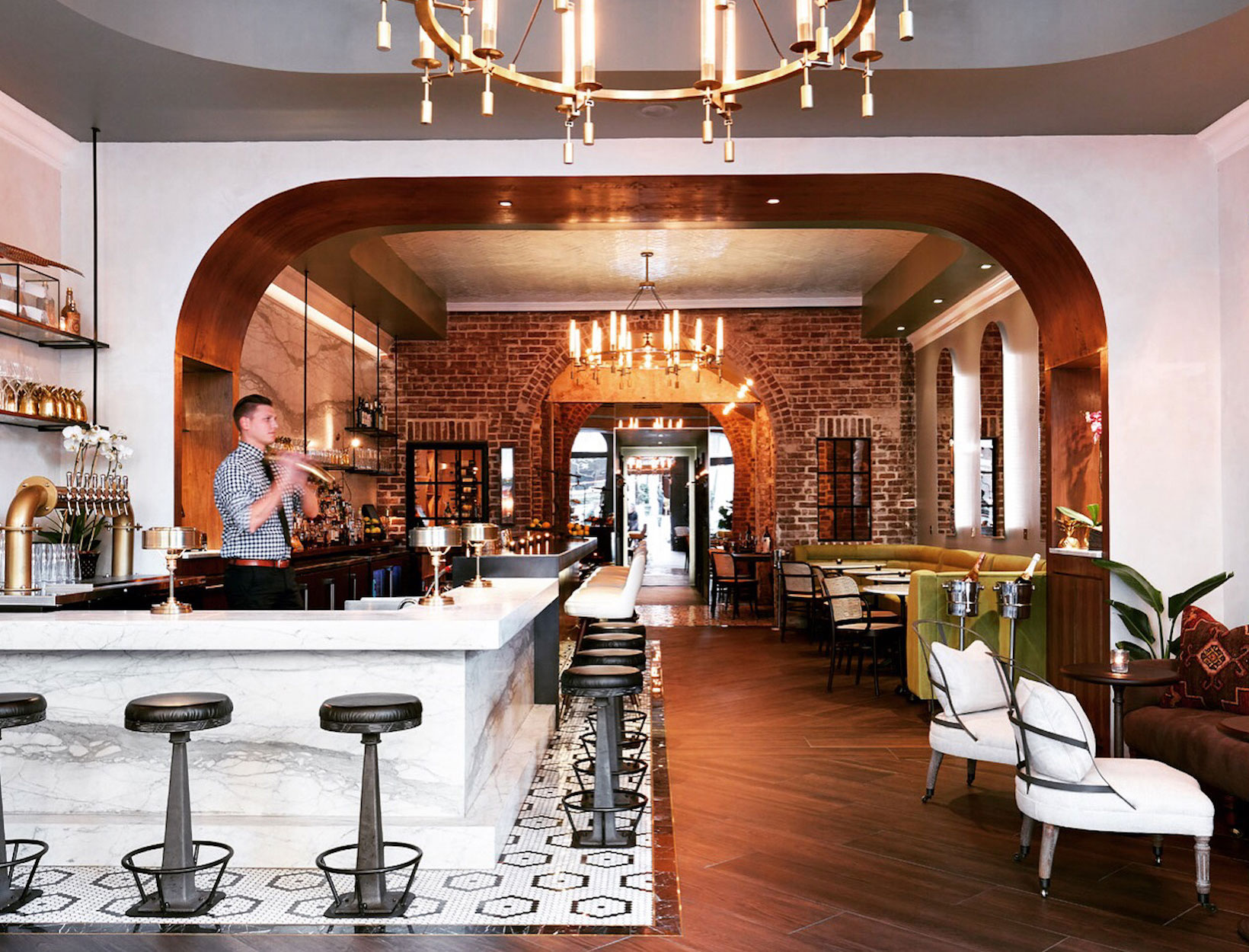 Style Agenda: After Dark
In partnership with our friends at


Don't get us wrong: We'll always be excited about great coffee spots and brunch. But sometimes it's a whole lot of fun to base an entire Friday or Saturday around nightlife. That's especially true in places that raise after-dark eating and drinking to an art form. We've come up with mini itineraries in three of our favorite American cities that take evening fun to the next level. And since this endeavor involves going out, we've also included ideas for what to wear when you go there.
New Orleans, Louisiana

Is there any city in America more associated with nightlife than New Orleans? If there is, we don't know it. One of our newer favorite hangouts is the Ace Hotel. The building is a 1928 Art Deco masterpiece in the Warehouse District, and the moody but elegant interiors are decorated in dark gem tones, with perfectly worn leather banquettes and thoughtful Art Deco accents. Head to the lobby bar and order the Witching Hour (mezcal, ancho chili, sweet vermouth, mole bitters) before settling down to dinner at Josephine Estelle, the hotel's gorgeous restaurant, and get ready for some of the best people-watching in the city—the Ace attracts almost as many locals as guests. Afterward, head to Napoleon House. Granted, it's on every tourist's French Quarter list, but there's a reason for that. It was originally the residence of New Orleans mayor Nicholas Girod (in office from 1812 to 1815), who offered to house Napoleon Bonaparte here, should he ever retreat to the city in exile. He never made it, but the name stuck, and it remains one of the most atmospheric, most New Orleans kind of places to sip a Sazerac you'll ever find. End the night at the Spotted Cat, in the city's Marigny neighborhood. The area is the epicenter of New Orleans jazz, and there's maybe nowhere better than this charming, hole-in-the-wall dive on Frenchman Street. There's live music every night (mostly quartets), and every act is pretty much guaranteed to be outstanding, so don't worry about checking the schedule beforehand. Be warned that Fridays and Saturdays tend to be packed, so we'd recommend a weeknight visit if you are crowd-averse.
What to wear
PORTLAND, OREGON

Without overstating things: A night out in Portland can be a revelatory experience. Start with a dinner-and-drinks pairing at Tusk, a lively spot in the Buckman neighborhood, which has outdoor seating on warm nights (we appreciate the quirky décor, too, like the large-scale photograph of a Speedo-clad Keith Richards hanging above the bar). The cocktails are whimsical and pretty, like the brightly hued Ramble on Rose, made with mezcal, pineapple rum, Campari, sweet vermouth, bitters, and orange. And everything pairs well with the pillowy flatbreads and the hummus, which is a house specialty. Then it's on to Angel Face, a short walk away, for some post-dinner conversation and dessert. The space is tiny, but that's what makes it special—it's dark and vibe-y and seats only about twenty, mostly around a marble-topped bar. There are only three dessert options—crème brûlée, espresso pot de crème, and chocolate mousse—but they're all worth ordering. Hopefully you've reserved a booth for your final stop, Pépé Le Moko, a tiny, speakeasy-style bar around the corner from the Ace Hotel. The head bartender, Jeffrey Morgenthaler, pays homage to 1980s favorites like Long Island iced teas, daiquiris, and grasshoppers. If you're still hungry, there's a tiny bar menu to match the space that includes a daily selection of oysters, spicy shrimp chips, deviled eggs, and bite-size ham-and-cheese sandwiches.
What to wear
Savannah, Georgia

Savannah uses its history well. Make your first stop Wyld Dock Bar. This is the place to come to eat and drink like a real Savannah local. It might look like it's on the verge of collapsing (it's not), but the food is shockingly great for such rustic surroundings. Go with the bowls of crispy okra and boiled peanuts at sunset (come early to snag a table). The riverside setting and surrounding marshland make for a relaxing, only-in-Savannah kind of experience. Next, move things indoors at Artillery, a lounge occupying a Venetian Gothic building from 1896. It's a little fancier than Wyld Dock (there's a dress code—no shorts or flip-flops), so a change of outfit might be in order, but it's worth it to sip a Smoke & Mirrors (Xicaro mezcal, yellow chartreuse, blackberry peppercorn shrub, lemon, and blackberries) at the huge, dazzling marble bar. Finally, make your way to Peregrin, at the new Perry Lane Hotel. It's our new favorite place to stay in Savannah's Historic District, and that's thanks in part to its killer rooftop bar and restaurant. From up here, you get a bird's-eye view of practically the entire city while snacking on housemade pickles and deviled eggs. Check ahead for a live music schedule, and if you book a room in the hotel, you won't have far to go once the evening ends.
What to wear