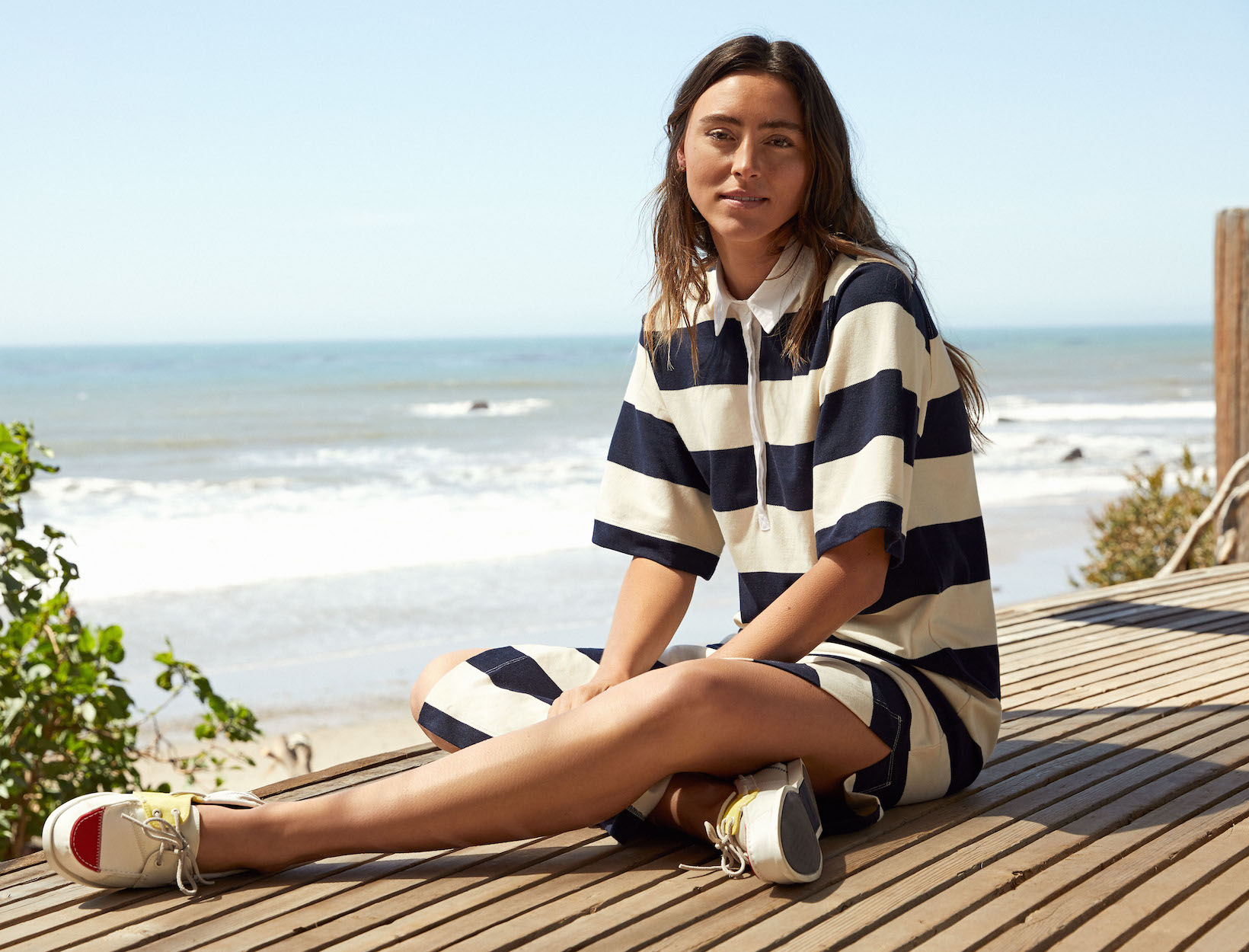 g. Sport RUGBY DRESS, goop, $275; Sperry Shoes, Sperry, $99.95
Recovered Ocean Plastics
Find a New Life
In partnership with our friends at Sperry
We are all sadly familiar with the problem: Eight million tons of plastic go into the ocean every year. By the year 2050, there will be more plastic in the ocean, by weight, than fish. Rather than stand helplessly by, we do what we can: paper straws, metal bottles. And of course, we recycle—but a plastic bottle will never again be a plastic bottle. It will be upcycled or downcycled, meaning it will be turned into a bag, a fleece jacket, or something else that's not a plastic bottle. So the world and its ocean are still left with a glut of bottles. And we're left wondering what else can be done.
The classic American shoe brand Sperry is leading the charge. In a genius move, the brand is introducing the BIONIC Shoe Collection—a line of its iconic boat shoes made out of plastic recovered from marine environments. In partnership with Waterkeeper Alliance, a nonprofit devoted to preserving and protecting clean water, the collection comprises shoes that have as much style as they do conscience, essentially finding a new place for the plastic that's suffocating the ocean.
"Vintage is the easiest way to be sustainable, but not everything can be vintage. I typically buy underwear, workout gear, pj's, and shoes new," says Raychel Roberts, the owner of Chasseresse, an online vintage boutique.
We spent a day—appropriately—at the beach with Roberts to talk about vintage clothing, Sperry's new BIONIC Collection, and how to be a responsible consumer.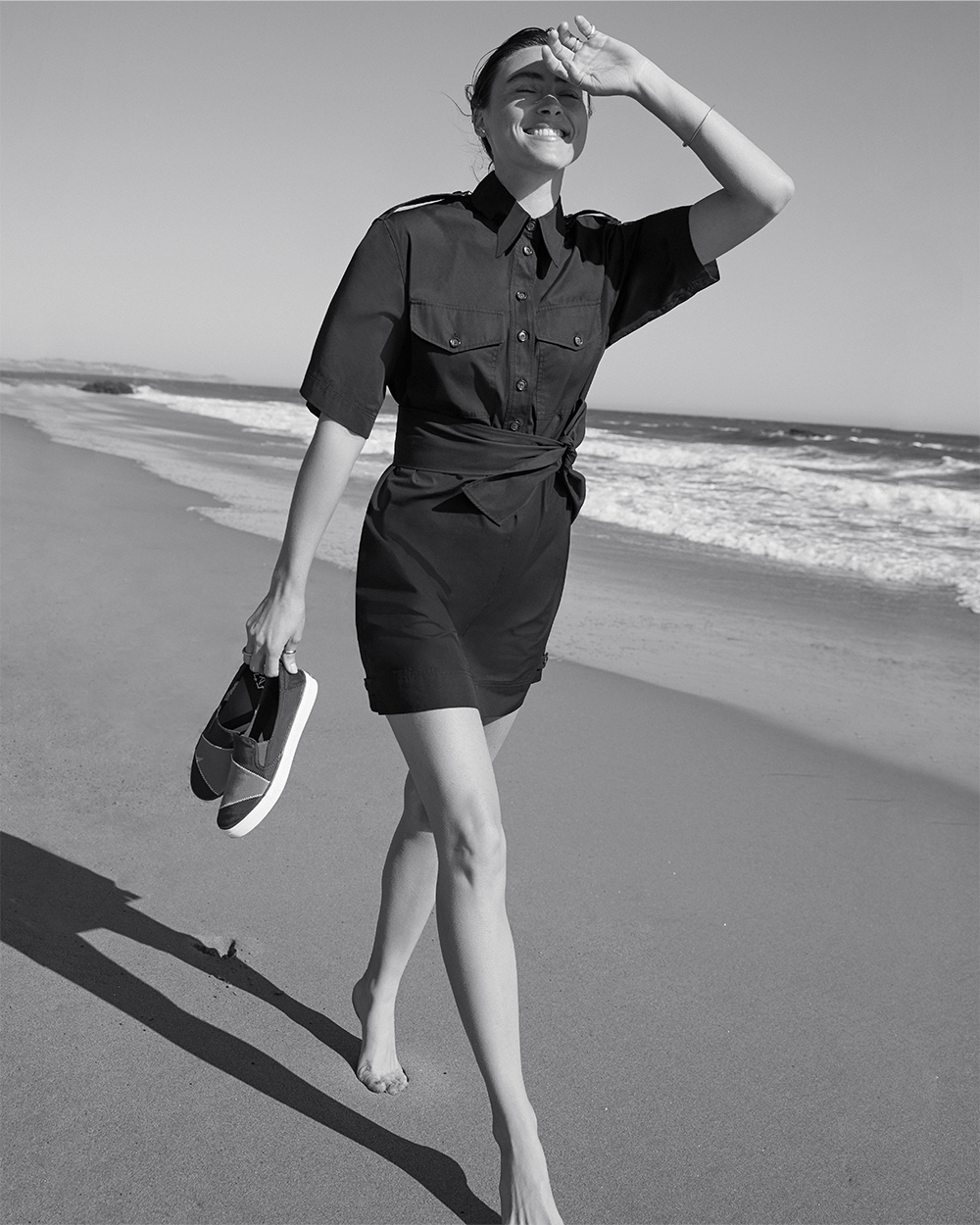 g. label roxanne utility boxy shirtdress, goop, $695; Sperry shoes, Sperry, $69.95
BUSINESS-ORIENTED
"Chasseresse is a social-media-driven online vintage shop that my sister and I run. We have a curated sale each week that goes live every Wednesday morning. We sell mostly vintage, sometimes antique, and sometimes more-contemporary pieces. Although we are very excited to announce that we are launching a few of our own vintage-inspired designs this summer."
g. label roxanne utility boxy shirtdress, goop, $695; Sperry shoes, Sperry, $69.95
TRICKS OF THE TRADE
"A dress is probably my favorite vintage purchase. Vintage tees, jeans, and jackets are also great. Hats of course should always be vintage. I even love vintage swimsuits. Most of all, I love to thrift for my son's clothing. He is two years old and rapidly growing, so I love finding good tees and cool pants for him used. I balance that out, of course, with new stuff."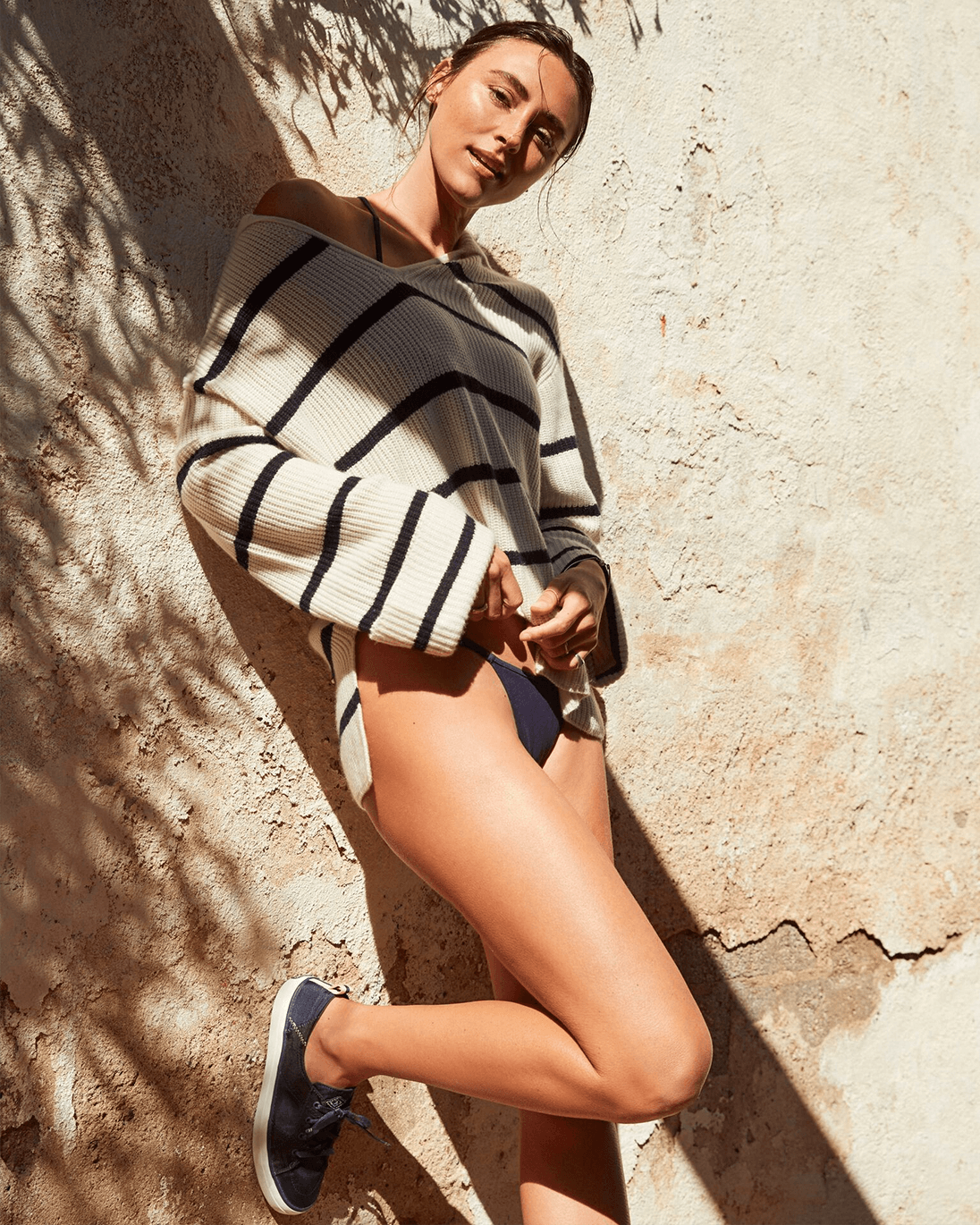 Nili Lotan Sweater, goop, $750; Tropic of C Swim Top, goop, $80; Tropic of C Swim Bottom, goop, $80; Sperry Shoes,
Sperry, $69.95
ALL IN THE FAMILY
"My grandmother taught me how to 'treasure hunt' (usually that would mean thrifting or going to a flea market). She taught me that to really score, you have to go all the time. It quickly became my favorite thing to do and still is. It's a sort of meditation for me. I love to walk around and look at things—it's one of those rare things I can do to turn off my brain and just be. I love hunting for unique and amazing pieces. Which is how I named my company. 'Chasseresse' is a French word that translates
to 'huntress.'"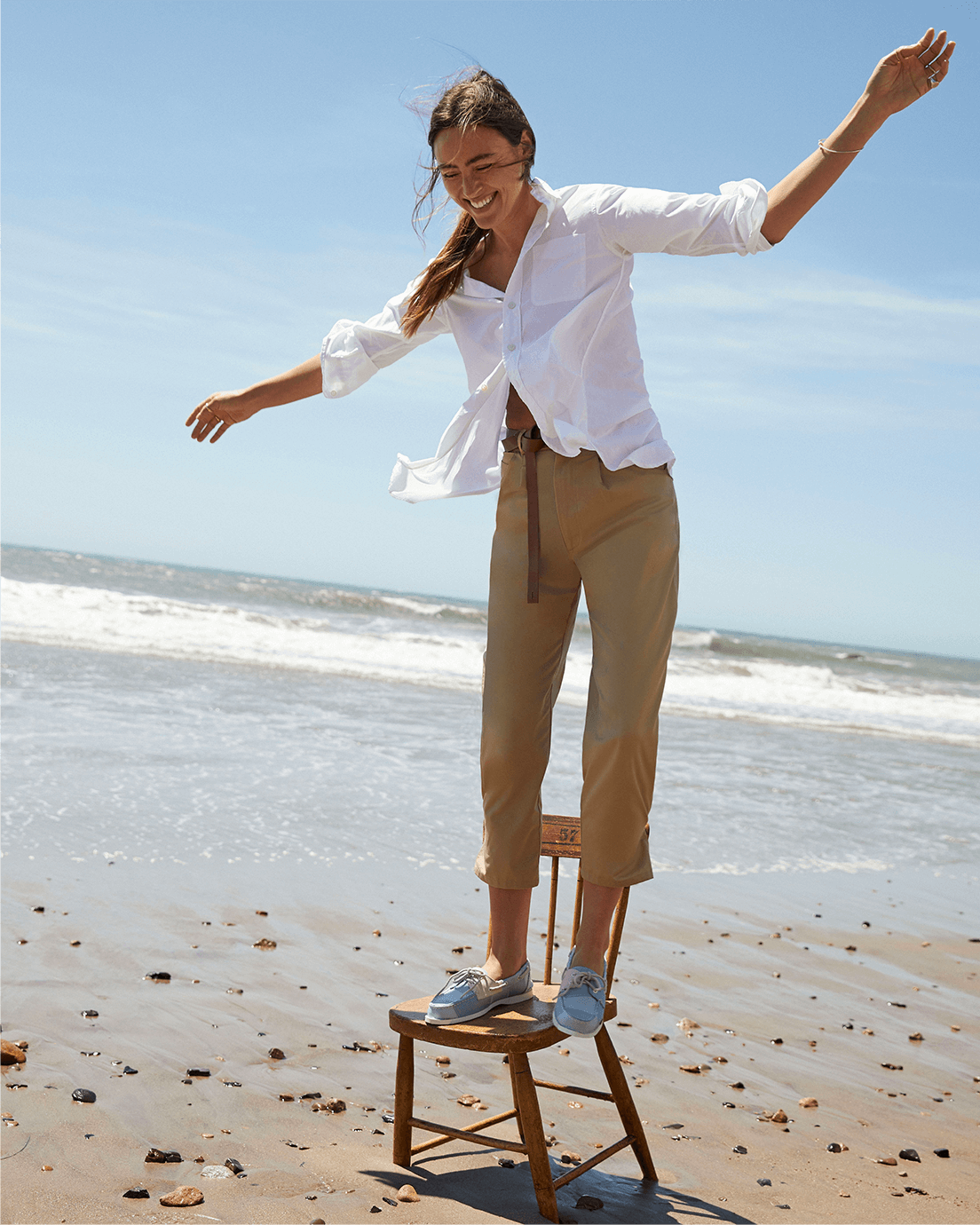 NEPENTHES Shirt, goop, $228; HARVEY FAIRCLOTH Pants, goop, $350; Sperry Shoes, Sperry, $99.95; TIBI belt, goop, $595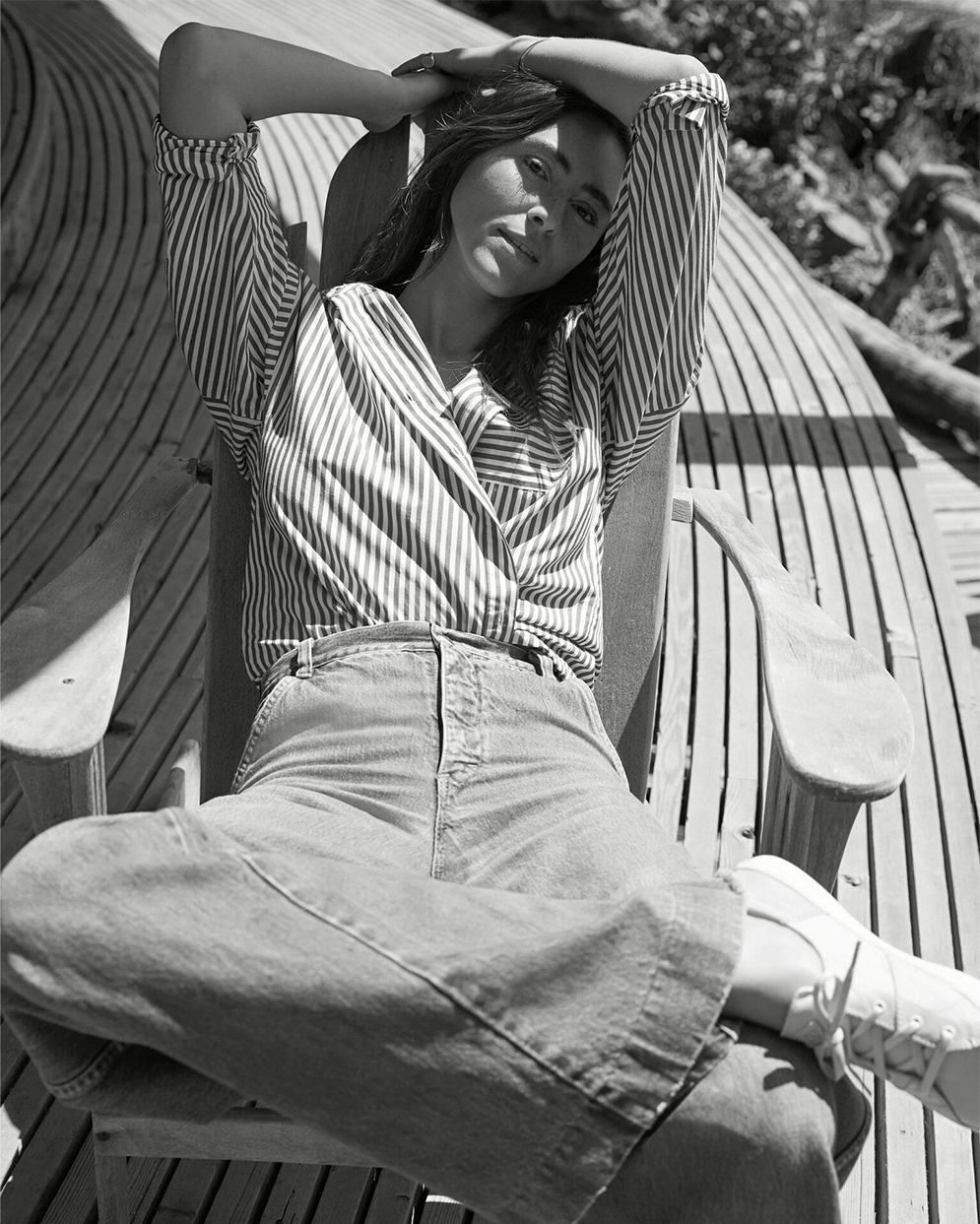 ATM Anthony Thomas Melillo Shirt, goop, $295; Vintage A Smile Inc Jeans, Chasseresse, $145; Sperry Shoes, Sperry, $69.95
IN THE CLOSET…
"I have been collecting vintage for a very long time. It got to a point where I had so many clothes that I knew either I needed to stop buying, because clearly I had a problem, or I needed to start a business!
Et voilà!"
ATM Anthony Thomas Melillo Shirt, goop, $295; Vintage A Smile Inc Jeans, Chasseresse, $145; Sperry Shoes,
Sperry, $69.95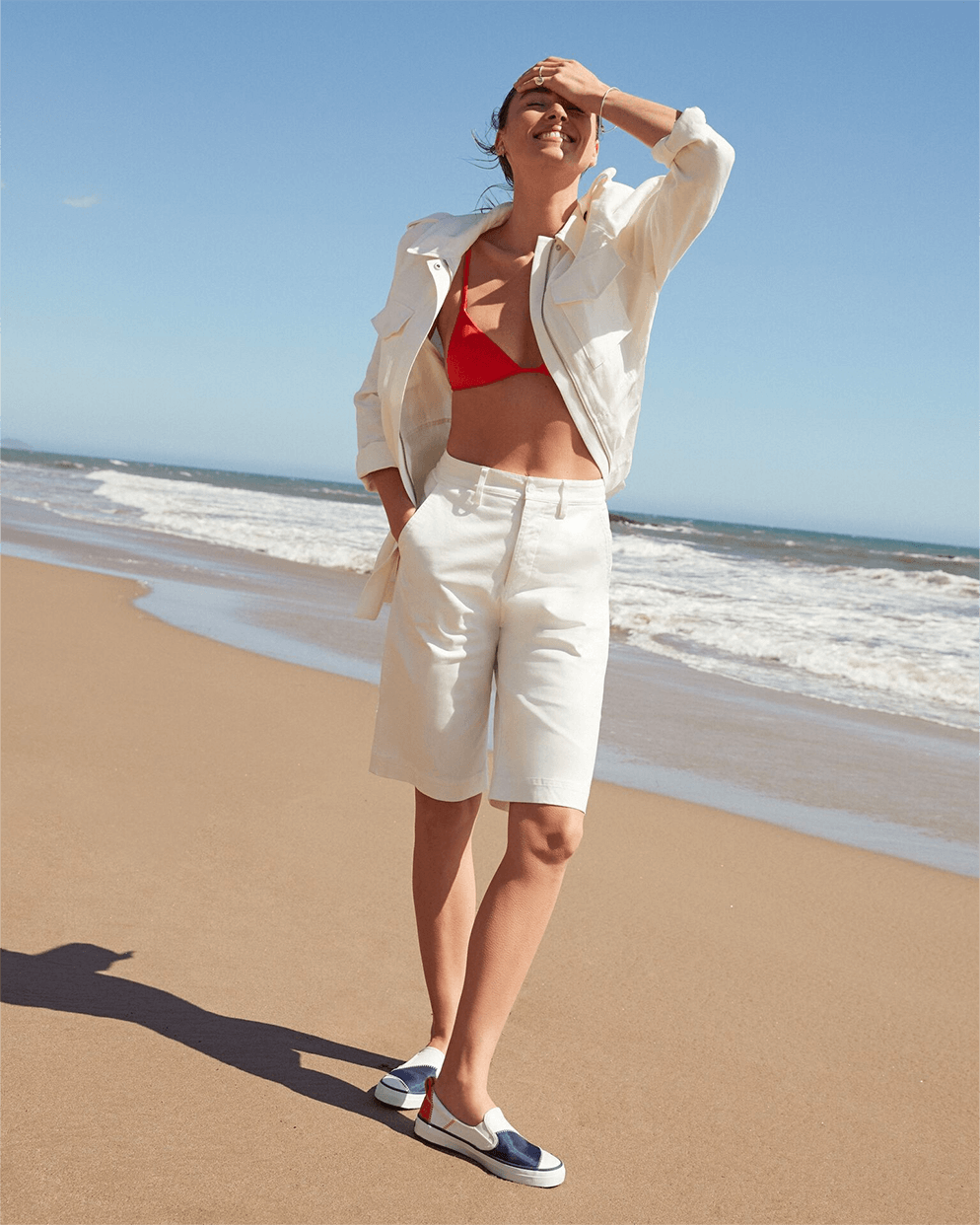 G. Label BREN WIDE-LEG SHORTS, goop, $295; G. Label NICK BELTED CARGO JACKET, goop, $795; Solid & Striped Swim Top, goop, $74; Sperry shoes, Sperry, $69.95; Sarah Chloe x goop Ring, goop, $118
AND OUTSIDE
THE CLOSET
"I am very aware of my footprint. I buy mostly vintage clothing, and I'd say most of my furniture and home décor is vintage also—even my bedding! I have a particular love for used bedding. There are no sheets softer than old cotton sheets! I don't use paper towels, I don't use plastic bottles, I carry a glass bottle with me everywhere, I shop with reusable grocery bags, and so on. There are a million small and easy ways to do it. I buy as many recycled and/or all-natural products as I can get my hands on."
G. Label BREN WIDE-LEG SHORTS, goop, $295; G. Label NICK BELTED CARGO JACKET, goop, $795; Solid & Striped Swim Top, goop, $74; Sperry shoes, Sperry, $69.95; Sarah Chloe x goop Ring, goop, $118
CLEANING UP HER ACT
"I'm lucky enough to live in a place where there are a lot of heathy options. In Malibu, I go to the Vitamin Barn for the lean green protein smoothie. I shop mostly at PC Greens for the freshest local produce and yummy, healthy, premade snacks and meals. I get my eggs from a neighbor's chickens (I found her on Craigslist!). For exercise, I stick to long beach walks, hiking, beach volleyball, and on the weekends, surfing or kayaking. My favorite sustainable lifestyle shop is online—it's called Package Free Shop."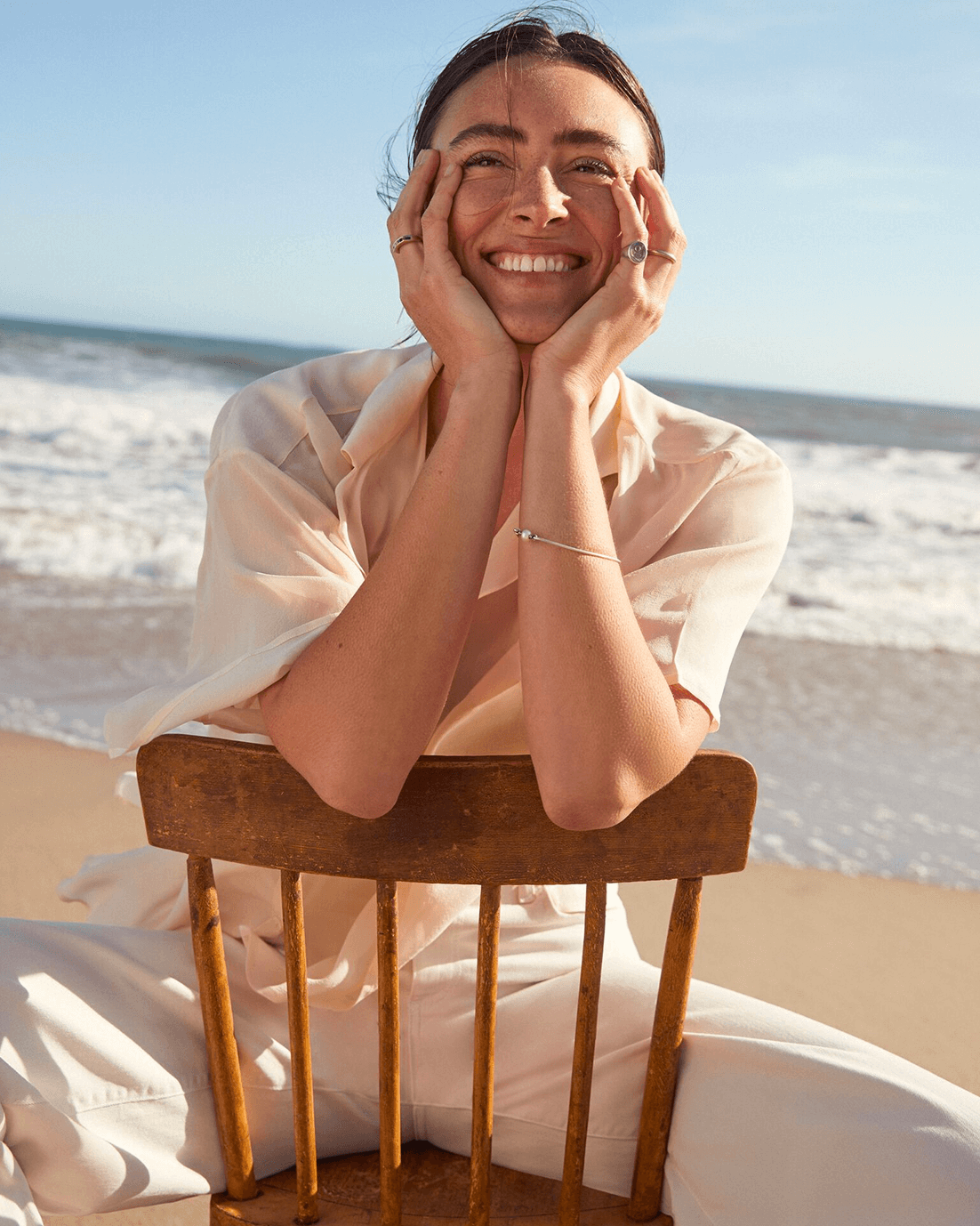 Vintage Chloé Silk Blouse, Chasseresse, $385; G. Label MEL RELAXED ULTRA-WIDE JEANS, goop, $295
SHOP THE STORY