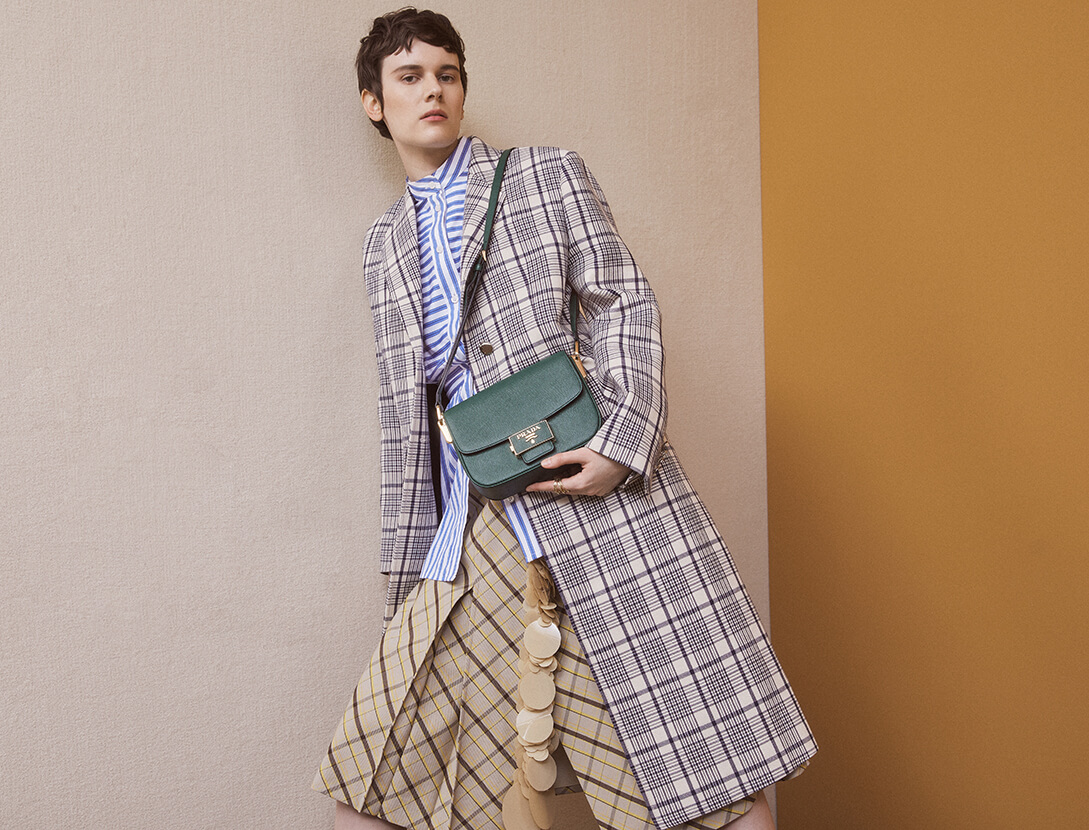 PRADA COAT (worn throughout), Prada, $3,900; PRADA SHIRT, similar styles at Prada.com; PRADA SKIRT (worn throughout), Prada, $2,760; PRADA BAG, Prada, $1,990
Look Ahead: We're Seeing a Pattern
In partnership with our friends at Prada
"Seditious simplicity." That's how Miuccia Prada described her resort 2020 collection—and that's not an overstatement. Tactful tailoring in forward-thinking silhouettes, plaid-happy prints in an is-it-spring-yet palette. All of it played up with chunky high-tops, contemporary bags, and other subtle winks of personality. It may not be as loud or as in your face as seasons past, but it's just as pretty and perfect as it is quintessentially Prada.
OFFBEAT BELTING
TAKES THINGS FROM
WEAR IT AT THE OFFICE
TO WEAR. IT. EVERYWHERE.
AN ELEVATED
WAY TO LIGHTEN
YOUR LOAD
TAKE IT
OR SLEEVE IT
DEVEAUX DRESS, Deveaux, $795; G. LABEL PATRICK WIDE-CUFF PANTS, goop, $495; PRADA SNEAKERS (worn throughout), Prada, $650

WE'LL TAKE THE
CHECKS, PLEASE
ALLOW THAT
MOSS GREEN TO DO
THE HEAVY LIFTING

SLEEK,
STRUCTURED,
AND STRAIGHT OUT OF ITALY