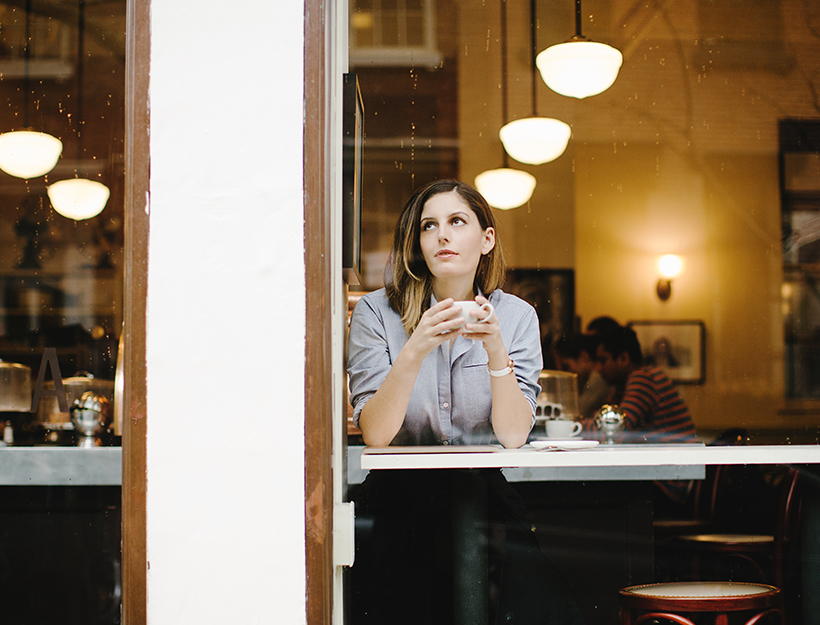 Power Player: Soraya Darabi
Soraya Darabi's resumé reads like a series of slam dunks, starting with scoring the Digital Marketing and Social Media management position with The New York Times—at the impressive age of 23, no less—all the way through her current post spearheading her own investment company with a focus on nurturing and advising digital startups. It would be easy to write these achievements off as the kind of right-place-right-time luck that's particularly prevalent in the digital sector, if it weren't for the fact that it doesn't stop there: Foodspotting, a photo-centric, user-generated resource she co-founded in 2011, which allows foodies to search, document, and rate individual dishes as opposed to entire restaurants, was acquired by OpenTable to the tune of $10 million. She's graced the cover of Fast Company's "Most Creative People in Business" issue, and popped up on Inc. Magazine's "30 Under 30" list in 2012, then Fortune's "40 under 40" list just three years later. And then there's Zady. Brainchild of Darabi and co-founder Maxine Béda, the 2013 venture proved to be the anti-fast-fashion e-commerce destination conscious consumers were waiting for—the concept didn't just catch on, it started a straight-up overconsumption revolution.
Since moving away from her everyday duties at Zady late last year (she's still actively involved as an advisor), the self-described serial entrepreneur is focusing on spreading her wealth of knowledge with fledgling media companies like Brit & Co., GlamSquad, Contently, and many more. Here, we asked her to shed some light on the trials and triumphs of entrepreneurship and some guidance in navigating startup land.
A Q&A with Soraya Darabi
Q
What was the impetus for starting Zady? Can you explain its mission?
A
We co-founded Zady to address the obstacles millennial consumers face when trying to buy high-quality items and not knowing where those items came from. Zady launched with an audacious mission to help the world buy ethical, beautiful fashion without needing to pay high-luxury prices.
Q
What were the biggest obstacles in the early days of building your business? Any big surprises? How did you overcome them?
A
In the early days, the biggest obstacles were the same as the obstacles any startup faces: trying to get your ideas poured into a deck that investors and early stakeholders would relate to, finding early evangelists, and hiring the best team imaginable for the business. The surprises are rarely big—they are usually subtle. Startup surprises often involve data: looking at the demographics of your audience and making informed decisions based on who they are and what they are asking for. Responsive companies always thrive in the end.
Q
Biggest regret?
A
My biggest regret as a serial entrepreneur is not having enough time to really bond and get to know each team member. As any business expands—Zady, my investing company—your team does, too, and naturally there isn't enough time or bandwidth to develop meaningful relationships with every intern, although I would like to. In an ideal world there would be enough time.
Q
You made a career transition from media (New York Times) to being an entrepreneur (Foodspotting, Zady)—tough? Any tips for wanna-be entrepreneurs?
A
"Ambition should be made of sterner stuff." — Shakespeare, Julius Caesar (in case you'd like to save yourself the google search).
Everyone wants to venture out these days, and begin something they are passionate about, to find backing for that idea and, ultimately, to live on their own terms. As one entrepreneur recently told me, "We do this for the freedom above all." The tough truth is, it's very, very hard to start a company. It's even harder to scale one, and the hardest feat of all? Making your idea profitable. If these elements weren't rough and tumble, we wouldn't have best-selling business books like The Hard Thing About Hard Things: Building a Business When there are No Easy Answers by Ben Horowitz. My advice to aspiring entrepreneurs is to read Adam Grant's new book, Originals: How Non-Conformists Move the World (funnily enough, we couldn't agree more and have a Q&A with Adam this week). In it he describes the successes of the world's leading entrepreneurs, many of whom began their ideas while in school or while they had full time jobs. Stress test your ideas in a safe space, find proof of concept and product market fit, and then believe in yourself enough to really give it a go when you feel you've struck gold. Until then, remember the glamour of startup life is only what the media makes of it—so be stern if you want to see the idea through.
Q
What's the one thing that you have to do as part of your business day that you hate?
A
I work with many startups now as an investor and adviser, and I hate commuting—I wish all subways had WiFi, and all airplanes traveled faster. I think my job is extremely fast and then quiet and slow. My natural inclination is to always live in speed, but the slow hours are useful for reflection and often the best ideas come to you in lulls.
Q
Favorite part?
A
My favorite part of being an entrepreneur and angel investor is meeting people. Extroverts do extremely well in this business because it's predicated upon quality relationships and cultivating those relationships. My family threw a lot of potlucks and dinner parties growing up, as my mother was a professor for 30 years. I attribute a love for learning and a natural curiosity about people to her, and it's served me well in this line of work.
Q
What's next for you?
A
I am continuing to build businesses and invest in them. My life is straightforward, which is a beautiful place to be in your 30s. Thought-leadership is on the horizon for me. For years I avoided writing for publications because of an intense imposter syndrome. Now I feel confident in the knowledge I have, and want to share that with anyone willing to read it.
Q
Any tips for squeezing an extra 30-minutes out of a day?
A
Yes. Find a way to portion the time you spend on email with the time you spend having quality conversations. If you are an early riser as I am, dedicate three hours in the morning to emails and the afternoon when our bodies naturally crave energy, taking walking meetings. You'll feel refreshed when you return to that inbox and likely have enough fuel to power through the afternoon and evening. I also believe in taking daily probiotics, iron, and vitamin D—based on the recommendation of my doctor, Robin Berzin.
Photographer: Angi Welsch
Hair & Makeup: Vivi Lapidus/Tricia Joyce
Special thanks to Café Minerva & Hamilton's
Shop Power Pieces from Zady