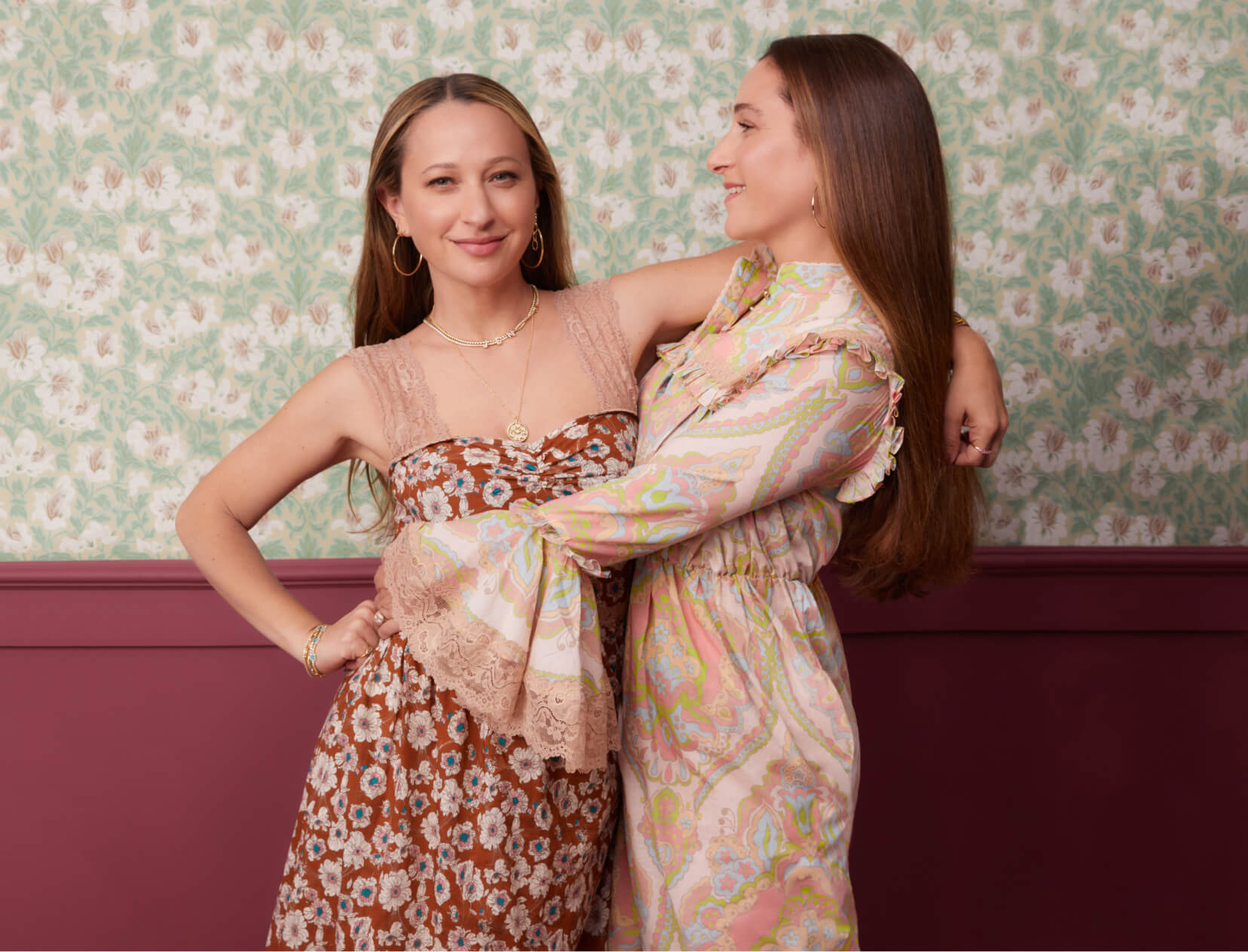 Potato Pancakes, Preschool, and
Personal Style: How One Blended
Family Makes It Work
Created with Gucci
Most people are lucky to have one mother figure in their life. Someone who's a phone call away. Who will celebrate your wins and comfort you through your losses. Who is always, always in your corner. Jennifer and Sarah Meyer—sisters, mothers, entrepreneurs, and the brains behind Jennifer Meyer Jewelry and ROE Caviar, respectively—are doubly blessed: They grew up with both their mom, Ellen, and stepmom Kelly.
"We hit the stepmom jackpot," says Jennifer. According to Kelly, the feeling is mutual: "I would want the girls as friends in good times and in my foxhole in bad times," she says. "They are just fantastic human beings."
They all swear their dynamic was great from the get-go, and it's not lost on anyone how special that is. "I know not every modern family gets along," says Sarah, "but there was never any weirdness." Ellen wholeheartedly agrees, adding that they've always made it work, sharing holidays and birthdays: "Nothing in life is perfect, and you want to make the absolute best out of every situation," she says.
With Mother's Day coming up, we caught up with the four women to talk about raising kids, running businesses, and their approach to personal style and the pieces worth investing in—like the Gucci cape that Kelly says is a must-have (styled below with a hat from the Love Parade collection) and the logo-print jeans that they're all obsessed with (done in Alessandro Michele's scaled-up take on an archival GG design).
What are some of the ways you all lean on each other?
Jennifer: For recipes, I go to my mom. She's really good at making potato pancakes and things like that.
Kelly: The girls are great with advice. Sarah, if you're looking for pure compassion. If you're looking for how to deal with people or how to handle this dynamic and these relationships, it's Jen. And if you're looking for a little bit of both, I'm going to call Carson. [Editor's note: Carson Meyer, Kelly's daughter and Jennifer and Sarah's half sister, moved to North Carolina last year, so she was unable to join us for the shoot.]
Sarah: My mom hosts my two-year-old's preschool in her backyard. It's a three-day-a-week, six-kid program, and she cooks lunch for them once a week and sits and eats with them. It's so cute.
Ellen: They get so excited over pasta with butter, but it's just a nice thing to be able to do.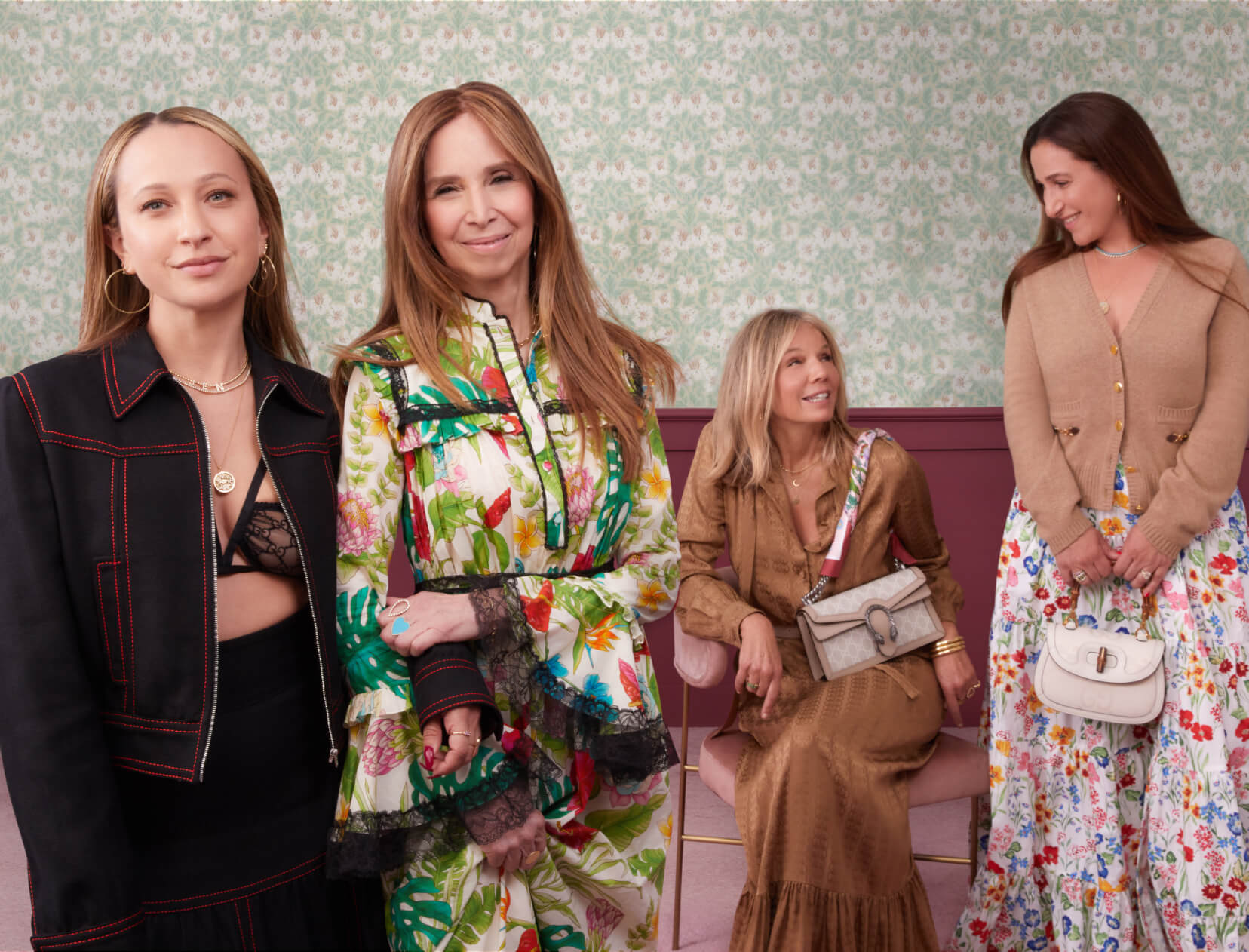 How would you describe your personal style?
Kelly: I would say I'm fairly classic. Cream and black go a long way in my closet. I'm from Colorado, so I love a good pair of boots. As someone who cares about the environment, I would rather have 1 high-quality piece than 10 cheap things. For instance, I have this Gucci cashmere sweater that I've owned for 20, 25 years now—I think Tom Ford was designing at the time, that's how long it's been—and I wear it to this day.
Jennifer: I'm an LA girl who grew up on the beach: I like to be casual, cool. I think I stole a lot of my mom's look. She always had on a great pair of jeans, a white T-shirt, and gold jewelry. Growing up, I always thought, That's it—that's a forever look.
Sarah: Mom was always a simple dresser, and I'm sort of the same.
Ellen: I like to mix and match. The other day I wore these great black bell-bottom slacks and this new designer silk blouse, and nobody cared about the new blouse. All they cared about was where I got the trousers from. I think they could be like 15 years old.
What is your parenting philosophy?
Ellen: I know a lot of parents feel like they have to be strict, but I've never punished Jennifer or Sarah. They followed my lead about what was right and wrong—even the simple things. If children hear their parent say please and thank you, they emulate those words. It becomes part of them.
And then when they get older, you have to give them space and respect for what they're doing as adults. They're businesswomen, they're young mothers, they have friendships of their own. But luckily our friendship and the love we have for each other is so strong that we always find special time to be together.
Kelly: With Sarah and Jennifer, I never tried to be their mom—and I certainly never tried to replace their mom. When their dad and I got married, I remember writing them a letter saying, Your family is always going to be your family. We're a new family, but you were born as a family and nothing can change that. So I want you to know that I acknowledge that and I see that.
Do you share parenting advice?
Jennifer: Sarah and I ask each other questions all the time. All the time. She's my angel on earth. She's the greatest mom. And her patience—I don't know where it comes from. She's the calmest, most patient, easygoing person. Her friends call her Saint Sarah.
What about business advice? Jennifer, you've been running your brand since 2005. Did Sarah come to you with questions about ROE Caviar?
Jennifer: You know, she's got such great business instincts. I'm not shocked—she was a producer for 10 years. Not only is [ROE] aesthetically beautiful but it's also the most delicious thing I've ever tasted. But yes, every now and then she lets me give her some advice.
Sarah: I ask Jen for advice constantly. She really is my go-to for that. I started ROE about seven years ago, but I wasn't doing it full-time; I was just an investor. And then, about two and a half years ago, I took over the company. I had just had my daughter, and I was like, I've got to do this now or I'm never going to do it. And it's been so much fun. Caviar is one of those things that make people happy, and I like making people happy.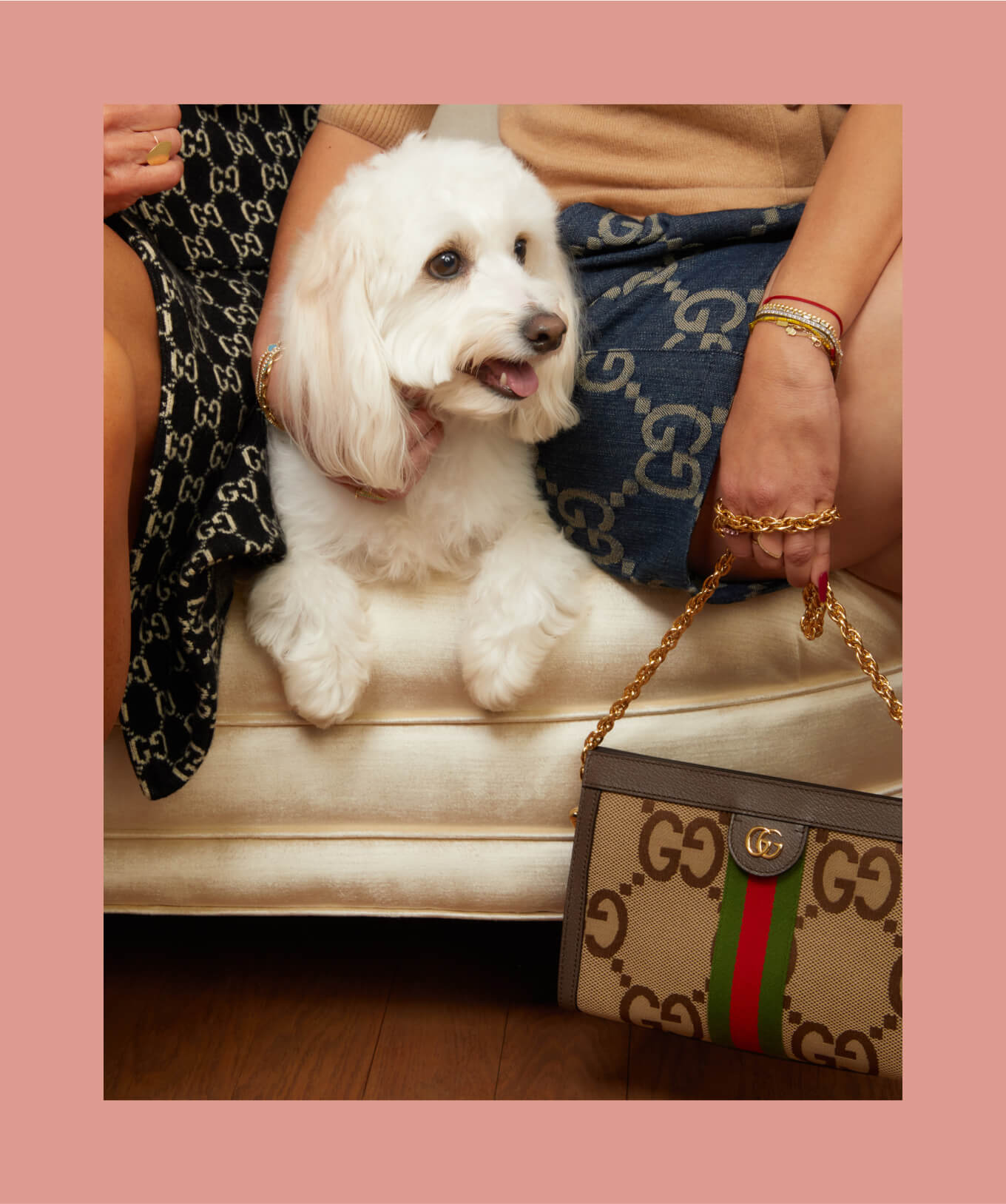 What's on the books for Mother's Day 2022?
Jennifer: Well, this year, my son's birthday happens to fall on Mother's Day, so everyone's just going to have to come on over and celebrate Otis.
Ellen: We'll figure it out. We always do.
SHOP THE STORY