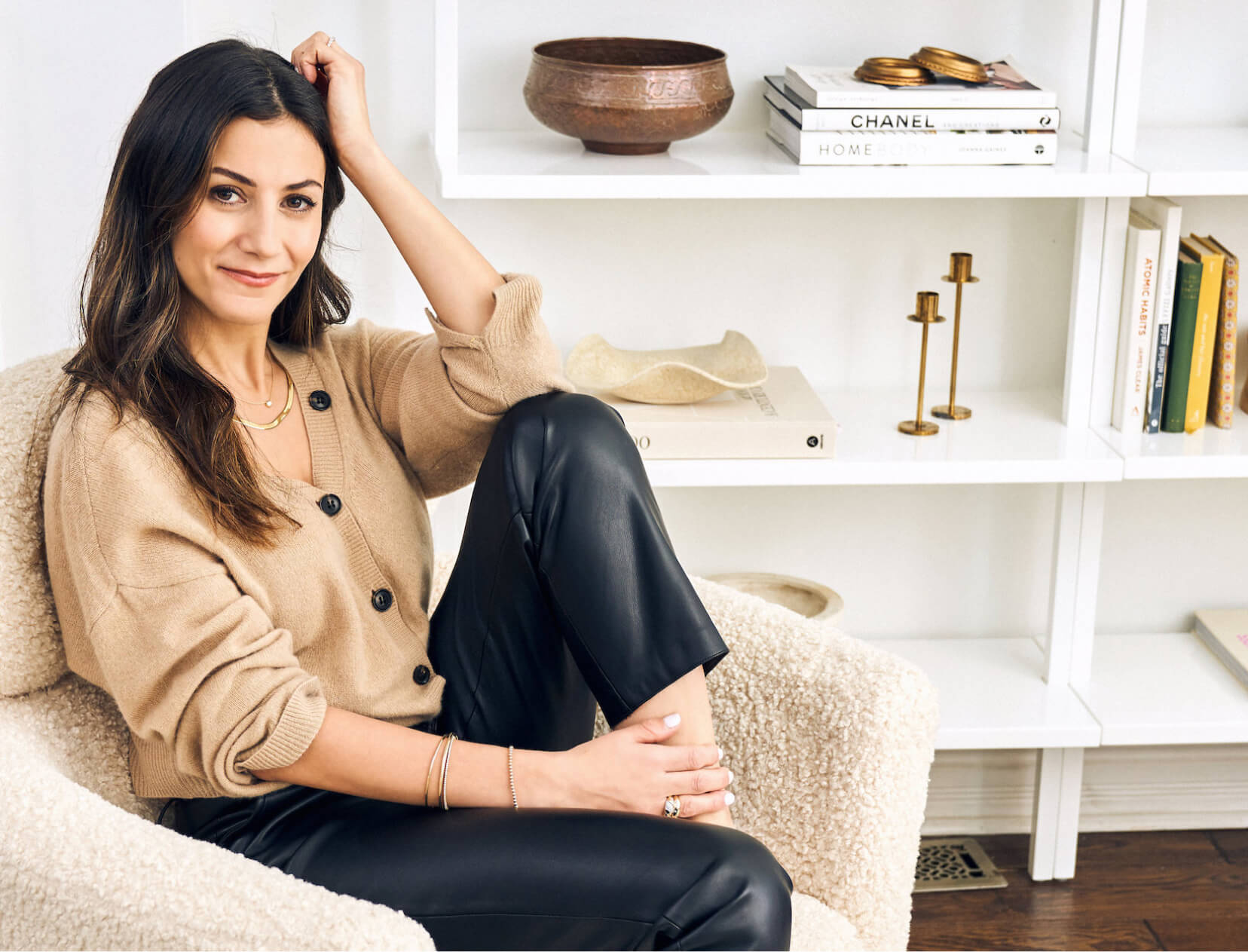 The Woman Giving Fine Jewelry a Rebrand
Born into a family of jewelers, Noura Sakkijha was always surrounded by pretty, shiny things. "I grew up around diamonds," says the Mejuri founder. "Which is probably every girl's dream, but it was never mine."
Initially, it was the traditional and, let's be real, somewhat sexist positioning of the industry that turned her off—i.e., the idea that a man should be the one to splurge on something expensive for a woman for [insert occasion of choice]. So she decided to change the narrative. Write men out of the script. Forget the special occasion altogether. And plot twist: create cool, everyday pieces that women can buy for themselves at price points that won't rival their monthly mortgages.
"There's a sense of empowerment that's been with the brand since day one," says Sakkijha, who Zoomed us from her gorgeous HQ in Toronto. "It's what I always tell my friends: When you're working hard and making your own disposable income, buy yourself the damn diamond!"
She calls it empowerment; we call it the gold standard for an industry that was ripe for a rebrand. As for the exquisite pavé diamond pieces she helped cocreate for the goop x Mejuri collection? They speak for themselves.
Catching Up with Noura Sakkijha
Q
Are people shopping for jewelry differently than they were ten years ago?
A
In normal circumstances, you wake up, have coffee, and go to work. After work, you don't always have the luxury to go home and change, so you need pieces that transition with you. Before I started, if women wanted to buy jewelry for themselves, the most attainable options were costume jewelry because it was stylish and affordable. What I wanted to do was to bring in pieces that, even though they're made with precious materials, you don't have to be precious about wearing. So that was the idea: You can wear your fourteen-karat gold and your diamonds every day. And as fashion becomes simpler, jewelry becomes the fun part of getting dressed.
Q
How would you describe the Mejuri aesthetic?
A
Our world centers around classic pieces that can be worn over time, but they're also really fun. The whole idea is to bring an exciting outlook to fine jewelry. And it's all designed to be stacked, layered, and styled together.
Q
Tell us about the sourcing and how you keep the prices accessible.
A
We pioneered a drop model in fine jewelry that never existed before. Every Monday we introduce newness, which helps us continue the conversation with our customers. So we had to establish a supply chain that was agile. And we are super selective about who we work with. Our manufacturers are vetted by organizations like the Responsible Jewelry Council, and all of our materials are high-quality and use genuine, ethically sourced diamonds. And while we still use all the same traditional manufacturing techniques, we sell directly to our customers, so we don't have to price our products with the traditional ten times markup.
Q
What's the design process like?
A
Our chief creative officer, Justine Lançon, has been with the brand since the beginning. I always joke that she knows how to draw, and I know how to count. Between the two of us, we make some exciting jewelry. Now we have a larger team, but to this day, she and I still look at every new piece together. And we're constantly in design mode. What I love about our drop model is that it allows us to build off of our successes in a way that always feels fresh.
Q
Was there a tipping point when you felt like the brand was taking off?
A
The first time I saw someone I didn't recognize on the street wearing Mejuri, I thought, Oh my god, we made it! But joking aside, in any business, you can never boil it down to a single moment. It's a continuous effort on all fronts. And then maybe one day you'll stop and reflect and see all that you've achieved. We still have a long way to go, but moments like that give us the fuel needed to continue in the same direction.
Q
Were there any big surprises or challenges you encountered?
A
I was born and raised in Jordan. I'm the third generation of my family to work in fine jewelry. So I come from a family of entrepreneurs, and I knew how hard it was going to be to launch a business. You're always working and evolving. The toughest but also proudest moment for me was raising my first seed round of financing. I was pitching fine jewelry when everyone else was pitching technology. But it helped me understand the dynamics of the industry because I was forced to contextualize the opportunity. I had to convince people to invest in my vision before showing traction. It took me six months to close, but I felt like I persevered.
Q
What was the inspiration behind the goop x Mejuri collaboration?
A
One thing that I love about goop is that when you buy something, you know you're going to have it forever. We wanted these pieces to be classic and fun, something people would want to wear all the time. It was about marrying our values and creating sophisticated pieces that would stand the test of time.
Q
Any favorite pieces you've been wearing lately?
A
I live in my jewelry. I always have two or more earrings and bracelets on at any given time. I wear the Multi Curb Chain and Pavé Diamond Hoops with a simple ribbed tank, a cardigan, and my favorite pair of vintage straight-leg jeans for WFH or taking my twin girls around the block on their scooters. I have a strict no-sweats rule for spring, so I definitely plan on wearing them with floral dresses as the weather warms up. I honestly can't wait to start dressing up again.
Q
What's the best part about your job?
A
I'm obsessed with seeing how people interact with the brand, especially on Instagram. And not necessarily from a product standpoint, but for everything we stand for. That's what energizes me and my team. Even though we're not working physically together, we've gotten so much closer this past year. Also, knowing that my daughters will one day hopefully learn from my experiences is something that brings me a lot of joy.
Q
Any exciting initiatives in the pipeline?
A
Last year, we allocated $120,000 in educational scholarships for Black women and nonbinary people in Canada and the United States through our Empowerment Fund. Giving people optionality to design their lives is something that I'm so passionate about. And I truly believe that investing in educational opportunities is one way to do that. This year, we're focusing on the second iteration of the fund. Women's empowerment has been an important part of the business since we started, and I love how it's manifesting itself in different ways six years later.